"We live for today. We have no idea what will happen tomorrow. We need a better life for Ukraine. For our children. This is just not normal."
The conflict over Ukraine's future escalated during 2013-14 into the bloodiest day of violence since protests began, as the opposition routed thousands of riot police to regain control of central Kiev amid signs that the power base of embattled president Viktor Yanukovych was under threat.   Corpses on Kiev's Independence Square as police deploy snipers and use live ammunition.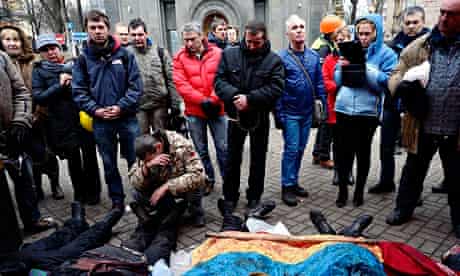 PREVIOUSLY DURING 2013-14
The Crisis during 2014
Ukraine was part of the Soviet Union until 1991, and since then has been a less-than-perfect democracy with a very weak economy and foreign policy that wavers between pro-Russian and pro-European.
The Ukrainian crisis started in November 2013, when President Viktor Yanukovych rejected a deal for greater integration with the European Union, sparking mass protests, which Yanukovych attempted to put down violently. Russia backed Yanukovych in the crisis, while the US and Europe supported the protesters.
information at :
(https://www.vox.com/2014/9/3/18088560/ukraine-everything-you-need-to-know)
In February 2014, anti-government protests toppled the government and ran Yanukovych out of the country. Russia, trying to salvage its lost influence in Ukraine, invaded and annexed Crimea the next month. In April, pro-Russia separatist rebels began seizing territory in eastern Ukraine. The rebels shot down Malaysian Airlines flight 17 on July 17, killing 298 people, probably accidentally.
Fighting between the rebels and the Ukrainian military intensified, the rebels started losing, and, in August, the Russian army overtly invaded eastern Ukraine to support the rebels – more than 2,500 Ukrainians have been killed.
read more :
*
Dozens died and hundreds were injured in a day of dramatic violence that turned into a seesaw contest and saw thousands of riot police scuttling from territory they seized. The day ended with thousands of Kiev residents patiently building city centre barricades in the cold and the dark.
Police deployed snipers and used live ammunition in a menacing escalation of the violence.
Guardian reporters saw 21 corpses on Independence Square, the crucible of the mass rebellion against Yanukovych, and in a nearby hotel converted into a makeshift field hospital. But the full death toll was impossible to verify: Oleh Musiy, head doctor for the opposition movement, said 70 protesters died on the Thursday, bringing the death toll in 72 hours to about 100. The health ministry said 67 people had been killed and 562 wounded. The interior ministry said three police were killed.
As Moscow encouraged Yanukovych to crack down harder on the unrest and threatened to withhold crucial financial aid unless he did, and the European Union announced limited sanctions on individual Ukrainian officials, three EU foreign ministers spent almost five hours with the president, desperately seeking a way back from the brink through a compromise between his increasingly hardline regime and opposition leaders.
*
The security service announced national "anti-terror" operations, revealing that the authorities were struggling to maintain their grip. "In many regions of the country, municipal buildings, offices of the interior ministry, state security and the prosecutor general, army units and arms depots are being seized," said Oleksandr Yakimenko, the head of the state security service.
Dead and wounded were hauled away on their backs, on wooden planks, on makeshift metal shields and in blankets. Corpses lay temporarily abandoned on the streets. Police vehicles were set ablaze and then hacked to pieces.
*
"What is happening right now in Ukraine is criminal and anti-human," said Dr Olga Bogomolets, a professor of medicine. "All the people killed here had no guns or arms."
"I accompanied them to make sure they were not beaten but forgiven," said Nikolai Himaylo, a Ukrainian Orthodox priest who administered the last rites to some of the dead. "I'm a witness to what has become a criminal state," he said. "Yanukovych cannot be forgiven. These boys are dying for freedom."
At night, human chains of men and women, young and old, lined up to pass along tyres and bricks, rubble and debris that were wheelbarrowed in to build huge blocking points around the city centre in an attempt to keep the security forces at bay.
"I was watching it on TV and decided to come and help," said Yuri Kugno, 48, who works in a curtain design firm. "I'm going to build a barricade now."
https://www.theguardian.com/world/2014/feb/20/ukraine-dead-protesters-police
*
SOROS AND OPEN SOCIETY FOUNDATIONS
The International Renaissance Foundation, a part of the Open Society Foundations, was established in Kyiv in April 1990. At the time, Ukraine was still part of the rapidly collapsing Soviet Union, placing the new foundation at the forefront of the effort by George Soros, the founder and chair of the Open Society Foundations, to use his fortune to assist the former Communist states of Central and Eastern Europe.
After Ukraine became fully independent in 1991, the new foundation gradually expanded its support for Ukraine's often-painful transition to democracy and a market economy. The Open Society Foundations' immediate focus in Ukraine and other former Communist states was modernization and reform of moribund national institutions, and support for emerging civil society groups.
::::
The foundation and its grantees were active supporters of the creation of the National Anti-Corruption Bureau of Ukraine in 2014, and helped lawmakers develop a new anticorruption law that required public officials to declare their assets. 
The foundation and its partners have actively supported the work of the International Criminal Court in Ukraine, including the investigation of alleged war crimes and crimes against humanity in Ukraine—including in Crimea, the eastern Donbas region, and the shooting of unarmed protestors during the 2013–14 Maidan protests in Kyiv.
https://www.opensocietyfoundations.org/newsroom/the-open-society-foundations-in-ukraine
*
*
RELATED
Sweden – Raoul Wallenberg Institute – ANC  -GEORGE SOROS – EU: OSIFE
Crimea  – Russia – old documentation
Crimea  –  self-determination (Putin)