Voormalige sosialistiese (Oosblok) lande van Oos-Europa (dit wil sê Europa oos van Duitsland en wes van die Oeral, maar die hele Rusland ingesluit) het in die laat 1980's en vroeë 1990's met 'n oorgang na 'n markekonomie begin.   Dit sluit verskillende lande hierby in.    Al die toetredingslande van die EU, behalwe Pole en Hongarye, het die een of ander vorm van restitusie van grondregte aan voormalige eienaars gedoen. 

Gemenebes van Onafhanklike State (GOS)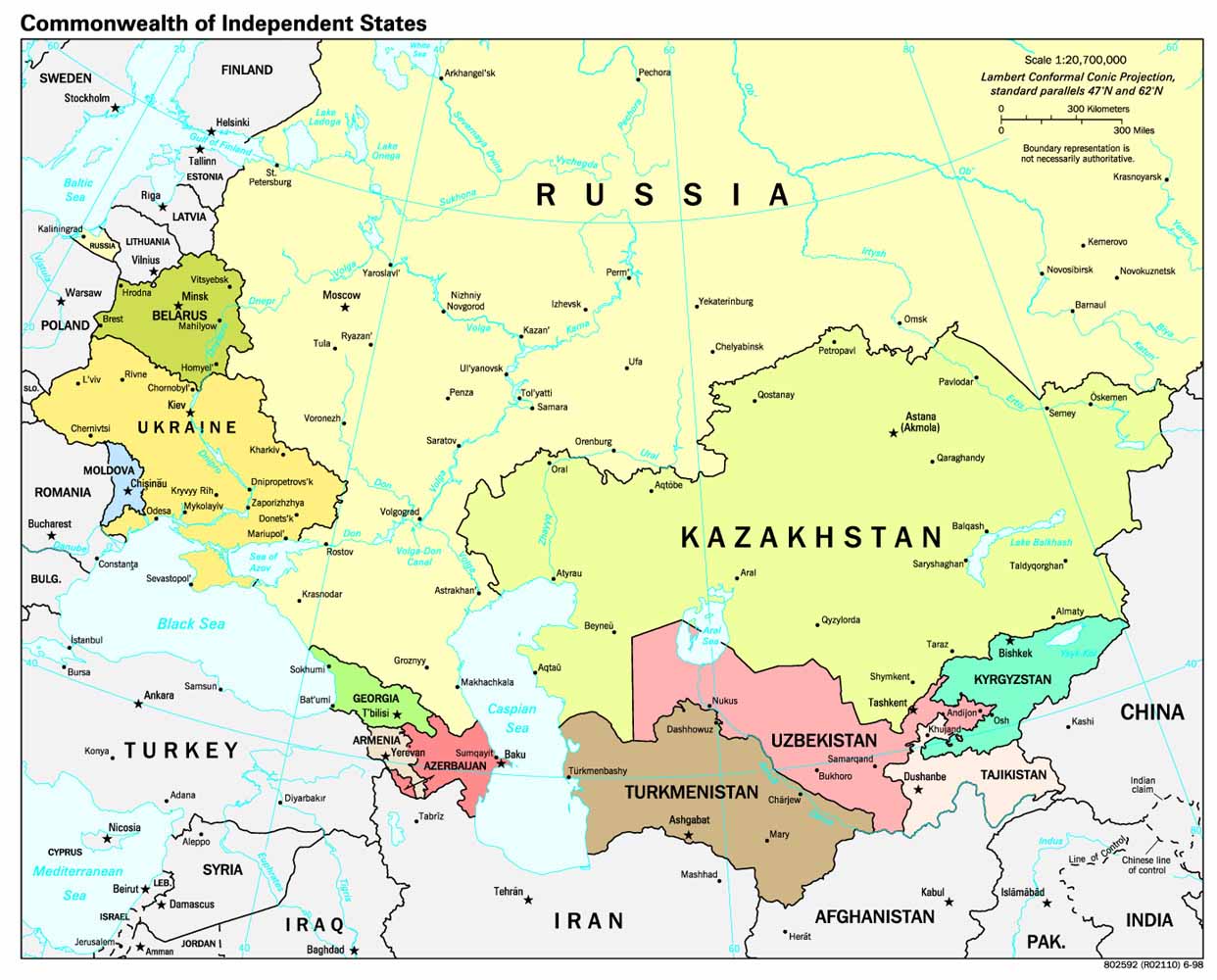 *


Die Gemenebes van Onafhanklike State (GOS) is in Desember 1991 gestig deur elf lande uit die voormalige USSR: Armenië, Azerbeidjan, Belo-Rusland, Kazakstan, Kirghizstan, Moldawië, Oesbekistan, Rusland, Tadjikistan, Turkmenistan, Oekraïne. Georgië het daarby aangesluit in Desember 1993.

Die Baltiese state (lede van die Europese Unie) is die enigste voormalige Sowjetrepublieke wat nie lede van die GOS is nie.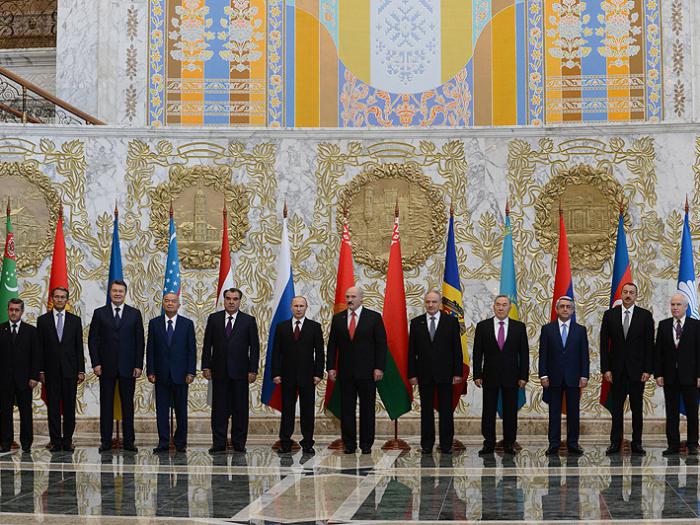 The Commonwealth of Independent States (CIS) was created in December 1991 by eleven countries from the ex-USSR: Armenia, Azerbaijan, Belarus, Kazakhstan, Kirghizstan, Moldavia, Uzbekistan, Russia, Tajikistan, Turkmenistan, Ukraine. Georgia joined it in December 1993.

The Baltic states (members of the European Union) are the only former Soviet republics that are not members of the CIS.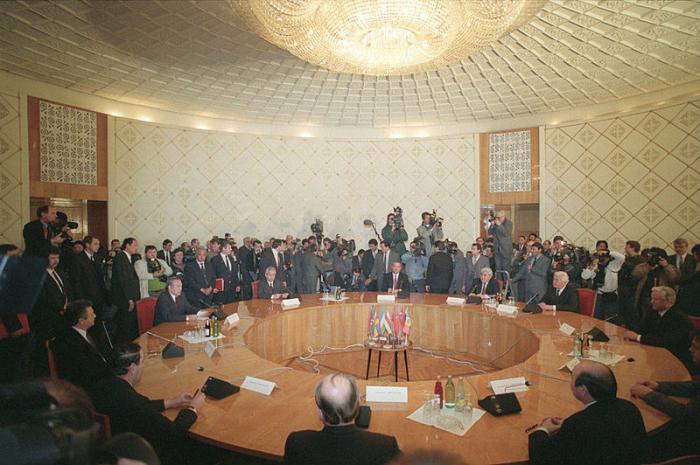 https://af.unansea.com/wat-is-die-nie-amptelike-transkripsie-van-die-gos-helderder-weerspieel-sy-wese/

*
The former socialist countries of Eastern Europe (that is, Europe east of Germany and west of the Urals, but including all of Russia) began a transition to a market economy in the late 1980's and early 1990's.

The countries included in this study have been divided into four groups:
The Western CIS countries: Belarus, Moldova, Ukraine, and Russia;
The CIS Transcaucasus: Armenia, Azerbaijan, and Georgia;
The Balkans: Albania, Macedonia, Bosnia and Herzegovina, Croatia, Federal Republic of Yugoslavia (Serbia and Montenegro), and the administrative protectorate of Kosovo; and
The EU accession countries: Bulgaria, Czech Republic, Estonia, Hungary, Latvia, Lithuania, Poland, Romania, Slovakia, and Slovenia.
Russia, Ukraine, and Belarus in the Western CIS still do not have a legal and policy framework that adequately allows for private land ownership, private farms, or efficient land transactions. They are still struggling over what the role of the state should be in relation to agricultural land use and productivity. The state has firm control of agricultural land and there is not enough political will to prevail over the former communists who oppose private ownership and sale of agricultural land.
The Transcaucasus, while also a part of the CIS, made very different philosophical choices and quickly privatized agricultural land and restructured farms into small family units. Certainly the difference in size of the countries had some effect on the ability to accomplish reform more quickly, but beyond size, cultural differences and political will for reform had an impact as well.
The history of the Balkan countries has had a major impact on their agricultural sector and land market possibilities. The former Yugoslavia, after a brief experiment with collectivization, had opted for private farming. Macedonia followed with its declaration later in that same year. In 1992, Bosnia and Herzegovina followed suit. Serbia, Montenegro, and Kosovo struggled with each other about issues of independence in the late 1990s. The war and political strife accompanying each of these transitions have much complicated the land transition process.

*

Of all the CIS countries, only Belarus does not allow private ownership of agricultural land (other than household plots).  The Belorussian Constitution provides that "[l]and of agricultural designation is located in the ownership of the State."  However, the 1999 Land Code introduces two exceptions to the general ban: citizens may own (1) up to one hectare of agricultural land in a household plot; and (2) up to 0.25 hectares of agricultural land under and around a private house. This land accounts for approximately 20% of agricultural land.5 Land in private ownership may be sold, traded, mortgaged, leased out and bequeathed to heirs.
All other Western CIS countries allow for private ownership of land, but the bundle of rights associated with that ownership varies from country to country, as discussed below.
In the Western CIS countries much of the agricultural land has been privatized under a "land share" system, in which a large majority of private owners (former members of the state and collective farm system) still hold their rights in common, with some form of right to partition land in kind (as yet unexercised)

None of the Western CIS countries restituted land to former owners. The advantage to the land share system is that farm members who had been working on the land received a portion of the land into ownership or with ownership like rights. Of the four Western CIS countries, Belarus is on one end of the spectrum and Moldova the other in terms of privatization of agricultural land.
Land shares do not exist in Belarus, and therefore members of collective and state farms do not have even a theoretical right to a share of land. Rather, if a farmer wants to create a private peasant farm, the local administration can allocate land of the collective farm enterprise or from the state land reserve. Private farmers have use rights to this land but not ownership rights.
Ukraine and Russia have privatized land under the land share system, with the exception of household plots, which are fully privatized in the sense that the owner possesses a demarcated parcel. Of the 41.9 million ha. of agricultural land in Ukraine, 26.7 million ha. (64%) have been transferred to the control of 6.5 million individuals, each of whom received a land share certificate.

The land share certificates are undemarcated but represent a portion of land formerly used by the state farm or collective farm. The majority of those that received land share certificates quickly leased them to the collective farm from which they had received these undemarcated lands and little had changed in terms of their ability to exercise ownership rights.
Russia and Ukraine withheld a portion of agricultural land in state ownership when privatizing agricultural land. In Russia, land is held and controlled by the State in local level (raion) land redistribution funds. This land comes from three different sources. First, collective and state farms set aside roughly 10% of their arable land for redistribution to those who wanted to start peasant farms. Second, land that remained after calculation of land shares on agricultural enterprises was transferred into the same land funds. Third, land that is forfeited by peasant farms that have ceased operations, and land withdrawn by local officials for irrational use or non-use, continues to be added to the land funds.
In Ukraine, land reform legislation provided that 10% of the arable land used by state and collective farms should be allocated to a "land reserve." The land was to be used to distribute for private farming, subsidiary agricultural production, and to persons not currently engaged in agriculture. An additional 15% of arable land was allocated from state and collective farms for current members of agricultural enterprises to start private farms.

The Western CIS countries have not significantly broken up the large collective farms. In Russia, about 290,000 private farms exist, although at least half of these farms are no longer currently operating.

Private farms account for about 6% of the arable land, but provide only 2% of agricultural output because of a lack of funds and an uneven playing field with most of the government assistance going to the former collective and state farms. Household plots on the other hand, comprise about 7% of the total arable land and yet produce about half of all agricultural output by value.  Little meaningful change has occurred on the large state and collective farms in terms of organization and management.

*

Russia legally recognizes private agricultural land ownership, but buying and selling of land is restricted both by law and in practice. Moldova and Ukraine have no structural barriers to land transactions. Belarus does not allow land transactions for agricultural land. In Russia, land leasing is more common than buying and selling. Approximately, 33% of private farmer respondents and 24% of farm enterprise managers in a government survey (2000) reported they knew of land leasing transactions.
*

In both Armenia and Azerbaijan, most of the state-owned land was distributed to rural residents, including farm members, whereas in Georgia a portion of land was distributed to rural households for subsistence farming and a portion remained in state ownership for lease to larger, market-focused farms. In Armenia, the vast majority of agricultural land was privatized during 1991 and 1992.

Approximately 70% of all arable land in the country was transferred in ownership to family farms while most of the remainder was leased to farmers, making state and collective farms almost entirely obsolete. In Georgia, as of the spring of 2001, the government had transferred approximately 60% of state-owned arable agricultural land in ownership to rural households.
Azerbaijan has only a 5% agricultural land reserve because the country's policy was to distribute most of the arable land to rural residents. In Armenia, the state land reserve is quite large: estimates range from 15% to one-third of arable land. In Georgia, the State still owns approximately 40% of arable land. Georgian farmers are able to lease land from the State under a presidential decree.
The State (through the village councils) is the primary source of leased land and most leases run from one to three years. Among farmers who lease land, 60% lease arable land, 40% lease hay meadows, and 7% lease pastures. However, because there is simply not much additional arable land to be leased from the State, the majority of land being leased is composed of hay meadows and pastureland.  Thus far, leasing between individual parties has not yet developed, for the most part because the state land fund is so large and land from the fund is inexpensive and accessible.

Private ownership of land is a legal reality in all of the Balkan countries reviewed. In Macedonia, for example, the Constitution of 1991 guarantees the right to own and inherit land (and the right to a free market). 

In Albania, the 1991 Constitution and Law On Land establish the right to private ownership of land. The Bosnia and Herzegovina Constitution's Article II sets out a fundamental right to property, and the 1998 Law on Property Relations expressly addresses the ways by which land is acquired.  Article 48 of the 1990 Croatian Constitution broadly provides for private ownership and the right of inheritance.  In Yugoslavia, the 1992 Constitution allows agricultural land to be privately owned, while the State retains power over natural resources. The right of private ownership in Kosovo is established by Yugoslavian law in force in 1989 that has not been repealed by the Kosovo Special Representative of the UN Secretary-General or been modified or replaced by regulations promulgated by the Special Representative.  Although a Constitutional Framework for Provisional Self-Government and a variety of land-related laws have been so promulgated, it appears that the 1992 Yugoslavian Constitution is the vehicle establishing the basic ownership rights.

*

All of the EU Accession states, except Poland and Hungary, have engaged in some form of restitution of land rights to former owners. These countries can be divided into three categories:

(1) those that re-established the ownership rights of individuals whose land had not been expropriated, and also restituted a much smaller portion of land that had been held by the State.
(2) countries that compensated former owners, and provided or sold land to former farm workers; and
(3) countries that restituted land to former owners only.

*

The Czech Republic, Slovakia, Poland, and Slovenia did not expropriate all agricultural land during the communist era. Poland and Slovenia continued to operate small private farms throughout the communist rule.
In the Czech Republic, collectivization of agriculture began in 1948. Individual land ownership was not generally abolished, but the use rights were given to the state and cooperative farms, and under pressure many owners simply gave their agricultural land to the State. The land cadastre and registry also stopped registering individual ownership parcels and historic field boundaries were often eliminated.

Hungary's post-communist land reform process was based on compensation of former owners, rather than restitution, with landless workers on state farms and cooperatives also receiving small land grants. Fifty percent of the country's land area was subject to compensation claims, and over 2.1 million new land units were created during this process.

The compensation laws enacted between 1991 and 1997 provided compensation bonds to people who had property confiscated (including land), and to people who had been discriminated against for political and racial reasons.
Estonia, Latvia, Lithuania, Romania, and Bulgaria restituted land to former owners. In these countries, land had been formally expropriated from its existent owners during the collectivization process. Most of the new owners who received land though restitution did not farm the land (i.e., did not work on the collectives farming the land) restituted to them. Each of these countries faced a unique set of problems related to their restitution process.
Poland, like Yugoslavia, never collectivized the great bulk of its land during the Communist era, so it has had majority private ownership of agricultural land throughout the period since World War II.  Seventy five percent of farmland remained in family farms during the Communist era.

In Estonia, the household plot farmers do not have title to their land. Household farms have an average size of four hectares, use one-fourth to one-third of all agricultural land, and are significant producers of potatoes, vegetables, fruit and milk.

*

Both physical persons and legal entities in Poland have full rights to own both agricultural and non-agricultural land.

While Poland did not restitute land, it did begin privatizing its state land. The Agricultural Property Agency (APA) redistributed state-owned agricultural land in the following manner:
2.8 million hectares were broken up into smaller farm plots averaging 450 hectares and leased to 6,000 new farms. The new farms employ many former state farm workers, and function more like a miniature state farm than a private family farm;
728,000 hectares were sold outright—mostly to family farmers to expand their plots;
161,000 hectares were transferred free of charge;
330,000 hectares have been redistributed through "management," "perpetual usufruct," or "administration;" and
616,000 hectares of low-grade land have yet to be privatized, but the APA indicates that the land is not useful.312
Between 1992 and 2000, the APA annually sold about 100,000 hectares of the land in category 1 to the lessees, who had a right of first refusal under the Civil Code


http://www.fao.org/3/AD878E/AD878E02.htm#TopOfPage