Onthou 16 Junie 2019 is konsentrasiekampdag – As verrigtinge bygewoon word, neem 'n paar blomme of saadjies saam en gooi dit langs die pad of plaas dit by die name.   Stap so bykans 120 jaar terug op ons voorouers se voetspore en onthou wat ons grootouers en voorsate vir ons gedoen het.  As dit nie vir hulle was wat oorleef het, opgestaan het uit die ashoop van vernedering, voortgebeur het en weer opgebou het, was ons nie vandag daar om te onthou nie.  Heelwat van ons kom uit die twee eens onafhanklike Boere republieke – waar eens niks was, wat ons opgebou het.
*
BLOEMFONTEIN – BRITISH CONCENTRATION CAMP
Planting the seeds for concentration camps and segregation [The Anglo-Boer war]
Established about 22 September 1900.
It was a bleak place, some two miles outside the town, 'dumped down on the southern slope of a kopje right out on the bare brown veld'. There was no shelter of any kind so that the hot sun beat down on the tents. In June 1901 Inspector Daller commented that the old site continued to look disorderly:
'… the outcropping rocks and broken contour of the site – surely such a steep slope is not necessary in a country where surface drainage is so easy – make it impossible [to keep tidy]. The tents are alternately huddled and scattered in a narrow strip between the rock above and the flat with its conspicuous latrines below. The turf has long since been worn away and the soil, being naturally black, gives an unfortunate tone of grimness to the whole.'
By 15 November 1900 there were 519 people under canvas; a few days later the number had risen to 800. When Emily Hobhouse arrived there in January 1901 there were already at least 2,000 people there. At the end of March this had reached over 3,000 and a couple of weeks later the number was nearly 4,000. Families continued to pour in and Bloemfontein camp had reached the considerable size of 7,500 in August 1901.
While the testimonies of the Boer women have to be used with caution, an early letter from a mother to her prisoner son suggests that conditions were rudimentary in these early months. At the time that she wrote, there were thirteen families in the camp, with twelve people to a tent. There was no fuel and the women had to scavenge the veld for green bushes and mule dung to make fires. 'It is very hard to be beggars', she wrote. Another woman commented, 'I never knew tent life was so hard'. 'Still', she added, 'it might have been worse'. The greatest hardship was that they were not allowed into town to supplement their rations. Fortunately her brother had sent some furniture to make their tent more comfortable.
In the published accounts of the inmates, the Bloemfontein camp hospital has a particularly bad reputation. For D.H. van Zyl the word 'hospital' was synonymous with 'murder' and the camp inmates did all they could to avoid being sent there. Mrs Roos, the wife of the Heilbron landdrost and one of Emily Hobhouse's most articulate informants, was more graphic. 'No pen can give an idea of the suffering of the inmates', she wrote. The wards were dirty and unruly; the place was noisy as staff tramped up and down in nailed boots. The patients were not separated by sex, age or ailment. Vermin crawled over the blankets. The children were starved, crying out for food, and were callously treated, left shivering with cold. Mothers could visit their children only once a week for five minutes. They were not allowed to be with their loved ones, even when they were dying.
Typhoid and measles were not the only diseases assaulting the camp inmates. Many of the new arrivals were destitute and sometimes suffered from malaria. The children were prone to diarrhoea because their mothers had been forced to wean them too early and there was insufficient condensed milk to meet their needs. Coughs, bronchitis and catarrhs were widespread, as was anaemia and general debility. Many of the women suffered from amenorrhea. (The doctor thought that more exercise and fresh interests would help the latter). Ophthalmia was very common as result of the flies; some had jaundice and flu was also on the increase. Occasional cases of syphilis also occurred. (Jaundice in Bloemfontein was so widespread and unusual, in fact, that it provoked an article in the British medical journal, The Lancet, on the subject).17 Unless there was a better supply of milk, butter, clothing and tents, there would be greater mortality amongst the elderly, the MO warned.
https://theconversation.com/concentration-camps-in-the-south-african-war-here-are-the-real-facts-112006
*
Bloemfontein was the first significant camp to be established and it was not typical of most camps. It was one of the largest camps in the two Boer Republics.  Larger in fact than the town of Bloemfontein, which had a recorded population of 3,379 in 1890.
Because it was used as a holding camp, it had a constantly changing population. Water supply and health were a never-ending struggle since the British army made heavy demands on the limited supply of water and the soldiers had brought a severe typhoid epidemic into the town.
Above all, it never had a really competent superintendent. Nevertheless, it was by no means the worst camp in the system and it was under the direct eye of the central camp administration.
*
Hierdie onthou moet herstel word wat dit was, ons het 'n reg om ons eie gebied onafhanklik te wees, weg van kommunisme en liberaal radikales wat hul wil op ons afdwing.  Elke volk het die reg tot onafhanklikheid om deur hul eie leiers regeer te word.  Ons voorgeslagte het nooit moed opgegee nie – en ons, waar is ons vandag? slawe van kommuniste?  #Bolshevism #Bolsjevisme
>
ONTHOU VIR LIZZIE VAN ZYL
REMEMBER A GIRL –  HER NAME:  LIZZIE VAN ZYL
The most famous inmate of Bloemfontein camp was a little girl, Lizzie van Zyl, who died in May 1901. Her photograph, of a skeletal child clutching her doll, has become the symbol of the inhumanity of the camp system and appears in almost every book about the camps, but her death also became a political football. Probably the full story will never be known but it is worth looking more carefully at her.
The Bloemfontein camp registers were not well kept but the most likely candidate was Elizabeth Cecilia, from Twistniet farm, Ventersburg.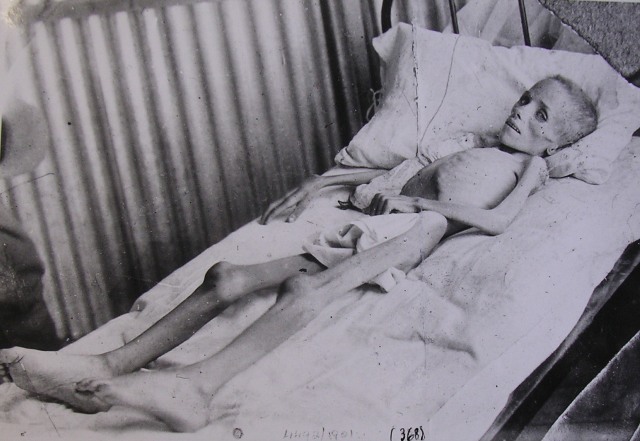 She was seven years old when she died, of typhoid fever, on 9 May 1901. Lizzie was one of seven children, from a bywoner family, whose father was on commando. Her 31-year-old mother had much to cope with and Lizzie was not the only member of the family to die. Her brother, Hermanus Egbert, died of the terrible cancrum oris, in March 1902, and a sister, Hester Wilhelmina, may have died as well, in February 1902. For Emily Hobhouse, Lizzie was the archetypal suffering child, the consequence of an inhumane system; the British authorities suggested that she died because of her mother's neglect.
https://www2.lib.uct.ac.za/mss/bccd/Histories/Bloemfontein/
*
Lees gerus:
Britse konsentrasiekampe Hester de Beer
"Geskroeide aarde"-"Scorched earth" (1)
*
***
Hoe vermoor jy 'n volk se karakter?
-Jy ontneem haar van haar geskiedenis…
Hoe vermoor 'n volk haar eie karakter?
-Sy laat dit toe…

Op 16 Junie 1900 teken Lord Roberts die doodsvonnis van derduisende Boere-vroue en kinders met sy handtekening onder aan Proklamasie (No 5/1900) waarin hy verklaar:
"…The houses in the vicinity of the place where the damage is done will be burnt and the principle civil residents will be made prisoners of war"
Soos diere, nee erger, word ons volk se vrouens en kinders in kampe ingedruk waar derduisende van hulle nooit weer uitkom nie…
Het jy gisteraand koud gekry in jou huis? Het jy vanoggend die koue lug in jou longe gevoel toe jy buite kom? Het jy dalk iewers deur die dag gevoel jy raak honger en is lus vir iets om te eet?
Nou dink jouself in om in hierdie koue wintersnagte in 'n dun ou tentjie te lê saam met talle ander mense terwyl die wind deur die opening sny….honger… koud… siek…
Dink jouself in om langs 'n kind te lê terwyl hy of sy al sagter begin asemhaal en jy weet daardie kind nie die son sal sien opkom nie omdat daar nie toegang tot enige hulp is nie…
Dink jouself in hoe dit moet voel om langs die vlak graffie te staan van 'n baba…
Mense wonder partykeer hoekom ons 16 Junie Konsentrasiekampdag herdenk… Ons herdenk nie die kampe nie… ons onthou ons mense… Ons onthou die duisende vrouens, kinders en oumensies wat die hoogste offer gebring het vir 'n volk se strewe na vryheid.
Ons onthou die seer, maar ook die moed en durf van ons voorgeslagte wat hierdie onreg moes verduur net sodat die Britte kon toeslaan op die rykdom van die Boervolk…
Die vraag wat ek en jy moet beantwoord is eenvoudig… Is ons skaam vir ons geskiedenis? Is ons skaam om ons voogeslagte se stryd te onthou?
Of…
Herdenk ons die 16de Junie die offer wat ons mense betaal het met trots en deernis?
Ek nooi jou uit om hierdie jaar die 16de Junie vir 'n oomblik stil te raak… Om terug te dink aan die hel wat ons mense in die konsentrasiekampe moes deurmaak…. Om te verstaan waar ons volk vandaan kom….
Want dan sal jy besef hoekom ons nogsteeds hier is en hoekom ons volk 'n kans het op 'n toekoms….