They want and demand everything for free, if it is not education it is services and houses and think Eskom own them free power.   It was like that before 1994 and it is after 1994 – no differences but always blame the whites or socalled apartheid for everything.   And,  since when is electricity free to all in South Africa – all of us have to pay for all our services, even education is not free, water is not free, so why must certain people think they are on a type of special pedestal to get everything for free.    When you own Eskom money – pay first all your debt and pay for your usage.    If you do not pay for your electricity do not expect to get anything.    Did you pay for your expensive cellphones, computers, clothes and shoes or did you get it for free?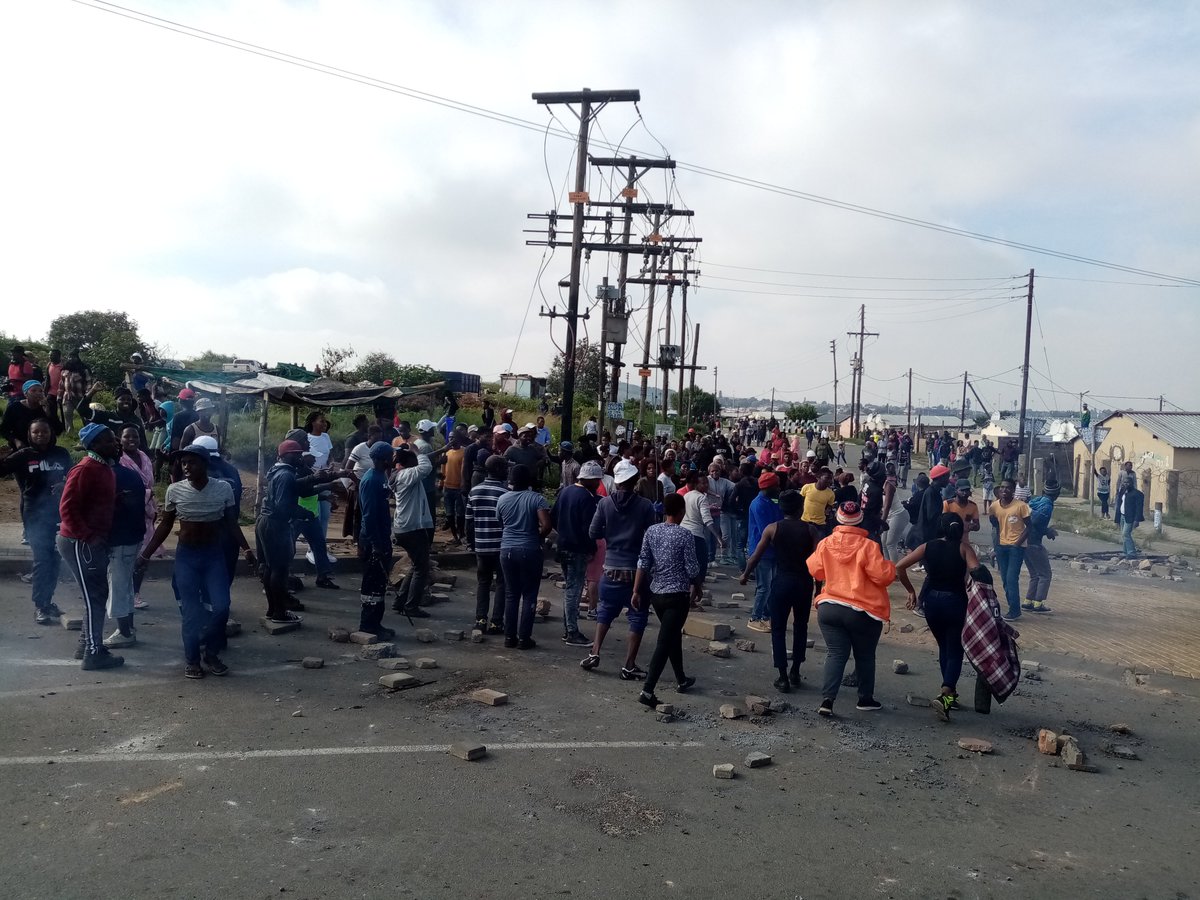 *
Soweto currently owes Eskom R18bn in unpaid debt.   They are not the only ones.
This is Sabotage – this protest actions are not peacefully but they want to sabotage the country.  How many of those protestors are immigrants and illegals in the streets ?      Demanding free electricity is not negotiable.   Pay what you have used in the past, and that is not only for Soweto, but all municipalities and those who steal it.

*

THEIR DEMANDS:   UNACCEPTABLE

Restoration of power to all affected areas, an increase in the amount of free basic electricity, a R150 flat rate per household for electricity and clearing of all existing debt…

These were just some of the demands made by the SA National Civic Organisation (Sanco) and the ANC in a memorandum to Eskom, read out by Sanco regional secretary-general Artwell Kamani outside the utility's Diepkloof offices in Soweto on Wednesday.

Speaking in front of a group of about 100 people, Kamani, directly addressing Eskom said: "We are here today to say that we have had enough of this abusive relationship with you [Eskom]."

To an acutely attentive crowd, Kamani said both organisations would give Eskom 21 working days to respond to their demands, failing which "we will return and continue with our action until you respond".

"We demand that you accept that our people must start paying electricity from March 1 this year at a flat rate of R150 per month per household," he said to applause.

"We demand that you start restoring electricity to all the residents of Orange Farm, Soweto and Midrand."

"We further demand scrapping of all debt so that we can all start on a clean slate."

He went on to make a plea for better treatment of Soweto residents.

"We demand our dignity back and say enough is enough. We can no longer tolerate this behaviour."

Councillor Sechaba Khumalo, who was at the rally, told City Press that he and other leaders welcomed the initiative.

"This is a community initiative; the ANC and Sanco have taken up the initiative and as councillors we embrace this march.

"This is where issues of Eskom should be addressed. I have been informed that the ANC got here [to the Eskom offices in Diepkloof] before us, the residents of Nomzamo."

"The ANC's role in society is to lead and with this march today they have done so. Most wards in Soweto are led by the ANC. They are doing what they are meant to do." 

On the first day of the #SowetoShutdown on Tuesday, Khumalo invited angry residents to join councillors who had promised to march to the Eskom offices on Wednesday.

The protest saw residents from Nomzamo in Orlando East, Soweto, march to Khumalo's office in an effort to address him and to challenge the R18 billion which Eskom says the residents owe for electricity.

Meanwhile, community leader Vuyiswa Khata, who, together with her fellow community leaders, watched the rally unfold from a corner, did not share Khumalo's sentiment.

"The people speaking here today are people who complain about load shedding, about not having electricity for a few hours. [Having electricity is] a luxury for our community members. We have not had electricity for more than eight months,"she told City Press.

Community leaders were left disappointed on Wednesday morning after Khumalo did not arrive, and they had to embark on the march on their own.

The leaders, who arrived at the offices as early as 9am, told City Press that the ANC and Sanco rally did not "address the issues of the community". 

"These people don't understand our frustration. This rally was not about the people," Khata said.

"They are talking about 21 days, saying how they are tired… We have been tired for almost a year. We don't have 21 working days. We passed that stage a long time ago.

"The leadership knows how many times we, as community leaders, have engaged with management at the Eskom Diepkloof offices. Now they come for one day to take us 10 steps back."

Eskom's Daphney Mokoena received the memorandum on behalf of the utility.

https://city-press.news24.com/News/anc-sanco-in-soweto-serve-eskom-with-demands-20200226?mobile=false
*

*

*

*

Those in Soweto think they are better than others – guess what you are not better.   Those who steal electricity must pay it back with interest.     Soweto is not alone, and one of thousand other cities/town that do not pay Eskom.  There are other municipalities doing the same to the country – you as the people, created the revolutions, you always "protest" and burn things down that you did not pay for.

TERRORISM – SABOTAGE
Terrorist activities – Terroristiese aktiwiteite (Act/Wet 33 of 2004)

"Pay your electricity" – nothing is for free

Municipal services – Water – Munisipale dienste – Mpumalanga

Eskom has hit back at allegations made against it by organisers of the Soweto Shutdown who claimed that the power utility's bullying tendencies were the reason they had taken to the streets.

The Electricity Crisis Movement had planned to paralyse Soweto on 25 February 2019 saying Eskom treats them terribly compared to people living in areas such as Sandton.

While the power utility is battling financially, everything was blamed on the Soweto debt and as result, the area was load shed longer and frequently compared to other areas, said the Movement's Trevor Ngwane.

"Eskom's problems did not start with the Soweto debt although every cent and billion counts. Eskom, just like many State-Owned Enterprises, has problems with corruption and mismanagement but they're using Soweto debt as a fig leaf cover up.    "Another thing is that if a substation explodes or needs maintenance, they don't send someone to repair it on the grounds that Soweto residents are not paying.

"It is a myopic strategy to let infrastructure go into disrepair; it's the shortsightedness and arrogance of Eskom. Soweto people are not paying because they are poor," he said.

However, the power utility came out guns blazing, saying Soweto currently owes Eskom R18-billion despite the fact that they scrapped the township's debt twice in the past with an agreement that customers will start paying.

That, however, has not yielded the desired results hence the huge debt, Eskom said.

"We have however agreed to park the debt for those customers on split pre-paid meters on condition that they are loyal in purchasing electricity from Eskom vendors and not bypassing the meters for a period of 36 months."

Eskom also said the government also provides free electricity to indigent people but that was a process administered by municipalities who uses their own criteria to identify deserving customers.

"In the case of Soweto, the City of Johannesburg administers this process.  Customers are encouraged to partake so they can benefit as this will alleviate pressure."

Ngwane also accused Eskom of loadshedding Soweto frequently and longer than other areas as a form of punishment for their debt, something that the power utility denies.

According to Eskom, load shedding follows a schedule on the power utility's website. However, sometimes power outages occur due to network faults, vandalism and theft of infrastructure outside load shedding, the power utility said.

Eskom also said they have over the years  tried to disconnect those who are not paying but that became unsafe for their staff as some residents resisted that effort.

"We have customers who are honouring their payments on monthly basis however most are not.

"In some cases, those that we managed to disconnect simply reconnected themselves and unfortunately this meant they had to be billed for their consumption and since it was not paid, it also accumulated interest.

"Eskom is however still disconnecting all customers found to have bypassed and bridged meters as well as illegal connections.

"It is to be noted that there has been numerous interventions supported by the Department of Public Enterprises in the past yielding no positive results on the growing debt.  We are currently converting post-paid meters to prepaid as mentioned above in order to stop the debt from growing further."

The Shutdown of Soweto that the Movement had planned on Tuesday in response to their displeasure with Eskom, however, failed to take off.

In one instance, the South African Police Services and Joburg Metro Police fired rubber bullets and teargas to disperse a group of about 30 protesters who were trying to block an intersection in Orlando.

https://www.iol.co.za/the-star/news/eskom-hits-back-at-soweto-shutdown-protesters-you-owe-r18bn-for-electricity-43431108

*
Sedert wanneer is elektrisiteit gratis of verniet in Suid-Afrika.
Almal betaal – as mens na 'n winkel gaan betaal mens vir alles: klere, voedsel, water en dienste.
As niemand betaal nie gaan Eskom nie bestaan nie, dan kry niemand elektrisiteit nie.  As daar nie vir voedsel betaal word nie, kan die BOERE of winkels wat dit verkoop nie oorleef nie en sal niemand werk he nie.
Eskom skuld niemand nie, inteendeel die wat nie betaal of wil betaal nie en steel, moet gerus maar gaan gas of kerse, dan het hulle 'n lig of twee.   Mens wat krag steel saboteer die land, saboteer Eskom en dit is niks minder as wat hulle ook voor 1970 gedoen het.    Hulle saboteer die stelsel met opset sodat Eskom moet vou en dis nie net Soweto nie, maar baie munisipale amptenare wat nie die lede se gelde oorbetaal aan pensioene of Eskom nie.
Eskom behoort nie aan die ANC nie !!!