In political and social sciences, communism (from Latin communis, "common, universal")  is the philosophical, social, political, and economic ideology  and  movement  whose ultimate goal is the establishment of the communist society, which is a  socio- economic order structured upon the common ownership of the means of production and the absence of social classes, money, and the state.
At Marikana  – 2012  – This is all part of the revolution.
Communism includes a variety of schools of thought, which broadly include  Marxism  and anarchism (anarcho-communism) , as well as the political ideologies grouped around  both. All of these share the analysis that the current order of society stems from its economic system, capitalism; that in this system there are two major social classes; that conflict between these two classes is the root of all problems in society; and that this situation will ultimately be resolved through a social revolution.


The state is nothing but an instrument of oppression of one class by another since the Anglo boer Wars, especially the British empire's involvement.

***
August 2012 – 7 years later…
At some stage those protesters already killed 11 security and other people.  Protesters were mostly armed.   At 5:25 theres a miner shooting at the police and media with a 9mm pistol, also you can see all the weapons like spears and knopkieries the miners are carrying.   A guy shooting at the police officers behind the nyala. Where's his circle and what about the spears and pangas?? where's those circles. . Theres nothing  peaceful about a protester shooting a gun at you, or running towards you with a weapon.
And who paid the INSURANCES AND OTHER FEES?
***
Every 32 minutes, a motorist is hijacked somewhere in South Africa – that's a horrifying 46 cars hijacked every day. Hijacking and car theft are, unfortunately, a reality which have to be factored into our daily lives. We're faced with decisions like whether or not to get insurance, install a tracker or park our car on the verge at our best friend's braai.
https://www.youtube.com/watch?v=SJDO_QjAT70
***
iNamba-namba
https://www.youtube.com/watch?v=jw4sGetgzRo
***
***
https://www.channel4.com/news/south-african-police-fire-on-striking-miners
***
2017
2017
2018
***
DOES IT HELP TO PROTEST ? – NO  – DESTRUCTION AND DESTROY
There were more protests in 2018 than any other year since 2005 – but analysts are worried that there could be another spike this election year.   Municipal IQ, a specialised local government data and intelligence organisation, recorded 237 protests against municipalities across the country last year. This beat the previous record of 191 protests in 2014.   
"Between 2004 and 2018, Gauteng has tended to be the major site for service delivery protests – on average accounting for 24% of protests over this period, and reaching 34% in 2017. In 2018 it was different: the Eastern Cape far outstripped Gauteng and was followed by the Western Cape as the most protest-afflicted province for the year," the organisation said.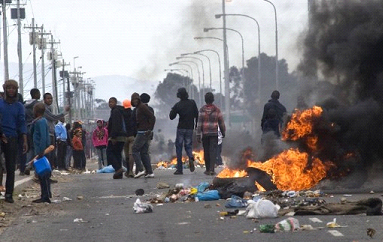 READ MORE
https://citizen.co.za/category/protests/
2018
***
PART OF THE REVOLUTION
MK – Mbokodo – Muziwakhe Ngwenya – Thami Zulu or TZ
RACISM AGAINST WHITES
B-BBEE – Shanduka black umprellas
Racism and discrimination – B-BBEE legislation – Ramaphosa
Tswane – Pretoria – illegal strike
State-owned land – 25 years later