*
Ramaphosa het gedurende Junie 2022 'n groep van 14 mense aangestel om as lede van die Breëgebaseerde Swart Ekonomiese Bemagtigingsadviesraad te dien om die regering te lei oor verskerpte transformasie van die ekonomie.    Die Raadslede is ingevolge Artikel 6(1) (d) van die Wet op Breëbasis Swart Ekonomiese Bemagtiging (Wet No 53 van 2003) aangestel en geldig vir 'n tydperk van vyf jaar.   Agt lede is vroue.   Maar daar word ook swart bemagtigingswetgewing toegepas as rede vir die 'covid 19' krisis – dis mos nie blankes se skuld dat besighede nie kon bedryf nie, die regeringsamptenare het almal salarisse verdien, terwyl miljoene werkers hul werk verloor het.  Korrupsie vind oral plaas.   Daar is heelwat in hierdie 'pyplyn' om te gebeur.
*
On 1 June 2022 it was stated that Ramaphosa has appointed a group of people with sector expertise to serve as members of the Broad-Based Black Economic Empowerment Advisory Council and to guide government on intensified transformation of the economy.    He appointed 14 Council members in terms of Section 6(1) (d) of the Broad-Based Black Economic Empowerment Act (Act No 53 of 2003). The appointments are for a period of five years.
The Council comprises with their positions:
1.    Mr Kganki Matabane, Chief Executive Officer of the Black Business Council (BBC);
2.    Ms Gloria Serobe, a veteran of black business;
3.    Dr Nthabiseng Moleko, an academic and specialist on industrial development funding;
4.    Ms Sibongile Sambo, who operates a company in the aviation services sector;
5.    Mr Sibusiso Maphatiane, an industrialist who runs his own metal foundry business;
6.    Mr Ajay Lalu, a chartered accountant and B-BBEE specialist;
7.    Ms Louise Thipe, a senior leader in the labour movement;
8.    Ms Makale Ngwenya, a trade unionist and researcher;
9.    Mr Kashif Wicomb, who leads the Progressive Professionals Forum (PPF);
10.    Dr Lulu Gwagwa, an academic, spatial development planner and businessperson;
11.    Mr Thulani Tshefuta, who represents the community constituency and the youth movement at the National Economic Development and Labour Council (NEDLAC);
12.    Mr James Hodge, Chief Economist of the Competition Commission;
13.    Ms Khathu Lambani Makwela, a director of a company in the healthcare sector; and,
14.    Ms Irene Dimakatso Morati, an internal auditor.
Provincial representation, sector expertise, gender and age are among the considerations that informed the composition of the Council.
In line with the legislation that applies to the Council, members are drawn from business, trade unions, community-based organisations and academia. They also have broad expertise in major sectors of the economy.
Eight of the 14 candidates are female.
President Ramaphosa thanks the new members of the Council for availing themselves to serve the country in this capacity and he wishes the Council the best in advancing black economic empowerment as part of the comprehensive transformation of the South African economy.
Media enquiries:
Vincent Magwenya
Spokesperson to the President
Cell: 082 835 6315
https://www.gov.za/speeches/president-cyril-appoints-broad-based-black-economic-empowerment-advisory-council-1-jun-2022
*
He stated that B-BBEE is an integral part of SA's economic reconstruction and recovery in the wake of the Covid-19 pandemic.    Among other functions, the act was established to grow black entrepreneurship, ensure greater black management and ownership of businesses, and bring black women into the mainstream of the economy.

"Between 2017 and 2020, nearly 500 empowerment transactions were submitted for registration to the BBBEE Commission. In key sectors such as construction, property, information and communications technology, tourism and transport, black ownership has exceeded targets.
Speaking in 2021 about progress made to create a generation of black industrialists, Ramaphosa said the government approved R2.5bn to support nearly 180 black industrialists in the form of loans from the Industrial Development Corp (IDC) and National Empowerment Fund (NEF) and grants from the department of trade, industry and competition incentive scheme.
An additional R40bn has been pledged by the government and the private sector.
https://www.businesslive.co.za/bd/national/2022-05-30-bee-is-crucial-part-of-economic-recovery-after-pandemic-says-cyril-ramaphosa/
*
Ramaphosa listed several actions that were being taken to add more capacity but also announced that only 800 MW of the 2 000 MW in projects selected under the controversial Risk Mitigation Independent Power Producer Procurement Programme (RMIPPPP) were ready to proceed.
Given that three Karpowership projects comprised about 1 200 MW of the RMIPPPP allocation, there was immediate speculation that the projects, which face legal, environmental and gas-pricing uncertainty, were among those that were not ready to proceed.
Other capacity mentioned included over 500 MW still to enter into commercial operation from Bid Window 4 of the Renewable Energy Independent Power Producer Procurement Programme (REIPPPP); 2 600 MW from REIPPPP Bid Window 5, for which the preferred bidders were announced last year; another 2 600 MW from Bid Window 6, bidding for which would "open soon"; as well as 3 000 MW of gas power and 500 MW of battery storage, for which requests for proposals would be released later this year.
The President also estimated that 4 000 MW of embedded generation capacity in the mining sector could also move ahead as a result of a recent reform allowing sub-100 MW projects to proceed without a licence, while another 1 400 MW could be procured by municipalities.
"Transnet will ask for proposals from private partners for the Durban and Ngqura Container Terminals within the next few months, which will enable partnerships to be in place at both terminals by October 2022."
The State-owned company would also start the process of providing third-party access to its freight rail network from April 2022 by making slots available on the container corridor between Durban and City Deep.
The President also reiterated his intention to take advantage of the offer of $8.5-billion in climate finance made to South Africa at COP26 by the European Union, France, Germany, the UK and the US.
"Renewable energy production will make electricity cheaper and more dependable, and will allow our industries to remain globally competitive.

https://www.engineeringnews.co.za/article/ramaphosa-gives-social-partners-100-days-to-finalise-new-consensus-for-reigniting-recovery-plan-2022-02-10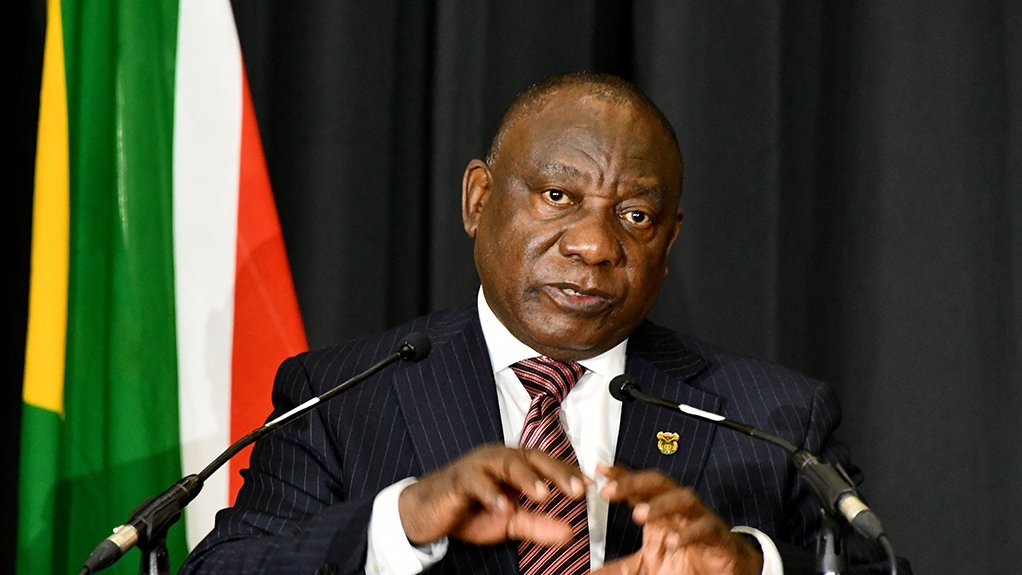 *
*
*
PREVIOUSLY
2021 Briefing
*
Clearly, Government is focused on growth and jobs. In 2020, the pandemic has shrunk our already beleaguered economy by 8%, with 2 million people losing their jobs. More infrastructure projects are required, with the targeting of substantial growth initiatives, and not once-off plugs that will not contribute meaningfully towards a turnaround of the South African economy.
President Cyril Ramaphosa yesterday announced a post-Covid economic reconstruction and recovery plan
*
Addressed by President Cyril Ramaphosa to the Joint Sitting of Parliament on South Africa's Economic Reconstruction – 15 October 2020
The evidence suggests that the expansion of social protection has kept more than 5 million people above the food poverty line during the past six months.
The Special COVID-19 Grant in particular represents a significant achievement, reaching more than 6 million unemployed people in a short space of time.
More than 960,000 companies have benefited through the UIF wage support scheme and through the grants and loans provided by various government departments and public entities.
More than 4 million workers have received R49 billion in wage support, helping to protect these jobs even while companies were not able to operate.
In addition to those businesses that have received direct support, many more companies have benefited from tax relief measures worth in the region of R40 billion.
This plan directly responds to the immediate economic impact of COVID-19 by driving job creation and expanding support for vulnerable households. The aim to do this primarily through a major infrastructure programme and a large-scale employment stimulus, coupled with an intensive localisation drive and industrial expansion.
The interventions outlined in this plan will:
– achieve sufficient, secure and reliable energy supply within two years;
– create and support over 800,000 work opportunities in the immediate term to respond to job losses;
– unlock more than R1 trillion in infrastructure investment over the next 4 years;
– reduce data costs for every South African and expand broadband access to low-income households;
– reverse the decline of the local manufacturing sector and promote reindustrialisation through deeper levels of localisation and exports;
– resuscitate vulnerable sectors such as tourism, which have been hard hit by the pandemic.
According to the modelling done by National Treasury, the implementation of this plan will raise growth to around 3% on average over the next 10 years.
The Infrastructure Fund will provide R100 billion in catalytic finance over the next decade, leveraging as much as R1 trillion in new investment for strategic infrastructure projects.
Several projects are already in construction.
These include human settlements projects such as Matlosana N2 in North West, Lufhereng in Gauteng, Greater Cornubia in KwaZulu-Natal and Vista Park in Free State.
Together these represent an investment value of R44.5 billion.
In total, we have gazetted 18 housing projects to the value of R130 billion, which together will produce more than 190,000 housing units.
Transport projects currently under construction include the N1 Polokwane and N1 Musina with a total value of R1.3 billion.
READ MORE:
https://pmg.org.za/briefing/31212/?utm_campaign=ministry–media-briefing&utm_sourc
*
RASSISME EN DISKRIMINASIE TEENOOR BLANKES IN SUID-AFRIKA