*
In 1998 is daar 'n dokument geskryf wat plaasaanvalle en moorde veral, reeds as  priorititeit misdade verklaar het, maar in 2007 verander die Polisie dit na gewone misdaad.  In 2007 het die SAPS gestop om hierdie moorde afsonderlik in statistiek te verwerk, terwyl hul sisteme van so 'n aard is dat dit wel gegee kan word.   Daar word altyd beweer dis gewone diefstal, aanvalle en moorde, terwyl dit nie so is nie.   Heelwat plaasaanvalle en moorde bly vir etlike jare onopgelos, so daar kan nie bewerings gemaak word dit is diefstal as daar moorde plaasgevind het nie.   Op elke kruis is daar 'n naam van 'n Boer wat vermoor is.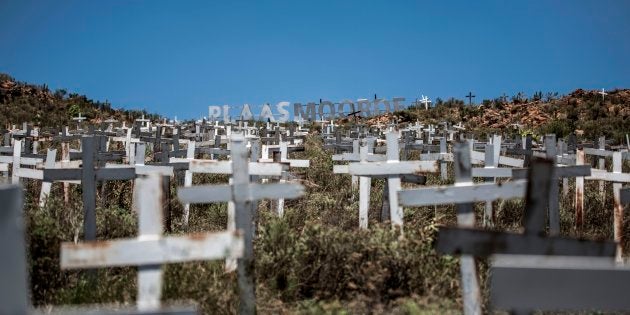 *
In heelwat gevalle word daar nie eers geroof nie, daar word ingebreek met die opset om ernstig te beseer, martel en te vermoor.  Slagoffers word soms letterlik ingewag om aangerand en vermoor te word.   Polisie ondersoeke wat regtig ondersoeke doen,  vingerafdrukke en ander tipe bewyse kry, toon alle bewyse aan vir toekomstige hofsake, wat deel moet vorm van enige statistiek. 
GEEN moord word goedgepraat nie, maar feitlik elke Boer word tot die dood toe gemartel.  Dit is lankal tyd dat Boere hul tot die uiterste onder wetgewing verdedig.  Geen moordenaar kom huise binne vir koekies en tee nie.   Blankes gaan nie swartes of ander se huise in , martel hulle of maak hul dood en verdwyn daarna nie.
*
What happened in Zimbabwe – same as in South Africa now.
EUROPEAN PARLIAMENT – MOTION FOR A RESOLUTION on farm murders in South Africa –
13 November 2020 
Register Reference : P9_B(2020)0354
https://www.europarl.europa.eu/RegistreWeb/search/simpleSearchHome.htm;jsessionid?searchLanguages=EN&relations=NUPE%23%23658.419&sortAndOrder=DATE_DOCU_DESC
*
"Dubula ibhunu" (shoot the boer):  A psycho-political analysis of farm attacks in South Africa – Joelien Pretorius
Farm attacks
In 1998 farm attacks were declared a "priority crime" by the South African Police Service (SAPS) and defined in a 2003 SAPS Report of a special committee of inquiry into farm attacks as "… acts aimed at the person of residents, workers and visitors to farms and smallholdings, whether with the intent to murder, rape, rob or inflict bodily harm. In addition, all actions aimed at disrupting farming activities as a commercial concern, whether for motives related to ideology, labour disputes, land issues, revenge, grievances, racist concerns or intimidation, should be included" (SAPS, 2003:
417). Since 2007 efforts to draw a conceptual boundary around this form of crime and labelling it a priority have been reversed in favour of a broader rural safety approach. Although still common in everyday language and the media with the term "farm murders", the SAPS stopped releasing statistics on "farm attacks" as such in 2007 and the Minister of Police noted:    "farm murders … are listed under the category of murders as a murder is a murder no matter where it occurs" (emphases added) (Parliamentary Monitoring Group, 2010).
https://repository.uwc.ac.za/bitstream/handle/10566/5814/PretoriusDubulaibhunu.pdf?sequence=2&isAllowed=y
Genocide  Vernietiging van 'n volk
*
31 August 2020
On Tuesday, the National Assembly will debate a matter of national public importance: the recent scourge of farm attacks and murders of farmers and farm workers.  The debate is sponsored by the DA's Dianne Kohler Barnard. In a statement earlier this month, she said: "While the South African Police Service (SAPS) have created plan after plan, farmers – black and white – , farm workers – black and white – , their wives, children and parents are today twice as likely to be murdered than a police officer is and four times more likely to be murdered than the average South African". According to official data, 49 farm murders occurred during the 2019-2020 financial year.
https://pmg.org.za/blog/TheWeekAheadBusyWeekastheNAthirdtermends



*
Hoe lank gaan daar 'n streep in die sand getrek word, aangesien plaasaanvalle, martelings, verkragtings en moorde alreeds voor 1994 begin het en dit neem drasties toe.
**
On Sunday morning, 1 November 2020, during the Democratic Alliance (DA) Federal Congress, delegates unanimously supported a policy resolution that farm attacks and murders be declared a hate crime and a priority crime category. 
Our rural communities are under enormous threat. In the last 10 years some 612 of these farmers and farm workers have been murdered, with at least 2 818 recorded attacks – leaving many maimed, raped, crippled or blinded. Rural communities are vulnerable to the most heinous form of attacks. Due to the isolation of rural communities attackers have the time to hone their craft, boil their oil, heat the irons and sharpen their machetes, often leaving without taking anything at all.
https://www.politicsweb.co.za/documents/farm-murders-da-draws-a-clear-line-in-the-sand–di
*
August 2020
"The lives of farmers, farm workers and farm dwellers as well as every citizen of the country, black and white, matters, it is for this reason that government will continue to work with the Justice, Crime Prevention and Security Cluster to ensure prevention as a priority in dealing with farm murders," said Deputy President Mabuza.
http://www.thepresidency.gov.za/newsletters/deputy-president-david-mabuza-calls-pursuit-better-nation-and-end-farm-murders
*
1 September 2020 – Farm attacks and rural community and safety
*
Vraag en antwoord – Parlement 1930 gedateer 21 Augustus 2020:
Volgens die parlement en minister van polisie is plaasaanvalle en moorde gewone misdaad.  Wat 'n pot strooi.
Click to access 041dc96b-e188-4ebf-a746-42a1323f9cc9.pdf
*
2010
Adjunkspeaker, 'n mosie waarin plaasmoorde in Suid-Afrika as ernstige menseregtevergryppe veroordeel is, is deur die Unrepresented Nations and Peoples Organisation, UNPO, se algemene kongres in Rome aanvaar. Die mosie is deur Dr Pieter Mulder, VF Plus leier, voorgestel en gemotiveer.
Die bywoning van die kongres en die stel van die mosie is deel van die VF Plus se plan vir die internasionalisering van die Suid-Afrikaanse situasie, want dit help nie om te wag totdat dit te laat is en jou dan eers op die wreld vir hulp te beroep nie. Die wreld behoort deurlopend op hoogte gehou te word oor prestasies, maar ook oor menseregtevergryppe, in Suid- Afrika.
Die feit dat meer as 3 000 boere en hul werkers sedert 1994 in Suid-Afrika vermoor is, regverdig internasionale aandag. As 'n groep, verteenwoordig dit ongeveer 300 moorde per honderd-duisend van die bevolking. Dit is ook genoegsame rede om plaasmoorde as prioriteitsmisdaad te verklaar, en 'n ernstige beroep word in die verband op die Minister van Polisie gedoen.
Die komitee wat in 2003 aangestel was om plaasmoorde te ondersoek het toe reeds bevind dat die kanse dat die slagoffer in 'n plaasaanval beseer sal word, twee maal so groot is as in transitorooftogte. Die kanse dat die slagoffer sal sterf is dr maal so groot as in transitorooftogte. Dit alles is genoegsame rede vir internasionalisering van plaasmoorde.
As verder in ag geneem word dat meer as 5,56 miljoen mense in Suid-Afrika net die afgelope sewe jaar slagoffers was van geweldsmisdade, is Suid- Afrika 'n geweldadige land.
Dr Mulder is ook tydens hierdie kongres op UNPO se dagbestuur of presidensie verkies.
Die kongres het verder die posisie van minderhede binne 'n demokrasie behandel. Politieke oplossings soos magsdeling, federalisme en selfbeskikking is bespreek. 'n Algemene mosie wat deur die kongres aanvaar is beklemtoon die belangrikheid van die behoud van 'n eie taal en kultuur in die beskerming van minderhede. Dankie. (Translation of Afrikaans member's statement follows.)
[Mr P J GROENEWALD (FF Plus): Hon Deputy Speaker, a motion in which farm murders in South Africa are condemned as serious human rights violations, has been accepted by the general congress of the Unrepresented Nations and Peoples Organisation, UNPO, in Rome. The motion was introduced and motivated by the leader of the FF Plus, Dr Pieter Mulder.
Attending the congress and introducing the motion was part of the FF Plus's plan to internationalise the South African situation, because it is of no use to wait until it is too late and only then ask the world for help. The world should continuously be kept abreast of achievements, but also of human rights violations, in South Africa.
The fact that more than 3 000 farmers and their workers have been murdered in South Africa since 1994, justifies international attention. As a group, it represents approximately 300 murders per hundred thousand of the population. It is also a good enough reason to declare farm murders a priority crime, and an urgent appeal is made to the Minister of Police in this regard.
The committee, which was appointed in 2003 to investigate farm murders, found at that stage already that the chance of a victim being injured in a farm attack was twice as high as in a cash-in-transit robbery. The chance of the victim dying was three times as high as in a cash-in-transit robbery. These findings are adequate reason for the internationalisation of farm murders.
If it is also taken into consideration that more than 5,56 million people in South Africa were victims of violent crimes in the past seven years alone, then South Africa is a violent country.
Dr Mulder was also elected to UNPO'S executive committee or presidency during this congress.
The congress also discussed the position of minorities within a democracy. Political solutions such as power-sharing, federalism and self- determination were discussed. A general motion that was accepted by the congress emphasised the importance of the preservation of an own language and culture in the protection of minorities. Thank you.]
https://www.pa.org.za/hansard/2010/june/01/proceedings-of-the-national-assembly-tuesday-01–2/farm-murders-in-south-africa-accepted-as-serious-v
*
PAGE 10 – FARM ATTACKS, BRUTAL KILLINGS ON FARMS
2.2
Click to access Mokgoko_Towards_2015.pdf