Back in April 2019  more than £100m have been found by security services at the home of Sudan's ousted president.      Omar al-Bashir was investigated over alleged money laundering after the hoard of cash – in US dollars, euros and Sundanese pounds – was discovered while he was under house arrest.    He has since been transferred to capital Khartoum's notorious Kobar high-security prison, Reuters reports.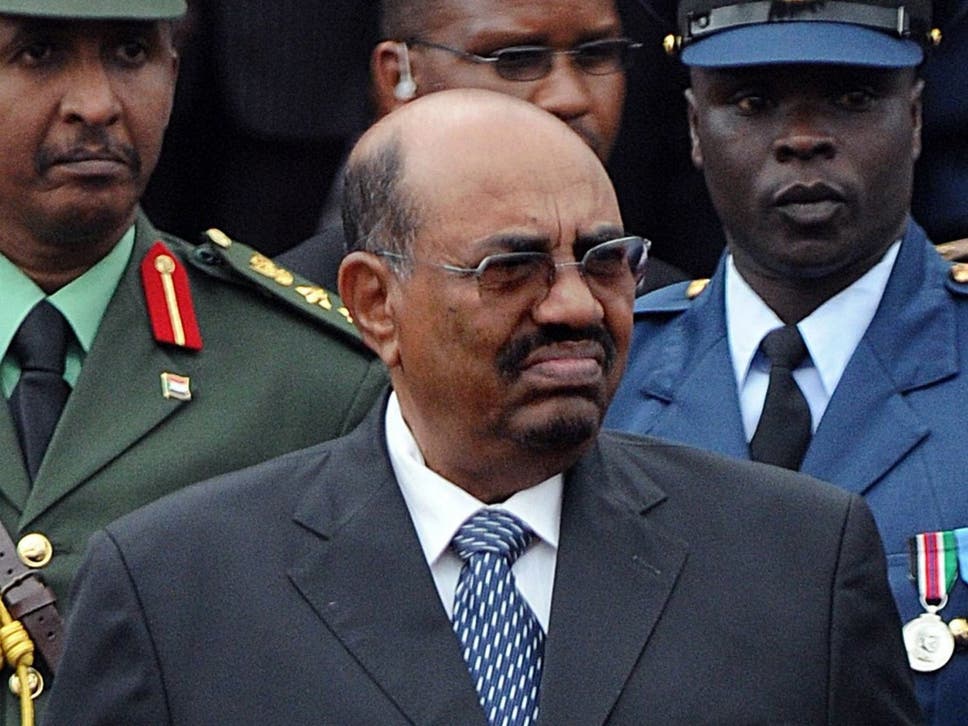 *

Al Bashir Case

The first warrant for arrest for Omar Hassan Ahmad Al Bashir was issued on 4 March 2009, the second on 12 July 2010. The suspect is still at large.   Next steps: Until Omar Al Bashir is arrested and transferred to the seat of the Court in The Hague, the case will remain in the Pre-Trial stage. The ICC does not try individuals unless they are present in the courtroom.

Q&A REGARDING APPEALS CHAMBER'S 6 MAY 2019 JUDGMENT IN THE JORDAN REFERRAL RE AL-BASHIR APPEAL

Click to access 190515-al-bashir-qa-eng.pdf

>

President of the Republic of Sudan since 16 October 1993 at time of warrants. Arrest warrants: 4 March 2009 and 12 July 2010

Charges: five counts of crimes against humanity: murder, extermination, forcible transfer, torture, and rape; two counts of war crimes: intentionally directing attacks against a civilian population as such or against individual civilians not taking part in hostilities, and pillaging; three counts of genocide: by killing, by causing serious bodily or mental harm, and by deliberately inflicting on each target group conditions of life calculated to bring about the group's physical destruction, allegedly committed at least between 2003 and 2008 in Darfur, Sudan
https://www.icc-cpi.int/darfur/albashir

*

*

The revelation came as the new ruling military junta – led by army lieutenant general Abdel Fattah Abdelrahman Burhan – announced on Saturday that several senior members of Mr al-Bashir's former ruling party had been arrested.   A committee to oversee investigations into government corruption and misuse of public money has also been set up, the new authority said.   Speaking about the accusations of money laundering against the country's deposed leader, a judicial source told Reuters: "The chief public prosecutor… ordered the [former] president detained and quickly questioned in preparation to put him on trial."

The 75-year-old – who is wanted by the International Criminal Court over allegations of genocide – was thrown out of office by the army in a coup which followed months of popular protests against his 30-year rule.

https://www.independent.co.uk/news/world/africa/sudan-crisis-latest-cash-leader-home-omar-albashir-a8879621.html

*

December 2019 – 2 years in prison

Sudan's former President Omar al-Bashir has been sentenced to two years in prison on financial irregularity charges in the first of several cases against the leader who was removed after nearly 30 years in power.

*
November 2019

Sudan's transitional government has approved a law to dismantle the regime of former President Omar al-Bashir.   The law was passed during a joint meeting of Sudan's sovereign council and cabinet to dissolve al-Bashir's National Congress Party.   Al-Bashir was removed from office in April, after months of anti-government protests.   The measures include the annulment of a controversial act which severely curtailed women's movements.

*

1 September 2019

A Sudanese judge has formally charged deposed President Omar al-Bashir with corruption, and illegally possessing foreign money.       Speaking from inside a cage, al-Bashir admitted receiving millions of dollars from Saudi Arabia but added that he did not personally benefit from the cash.    Al Jazeera's Hiba Morgan reports from Khartoum.

*

*
It was stated on 24 July 2020 that 28 Sudanese army officers involved in a failed coup against former president Omar al-Bashir in 1990 have been found in a mass grave, prosecutors said on 23 July 2020.      It is the second mass grave discovered since Bashir, who ruled the African country for three decades and ruthlessly crushed dissent, was overthrown by the army during street protests last year.   The bodies were found in Omdurman, twin city of the capital Khartoum, as part of investigations into misdeeds committed under his rule, public prosecutor Tagelsir al-Hebr said.    "It took three weeks and the work of 22 experts from different fields to locate it," he said in a statement.

"Operations are under way to dig up the bodies and medical experts will carry out tests to identify the remains."      In April 1990, the officers had surrounded an army headquarters and several barracks before being arrested and killed.

Bashir, 76, and many of his aides have been kept in Khartoum's Kober prison on multiple charges since being ousted.       He has already been convicted of corruption and is currently on trial over the Islamist-backed 1989 military coup that brought him to power.  The International Criminal Court (ICC) also wants to try Bashir for genocide and war crimes committed in the Darfur region, where 300,000 people were killed and 2.5 million others forced to flee.      Sudan has since August been led by a civilian-majority administration presiding over a three-year transitional period.

Authorities have vowed to probe acts committed under Bashir's rule as well as violence during last year's protests, which led to his removal from power in April 2019.   In mid-June, they uncovered a mass grave of conscripts allegedly killed after trying to flee a military camp in 1998.   The Sudanese government said at the time that around 55 young conscripts who fled the base drowned when their overloaded boat capsized in the Blue Nile.   But opposition groups accused the regime of deliberately killing the conscripts and reported a death toll of more than 100.   Bashir used conscripts in the civil war against rebels in the oil-rich south, which seceded in 2011. Many Sudanese families reported that their sons went missing and their remains were never found.

https://www.telegraph.co.uk/news/2020/07/24/sudan-finds-mass-grave-believed-have-bodies-officers-plotted/
*
*
*
BACKGROUND – SOUTH AFRICA
Hoekom word elites beskerm in die naam van misdaad …   Omar al-Bashir was removed from power after nearly four months of anti-government,
*
Prosecutors are also investigating a case of money laundering against al-Bashir after authorities found large amounts of cash in various currencies stashed in his home.   The International Criminal Court in The Hague has also issued a warrant for al-Bashir over allegations of war crimes during the Darfur conflict between 2003 and 2006.   
Omar al-Bashir – terrorism, killings, money laundering …
*
South Africa had been under a clear obligation to arrest al-Bashir when he attended an African Union conference in Johannesburg in 2015, the ICC said in a ruling, even though its judges differed on the exact legal mechanisms that had created that obligation.   By failing to arrest al-Bashir, the court said, South Africa had failed to honour its obligations under international law.
Omar al-Bashir in South Africa – Zuma – ANC
*
TO TAKE ANY LAND OR BUSINESS IS STEAL – THAT IS AN INTERNATIONAL CRIME – TO PUT LEGISLATION IN PLACE AGAINST A RACE GROUP IS AN INTERNATIONAL CRIME.  B-BBEE IS AN INTERNATIONAL CRIME AND RACISM, DISCRIMINATION.
International crimes: Violation of human rights of Afrikaner and Boers (whites)