Since August 2020 in India – Ivermectin, a deworming drug, can be used as a supporting medicine for Covid-19 patients under home isolation and their contacts, according to doctors.   Officials said the kiosks would come up at the airport, city bus stations, railway stations, etc.
Ivermektien medikasie word al vir maande in Indië beskikbaar gemaak.   Wat 'n skande dat sekere hooggeplaaste beheerders mag uitoefen om ons van ons gesondheid in Suid-Afrika te beroof.  Ons het 'n mensereg tot medikasie wat werk en 'n reg tot lewe.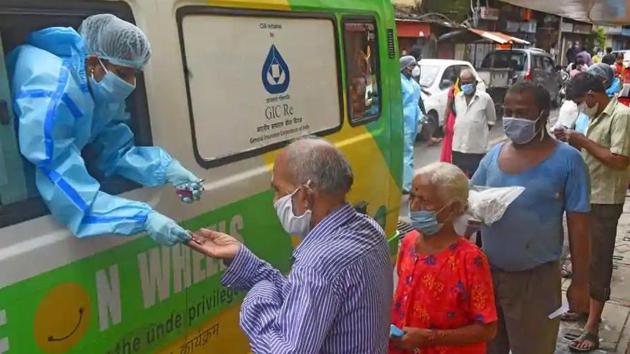 *

"In Australia, researchers claimed the viral load went down 5,000 times in 48 hours with this medicine taken in combination. Also, a Bangladesh scientist claimed a similar effect. At present, research on this medicine is going on at 28 places," said Dr Kauser Usman of King George's Medical University.

*
Additional district magistrate KP Singh said, "The use of the Ivermectin tablet has proved effective for asymptomatic Covid-19 patients. It is also being widely prescribed by government doctors. Hence, the administration, in collaboration with the health department, is setting up kiosks across the city to ensure its free distribution."
Officials said the project would be implemented in phases.
"Initially, all the entry and exit points of the city would be covered. It would largely include all four bus stations, railway stations, the airport and the highway entries and exits," an official said. Experts would ensure distribution of tablets among the people at all these points, he said.


The tablets would be given on the basis of the symptoms or if anyone has come in contact with a Covid-19 patient. The chief medical officer (Lucknow) Dr RP Singh issued a circular, advising people to take Ivermectin tablet, as per their body weight and age, if they test positive and are under home isolation.
Doctors said the medicine was found effective against the virus in a lab in-vitro study.
https://www.hindustantimes.com/lucknow/lucknow-admin-to-set-up-kiosks-for-distribution-of-ivermectin-tablets/story-YNDN2GIdWHf7EsDgZQbmNL.html

*

Why are those elite controllers in South Africa against the use of Ivermectin or waiting for what – that is really unhuman.


Dr Lawrie submitted a 97-page report on 24 February 2021 to the World Health Organisation, urging it immediately to recommend ivermectin to treat Covid.
The Daily Mail reported on 25 February 2021 that the drug, Ivermectin, used to treat lice and scabies drug could cut Covid deaths by up to 75%. A cheap and safe drug widely used against parasites cuts Covid infections, hospitalisations and deaths by about 75 per cent, a study shows. More than 30 trials across the world found that ivermectin causes 'repeated, consistent, large magnitude improvements in clinical outcomes' at all stages of the disease. The peer-reviewed study, to be published in the US journal Frontiers of Pharmacology, says the evidence is so strong that the drug – used to treat head lice and scabies – should become a standard therapy everywhere, so hastening the global recovery. Other medications have been touted as effective treatments for combating coronavirus, only for trials to dash hopes – notably with hydroxychloroquine, the anti-malarial drug. Dr Tess Lawrie, director of the Evidence-Based Medicine Consultancy in Bath, convened an online summit of international experts last weekend to discuss the new data. It included evidence that widespread use of ivermectin in parts of India and South America has led to a big reduction in infections and deaths.
The drug, taken in tablet form or as drops, is licensed in Britain only as a treatment for parasitic worms, head lice and scabies. It has been used by hundreds of millions of patients over the past 30 years, mainly in developing countries, and at around £50 per patient – less in some countries – is far cheaper than other new Covid treatments, such as the rheumatism drug tocilizumab, which costs £1,000 per patient.

https://www.dailymail.co.uk/news/article-9297449/Drug-used-treat-lice-scabies-drug-cut-Covid-deaths-75-research-suggests.html

*
*
*


More background
Quercetin – immune system
Zinc – Ivermectin – Doxycycline – virus
Ivermectin – Stromectol – Mectizan – Ivomec
Ivermectin – Covid-19 – Prof Thomas Borody
Ivermectin – Japan – Satoshi Ōmura
Ivermectin – Prof Paul Marik
COVID-19: The Ivermectin African Enigma
Ivermectin SA Doctors and Afriforum
Ivermectin – FDA approved
Ivermectin – Nigeria
Ivermectin – Carte blanche
IVermectin – IVermektien
FLCCC Alliance – Ivermectin …
Ivermectin – FLCCC