Regarding the Covid-19 virus, it was earlier stated on 2 November 2020, that when Covid-19 arrived in Tanzania, their President Magufuli didn't believe in his people to stay at home. He wanted his people to get into the churches and mosques to pray.    He also believe that the Coronavirus, which is a devil, cannot survive in the body of Christ… It will burn instantly," Magufuli, a devout Christian, pronounced on 22 March from the altar of a church in Tanzania's capital, Dodoma.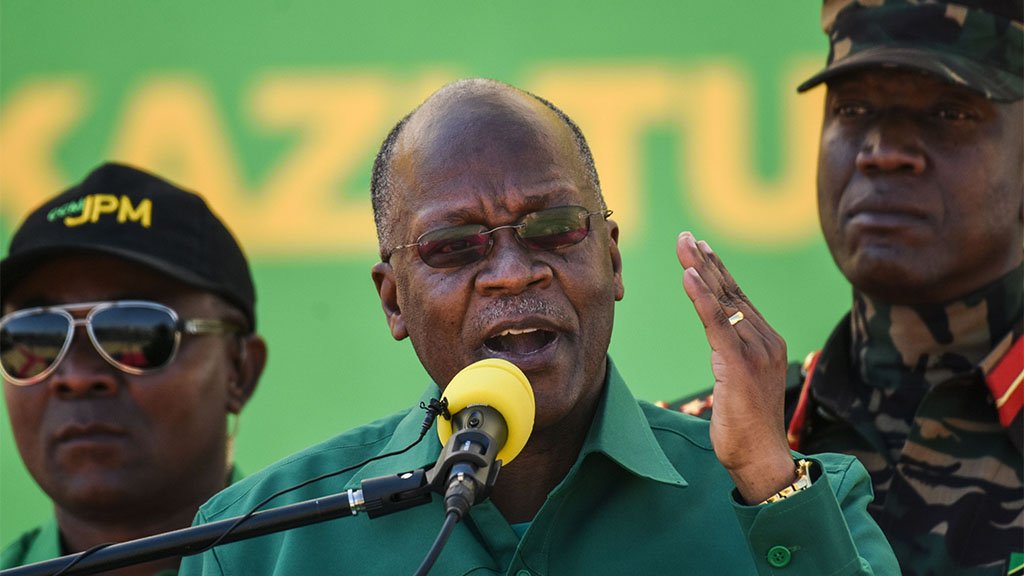 *
18 December – Tanzania has signalled that it is not intending to use any Covid-19 vaccine but instead will settle on local herbs for protection against the disease.    Speaking to the EastAfrican Gerald Chamii, a spokesman at the Ministry of Health said, "There are no plans in place yet of importing vaccine for Covid-19, our health experts and scientists are still researching and undergoing clinical trials for the local herbs for covid-19."
Chemii put doubt on the efficacy levels of the current global vaccines claiming the production duration was not efficient enough to warrant a maximum protection.    "It takes not less than six months to find a vaccine or cure for a certain disease. We have fared on our own since the pandemic spread, I am not sure if it is wise to have a vaccine imported and distributed to the citizens without undertaking clinical testing to approve if it is safe for our people," added Mr Chami.
Tanzania is among the first countries in Africa to order for the touted Madagascar Covid herb in the fights against the virus.    Madagascar President Andry Rajoelina is the promoter-in-chief of the substance, marketed as Covid-Organics and sold in the form of a herbal infusion.       Artemisia annua has a long history in its native China, where scientists discovered an active ingredient that made the plant a front-line weapon in the fight against malaria.    The substance has proven effectiveness against malaria, but no clinical trials have tested it against COVID-19, either as a cure or as a preventative.
Little is known in Tanzania on the number of positive cases due to the government's stun position on the virus.   Tanzania's President John Pombe Magufuli had declare the East African country as Covid-free and did not place any curfew or confinement to prevent the spread of Coronavirus.
Countries like the United State have warned its citizens from traveling to Tanzania to avoid risks of contracting the virus.      In its update, the U.S. cautioned its citizen against traveling to East Africa, assigning Kenya, Uganda, Tanzania and Burundi Level 4 alert.
https://www.africanews.com/2020/12/18/tanzania-to-use-local-herbs-instead-of-vaccine-against-covid-19//
*
Hoekom is die "virus sterftes en selfs toetse steeds so laag?"     Interessant dat groot lande , wat so groot besmet, siek en sterftes is deur die virus, waarsku dat lande soos Tanzanië, wat so laag is deur gevalle, vermy moet word.
Hoekom word die produk van Madagaskar nie ook na Suid-Afrika ingevoer nie, aangesien SA naby is en ook reeds aangebied het om te help met toetsings in die begin.
Volgens die WHO is daar geen kuur nie, maar hoe is hierdie duisende dan andersinds genees?  Wat word oor die algemeen in hospitale gebruik, waar mense gesond word of sterf aan ander onderliggende siektestoestande soos kanker, diabetes of longontstekening.
Corona – Artemisia afra – commonly known as African wormwood or umhlonyane (Nguni) and lengana (Sotho)
*
Tanzania has the best National Intelligence Service in Africa after South Africa (?) so he has very reliable sources. He has a PhD in Chemistry.
https://www.africanews.com/2020/05/18/tanzania-virus-magufuli-prayers-local-concoction-church//
*
He would later speak against social distancing and the wearing of masks, and questioned the efficacy of testing after sending various animals and fruit to be checked for the virus – he announced that a papaya, a quail and a goat had all tested positive. The president said he could not countenance closing down the economy, and excoriated neighbouring countries for doing so.
Speaking during a political rally in Chato Geita, Magufuli said his government did not bow to pressure to lockdowns.    He stated that many threatened us with dire consequences, they wanted us to shut down the economy so that we run away from the problem but in reality, leadership is about carrying the problems on those you lead on your shoulders that is why today we are here.
President Uhuru Kenyatta congratulated Tanzania's President John Pombe Magufuli on his re-election saying his win demonstrates the deep love, confidence and trust the people of Tanzania have in his leadership. John Magufuli received 85% of the votes in the presidential election, while his main challenger, Tundu Lissu of the CHADEMA party, received 13% of the vote. The two main opposition parties have demanded fresh elections, after denouncing the presidential vote as fraudulent.
*
*
Tanzania's economy must go ahead as it is more important than coronavirus, which has killed 21 people in the East African country, according to the president.
*
Drones can be used everywhere, also for safety purposes – also in case of emergencies and plans.