Heelwat inligting kan verkry word deur gebruik te maak van hommeltuie en moontlik goedkoper as ander metodes.    Dit kan nuttig aangewend word vir misdaad, terreuraanvalle, beveiliging en veiligheid op plase wat redelik groot is of selfs wildsparke.    Hommeltuie kan as hulpmiddel ingespan word om grense behoorlik na te gaan en te beveilig.   Verskeie lande het reeds hommeltuie ingespan om die betroubaarheid en toeganklikheid van hul landkaart te verbeter, veral plase of plotte, etniese groepe wat mekaar se landelike gebiede "beset".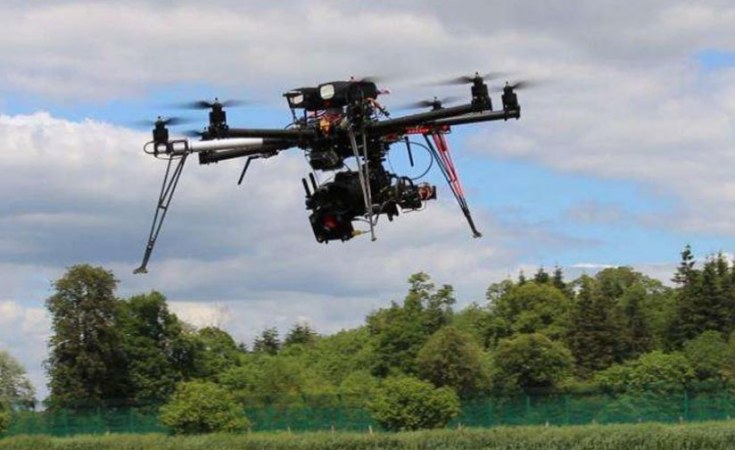 *
Die kartering van landelike inligting met behulp van hommeltuig-tegnologie behels die gebruik van GPS-geaktiveerde tegnologie om lugopnames te doen.   Sulke toerusting kan beelde met hoë resolusie opneem, wat dan deur landsbeplanners gebruik word om nie net die grense van enige land  identifiseer nie, maar ook die digitalisering daarvan.   Waar vloede van riviere gereeld voorkom, kan die gebiede vroegtydig ge-identifiseer word dat niemand op sulke tipe van gebiede hul huise of besighede bou nie.   Omgewingstudies en erosie kan ook voorkom word, veral waar daar plundering voorkom van veral bome en bedreigde species, soos die renosters en olifante.   Drones kan aangewend word om aansteeklike siektes, soos Malaria op te spoor en bekamp – inteendeel dit word reeds gebruik in Afrika.
Bemarking van enige besigheid, boerdery of selfs die hele land is  belangrik waar hommeltuie 'n groot rol kan speel met die neem van foto's vir advertensies,
*
Several countries have harnessed drones to enhance the reliability and accessibility of their land-mapping.

Mapping land information using drone technology involves the use of GPS-enabled drones to conduct aerial surveys. Drones are able to capture high-resolution images, which are then used by land planners to not only identify, but also digitise the record of boundaries of any land (Pablo & Petzold, 2016). Drones' advantages over the traditional methods of mapping are: increased speed, increased reliability, and fewer costs than with sending surveyors out to physically map (Pablo & Petzold, 2016). Drones also have the advantage of easily reaching remote, largely unsurveyed areas (Pablo & Petzold, 2016).
Tanzania
In 2014, Tanzanian media reported several clashes over land among farmers in the country's northern Maynard region (Makoye, 2016). In 2016, it was reported that farmers in the southwest region of Morogoro killed hundreds of livestock on grounds that the livestock-owners had let the animals roam onto their land and destroy their crops (Makoye, 2016).
These conflicts were to some extent caused by unclear demarcations of land boundaries (Makoye, 2016). It was this challenge that the Tanzanian government sought to overcome using drone technology. In a project supported by the World Bank and the Tanzania Commission for Science and Technology, boundaries were mapped with drones and over 300,000 land titles were issued to citizens (Makoye, 2016).
The initial use of drone technology in Tanzania, before its use in land-mapping, was for mitigation of the effects of floods in the capital Dar es Salaam. With over 70 per cent of the population in the capital living in informal settlements prone to flooding (Soiselo, 2016), drones were used to help to generate accurate maps of the localities and thus assist administrators in drawing up accurate plans to protect persons at risk in flood-prone areas (Makoye, Drones help communities map flood risk in Dar es Salaam slums, 2017).
http://www.scielo.org.za/scielo.php?script=sci_arttext&pid=S2077-72132017000100008
*
Hommeltuie – Drones
Grenslyne kan behoorlik bepaal word vir verskillende plotte of plase.
Tanzania differentiates commercial vs recreational drone uses. Both are subject to restrictions & a strict code of conduct.
*
Tanzania is using modern GPS enabled drone technology to enhance geospatial mapping, which has positive applications for a range of government projects and programs. By using drones to gather highly detailed information on flood plains, the country is able to plan and predict how water will move in the event of a flood. Tanzania is also using the data gathered to determine actual GPS boundaries which can be used to address the land tenure issues facing small scale, traditional farmers in rural areas. The country is now able to provide 300 000 land titles to landowners in Tanzania.
*
When the specially-designed DJI Agras MG1-S drone rose over a rice field in Cheju, Tanzania and started to deploy its payload, it was the culmination of years of effort towards one goal: fighting malaria.   Every year in the eastern African country of Tanzania, malaria infects more than 10 million people killing 80,000 – and until now eradication efforts have been largely focused on costly and time-consuming manual spraying.
"Entomologists Bart Knols from Radboud University in the Netherlands and Richard Mukabana from the University of Nairobi in Kenya and social entrepreneur Guido Welter – also from the Netherlands– came up with the idea to use drones to spray a non-toxic, biodegradable control agent called Aquatain AMF in rice paddies (breeding habitat) to kill mosquito larvae," said Leka Tingitana has lived in rural Africa for more than 10 years and is the managing director of Tanzania Flying Labs, which trains locals in new technical and business skills, finds new uses for robots and incubates new businesses.
https://www.forbes.com/sites/andrewwight/2019/11/10/how-do-you-fight-malaria-in-tanzania-with-drones/#652ed8d85bab
*
SOUTH AFRICA – SUID-AFRIKA
Voorkoming van misdaad – misdaadtonele – terreuraanvalle
27 July 2019 – Cape Town – It took just 90 minutes for Hout Bay residents to catch a lone criminal who attacked an unsuspecting woman out on a morning walk above Sandy Bay. With the help of drone technology, community crime-fighting organisations, SAPS and various security companies banded together to foil an attack that could have been far worse.
Hout Bay crime-busters use drones
*
Drone law in South Africa is a very interesting and complex situation. The flying of drones in the South African airspace had been unregulated and essentially illegal. Initially, the South African Civil Aviation Authority (SACAA) responded by clamping down on drones already operating in the South African civil aviation airspace. But now, SACAA has collaborated with the drone industry and formulated regulations to deal with this rapidly expanding industry. The law addresses the main issues of safety and security when using drones and the correct way to classify them.