Kansai Airport was established by a consortium with VINCI Airports and ORIX Corporation as its core members. Kansai Airports shares the common goal of maximizing the potential of the Kansai International Airport and the Osaka International Airport. It aims to improve services offered to passengers, to give the highest priority to safety and security through investments on the latter, to provide convenience and comfort to increase value, and to enhance relations between the airports and the neighboring communities, benefiting the Kansai regional economy.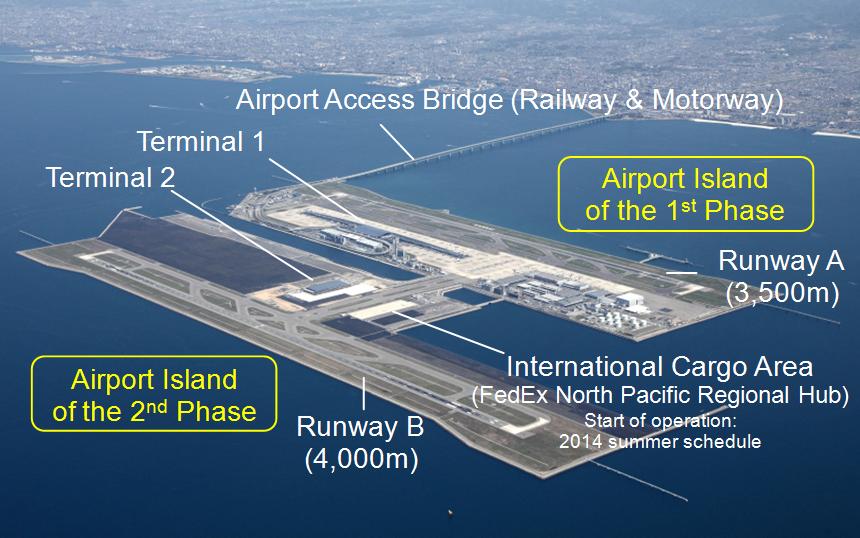 *
The Kansai International Airport is just that – and island built to provide the space for an airport – an engineering marvel. Forty-one aircraft can park at the immense terminal – the only man-made structure other than the Great Wall of China visible from space. The only problem is that this amazing airport is slowly sinking!
*
VINCI Airports, as the leading private airport operator in the world, manages the development and operation of 45 airports located in Brazil, Cambodia, Chile, Costa Rica, the Dominican Republic, France, Japan, Portugal, Serbia, Sweden, the United Kingdom and the United States. Served by more than 250 airlines, VINCI Airports' network handled 255 million passengers in 2019.
Through its expertise as a comprehensive integrator, VINCI Airports develops, finances, builds and operates airports, leveraging its investment capability, international network and know-how to optimise the management and performance of airports and to carry out airport expansions and upgrades.
In 2019, its annual revenue for managed activities amounted to €4.9 billion, for a consolidated revenue of €2.6 billion.

http://www.kansai-airports.co.jp/en/company-profile/about-us/

*


https://simpleflying.com/osaka-kansai-airport/

There are other Island airports –
One of several island airports
Hong Kong International Airport
Kobe
Nagoya Chubu Centrair International
Male airport, Maldives

*

Malé
Japan is not the only country to build airports on islands.

The Maldives is keen on these too, but for a different reason. It simply has a lack of space for them. The main airport in the Maldives, Malé International Airport, is built on Hulhulé Island. This is not an artificial island or reclaimed land but instead built on a coral island or atoll. It has a single 3,200-meter runway, just two meters above sea level.

One of the other most significant island airports is in Hong Kong, formally known as Chek Lap Kok Airport. This opened in 1998, to replace the old Kai Tak airport.

Kobe (which turned down the chance to host Kansai airport), opened its own island airport in 2006.

Nagoya Centrair airport was the second artificial island airport to be built in Japan (technically Nagasaki was built before it, but on a previously used reclaimed island). Construction of the island and airport began in 2000, and it opened in 2005.


*

2018 Flooded


Kansai International Airport, which was temporarily shut down recently after it was flooded by a storm surge caused by Typhoon Jebi, had crucial infrastructure like a disaster response center and an electric substation located on the basement floor of the terminal building, an area susceptible to flooding.
According to the operating company, Kansai Airports, three out of six power transformers installed on the first basement floor of the Terminal 1 Building were submerged in seawater and damaged. As a result, electricity failed in most parts of Terminal 1, and the lack of power is still restricting the airport from resuming full operations.
The disaster response center was also exposed to seawater, and equipment for the public address system broke down. Many of those stranded at the airport were not updated with information about the operation of boats to evacuate from the isolated airport.

https://mainichi.jp/english/articles/20180911/p2a/00m/0na/032000c


*


Mozu-Furichi tumulus – Japan

Japan – Mozu-Furuichi tumulus clusters