Die tydperk voor 1994 is "oordonder" met sabotasie, geweld, terrorisme en vernietiging.  Daarom was daar gereeld "noodtoestande", juis om dit te probeer hokslaan.   Swart op swart geweld is deur hulself veroorsaak, nes vandag.   Mfecane was nie anders nie.  Daar is altyd iemand anders wat die skuld kry.    Ten spyte hiervan reël die Broederbondlede geheime vergaderings in Amerika (1982) met dieselfde kommuniste wat ons vandag en destyds gesaboteer het, waar kragnetwerke verwoes en bomme oral geplant is – selfs in kerke.  Lewens is verwoes en vernietig.
*
Gedurende die quatro kampe was dit swart op swart wat mekaar gemartel en vermoor het – nes ons boere vandag vermoor word.   Vanaf 1986, volg Van Zyl Slabbert se geheimsinnige vergaderings saam met heelwat liberaal verligte blankes met Soros en Slovo. Nie lank hierna vind die "referendum" plaas.  Gerieflik.   'n Paar jaar later skryf Lord Renwick hoe om 'n land oor te neem.  Dit wat hulle nie voor 1994 kon vernietig nie, word verseker na 1994 met mag en mening gedoen.  #BOLSJEVISME!   Danksy al die steun van liberales,  kommunistiese en liberale regerings, BRICS lande,  steun en organisasies oorsee om die wat nou in bewind is, te laat aangaan met hul sabotasie, diefstal, moorde en terroristiese dade.
#bolshevism
***
Nes dit ook geen nuus is dat "tuislande" omskep is in aparte trustgebiede nie, nes elders in Afrika, waar dieselfde patroon gevolg is.  Die wêreld daar buite moet dink dat daar weggedoen is met segregasie (aparte gebiede).   Voorl 1961 was dit Reservate – en elke keer was dit swartes wat dit self gekies het en ook stemreg gehad het, hul het die stemreg dan uitgevoer, dis selfs geboekstaaf.  Hul het hul eie vlae en volksliedere gehad.  Blankes het hul van niks ontneem nie.   Dis al sedert 1840 so, die beleid was in 1854 aanvaar – Shepstone beleid.
Shepstone – Natal, roots of segregation
***
Daar word tot werksgeleenthede geadverteer dat Brics lande se werkloses mag ook aansoek doen hier in Suid-Afrika – maar GEEN BLANKES NIE
***
Terug in die hede van 2018

Eers word die Onteieningswet stilletjies afgekondig net voor kersfees nadat die groen lig gegee is – lees gerus meer.   Dit wat geadverteer is, is die "wet" maar daar word steeds gevra vir "kommentare" dat dit 'n "draft" is – nie dat die huidige anc hulle hoegenaamd gesteur het aan die honderde duisende ander wat reeds kapsie gemaak het teen dieselfde wetgewing om die grondwet eensydig te verander nie.  Nou moet daar weer eens data aangekoop word by al die selfoonmaatskappye en aanlynkoerante, kommentare heringedien word en dieselfde proses word gevolg as die vorige sage in die jaar:
Expropriation Bill
Nog 'n data vermorsing – terwyl Chameleon kastig "eksperimente uitvoer" en sy pa betwis wat nie daar is nie, reageer twee kampe en gooi mekaar met bakstene op facebook – want die foto wys na Bles en sy familie.  Almal is nou vir almal kwaad oor nog meer data verlore gaan in die internet drein .  Opsetlike "beskadiging" – besluit maar self.  My siening is, data vermorsing en 'n geldmaak foefie.  Enige iets wat op FB is en waar reageer word, selfs op twitter, wat onnodig is , steel jou data.  Selfoonmaatskappye en FB.
***
Is dit nie toevallig in dieselfde tyd wat die onteieningswet in die staatskoerant afgekondig is nie – en toe ontspoor die trein wat steenkool na Richardsbaai hawe vervoer – intussen woed die Chameleon sage voort?
***
TREINE OP PAD NA RICHARDSBAAI
Nou sal al wat 'n polisieman en vrou is, privaatspeurders en sekuriteitsdiens moet help om hierdie skuldiges op te spoor.  Niemand is dood nie.  Ironies.   Plaasmoorde en ander moorde kry nie eers soveel aandag as hierdie treine met steenkool op – op pad na China en Indië.
Nou is China en Indië hul steenkool kwyt.   Dit het ontspoor – en was op pad na Richardsbaai om uitgevoer te word. Nou het Eksdom meer steenkool of gaan dit steeds hergebruik word.   China kry gewoonlik die meeste steenkool dan Indië. Brics lande kry voorkeur.      Heelwat uit Suid-Afrika uit. Hierdie lande se  bevolking is groot en wil hul burgers gelukkig hou om dienste te verskaf.
Is net in Suid-Afrika wat dienste op n skinkbord gegee is maar alles is leeggesteel of word afgebrand. Tot skole want leerders word ook g@tvol om skool te gaan.   En dan lui die klokkies helder, daar word "eers onderhandel vir die land, dan word betaal om die land te verwoes – George Soros.  Hulleself is verantwoordelik vir al die chaos, protesaksies, afbrandsessies, plundering en misdaad in die land en dit word nog befonds ook.
Hoeveel versekerings betaal uit in al hierdie misdaad, wat vervang word, en hoeveel 15% VATS word deur die regering ontvang.
MISDAAD IS LONEND – VIR WIE?  DIE REGERING, WIE ANDERS
Die volgende vraag is – versekeringsmaatskappye – wie befonds die versekerings in al hierdie gevalle?   Sasria behoort aan die regering.
*****
The period before 1994 was "thundered" with sabotage, violence, terrorism and destruction.  Even before 1950.   There were frequently " state of emergencies" during some stages. Black on black violence was caused by themselves, just like today.   We were not there, but the Mfecane wars were no different – same tribal fights against each other. Despite this, the Broederbond arranges secret meetings in 1982 in America with the same communists that sabotaged services,  power networks have been destroyed and bombs planted everywhere, even in churches. Lifes were destroyed and people were killed.   During the quatro camps it was black on black who tortured and murdered each other – just as our farmers are tortured and murdered today.

From 1986, Van Zyl Slabbert followed the same route as the Broederbond,  mysterious meetings held with Soros and Slovo.   Both with no intention to update the conservatives or other citizens in South Africa.  Then the so-called referendum followed.

A few years later, Lord Renwick wrote a book how to take over a country.

What they could not destroy before 1994 is certainly done after 1994 with manipulation, crime, corruption and killings.  And also racism and discrimination legislations against the whites in South Africa.     A road of communism and destruction – bolshevism.  Thanks to all the support of communist and liberal whites in SA, liberal governments, BRICS countries and organizations overseas to allow those who are in power now to embark on their sabotage, theft, murders and terrorist acts.

$$$$$$$

The railway line that transports coal to the Richards Bay export terminal has been shut down after 51 wagons of a 200-wagon train derailed on Thursday December 20 2018.
Image: RICHARDS BAY COAL TERMINAL
A 200-wagon coal train derailed on Thursday, shutting down the railway line that links mines to the Richards Bay export terminal, Transnet said.

The crew were unhurt in the incident in which 51 wagons derailed.

"The export line has been closed to allow engineers and maintenance crew to re-rail the wagons and repair the line. The closure will affect all commodities that are transported on the line, like coal and chrome," Transnet's freight rail unit said in a statement.

Coal loadings this month are on course to be their highest since at least 2015, buoyed by strong demand in Asia.  The country has loaded 7.95 million tons of coal in December so far, Refinitiv Eikon data showed, up from 5.3 million tons in November and 6.5 million a year earlier.

"There is no estimated time of reopening at this stage but the intention is to open the one line that was not badly damaged as soon as possible so as to allow the flow of trains," Transnet said.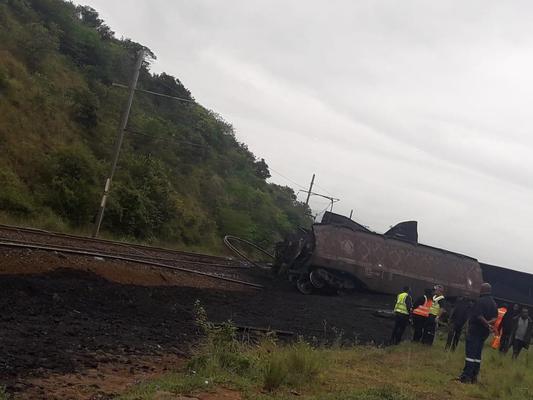 Investigation into Elubana coal train derailment: Tau – 22 December 2018
A preliminary investigation into Thursday's Elubana coal train derailment that saw the closure the export line has been attributed to sabotage. This is according to Transnet Freight Rail. A rail line on which a jumbo 200 wagon coal train was cut in half with a blow torch at Elubana near Richards Bay in Kwazulu-Natal causing 51 wagons to derail. For the latest on the story we are now joined in studio by Transnet acting Group Chief Executive Tau Morwe.Morwe  https://www.youtube.com/watch?v=A-akw6t3nUY

Coal train with 4 11E (25kV Electric) locomotives pulling 200 wagons
https://www.youtube.com/watch?v=UBrEKwi_8fI
***
***
Daar loop baie saboteurs en terroriste daagliks langs ons verby.  Almal berokken skade, want sodra mense skades aangeteken het, word versekerings ingespan om betalings of vervangings te doen.  Misdaad is lonend – 15% VAT vir alles, vir die regering.
Hoeveel keer is en word alle dienste by Eskom, Denel,  nie gesaboteer nie?   Wat van al die bankrot munisipaliteite wat leeggesteel is. Die banke en die Guptas?   Die riool en besoedelde water is ook niks anders as sabotasie nie.   Wie moes toesien dat dit nie gebeur nie.   Is sabotasie as jy geld verdien en nie jou werk doen nie.  Of wie kaap voertuie en banke (VBS) – wie word vervolg en waar word moordenaars vervolg?  Wat van diegene wat boere aanrand, vermoor en verhinder om voedsel te produseer.
***
Lees gerus meer oor Soros en sy valse vlag demokrasie – wat maak of hy "demokrasie" voorstaan – hy is en bly 'n jood.  Hy is een van die hoof befondsers in die Parlement, grondwet (wat so baie liberales steun), kodesa, idasa en veel meer (Open Society Foundation)  – die wat hul boekies by Cato Instituut uitgee, word ook deur Soros befonds.
Soros bedrywig in Suid-Afrika
SOROS
Suid-Afrika Parlement /South Africa Parliament
*
*
*
INFRASTRUKTUUR IN SUID-AFRIKA – COAL RAILWAYS IN SOUTH AFRICA
South Africa's Transnet is celebrating the completion of the first phase of capacity enhancement works on its Waterberg to Richards Bay coal line.  Although there had already been a passing loop at Matlabas, it could only accommodate trains of 50 wagons. The new loop can sit 100-wagon trains, allowing Transnet to increase service frequencies from two trains a week to five trains a week. Transnet has said it could be possible to run a train a day in future.
The passing loop at Matlabas is the first of five phases being delivered under a seven-year, R21.8 billion scheme to increase the capacity of the Waterberg line.  The subsequent stages of the project will include another passing loop at Thabazimbi and the creation of double-track sections by connecting passing loops at Bleskop and Norite, and Dam and Onderstepoort.   Once the second stage is complete, capacity will increase from two million tons to six million tons per year.
***
It was reported in 2017 that Transnet is looking for funding to build a heavy haul railway line to link South Africa and Swaziland. In addition, the parastatal aims to complete a feasibility study next year into a Waterberg-Botswana coal rail link.  Plans to construct a heavy haul coal rail link between the Waterberg coalfield in Limpopo and Botswana are still at a pre-feasibility stage, Transnet Freight Rail capital planning general manager Brian Monakali said this week.    Addressing delegates at the 11th International Heavy Haul Association Conference in Cape Town, Monakali said another heavy haul rail project to link South Africa and Swaziland was at the stage where funding for construction was being sought.

QUOTE  –  South Africa has won the bid to host the 11th International Heavy Haul Association (IHHA) conference, which will be held in Cape Town  from  September 2-6, 2017. The event  is expected to attract in excess of 1 000 delegates across the world.    The IHHA is a worldwide non-governmental association of railways and railway institutions from Australia, Brazil, Canada, China, India, Norway, Russia, Sweden, the USA and South Africa dedicated to the improvement of heavy haul railway operations, maintenance and technology. Member countries have the opportunity to bid to host the event – which is held every two years and which was last held in SA in 1997.   UNQUOTE 
Monakali said the Waterberg-Botswana rail link would increase coal-carrying capacity and provide access to the neighbouring countries' coalfields, given that the Witbank (Emalahleni) coal mines would eventually be depleted.   He said the South Africa-Swaziland rail link, with a distance of 575 km, would provide an alternative route to the ports of Richards Bay and Maputo.
"To support regional integration, a key component is to ensure regional connection. Next year or so, we will complete the [Waterberg and Botswana rail link] feasibility," said Monakali.  "The South Africa and Swaziland rail link is about to begin … we will be upgrading the existing rail lines and trains to link Mozambique, South Africa and Botswana."

Albert Links, an executive manager at Transnet Freight Rail, said that, six years ago, they embarked on a market demand strategy, which is rolling in a seven-year plan.   "We are spending billions of rands on various projects … the budget this year is targeted at R229 billion," said Links.     "This includes local and international projects, capital projects, existing and new logistics systems for general freight business and export business."

He said Transnet aligned its planning to demand, and investments were linked to the company's ability to repay the loans.  He said the cross-border rail administration was governed by business agreements and rates schedules to regulate the way countries did business with each other.

"It is known that the Maputo corridor that links South Africa, Swaziland and Mozambique is the most successful among the Southern African Development Community countries, and that it represents the best example of seamless corridor operation," said Links.


Transnet and railway administrators in neighbouring countries want to replicate the successful operations of the South Africa and Mozambique rail link within Africa.   Links said Transnet was not going to be left behind during the fourth industrial revolution.   The changes related to this include digitisation and new ways of moving people around, through Uber, for example.

"We are discussing the railway track gauges, the load it can take, the technologies to be applied in moving trains, and the kind of skills we need to align with the revolution through things such as Google and similar interventions that railways cannot be immune to," he said.   The World Economic Forum's head of the Centre for Global Industries, Cheryl Martin, said the rail industry remained critical to the flow of people and goods in a safe, secure and efficient way.

"The fourth industrial revolution will be successful if we actually marry our technology with human-centred thinking and make sure benefits accrue fairly, and deal with all the unintended consequences and all the externalities. How do we think about implementing technologies with good environmental benefits; with good benefits to humanity?

"That's really some of the value we have to embed in our technology development to make the fourth industrial revolution successful," Martin said.

https://m.fin24.com/Companies/Industrial/transnet-looks-to-build-two-new-heavy-haul-rail-lines-20170908

The railway line was cut with a blowtorch, causing 51 wagons filled with coal to derail.

The United National Transport Union (Untu) has expressed shock and revulsion at the "blatant sabotage" of the Richards Bay coal export railway line in KwaZulu-Natal, which took place on Thursday and led to the line being closed.

Those responsible should face the most severe sentence possible, Untu general secretary Steve Harris said on Saturday.

The railway line was cut with a blowtorch, causing 51 wagons filled with coal to derail. There were no injuries among the train's crew. The wagons were part of a 200 wagon shipment heading to the Richards Bay Coal Terminal. Engineers were on site on Saturday to repair the line, but Transnet declared force majeure on the coal shipment, meaning unforeseeable circumstances prevented it from fulfilling its contract.

Untu represents 28,000 members at Transnet.

"Untu is extremely shocked to see that criminals have so little regard for the lives of our members and for our crippled economy, that they will remorselessly set out to destroy families and the prosperity of the broader South African public," Harris said.

"The union condemns this horrific act in the strongest possible terms and appeals to the South African Police Service to leave no stone unturned to ensure that these criminals are caught so that the law can take it course," he said.

Untu appealed to the National Prosecuting Authority "to start charging criminals damaging essential state infrastructure" in terms of the Criminal Matters Amendment Act. The union and its affiliates had fought hard for the legislation at the National Economic Development and Labour Council (Nedlac), Harris said.

"The act states that any person who unlawfully and intentionally tampers with, damages, or destroys essential infrastructure or colludes with or assists another person in the commission, performance, or carrying out of the activity and who knows or ought reasonably to have known or suspected that it is essential infrastructure, is guilty of an offence and liable on conviction to a period of imprisonment not exceeding 30 years.

"Where the state can prove a corporate body is involved, the act allows for a fine not exceeding R100 million," he said.

On December 20, Transnet announced that its interim profits had fallen sharply on the back of the weak economy and higher finance costs.