The biggest concern is the increase in robberies at residential premises and the sharp rise in farm murders compared to the same period last year.     Robberies at residential premises is the one crime most feared by the public. It has increased with 8,5%, which is alarming.
RIP all the farmers that have been killed –  condolences to the families and friends.  It is obvious they focus on white males.   Is very sad.
Diegene wat vir meer as 30 jaar vermoor is, kan nooit weer teruggebring word nie.   Baie families beleef steeds hartseertye.
*
List of names of farmers attacked, tortured and murdered 1-15 November 2020.
Onderstaande is 'n paar name van Boere en hul gesinne wat aangeval, gemartel en ook vermoor is.
11 November 2020
Woensdagaand het nog  'n plaasmoord net buite die dorp Odendaalsrus, Vrystaat plaasgevind.   Sterkte aan die familie – RIV.
'n Boer, Mark Regal (50), is oorval deur twee aanvallers net buite Odendaalsrus in die Vrystaat. Hulle het op hom geskiet en Regal is noodlottig gewond.    Regal se vrou (45) het op die aanvallers geskiet. Een aanvaller is doodgeskiet en die ander een het daarin geslaag om te ontsnap.   Die polisie ondersoek die saak. Die tweede verdagte word nog gesoek.
https://vonkmedia.co.za/PLAASMOORDE/index.php/;focus=HETZA_cm4all_com_widgets_News_1518396&path=?m=d&a=20201112090820-7619&cp=1#HETZA_cm4all_com_widgets_News_1518396
Farm attackers do come to kill , execute and torture – more than one killer to kill one farmer. Farm attacks are not not just ordinary crimes as liberal mainstream media and the ANC portray it. The above statement was just proven once more with the execution style murder of Mark Regal (50) on the farm Thelma outside Odendaalsrus on Wednesday 11 November 2020.
Nathan Regal says that the arms of his brother Mark were in the air at the time he came across the attackers who arrived on the farm of his father Joe Regal at Odendaalsrus. The moment of the attack was captured on a security camera. Nathan says his brother Mark did not attempt to fight.   Mark was in the house and his wife, Angela, on the porch when the attack happened. He ran outside when Angela screamed and was immediately shot without even attempting to fight with the attackers. So their intention to kill was clear.   The same attacker who shot Mark also shot at Angela but he missed. Angela managed to shoot the other attacker with a 22 pistol that she carries in a bag on her body.
Mark Regal was shot with his hands in the air according to security footage
*
Pa en Seun – Rus in vrede.   Simpatie aan die vriende en naasbestaandes.
6 November 2020 – Henneman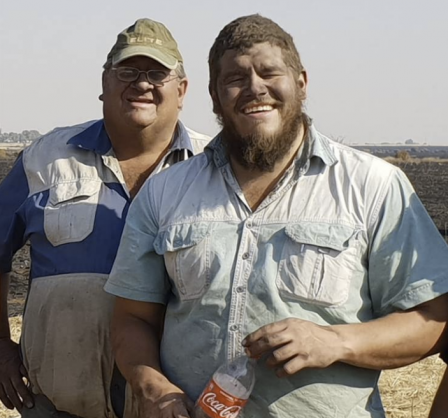 A Zwartpan farmer, Pieter Hills  (56) was shot dead, while his son Eddie,  (26) was stabbed and later died.
Four suspects were arrested just hours after Hills and his son, Eddie, were attacked.  One of them was later hanged in the police cells.
Democratic Alliance (DA) councillor in Hennenman, Maxie Badenhorst said that reports indicated that Eddie was shot after a struggle, after which they shot and killed Pieter.  It was initially reported that Eddie was stabbed, after a doctor at the scene reportedly could not establish whether the wound was as the result of a knife or a gunshot wound. Encouragingly, Eddie was able to speak the Friday.    Badenhorst said investigations so far reveal that the group of attackers took a pathway through the veld after the attack, until they hit the road, after which they took a car to Hennenman.      "It looks like they knew their movements. They knew that Pieter was alone," Badenhorst said, adding that a friend of Eddie's told her that "there were just too many [attackers] for him to win the fight".
https://citizen.co.za/news/south-africa/crime/2380844/hennenman-community-in-shock-after-deadly-attack-on-farmer/
https://www.news24.com/news24/southafrica/news/hennenman-farm-attack-farmers-son-26-dies-after-succumbing-to-injuries-20201112
https://ewn.co.za/2020/11/08/suspect-in-hennenman-farm-killing-found-dead-in-police-cell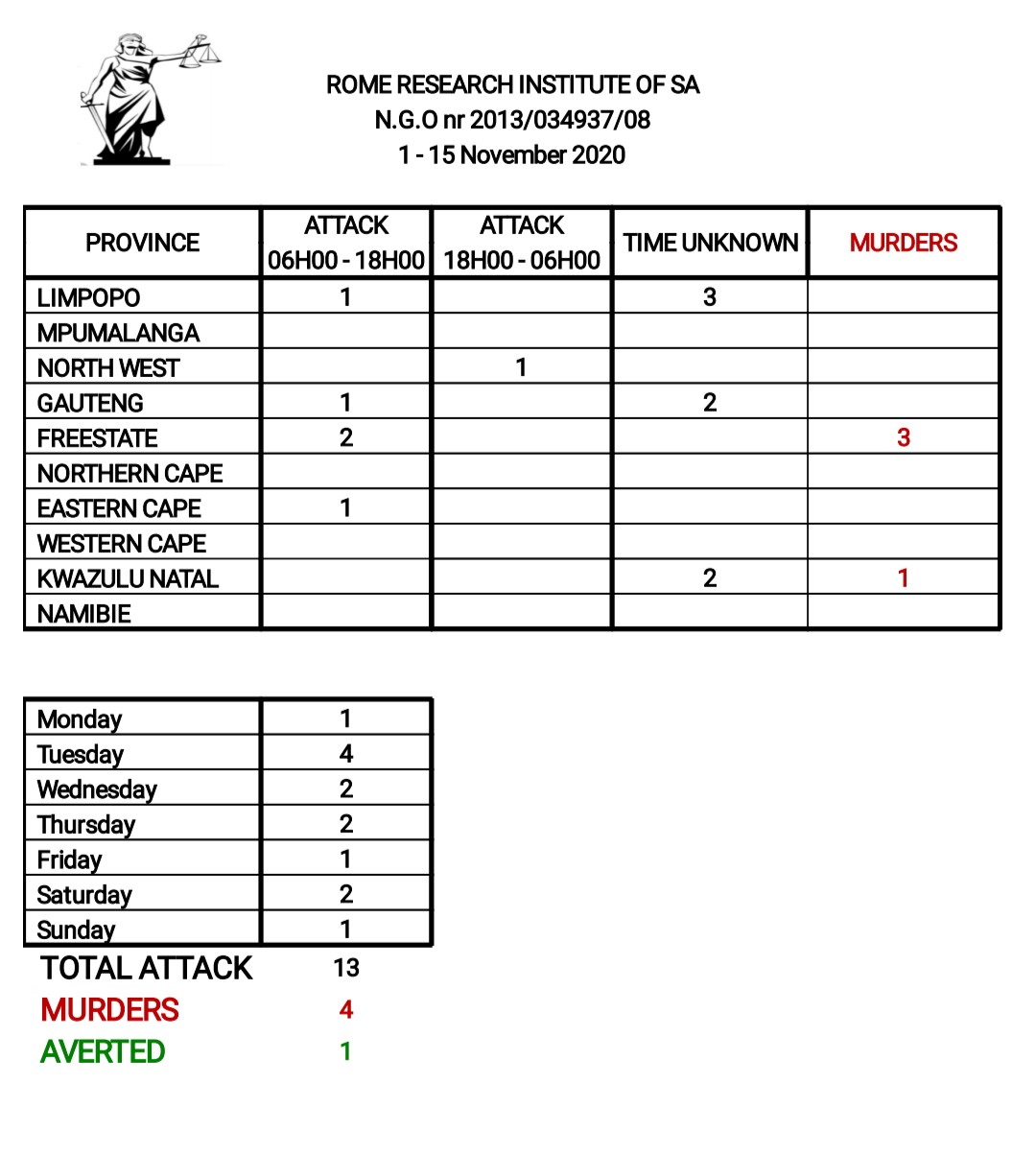 *
Information supplied by The Rome Research Institute of South Africa
South Africa Today – South Africa News
33 Farm attacks and 10 farm murders in South Africa – November 2020
Appreciate this correct information.    Those killed, are gone forever.
*
*
*
Oktober 2020
RIV en sterkte aan die familie
A 7th farmer, Kippie Wessels (52), was murdered in his house in Zastron on 30 October, 2 weeks after moving to town. He farmed in Vanstadensrus before.
Johnny Kippie Wessels (52) a mixed farmer from the Free State and the son of a Springbok couple was murdered on 30 October 2020 in his house in Zastron. He lived alone after moving from his farm, Maidstone, in the Vanstadensrus district just two months ago. His parents were John Wessels, Springbok hooker, and Sussie Esterhuizen, a Springbok netball player.
*
RIP
Dave Wessels (66) was murdered on his farm in Viljoenskroon on 25 October 2020.
Colonel Dave Eric Wessels (66), a former soldier who was honored with the Honoris Crux gold medal was found murdered on his farm just outside Viljoenskroon, in the Free State.
On Sunday 25 October 2020 his neighbor, Ignaz Streicher, went to investigate when foul play was suspected. He noticed that Colonel Wessels' pickup truck was gone.  He then noticed that the burglar bars had been cut off at one of the windows and began calling out to the Colonel.
Ignaz then went to investigate at the window where the burglar bars were cut and noticed blood on the wall of the spare room. He then contacted the SAPS and the neighborhood watch.   The police broke a window to gain entry to the house and confirmed it was Colonel Wessels' bloodied body that was on the single bed in the spare room.
According to Ignaz Streicher, "Wessels fought back to the end". Several items were used to strangle and tie Colonel Wessels to the bed and he was found with a plastic bag over his head.  He had sustained numerous head wounds in the attack and there is a suspicion that the injuries were inflicted with a camera tripod, found near the body. The house was ransacked with drawers and cupboards forced open.
The two suspects aged (52) and (25) was arrested and have appeared in court at Viljoenskroon. One of the suspects were out on parole for previous crimes.
*
'n Plaasmoord het op 25 Oktober omstreeks 22:00 op 'n varkplaas tussen Welkom en Virginia plaasgevind.      Weens verskeie rooftogte wat plaasgevind het, het Andries Loots (63) en 'n sekuriteitswag die plaas gepatrolleer.  'n Groep gewapende aanvallers het hulle oorval en aangerand. Die sekuriteitswag is geslaan en forseer om die aanvallers te help met die rooftog.    Loots is aangerand en na een van die varkhokke gesleep. Die aanvallers het daarna verskeie skote op hom afgevuur. Loots is op die toneel oorlede.   Die polisie ondersoek steeds die saak, maar niemand is tot op hede rakende die voorval gearresteer nie.
https://vonkmedia.co.za/PLAASMOORDE/index.php/;focus=HETZA_cm4all_com_widgets_News_1518396&path=?m=d&a=20201112090747-9192&cp=1#HETZA_cm4all_com_widgets_News_1518396
*
Farm attacks and farm murders – 1 January to 31 October 2020:
October 2020- 42 farm attacks, 7 farm murders.
September 2020- 48 farm attacks, 5 farm murders.
August 2020- 52 farm attacks, 9 farm murders.
July 2020- 55 farm attacks, 9 farm murders.
June 2020- 56 farm attacks, 7 farm murders.
May 2020- 15 farm attacks, 4 farm murders.
April 2020- 17 farm attacks, 1 farm murder.
March 2020- 35 farm attacks, 6 farm murders.
February 2020- 31 farm attacks, 8 farm murders.
January 2020- 17 farm attacks.
https://southafricatoday.net/south-africa-news/free-state/6th-farm-murder-in-just-over-a-month-in-the-free-state-south-africa/
*
PREVIOUSLY
Facts are real and farm (whites) attacks and killings are real, the killing of our history, culture, traditions and Afrikaans are real – it is genocide.    And B-BBEE is also part of that. Genocide is not only about the killing of people, but also their language, culture, identity, history, traditions, etc.
Farm attacks and killings –  South Africa Oct2020

*
In the first six months of the year 2020 , 139 attacks and 26 murders have taken place on farms in South Africa.   In KZN there have been 12 farm attacks and four murders, agricultural union TLU SA said.    What about the other months – even during the curfew it is still ongoing.
Sept-Oct 2020 White attacks killings
*
Wartime Politics should have no place in any Democratic Country. These politicians should be seen for what they really are, Narcissistic War mongering Psychopaths.
*