Is this only a "spell", to stop people, where people like in Katalonia want their freedom, they are not allowed to demonstrate, then the police are there and just take their leaders in.   They do not want Katalonia to have their freedom.  If you look at their history, they were a separate country on its own.  So why not?  Is this not only one cided acts, and what happen to the freedom of people to rule themselves?   Where is the United nations now?
September 2019 – some 600,000 people hit the streets of Barcelona in support of Catalan independence, police said, with the figures significantly lower than 2018 during a mass rally billed as a test of strength for the region's divided separatist movement.

The figure is the lowest turnout for the mass separatist rally held each year on Catalonia's national day, known as the "Diada", which marks the fall of Barcelona to Spain in 1714, since the first one was staged in 2012.

Last year, around a million people turned out for the demonstration.
This year's rally comes just weeks ahead of a crucial ruling by the Supreme Court in the trial of 12 separatist leaders who led the failed 2017 bid for independence, triggering Spain's worst political crisis in decades.

But two years on from the failed independence push, the separatist movement remains sharply divided, and Wednesday's turnout was likely to disappoint organisers who had chartered hundreds of buses to bring in supporters.
Rallying under the slogan "Objective Independence", thousands gathered in Barcelona's Plaza Espana, among them families with children, young people and pensioners.

The Catalan national day has always been widely observed, but since 2012 Catalan separatists have used the occasion to hold massive rallies. Many who favour staying with Spain shun the event.

Of all the Diada rallies which grassroots group ANC has staged since 2012, this was the "most difficult" to organise, group president Elisenda Paluzie told reporters. But despite the drop in turnout, she still deemed the event a success.

"We once again filled the streets of Barcelona with hundreds of thousands of people," Paluzie said before lashing out at Catalonia's current leaders for not doing enough to advance the cause of independence.

"Not only have we not made progress, but we have taken steps backwards," she said.

The most recent Catalan government opinion poll showed 48.3 percent of those surveyed opposed independence while 44 percent were in favour.
http://www.digitaljournal.com/news/world/catalan-separatists-to-test-strength-with-barcelona-rally/article/557612

*

14 October

Some of the 12 leaders sentenced on Monday had held prominent positions in Catalonia's government and parliament, while others were influential activists and cultural advocates.

During four months of hearings, they told the court in Madrid that they were victims of an injustice in a trial built on "false" charges.

The longest sentence of 13 years was handed to Oriol Junqueras, the former vice-president of Catalonia and the highest-ranking pro-independence leader on trial, for sedition and misuse of public funds.

The prosecution had sought up to 25 years in prison for Junqueras.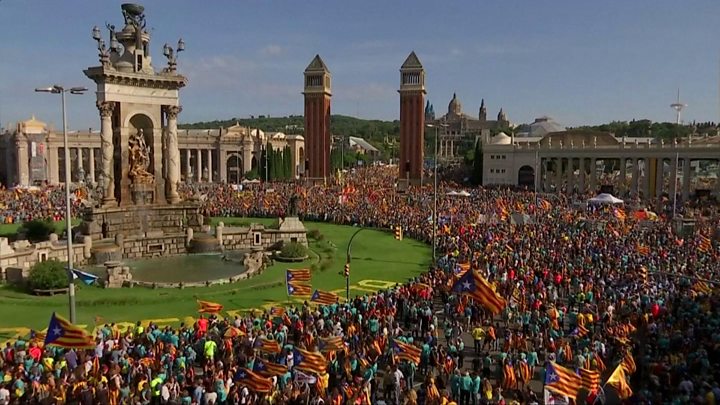 Junqueras accused Spain of jailing people for their political ideals and pledged that the separatists would return even stronger.

But Spain's Prime Minister Pedro Sánchez insisted the leaders had been jailed for criminal conduct.

Mr Puigdemont said the sentences handed to separatist leaders of "100 years in total" were "an atrocity".

"Now more than ever… it is time to react like never before," he wrote on Twitter, adding: "For the future of our sons and daughters. For democracy. For Europe. For Catalonia."

Those on the street communicated feelings of anger and powerlessness.

"Today is going to be historic, you can feel it in the atmosphere. Serious things are happening, we can't stay home," Oscar Quiles, a 47-year-old real estate entrepreneur told AFP news agency.

"The indignation is just too much and affects too many people," another protester said. "What they don't realise is that we are very angry and we will not stop."

Who else has been sentenced?

Other separatist leaders to receive prison sentences for sedition were:

Dolors Bassa, former Catalan labour minister (12 years)
Jordi Turull, former Catalan government spokesman (12 years)
Raül Romeva, former Catalan external relations minister (12 years)
Carme Forcadell, ex-speaker of the Catalan parliament (11.5 years)
Joaquim Forn, former Catalan interior minister (10.5 years)
Josep Rull, former Catalan territorial minister (10.5 years)
Jordi Sànchez, activist and ex-president of the Catalan National Assembly (9 years)
Jordi Cuixart, president of Catalan language and culture organisation Òmnium Cultural (9 years)

The nine leaders, who had already spent months in pre-trial detention, were acquitted of a more serious charge of rebellion.

The remaining three defendants were earlier released on bail.

During their closing arguments in June, defence lawyers told the court their clients denied the charges of rebellion and sedition, but admitted to the lesser charge of disobedience which could have seen them be banned from public office but avoid prison.
*
27 October 2019
In Spain, a day of protest in the city of Barcelona ended in violence. Police clashed with Catalonia pro-independence demonstrators on Saturday, firing tear gas and water cannon after what began as a peaceful rally in the city. Protests have swept across the region, after Spain's Supreme Court imposed lengthy prison sentences on Catalan separatist leaders found guilty of sedition.
*
*
Warning: This live stream may contain violent content. Discretion advised. Police clashed with a large group of Catalan separatists in Barcelona as protests continue in Spain.
*
Government Catalonia
https://catalangovernment.eu/catalangovernment/
*
What is freedom  for people to have in life – is to enjoy life, all people have an international human right to rule themselves, independently.  International professors criticize Spain's attitude towards Catalan self-determination.   Expert Liah Greenfeld claims it is not up to Spanish authorities to decide if people of Catalonia express wish to become a state.   All people have the rights to do that..
Catalonia – self-determination (full sovereignty)
*
All people have an international human right to freedom and to rule themselves.
16 October 2019 – The third day of protests for the freedom of the imprisoned political leaders has kicked off in Catalonia with various three-day marches beginning across various cities.  Participants set off this morning – 10,000 from central Catalan city Vic, 7,000 from Girona, 2,000 from Tàrrega, 1,000 from Tarragona, and nearly 1,000 from Berga. Several relatives of the imprisoned and exiled leaders will take part in the initiative.
Catalonia wants independence from Spain