Ramaphosa – Brics – China – Suid-Afrika – ANC en China en hul NWO praatjies.   Waar agter is China nou eintlik.  Brics bestaan uit 5 lande, nie net China nie, maar tog is China oral in Afrika, maar ander lande is ook in Afrika.    Hulle is baie desperaat, hulle klink baie desperaat as mens al die dreigemente lees, veral oor onteiening van al ons eiendomme (plase, huise, bates en aandele).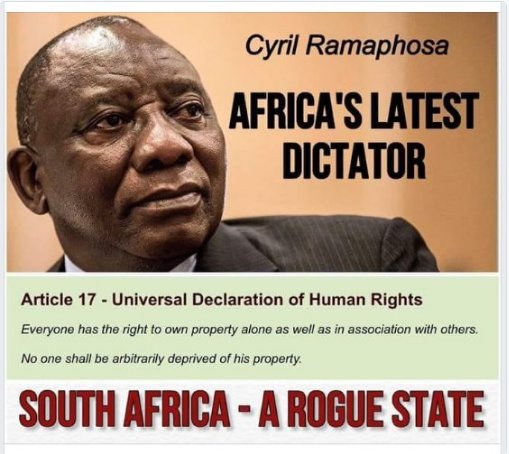 *
As dit nie steenkoolplase is wat gratis aan die Chinese geskenk word nie is dit NWO bedreigde woord speletjies.    Human rights is an international right and it is a crime to violate any people's rights.  Brics countries are not only South Africa and China, what about the other countries?   Is the the new "dawn" – just a take over from China?  Where is Russia in this Brics?  If this story of NWO is the truth, it will not not be expropriation against only the white peoples , but also all other ethnic groups and their "traditional trustlands" as well.
Die ANC is al geruime tyd besig om reg te maak dat die Chinese oorneem aan die suidpunt, daarom is daar heelwat eiendomme reeds "aangekoop" en ander is reeds in "trust" wat die regering hanteer.   Is dit nasionalisering van grond wat plaasvind al sedert 1994?
Is BRICS a false flag?   Why were there so much money go into "development bank"?
Verder roem Ramaphosa daarop dat die blankes paddas in sy potjie is wat hy warm maak terwyl hy naarstigtelik alle besighede wat eens deur blankes geskep was, vir hom (hulle) toe-eien.  Mens kom tot die gevolgtrekking dat swartes glad nie eie besighede kan skep nie, en dit is nie net van vandag af so nie.
In 2007 was daar 'n hofsaak waar Chinese ook swart verklaar is om te deel in swart bemagtiging (B-BBEE).  Dit wil sê die miljoene Chinese kan ook nie skeppend wees as hul 'n handjievol blankes se besighede en grond toe-eien as hulle sin nie.  Chinese moet ook onthou, enige volk het menseregte – en tans word ons blankes sin geskend.  Aan Ramaphosa wat dink ons is paddas waarop getrap kan word, pasop, paddas bars gewoonlik.
*
Chinese people were declared as blacks during 2007 to get involved and benefit from B-BBEE legislations in South Africa.  This is not only about land, but businesses as well – to take them or create their own on the continent.
*
The world order has changed and it was time to take hands and chart a common destiny.
This was one of the central themes to emerge from a seminar held in Cape Town under the twin headings Xi Jinping Thought on Socialism with Chinese Characteristics for a New Era and Xi Jinping: the Governance of China II Book Review.
Speaking at the event, National Assembly House chairperson, Cedric Frolick, lauded the relationship between China and Africa in a changing global environment and the "visionary" leadership approach by Chinese President Xi Jinping.
"Whoever thought those who claimed to be the protectors of democracy and freedom in the world now find themselves on the other side," he said.
"The world order has changed and it is time to take hands and chart a common destiny."
China's Ambassador to South Africa Lin Songtian said South Africa and China are united by a shared philosophy, with his country striving to promote social fairness and justice and to win the battle against poverty.
"We will not leave anyone behind on our path of prosperity," Songtian said of China's goal of creating a "moderately prosperous society in all respects".
He added that the dream of the Chinese people is connected to the dream of other countries and that China will always promote world peace.
"China has always been a community of a shared future," said Songtian.
The ambassador called upon other developing countries to join and focus on investment in infrastructure development and human resources development in Africa.
He said the recent 19th National Congress of the Communist Party of China had set out a host of new ideas, a blueprint and strategy for Chinese development which included that of a shared world future.
"We must strengthen unity and co-operation to build a better China, South Africa and Africa, and better relations to promote a better world and a shared future of mankind," Lin said.
Dr Iqbal Surve, whose Independent Media co-hosted the seminar, said South Africa had experienced a political miracle while China in recent decades had experienced an economic miracle.
"We have the political miracle, now we need the economic miracle and create a wonderful future for people on the African continent," he said.
"We need to take people out of poverty," said Surve, who is also chair of the Brics Business Council. "We have to ask 'why is there so much inequality?'
"People complain about crime, particularly violent crime, which occurs in societies with the greatest inequalities. We can't live in isolation of people who do not have the most basic things, like food to eat.
"We are a country of great potential, a continent with enormous prospects, but we continue to not optimise our potential," he said, adding that the vast majority of peoples continued to live in environments and conditions "we wouldn't wish on our worst enemies".
He said that South Africa and Africa needed to look at the Chinese example of how they lifted 700 million people out of poverty.
"We must understand Chinese development and use this," Surve said. "Not everything is applicable to South Africa or Africa, but we must use those lessons."
He cited the need to meet the basic conditions and needs of people in order to create the foundation for a prosperous society and said corridors of mobility was one key avenue to help open up development.
"China has not just thought of itself, but of the region, and is the biggest investor in Africa despite some people questioning its motives," Surve added. "We are not surrogates to anyone, to China, the US, Germany, or anybody."
He said he believed that in the next two decades deepened Africa-China relationships across numerous levels "can really make a difference".
https://www.iol.co.za/news/south-africa/western-cape/africa-and-china-have-shared-future-under-new-world-order-12310665
***
Check the actual records of the real 'white ownership of land' in #SouthAfrica!   It is ANC propaganda that white minority peoples have most of the land, it is communist propaganda.  The government is the largest land owner in South Africa.  All the state institutions and it is run by black people?  All the Game parks in SA,  SAA, TRANSNET, SABC, POST OFFICE, DENEL, ESKOM, MUNICIPALITIES, PRASA, METRORAIL, PUBLiC HEALTH, SAPS?   All those SOE companies, municipalities and others are "corrupt" and bankrupt.
*
GOVERNMENT BOUGHT MORE THAN 5000 FARMS SINCE 1994 WITH TAX MONEY – FOR THEMSELVES OR CHINA (NWO)?
Grond eienaars: ANC regeringsplase
*
Die volgende aanhalings wat hier geplaas is, kom van die ANC se twitter gesprekke af, maar daar is sover nie baie swartes wat deelneem aan die gesprek nie en dit wil dan ook voorkom of nog minder swartes wat dieselfde hieroor voel.
I quote a few pages from the ANC twitter account.
Weet swartes wat is NWO (nuwe wêreld orde) – dis nou die nuwe woord van Ramaphosa.
Verseker as dit so is, wat 'n groot aanduiding is, is dat China die nuwe kolonialiseerders gaan word.  ANC dink as hulle grond, minerale, banke sowel as besighede nasionaliseer, hulle besit blankes en swartes en netso aan die Chinese oorhandig (soos wat FW de Klerk gedoen het in 1994).   Die ANC en alle swartes, wat die Chinese asook die blanke liberales hierby insluit,  moet gaan leer hoe die Boere oorleef het na die Anglo Boere Oorlog nadat hulle op die grond platgeslaan was deur die heersers van daardie tyd, die Britse ryk.
Die Zoeloes en ander etniese volke behoort ook te weet wat dit is om deur die Britte beheer te word maar tog hardloop hulle saam.    Die Chinese, wat ietwat groter is as die destydse Britse beheer moet ook maar by die Britte gaan kers opsteek wat met hulle gebeur het en wat nog gaan gebeur.  Niemand is Sieners nie, maar daar is IEMAND wat die mag in Sy hande vashou.

#THUMAMINA >   READ ALSO THIS:
#THUMAMINA with COAL and ESKOM
**
***

Do we need this kind of "communist government" and their threats, including all the crime and killng of our peoples?   We as people do have international rights against the violations of black empowerment and expropriations.  We as people do have international rights to self-determination.
Het ons enige volksmag en seggenskap? JA
RASSISME EN DISKRIMINASIE –