Wat is Vryheid regtig en hoe regverdigbaar is dit dat 'n persoon wat mense uitgewis het, meestal swart op swart,  met die lewendige verbranding van motorbande om hul nekke 'n status van "vryheid" toegeken word.  GEEN individu verdien om so vermoor te word nie – een moord is een moord teveel.    OF Beteken moord met 'n motorband dan vryheid vir politieke partye?     Was Stompie Seipei free to go or was he killed?   Was there freedom and after 1994, how many people were killed and were not free to go?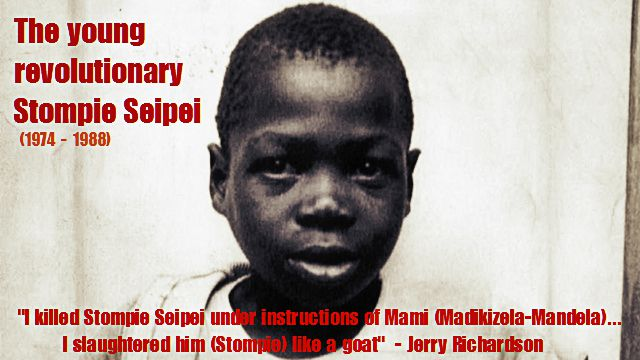 *
Hoeveel van ons blankes en ook swartes is al so gemartel, verkrag en uitgemoor?
500 000?
*
Who killed whom at the ANC hell camps?
*
Vryheid om te mag lewe en te mag sterwe aan die hand van 'n kommunis?    Hoe koppel enige politieke party, soos die DA steun aan die moord van enige of selfs swartes met so 'n grusame daad?   Dit word wel vanuit EFF oorde ook besing.
Wie onthou die geskiedenis van Stompie?  Do you remember Stompie Moeketsi and his funeral, his families?
Die ergste oor die VRYHEID wat ons na 1994 ken?   Vryheid om vermink en vermoor te word?
Beteken die onthulling van 'n STANDBEELD van 'n bomplanter meer as die lewe van 'n blanke in die hele wêreld by 'n plek soos die Verenigde Nasies?  Mandela was in die tronk weens bomme wat geplant is, nie vir VRYHEID nie, en so ook nie sy x vrou nie.   Hoeveel mense word regtig in Suid-Afrika vermoor?  Hoeveel statistiek wat die regering uitgee is ooit die waarheid, want waar is al die swart grafte, hofsake, polisie ondersoeke?  Waar is al die protesaksies van mense wat "vermoor" is.  Ons blankes hou rekord van ons mense wat vermoor is deur swartes.   Wat van hospitale waar daar geen mediese sorg is of geweier word?  Dis niks anders as moord nie.
*
STOMPIE KILLED ON WINNIE'S ORDERS TO COVER UP ASSAULTS, TRC TOLD

Stompie Seipei was killed on Winnie Madikizela-Mandela's instructions to prevent the Mandela "crisis committee" discovering how badly the Mandela United Football Club had assaulted four youths they had abducted from the Soweto Methodist Manse, the Truth and Reconciliation Commission heard on Wednesday.

Stompie did not enjoy any freedom at all – why not?   It was ordered to kill Stompi.

Former club "coach" Jerry Richardson testified that Madikizela-Mandela decided to kill Seipei to cover up what had happened.

The Mandela crisis committee, made up of church, community and ANC leaders, was formed to secure the release of four boys, including Seipei, who were abducted from Methodist minister Paul Verryn's manse in late December 1988.

"I slaughterd him (Seipei) like a goat," Richardson said, as Seipei's mother, Joyce, left the hearing hall in tears.

Richardson said he abducted Seipei on Madikizela-Mandela's instructions after Verryn was falsely accused of sodomising the boys.

Richardson was led through his testimony by his lawyer, Tony Richards (correct).

Richardson said: "I killed Stompie under instructions of Mami (Madikizela-Mandela)."

READ MORE

https://www.justice.gov.za/trc/media/1997/9712/s971203f.htm
*

STATUES
Mandela standbeeld by Verenigde Nasies
A statue of Nelson Mandela has been unveiled at the United Nations. The structure was donated by the country of South Africa, and commemorates the civil rights icon's 100th birthday. In his life, the Nobel Peace Prize-winning Mandela became a symbol of the anti-Apartheid movement in South Africa. United Nations Secretary-General Antonio Guterres told reporters "Everybody in the United Nations will be constantly inspired" by the statue.

.

WINNIE

Necklacing came from Africa and is part of most of the cultures to burn their own people alive.   

AND today after 25 years "their struggle" is still there, South Africa number on the list

Same as with the "Kill the Boer, Kill the Farmer" – they do not respect any form of respect that did not agree with them.

Not only the media, but most political parties see her as a hero.  Even those necklacings.

*

STOMPIE is one of thousands

Stompie Seipei was 14 years old when he was found dead near Madikizela-Mandela's house in 1989, after being tortured following allegations that he was an apartheid police spy. According to The Citizen, it was alleged that he was spying on Madikizela-Mandela and was seen as a threat.

James Seipei, also known as Stompie Moeketsi, or Stompie Sepei, was a child activist with the United Democratic Front who was allegedly kidnapped by the infamous Mandela Football Club, before his decomposing body was found near Madikizela-Mandela's house in Soweto. It was evident his throat had been slit.

Eventually Jerry Richardson, the 'coach' of the football club, was found guilty of the murder and sentenced to life in prison. However, the question still remains whether he committed the murder under orders from, or in the presence of, Winnie herself.

Video materiaal

Winnie Madikizela-Mandela, revered by some as "the mother of the nation", has already been found responsible by the Truth and Reconciliation Commission for the disappearance of the men 24 years ago. However, until now nothing has been done to pursue allegations she was directly involved in the killings of Lolo Sono, 21, and Sibuniso Tshabalala, 19.

This is despite her chief bodyguard, Jerry Richardson, telling the commission he and a colleague stabbed the young men to death on her orders. Forensic scientists have now unearthed two bodies that mortuary records indicate had multiple stab wounds – and the police have opened a new murder investigation. In front of the Truth and Reconciliation Commission, Mrs Madikizela-Mandela denied all knowledge of the two men and said allegations she was involved in six other killings were rubbish.

Mr Richardson was head of the Mandela United Football Club, a crowd of young men who acted as Mrs Madikizela-Mandela's bodyguards and who, it has been alleged, she used to get rid of her enemies. On Tuesday, the African National Congress party orchestrated the ceremony to uncover skeletal remains believed to belong to Mr Sono and Mr Tshabalala. John Sono, the uncle of Lolo Sono, said: "We are getting some relief because we know that we are closing the chapter of 'we don't know' and we are opening the chapter of 'here lies our son'."

Piers Pigou is the senior investigator for the Truth and Reconciliation Commission who cross-examined Mrs Madikizela-Mandela during its hearings. He said: "I think the standard of proof used by the Truth Commission basically established prima facie (enough evidence to prosecute) cases against Mrs Mandela and members of the Mandela United Football Club, including in the disappearances of Sono and Tshabalala."

Mr Pigou said he found it particularly distressing to know the men's bodies had been taken to the mortuary the day after they disappeared, and the police were unable to link them to the two missing men who were being desperately sought by their families The commission, which is headed by Archbishop Desmond Tutu, lambasted police investigations into the disappearances of the men, who were last seen at Mrs Madikizela-Mandela's home in November 1988.

Mr Pigou said there was a "pattern of incredibly incompetent investigations" with an "enormous number of missing dockets". "Does it add up to a conspiracy or not that investigations were not being pursued when they could be pursued?" he asked. This time, the two new murder dockets have been opened by the Hawks, the police priority investigative unit. Captain Paul Ramaloko, a Hawks spokesman, said it was too early to say whether they had suspects or would be interviewing Mrs Madikizela-Mandela. In 1991, she was sentenced to six years in prison for kidnapping and assault in the death of 14-year-old James Seipei "Stompie" Moeketsi, who also had last been seen at her home in 1988. She appealed, the assault conviction was overturned and the sentence was reduced to a suspended jail term. Mrs Madikizela-Mandela separated from Mr Mandela in 1992, two years after he was released from 27 years of incarceration. Their divorce was finalised in 1996.  WATCH
Brutal killings black on black

.

Who was Stompie and what happened – who know?

Stompie's mother
Niemand weet wat met Stompie gebeur het – regtig?

MOB JUSTICE IN SOUTH AFRICA – BLACK on BLACK
OTHER KILLINGS IN SOUTH AFRICA

Watch this video, captured by a Dutch Film Crew, and you will see how cruel people were during the 1980's and 1990's. This is South Africa, this is the violent cruel people who do not act in a civilized way. See how they kill their own, how cruel their behavior is and even when the woman is dead they continue to dance and chant "VIVA", kicking and stoning a dead person. Is this how "normal" humans behave. This is South Africa and the inhuman behavior of the majority.
Girl stoned and burnt by necklacing
Necklaced and mutilated 2015 South Africa
Mob justice in South Africa 2012
Misdadiger word onderstebo opgehang – CRIME South Africa – Mob justice
Xenofobic killings in South Africa – the Murder country
Police enforcement and 'Drugs'
BLACK ON WHITES
why attack and killed?
RASSISME – RACISM
Skending van Menseregte
Genocide – Vernietiging van 'n volk
Farm attacks and killings ARE ONGOING
January 2018
I remember distinctly Jeanine mentioning that she would love legal advice. Her family are afraid for their lives, they don't know if her fathers murderer is going to come back for them once he's released. If there are any legal experts in South Africa or elsewhere who can offer her any aid, please reach out. Or if you would simply like to send her a kind message, I can forward that as well.
Jeanine se verhaal
.
Lauren Southern on FARMLANDS, attacks and killings
Farmlands in South Africa and WARS
ARE YOU BLIND ENOUGH?  keep looking away to assist?

Support Jesse on http://patreon.com/jesseleepeterson | GUEST: Lauren Southern http://laurensouthern.net documentary filmmaker of FARMLANDS on South Africa. They talk about White History Month, white farmers being murdered, white fear of speaking up, blacks falling for communism, and evil Nelson Mandela with his ANC, and his wife Winnie who endorsed necklacing (putting a tire around the neck of blacks suspected of working with whites, putting gasoline in the tire, and setting it on fire, burning human beings to death.
South Africa Boer (farmer) killings
..
SOUTH AFRICA and land grabs (white farm land)
Blanke boere, blanke moorde en grondbesettings
Blanke Plakkerskampe
White Squatter Camps in South Africa
White Squatter camps
Blanke plakkerskampe in Suid-Afrika 2016
….
Another communist "awarded"
The City of Johannesburg posthumously conferred the Freedom of the City Award on the late apartheid stalwart Winnie Madikizela-Mandela. It's the highest award the council can confer on any individual or group
Winnie awarded – VRYHEID (LAGWEKKEND)
EFF joined the DA and ANC
Winnie toekenning : Vryheid van Johannesburg
Daar is spesifiek 'n paar video's hierbo aangehaal, veral oor die aanvalle op ons Boere.  Politieke partye word gekoppel aan kommunisme, die kommunistiese grondwet (wat deur Kodesa skrywers saamgekonkel is) en ook die toestande wat heers in Suid-Afrika waar moord, aanval, doodslag en korrupsie nommer een is.  Daar word nie veel pogings om moorde stop te sit nie.    Heelwat politieke partye sal soms vrae vra in parlement, maar tog, sien mens selde antwoorde of  waar korrupsie stopgesit word.   Daar word so baie RASSISME en diskriminasie gepreek en valse beskuldigings in die media verkondig, maar die huidige parlement en al hul politieke partye ondersteun Swart bemagtiging en sal nie 'n baksteen verroer om almal dieselfde te gun nie – soos hul eie grondwet uitspel.
Dus is mens glad nie verbaas oor die DA se besluit vir 'status' van  "vryheid aan Winnie" handhaaf.   Hulle steun alles van die ANC asOOK die EFF wat Winnie as hul "moeder" beskou en was al sedert hul vorige naam (DP:  DAKAR)  daarby betrokke.   Sal ook opmerk dat EFF koalisies met die DA gevorm het tydens munisipale verkiesings in 2016.
Hoekom sal hulle mekaar se ruggies was en afdroog nie?
ME ZILLE is en was die 70's betrokke by Black Sash en sy en Ramaphela werk al sedert 1993 vir Soros se OSF.SA, wat Black Sash befonds, asook die Parlement, Kodesa en Dakar besoeke deur Slabbert en liberaal verligte blankes – almal gekoppel aan die kommunistiese grondwet.   Heelwat blanke verligtes noem hul ook die "klassieke liberale". ALMAL is niks anders as vals fronte vir die bevordering van kommunisme en hulle is MULTI-KULTUUR – PARTYE EN FORUMS.   Hulle staan nie op vir 'n spesifieke volk nie.
Soos reeds opgemerk, steun die klassieke liberales ook die huidige kommunistiese grondwet saam FW en sy Kodesa skrywers. Hulle is tog te bang hulle grondwet word gewysig, maar die huidige grondwet laat dan alles toe – al ons regte is reeds vernietig deur die huidige grondwet en die wat dit nog nie kan sien nie, is besig om 'n BLINDEMOL speletjie te speel.
Hierdie grondwet is duidelik nie vir konserwatiewe blankes (Afrikaner en Boere) wat deel vorm met die minderheidsvolk, geskryf of bedoel nie, want dit word betwyfel of daar ooit 'n stem of kruisie was daarvoor.    Daar word dan kommunisme, rassisme, diskriminasie en alles goedgekeur.
Hoe groter die steun vir Selfbeskikking in 2019 (onafhanklike gebiede) hoe beter vir onsself vir volkseie gebiede.