Die parlement het op 20 Junie 2020 (Saterdag) 'n verklaring afgelê tydens 'n virtuele vergadering.    Die voorlegging van die verslag vir die vierde kwartaal in die boekjaar 2019/20, aan die portefeuljekomitee handel oor menslike nedersettings, water en sanitasie.    Die departement van menslike nedersettings het gemeld dat hy slegs 60% van sy gestelde teikens bereik het en 98% van sy begroting bestee het.   Munisipaliteite se verantwoordelikheid is ook bevestig hiermee.   Let op hoe slim werk die "parlement" en dit raak ook onteiening sonder vergoeding aan die einde.

Foto:  Soweto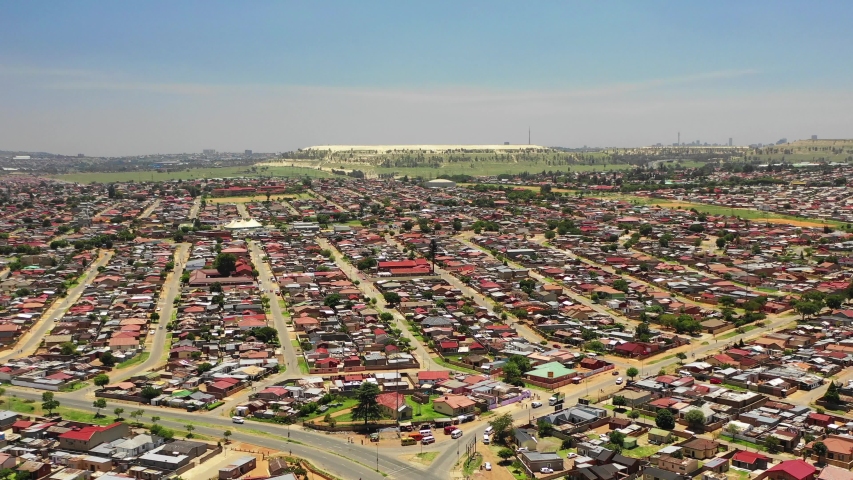 *
A statement was made by Parliament on Saturday, 20 June 2020 – In its presentation of its report for the fourth quarter in the 2019/20 financial year, to the Portfolio Committee on Human Settlements, Water and Sanitation yesterday, in a virtual meeting, the Department of Human Settlements reported that it met only 60% of its set targets, and spent 98% of its budget.
Explaining the reasons behind the department's inability to meet all of its targets yet the budget is almost finished, the Acting Director-General, Mr Letshabane, said it's the provinces and the municipalities that are responsible for those targets that have not been met. He said although the department is at the centre regarding the coordination of service delivery, the problem of concurrence makes it impossible for it to force the other spheres of government to meet their targets.
He said about 30% of the targets that are not met is work in progress, which he assured the committee that it is going to be completed.
On the failure to meet targets on building housing units and the upgrading of informal settlements, Mr Letshabane said the problems included protests in the communities. But members of the committee rejected this as an excuse and argued that it would be ironical because people in these communities use protest to demand, among other things, the delivery of houses and other services. So, communities would not block the delivery of the houses to them.
The committee expressed its unhappiness about the performance of the department on the delivery of title deeds to the recipients. Members of the committee told Mr Letshabane that the Minister has assured the committee on numerous occasions that the department has a plan in place to deliver the title deeds, yet according to the report, there is very little move on that.
https://www.parliament.gov.za/press-releases/committee-human-settlements-calls-delivery-title-deeds-recipients
*

Let daarop dat bykans alle informele sektorgebiede is 'n groot getal (miljoene) immigrante teenwoordig wat hierdie dienste verkry met geld uit die staatskas uit.   Hoeveel van ons Suid-Afrikaners maak aanspraak in enige ander land vir sulke tipe van diens, huise, sanitasie en ander byvoordele.   Dit kom dus voor dat al hierdie uitgawes uit ons belastingbetaler se sakke uit kom, sodat immigrante of onwettiges al hierdie byvoordele kan ontvang.   

Dit word dan verder uitgekring tot burgerskap en stemreg vir al hierdie gebiede.  Ook tot politieke stemreg op plaaslike owerhede vlakke / provinsiaal.    Dus word daar ook van raadslede gepraat tot hierdie gebiede, veral op metropole. 

Hospitale en skole word geraak, want die kinders moet elders ook 'n tuiste vind en mediese sorg verkry.   

Voedselproduksie is dus nie net vir die beraamde 57 of 60 miljoen burgers nie, maar ook vir net soveel immigrante en onwettiges wat reg rondom ons woon en selfs werksaam is.

Onteiening sonder vergoeding, van veral die blankes se gebiede word ook geraak, dus is dit soveel makliker om meer stemreg te verkry agter die verandering van die kommunistiese grondwet.   Swart en Khoi san doen nie afstand van hul gebiede nie, dit bly steeds hul gebiede (Trust en CPA), onder die 8840 tradisionele leiers.

HOE GERIEFLIK – en liberale blankes draai eenvoudig hul gesiggies weg wat in Suid-Afrika plaasvind.   Daar word al baie lank woorde en vals boodskappe uitgedeel dat ons blankes al die grond besit, wat leuens is.
1.   Hoeveel bedrae geld word aan munisipaliteite uitgedeel om aan die behoeftes van die opgradering van informele sektor in hul areas te voldoen?
2.  Hoeveel van die informele sektor wat in die munisipale gebiede woonagtig is, is nie burgers van die land en onwettige immigrante?
3.  Hoeveel dienste wat aangelê word, soos bv kragpale, se uitgawes kom uit die staatskas uit?
4.   Hoeveel ander dienste, soos hospitale, klinieke, skole word deur immigrante of onwettiges opgeneem?
5.   Hoeveel misdaad kom in die informele sektor gebiede voor?
6.   Heelwat foto's toon ook aan dat van die informele sektor huise reeds sonkrag panele en ook ander sonverwarming gebruik.
*
Solar panels on the roof of shack at Informal settlement – Enkanini, on the outskirts of Stellenbosch, Western Cape, South Africa. Many shacks in Enkanini have solar panels for access to electricity.
https://www.dreamstime.com/photos-images/informal-settlement-2021.html
*


This was in 2006
South Africa's Gauteng province has launched a R3-billion project to develop 20 of its townships into upmarket residential areas.   Gauteng Premier Mbhazima Shilowa launched the Twenty Priority Township renewal programme in Tembisa on the East Rand earlier this week. 
The 20 townships are: Attridgeville, Soshanguve, Mamelodi, Kagiso, Munsieville, Mohlakeng, Boipatong, Bophelong Sharpeville, Sebokeng, Ratanda, Katlegong, Kwatsaduza, Wattville, Daveyton, Tembisa, Refilwe, Rethabiseng, Orlando and Zola.
https://www.brandsouthafrica.com/south-africa-fast-facts/social-facts/twenty_townships
*
Already in 2013
City of Ekurhuleni Executive Mayor Mondli Gungubele launched the R17.5 million project at the Umgababa informal settlement near Daveyton recently.  The ultimate goal of the project is to make informal settlements more liveable by providing residents with basic municipal services such as lights and water, while the process is underway to either formalise or relocate informal settlements.

https://www.vukuzenzele.gov.za/solar-energy-lights-ekurhuleni%E2%80%99s-informal-settlements
*
*
Voor 1996 – Before 1996
Trustgebiede -Tuislande – Reservate

In heelwat artikels word die volle waarheid nie oorgedra aan die publiek nie.   Die gebiede, bekend as Tuislande, was eers Reservate genoem is deur die Britse koloniale heerser vir swart volkere.  Die gebiede was ook heelwat kleiner en dis wat die Britte geannekseer het, nie die sogenaamde "apartheids regering van 1948 of 1961 (Dr Verwoerd) nie.   
*
Partitioning or segregation of different ethnic peoples, did not started in 1961, but already after the Mfecane wars where the British Empire took the areas and also from the Khoi San and Griqua peoples before 1900.   Those areas for the Khoi San and Griqua peoples were called British Crown land.   Most of them rich of minerals, gold and diamonds.   
All the homelands did vote officially for their own leaders / traditional leaders 1961-1990 and it was not forced on them.   How can this situation be created by us or the 1961 Government if those areas already existed.  In 1993 it was again, their choices to take part in their own segregation, ie. Trustlands or CPA.  With 8840 traditional leaders and different houses for Khoi San and Black groups of people.
Before 1994, South Africa had four provinces: the Transvaal and Orange Free State, previously Boer republics, and Natal and the Cape, once British colonies.
In 1910 these four states were united into a single country, the Union of South Africa. This became the Republic of South Africa in 1960.


Gebiede bestaan steeds – onder CPA of Trustgebiede.
The nine provinces of South Africa
The 20 townships are: Attridgeville, Soshanguve, Mamelodi, Kagiso, Munsieville, Mohlakeng, Boipatong, Bophelong Sharpeville, Sebokeng, Ratanda, Katlegong, Kwatsaduza, Wattville, Daveyton, Tembisa, Refilwe, Rethabiseng, Orlando and Zola.
https://pmg.org.za/committee-meeting/29125/