In the late 18th century, a small band of British Quakers and other humanitarian-minded folk began to build the case against the slave trade. Britain's supremacy in maritime power and technology meant that it led the world in the transatlantic trade in African "cargo", having overtaken Portuguese, Spanish and French competitors.   
And today, it is called human trafficking.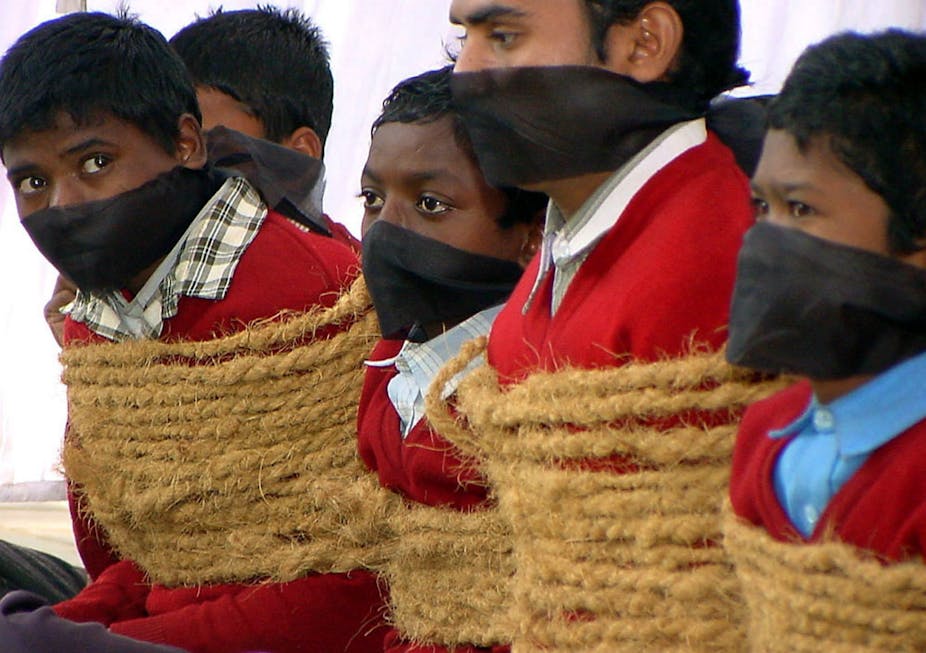 *

Slawehandel, mensehandel en orgaanhandel is oral met ons en is al jare aan die gang.   Sommiges verander net die benamings maar dis presies soos in die verlede.

Aan die einde van die 18de eeu het 'n klein groepie humanitêre persone die saak teen die slawehandel begin uitbou. Brittanje se oppergesag in maritieme mag en tegnologie het daartoe gelei dat dit die wêreld gelei het in die transatlantiese handel in Afrika-"vrag", nadat hulle Portugese, Spaanse en Franse mededingers verbygesteek het.

*

Ons in Suid-Afrika het ook nie agtergebly op die terrein nie.    Daar is 'n publikasie dat die regering van Suid-Afrika voldoen nie ten volle aan die minimum standaarde vir die uitskakeling van handel nie, maar doen wesenlike pogings om dit te stop.   Wat is ons grootste probleem eintlik?

Grensbeheer wat nie bestaan nie,  maak dit beslis nie makliker nie en kan die skuld nie altyd voor die huidige regering se deur gelê word nie – altans so dink die beheerders.    Gaan soek maar wie het die grense 100% oopgestel – Me Zuma.  Hulle beheer die grense 100% – oop beleid soos die res van Afrika, maak dit eenvoudig makliker.   

Die regering het algehele toenemende pogings getoon in vergelyking met die vorige verslagtydperk; daarom is Suid-Afrika opgegradeer na "Tier 2".   Wat nie veel beteken nie.   Daar sal natuurlik altyd na beraamde getalle gekyk word, want niemand weet hoeveel landsgrense oorsteek vir beter lewens nie. 

Daar is groot aantal vermiste persone, veral kinders, wat net nooit gevind word nie.   Georganiseerde mafia's wat alles beheer wen al die pad, almal het hul eie tentakels wat vir hulle werk en geld ontvang hiervoor.   Die ontvangers betaal ook aardige somme geld, anders sou dit nie lonend vir hierdie mafia gewees het nie.   Dis so gerieflik om nie die grense toe te maak soos in die ou dae nie en selfs toe al was daar heelwat smokkel in mensehandel en organe aan die gang. 

Dit is feite – Suid-Afrika staan bekend as 'n bron van deurreis en deurgang, veral hiervoor, 'n  bestemmingsland, met na raming 155 000 mense wat verslaaf is (waarvan daar kennis gedra word). Die skoonheid en persepsie van ekonomiese welvaart lok mense van regoor Afrika en Asië met die belofte van 'n beter lewe. '   Aan die einde is daar geen beter lewe nie, ongelukkig.   Hoe teleurgesteld moet die in Afrika of elders wees wat "hulp" belowe word, maar later opgesluit word of eenvoudig orgaanskenkers word.
*

In South Africa

The Government of South Africa does not fully meet the minimum standards for the elimination of trafficking but is making significant efforts to do so. The government demonstrated overall increasing efforts compared to the previous reporting period; therefore South Africa was upgraded to Tier 2.
South Africa
*
Human trafficking continues to be a challenge in South Africa. There's been an increasing call for government to intervene. Statistics show that 23-percent of children who go missing are never found. 
*
"The only people who benefit from playing the statistics down are organised crime bosses and the sex trade itself," said Madlala-Routledge.
The A21 website says: "South Africa is known as a source, transit, and destination country, with an estimated 155 000 people enslaved. The beauty and perception of economic prosperity lure people from all over Africa and Asia with the promise of a better life." 
Researchers said they had seen many different forms of exploitation in South Africa, from forced labour on farms, fishing trawlers, and in domestic servitude to sexual exploitation on the streets and behind closed doors in illegal brothels.
https://www.iol.co.za/weekend-argus/news/the-reality-of-human-trafficking-887b9161-0bd8-40a9-90c3-39c4f5cb19b5
*
Modern slavery
It is a confronting reality that even in the present day, men, women and children all over the world remain victims of modern slavery.
https://www.globalslaveryindex.org/
*
Swiss National TV talk show #SRFglobal​ of 6th February 2020 shows the extent of human trafficking and exploitation in today's world. Florian Inhauser with reports from the correspondents in UK and South East Asia ann the ideas of "Freedom United" director Joanna Ewart-James for ending modern slavery.
*
Quakers
Friends Historical Library at Swarthmore College and the Quaker Collection at Haverford College are jointly the custodians of Quaker meeting records of the Mid-Atlantic region, including Pennsylvania, Delaware, Maryland, Virginia, New York and Vermont and these records illuminate the origins of the anti-slavery movement as well as the continued Quaker involvement, often behind the scenes, in the leadership and direction of the abolitionist movement from the 1770s to the abolition of slavery in the United States in 1865, and beyond.
*
Gruesome evidence, given by ship captains, sailors and former slave trade surgeons, was presented to British parliament in the 1780s and circulated widely in the burgeoning print media. The public learnt for the first time the details of their nation's blood-soaked trade.
http://abolition.e2bn.org/campaign_16.html
Revulsion and guilt were widespread. A boycott movement got underway, urging people to reject sugar in their coffee and tea. To persist in the consumption of West Indian sugar was (it was argued) tantamount to ingesting the blood, sweat and tears of suffering plantation workers.
Partly as a result of the continued high visibility of slavery's atrocities, the slave trade was abolished in Britain in 1807. Particularly affecting, in terms of emotional impact, was the focus on the kidnapping of children and the separation of family members on the auction block. Similar emotional triggers operate today in spurring members of the public into action.
Forrest takes up an old fight
The sexual slavery of a deeply traumatised girl from Kathmandu, sent to the Middle East at the age of nine and discarded at 12, was the trigger for mining billionaire Andrew Forrest to establish his Walk Free Foundation in 2010.
This global activist movement attracted the support of heavy-hitting politicians and philanthropists such as the Clintons, Tony Blair and Bill Gates. Now this foundation has spawned the Global Freedom Network, an organisation that aims to free the world's estimated 30 million slaves.
With an eye to high-level visibility and media impact, Forrest has headed up this network with three leaders of world religions: the Pope, the Archbishop of Canterbury and the Grand Imam of al-Azhar in Egypt. This is a remarkable clutch of high-profile collaborators.
Associated with the Global Freedom Network is the Global Slavery Index, launched last year. This lists countries where slavery is most prevalent, in ranked order. Improvements in the index for 2014 will be achieved (it is promised) by determining rankings according to a combined measure of "prevalence" and "government response".
Forrest is adamant that his work against modern-day slavery is not an exercise in "feel-good" philanthropy, which will evaporate as soon as the media turns its attention elsewhere.
Forrest vows to draw upon all the hard-edged business skills that have generated his immense wealth to date. For instance, he has already brokered a deal under which Australian technology for coal conversion will be given pro bono to Pakistan in exchange for government-led efforts to eradicate slavery in the Punjab.
Supply chains make us complicit
Supply chains will be a particular focus of the Global Freedom Network. Government leaders and corporate CEOs will also be urged to make visible and "slavery-proof" the often unseen links between the source and the finished product sold on the high street.
Last year's deadly garment-factory collapse in Savar, Bangladesh, which killed 1129 workers and injured 2515, triggered widespread discussions about corporate social responsibility across global supply chains. It also brought home the extent to which we consumers in the wealthy West are complicit in modern slavery.
Given the scale of this tragedy, the response from Western businesses has been less than impressive. Of the 29 brands identified as having sourced products from the collapsed Savar building, only nine attended meetings held late last year to agree on a minimum wage for garment workers and compensation for the garment trade's victims.
The definition of modern slavery covers many forms. It includes people trafficking, sexual slavery, child labour, forced marriage, debt bondage, hereditary slavery and a rapidly expanding trade in organs and transnational surrogacy.
Forrest's ambition is enormous – a dream some might say. Nor is his aspiration new in any way. As we have seen, he takes his inspiration from those first abolitionist movements of the late 18th century.
More recently he has taken his cue from the excellent work of Kevin Bales and his "Free the Slaves" movement. Forrest's Global Slavery Index declares that it is indebted to Bales' work over the last 15 years. This has resulted in many books, including the powerful Disposable People: New Slavery in the Global Economy (1999), a study of five slave-based businesses.
https://theconversation.com/taking-on-modern-slavery-and-the-challenge-of-making-it-history-24563
*
1776
https://www.battlefields.org/learn/primary-sources/quakers-address-problem-slavery

*


Read more about the Epstein sages on his island

Commercial sex industry –  SA

*
A slave is a person legally owned by another and having no freedom of action or right to property. a person who is forced to work for another against his will.   It is a person under the domination of another person or some habit or influence and a person who works in harsh conditions for low pay.   

No slavery in South Africa

*

Britain's involvement in the transatlantic slave trade was an appalling atrocity that has left an "indelible stain" on the world, Prince Charles has acknowledged.

Engeland se slawehandel