All world leaders must stop the creation of nuclear weapons, not only Iran, but also America, Brittain, Israel, Russia, France, China, North Korea, India and ALL others involved to "create the power in the world" (ELITES).    Interesting facts – most of those world leaders came down on South Africa before 1994 to dismantle our nuclear weapons, to hand over the country to the communists and liberal anc movement, but what about their own nuclear and other bombs, it is still ongoing…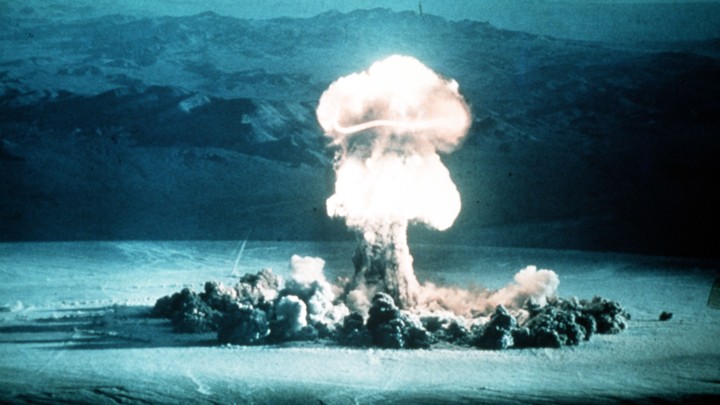 *
The number of nuclear weapons in the world, moreover, has dropped from more than 70,000 in 1986 to fewer than 14,000 today because of arms-control efforts. (That's still enough, of course, to kill billions of people and envelop the world in a nuclear winter. When it comes to nuclear non-proliferation, progress is only heartening when expressed in relative terms.)   At the end, who make war against whom and who kill whom?
THE WINNERS  OF ANY WARS ARE ………. ? NOBODY
NO KILLING IS A RIGHT – IT IS A RIGHT TO LIVE
Ukraine Flight PS752 – Canadians-Iranese
Aanvalle-Moorde SEPTEMBER 2019 Attacks-Killings
South African Farm attacks and killings
Estimated 500 000 plus murdered since 1994
Racism, Discrimination, Crime and Corruption – UN (prevention)
Statelessness – Violation of Human Rights and international crimes
Agreements and Traditional leaderships
*
1941
It was at 7.55 am local time on December 7, 1941 that Japanese planes launched a surprise and devastating attack on the US naval base at Pearl Harbor in Hawaii. The bombing of the American Pacific Fleet catapulted the United States into World War Two.
*
Discover key moments from history and stories about fascinating people on the Official BBC Documentary channel: http://bit.ly/BBCDocs_YouTube_Channel Hear first-hand accounts from the air and ground, re-telling every memory from the day the world first witnessed the horrors of atomic warfare.
*
It found the infrastructure projects face delays of between one and six years, with costs increasing by £1.3bn.   The projects, initially valued at £2.5bn, are being built to enhance or replace existing facilities at Barrow-in-Furness in Cumbria, where four new submarines are being built by BAE Systems to carry Trident missiles.
https://www.bbc.com/news/uk-51052124
*
Consider what has transpired in the past year alone:
A newly unconstrained Iranian nuclear program: Iran has gradually cast off the shackles of the 2015 nuclear agreement following Trump's decision to pull the United States out of the pact, though it is still cooperating with international inspectors and leaving itself space to return to compliance if the United States lifts sanctions against Tehran. Experts estimate that with the recent steps away from the deal, the time that Iran would need to generate enough fuel for a nuclear bomb could decrease from roughly a year to a matter of months.
An emerging North Korean nuclear-weapons power: The North Korean leader Kim Jong Un vowed over New Year's to further advance his nuclear-weapons program, which is already likely sophisticated enough to threaten the whole world, after nuclear talks with the United States fell apart. The targeted killing of a top Iranian official, just a few years after the Iranians struck the nuclear accord with the United States, will probably only reinforce Kim's belief that the only way for his regime to avoid a similar fate is to cling to its nuclear weapons. The former North Korean diplomat Thae Yong Ho told me he's concerned Kim could go well beyond that in the coming year, perhaps declaring that the U.S. economic blockade of his country has left his nation no choice but to survive by selling nuclear and missile technologies to other parties, including U.S. adversaries.
The specter of other countries going nuclear: Failing efforts to denuclearize North Korea and broker a better nuclear deal with Iran, coupled with concerns among U.S. allies about Trump's commitment to providing for their security against these adversaries, have generated talk of Japan, South Korea, Australia, and Saudi Arabia exploring nuclear weapons of their own rather than relying on America's nuclear deterrent. In a forecast of possible geopolitical risks in 2020, published a couple of weeks before Soleimani's killing, two scholars at the Atlantic Council predicted that South Korea and Australia, "already pondering nukes, may move to the next stage of actively considering them in 2020, as may Japan. If the Iran nuclear crisis is not resolved, expect the Saudis to buy or rent a nuke from Pakistan."
Emboldened nuclear states in South Asia: Clashes between India and Pakistan in February 2019, sparked by an attack on Indian security forces by Pakistani militants in the disputed territory of Kashmir, didn't go nuclear. But they did escalate to an Indian air strike on a terrorist training camp in Pakistan—an act the nuclear experts Nicholas Miller and Vipin Narang have described as "the first ever attack by a nuclear power against the undisputed sovereign territory of another nuclear power." These were nuclear powers with growing arsenals, no less.
The demise of U.S.-Russian arms control: Blaming Russian violations of the agreement and the unfairness of China not being a party to it, the United States officially withdrew in August from the 1987 Intermediate-Range Nuclear Forces (INF) Treaty, which banned an entire class of ground-launched nuclear weapons. The Trump administration has also signaled that it may not renew New START, a 2010 successor to START I that's due to expire next year and limits the number of nuclear warheads that the U.S. and Russia can deploy on longer-range missiles. The hope is that this will free up the United States to reach a more comprehensive deal that includes China, but so far that idea seems fantastical. A New START lapse would do away with the only remaining nuclear-arms-control treaty. It would also mark the first time since 1972 that America and Russia, which together account for more than 90 percent of the world's nuclear warheads, haven't had any legally binding restrictions on their nuclear forces.
The outbreak of great-power competition: The collapse of the INF Treaty coincides with heightened rivalry among the United States, China, and Russia, threatening to accelerate their budding nuclear-arms race. They're already investing heavily in modernizing their nuclear arsenals and in new technologies such as hypersonic glide vehicles, which evade missile defenses; cyberweapons against command-and-control systems; and artificial intelligence to incorporate into those systems. Meanwhile, the U.S.-China trade war hacks away at the economic interdependence that has helped deter conflict between the two nuclear-armed superpowers.
https://www.theatlantic.com/politics/archive/2020/01/soleimani-iran-north-korea-new-nuclear-age/604618/
*
GERMANY
The Alsos Mission, a joint US-UK secret team of nuclear experts was sent in 1945 to track down top German physicist Werner Heisenberg and the scientists and technology creating Germany's atomic weapons programme. It was a race against time, as the Allies were worried that the German's might develop an atomic weapon before the Manhattan Project. A great many thanks to the Hoover Institution Library and Archives at Stanford University for allowing me to use the Alsos Mission films for this video (Boris T. Pash Papers, Reels 1-4: "Alsos Mission Films")
*
2017
How large is America's nuclear weapons arsenal? Here's a breakdown from missiles to bombers
*
TO MAKE WAR – WITH ?
China is aggressively developing its next generation of nuclear weapons, conducting an average of five tests a month to simulate nuclear blasts, according to a major Chinese weapons research institute.

*
China used their 70th anniversary parade to display their military power to the world. Among the hundreds of aircraft, tanks, missiles and personnel was some of the latest in warfare technology, including a nuclear intercontinental ballistic missile, stealth fighters and unmanned combat drones
*
Russia
*
KOREA
Some pundits in Seoul see the killing of General Soleimani… as having a profound impact on the denuclearization stalemate between the U.S. and North Korea. That it may prompt the regime to break off from its own moratorium on nuclear weapons development. Kim Ji-yeon sheds light on the analysis. A South Korean military source said on Monday that the incidents following the U.S killing of Iran's top security and intelligence commander General Qassem Soleimani… could push the North Korean denuclearization issue further down U.S. President Donald Trump's list of priorities… amid the stalled denuclearization talks between Pyeongyang and Washington. The North Korean regime, which has warned of major provocations if it doesn't get concessions from the U.S., could use the change of focus by Washington to speed up the development of its nuclear weapons program… and nuclear delivery systems… to use them as a bargaining chip in denuclearization talks.
A local expert says the fact that Iran has broken off from commitments in the 2015 nuclear deal… to observe limitations on its capacity for level of enrichment… may prompt the North to also roll back from its own moratorium on nuclear weapons development. "Iran and North Korea share the same definition on denuclearization… in that their version entails not developing additional nuclear weapons… rather than dismantling what they've already developed."
Local media outlets in South Korea say the targeted killing of Soleimani sends an implicit warning to North Korea… that the utilization of drones could be more rampant in military operations by the U.S. The U.S. MQ-9 Reaper drone used to target Soleimani… became operational in 2007… and is a remotely piloted aircraft designed primarily for precision strikes… capable of annihilating targets with missiles or other munitions… of up to one-point-seven tons. The U.S. Forces Korea is known to operate the MQ-1C Gray Eagle drone, which can carry Hellfire missiles and other miniature precision guided munitions. Kim Ji-yeon, Arirang News.
>
https://www.themoscowtimes.com/2019/11/26/russia-shows-off-hypersonic-nuclear-missile-to-us-inspectors-a68329
https://nationalinterest.org/blog/buzz/look-out-russia-air-force-getting-ready-its-new-nuclear-weapons-112036
*
2014 – Countries and treaties – not Israel – Pakistan and India
*
*
The Ukrainian passenger jet that crashed shortly after takeoff from Tehran on Wednesday appeared to have been accidentally shot down by Iranian surface-to-air missiles, said the Canadian prime minister, Justin Trudeau, citing intelligence sources. Ukraine International Airlines Flight 752 went down in Iran minutes into its flight on Wednesday morning, killing all 176 people onboard.
*
Sad day in aviation today: an Ukraine International Airlines crashed in Iran this morning, killing 176 people. Here is some footage from the aircraft, a Boeing 737-8. (the second clip is the actual crashed airplane @00:33) The aircraft was only 3.6 years old. It was the first accident for the airline since it started operations 27 years ago.
00:00 Ukraine International Airlines [UR-PSG] Boeing 737-8
00:33 Ukraine International [UR-PSR] Boeing 737-8 (the one that crashed)
00:46 Ukraine International Airlines [UR-PSM] Boeing 737-8
00:57 Ukraine International Airlines [UR-UIB] Boeing 737-8
01:45 Ukraine International Airlines [UR-PSE] Boeing 737-8
02:06 Ukraine International Airlines [UR-PSU] Boeing 737-8
02:51 Ukraine International Airlines [UR-PSD] Boeing 737-8
03:06 Ukraine International Airlines [UR-PSN] Boeing 737-8
https://www.youtube.com/watch?v=NTLQfPERmrA *
*
This is only in the flight simulation. This situation is not real!
Ukraine International Airlines Boeing 737-800 Crashed Immediately After Takeoff In Tehran, Iran
*
Three Britons have died after a Ukrainian passenger plane crashed moments after take off from Iran, officials in Kyiv have confirmed. All 180 people on board the Ukraine International Airlines Boeing 737 flight from Imam Khomeini International Airport in Tehran to Kyiv were killed on Wednesday morning. Iranian state television said the crash was because of mechanical issues. Aviation expert Paul Charles joined Julia Hartley-Brewer to discuss the crash.
*
U.S. President Donald Trump told reporters on Thursday that he had "suspicions" on the possible causes behind the deadly plane crash in Iran that killed all on board minutes after taking off from Tehran airport on Wednesday, saying "someone could have made a mistake." A missile brought down the Ukrainian flight carrying dozens of Canadians in Iran, according to new reports, but the strike was likely accidental, as Trump expressed his "suspicions" about what happened to the plane. The crash came just a few hours after Iran launched a ballistic missile attack against Iraqi military bases housing U.S. troops amid a confrontation with Washington over it killing a top Iranian general in a drone strike last week. Trump said the plane was flying through a "rough neighbourhood" and said that he doesn't believe it was a question of mechanical malfunction.
*
Donald Trump said Iran appears to be "standing down" after it launched a series of ballistic missiles at two US airbases. The US President adopted a conciliatory tone when he provided an update on the damage caused by Iran's airstrikes on two US military bases in Iraq, which were in retaliation to the killing of General Qassem Soleimani.
https://www.youtube.com/watch?v=fTNbqWtDSUI *
*
*
Sagar, an Iranian-American human rights activist, says Qassem Soleimani was a bloodthirsty criminal, with some media outlets are even trying to portray him differently outside of Iran.
https://thefreeiranian.org/video/sagar-an-iranian-american-human-rights-activist-talks-about-qassem-soleimanis-death