Ramaphosa stated that South Africa needs to reduce the cost of starting a business.  Investments will be needed to build a better "economy" and he also focused on the immigrants.      Various points were discussed to reduce costs – electricity, data, public transport, education and health-care.   There are more opinions of the situation and reality in South Africa.  Hoog in die wolke op 'n eie planeet, op soek na beter geleenthede, terwyl daar misdaad die land oorheers en skendings van menseregte plaasvind.
(London)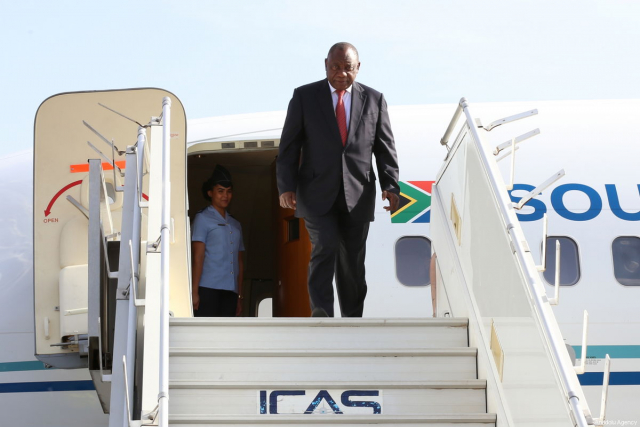 OPINIONS for any country.
Die volgende geld vir enige land van toepassing.
*
Close down the whole borders and sea entrances with enough control points to control and be in control of crime. If you allow criminals and people to burn everything down you have not created, it is a violation of human rights of that person(s).
Stop racism and discriminate against whites in South Africa with your B-BBEE and AA, you will not attract anybody at all en never be successful in your footsteps – not any government.   You follow the same route as Zimbabwe and its people.   Hunger and no investments.  Ramaphosa controls the committee and is chairperson of B-BBEE (Hansard).
Stop blaming whites for your own wrongdoings – the wagon has been burnt down by yourself.   As government are  you irresponsible if you blame only whites or the so-called "apartheid" for everything or stolen land.  We bought the land legally.
Expropriation of properties – focus on the 5000 farms you as government bought with tax money and other properties of government that you can give away to expropriate – there are more properties, not only farms.
There are already 7.5 million blacks with title deeds – blacks are not landless.   It is hate speech to say they are landless.
*
"The so-called apartheid" (COMMUNAL LANDS) (NO TITLE DEED IN TERMS OF CPA LEGISLATION
There are still separate Trustland areas (Ingonyama trustland) and thousands of CPA areas to different black and coloured people, with 8840 traditional leaders – only for them to live and benefit.   CPA leaders are only Trustees – it is communal lands.     It is the same "communal rights" as the Shepstone Policy of the British Empire of 1854.
Those areas do not belong to any white person.
Not even the old Homelands belong to any white person –  it was transferred to the current government to keep in trust for those 10 different communities/tribes/people, where more than 30 million blacks and coloureds live on.   White paper and video recordings.
For example the Richtersveld was given to Khoisan (one of 6 huge CPA areas), in 2007 by Thabo Mbeki, millions of hectares of land, each with their own tribal leader(s) and only for them to benefit from.   Thousands of landclaims are still outstanding.   They are also not landless.
Like the Ingonyama trustland since 1994 – , the previous government transferred that areas to the Zulu people, is theirs only with the Zulu king, Zwelithini as trustee.
Who are the owners?   It is communal land and in trust?   In terms of Hansards, the government is the owners of tribal lands/cpa's.
*
BACK AT LONDON
If each country in Africa focuses for a time on their local people, becoming first self-sufficient for jobs for their own people, then each country will develop more businesses and a better economy for progress and growth with their own people and country.   Attract to your locals first.   
No matter how you look at immigrants, it does not help to favor immigrants over and above your own local citizens and businesses.     Then you violate your local's human rights as well.
Stop B-BBEE it is racism and discrimination to the white minority people and violation of their rights.  We also have rights and we also have a right to have our own leaders and own country to rule ourselves.   That is an international right.
Remember,   South Africa is only a small part of the "bigger machine" (Africa) and currently, nothing is working locally – because the government allow the revolution.    Focus on the – No services, no water,  no electricity and no medical services.
Do not focus on investments outside the country only, but on our own problems first that you created by revolution.   Stop your revolution actions and protests.
Create cheaper opportunities for ALL locals, not only blacks, but whites too.  Then skilled workers from other countries if you do not have people to fill positions, like in all local authorities.      We have enough skilled people to work on that level of government, but government only focus on blacks only (B-BBEE) and violate white's human rights – that is an international crime and you all know it.
CRIME AND 15% VAT INCOME.   
Do not allow businesses, trains, buses or schools / universities to be burnt down and loot businesses while there were many opportunities that are now destroyed by the masters of revolution.
If the Government is not in control of crime, crime is in control of the government.  Currently, all kinds of crime control the government bodies.
If somebody burn down a bus or train, local people do not have that service anymore.   To ruin something has to be replaced that costs enormous amounts of money.
NOBODY want to work like this – no people that want to make an "investment" will be safe at the end.
The government will enjoy their 15% VAT investment in crime and that is all.
Immigrants  have enormous expenses to invest in other countries, such as housing and accommodation for families, away from their own families, culture and people. Literally a whole family is disrupted.
LOCAL – How many are produced locally and how many are imported?
*
As elke land in Afrika vir 'n slag fokus op hul eie mense, selfvoorsienend raak vir werksgeleenthede vir hul eie mense eerste aanstel, sal elke land n beter ekonomie ontwikkel vir vooruitgang en groei.
Maak nie saak hoe daar gekyk word na immigrante nie, dit help nie om immigrante heeltyd te bevoordeel bo die van jou eie plaaslike burgers nie.   
Skep  goedkoper geleenthede plaaslik in elke land vir jou eie mense eerstens en daarna kan geskoolde werkers uit ander lande toegelaat en aangestel word.   Dis tog enige land se beleid.   Fokus eerstens op plaaslik, daarna op ander as daar nie genoegsame geskoolde persone is nie.  Lei plaaslike mense op.
Moenie toelaat dat besighede, treine, busse of skole/universiteite so afgebrand en besighede geplunder word waar daar heelwat geleenthede was.   Om iets te verwoes, moet vervang word wat enorme hoeveelhede geld kos.
Die regering word deur rewolusie en misdaad beheer en die regering is hoegenaamd nie in beheer van enige misdaad nie.   Heelwat staan en toekyk hoe besighede geplunder en afgebrand word.   Immigrante se besighede word ook so vernietig, leeggesteel en afgebrand.  So watter persone sal veilig voel om so te werk?
Immigrante het almal enorme uitgawes om in ander lande te gaan belê, soos behuising en aanpassings vir familie, weg van eie kultuur en volkslede.    Letterlik word 'n hele familie ontwrig.    Bou eie ekonomie met eie volkslede.
Hoeveel word plaaslik vervaardig en hoeveel word ingevoer?
*
RAMAPHOSA
In November, the South Africa Investment Conference will take place as part of the drive to attract R1.2 trillion in new investment over five years, as the inaugural conference last year raised around R300 billion in committed investments.
The question is, South Africa is part of Africa,  why not focus in the first instance to make it easier and cheaper for local people and businesses in South Africa with the better benefits to appoint locals in the first place?   
"I am in London addressing the Financial Times Africa Summit 2019, a gathering of business people, investors and decision-makers. This event, taking place far from our shores, is important for the work we are doing to improve the lives of our people. As we have all recognised, if we are to create jobs and reduce poverty, we need to grow our economy at a much faster pace."

It was said they want to make it easier to start a business, register a property, deal with construction permits, pay taxes and trade across borders.  We have prioritised immigration reform to attract more skilled workers and to grow tourism."

President Cyril Ramaphosa

https://www.thesouthafrican.com/news/ramaphosa-we-need-to-grow-economy-at-much-faster-pace/
The Financial Times Africa Summit was hosted annually by the Financial Times newspaper, with a focus on business affairs and opportunities in African countries.   The theme, 'Africa in Motion', places a special emphasis on youth, women, entrepreneurs, scientists and artists and innovation.  Ramaphosa was accompanied by Small Business Development Minister Khumbudzo Ntshavheni and Presidential Special Envoy on Investment, Mcebisi Jonas.

https://www.sapeople.com/2019/10/14/president-ramaphosa-arrives-in-london-for-financial-times-africa-summit/