In early January 1488, as Dias' two ships sailed off the coast of Southern Africa, storms blew them away from the coast. Dias is thought to have ordered a turn to the south of about 28 degrees, probably because he had prior knowledge of southeasterly winds that would take him around the tip of Africa and keep his ships from being dashed on the notoriously rocky shoreline. João and his predecessors had obtained navigational intelligence, including a 1460 map from Venice that showed the Indian Ocean on the other side of Africa.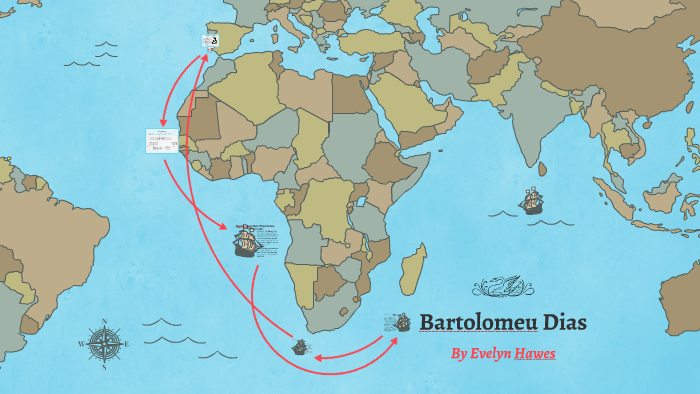 *

Reisigers wat eeue gelede om Afrika gereis het, het alles geboekstaaf en heelwat skepe is verloor as gevolg van siklone en ander windtoestande, veral die Kaapse weer.

*


On the journey back, Dias observed the southernmost point of Africa, later called Cabo das Agulhas, or Cape of Needles. Dias named the rocky second cape Cabo das Tormentas (Cape of Storms) for the tempestuous storms and strong Atlantic-Antarctic currents that made ship travel so perilous.
They reached Brazil in March 1500, then headed across the Atlantic toward South Africa and, further ahead, the Indian subcontinent. At the feared Cabo das Tormentas, storms struck the fleet of 13 ships. In May 1500, four of the ships were wrecked, including Dias', with all crew lost at sea. Bartolomeu Dias died on May 29, 1500 off the Cape of Good Hope. 

https://www.history.com/topics/exploration/bartolomeu-dias
Nine years later, in 1497, Vasco de Gama (ca. 1460-1524) continued that path and sailed all the way to India through the uncharted waters of the Indian Ocean, while in 1500, Pedro Álvares Cabral (ca. 1467/1468 – 1520) set foot in South America, in Brazil, becoming the first captain to connect in one voyage all four continents of Africa, Asia, Europe and America.

https://www.sutori.com/item/sailing-around-africa-in-1488-bartolomeu-dias-ca-1451-1500-became-the-first
*
Luderitz
He named the Cape 'the Cape of Storms' ('Cabo das Tormentas'), but King John II of Portugal later renamed it 'Cabo de Boa Esperanca' ('Cape of Good Hope').




https://www.alamy.com/the-diaz-cross-replica-erected-by-bartolomeu-dias-in-1488-between-image67970064.html
# 030a -passing Lüderitz -Bartolomeu Dias
*

The Global Hurricane Basins

https://af.eferrit.com/die-7-global-hurricane-basins/

*
The 36 Deadliest Tropical Cyclones in World History
https://www.wunderground.com/hurricane/articles/deadliest-tropical-cyclones
*

Global library of earth and elements – cyclones are not a new thing to earth
A document-based 318-year record of tropical cyclones in the Lesser Antilles, 1690–2007

The most comprehensive and longest document-based time series of tropical cyclone activity for any area of the world is presented for the Atlantic and Caribbean region of the Lesser Antilles for the years 1690–2007.   

This paper presents a new data set of tropical cyclone activity for the Lesser Antilles for the years 1690–2007 collected by the first author, which improves and more than doubles the length of any other document-based record.  Newspapers published in England provide accounts of hurricanes from the American colonies as early as 1666. A total of 2,218 newspaper items were available for the area from 10–25°N 55–65°W for 1665–1870. Of these, 1,209 came from Caribbean region newspapers, 539 from U.S. newspapers and 370 from U.K. newspapers. From 1813 onward, the number of newspapers from the region, supplemented with accounts from other newspapers and confirmed independently from logbook data, is of sufficient number to be used as the main source to locate and identify tropical cyclones passing through the islands. Ship accounts, sometimes including logbook extracts, are frequently found in newspapers. 

The United States Signal Corps (immediate predecessor of the then-U.S. Weather Bureau) established weather stations in different islands of the Caribbean as early as the mid-1870s and the original records through the year 1887 are available at the U.S. National Archives in College Park, Maryland. The bulk of the records for the Lesser Antilles are from St. Thomas, Guadeloupe, and Barbados. 

https://agupubs.onlinelibrary.wiley.com/doi/full/10.1029/2008GC002066

*
The word monsoon is derived from the Arabic word mausim, which means season.   Traders plying the waters off the Arabian and Indian coasts noted for centuries that dry northeast winds in the winter suddenly turn to the southwest during the summer, and bring beneficial yet torrential rains to the Asian subcontinent. We now know that these large scale wind shifts, from dry desert areas to moist tropical areas, occur in other parts of the Earth, including the Oceanic subcontinent, Southeast Asia, Australia, North America, Africa and South America.  Monsoons typically occur in areas with a large, elevated landmass which further enhances temperature and pressure contrasts between land and ocean, enhances moisture transport, and supports stronger subtropical highs. 
Click to access 53637f9a75d21607.pdf

*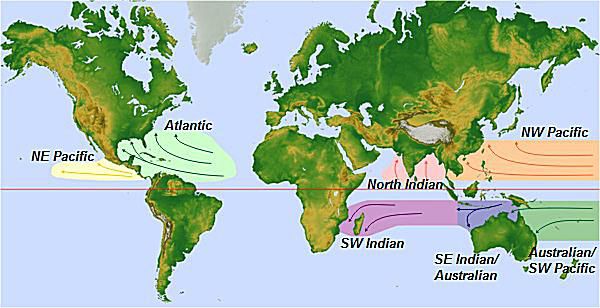 As reën nie begin wanneer hulle veronderstel is nie, kan dit lei tot toenemende reënvalte, swak grond, en 'n verhoogde droogte wat die opbrengs en hongersnood verminder. Aan die ander kant kan intense reënval in hierdie streke groot oorstromings en modderstortings veroorsaak, vernietiging van gewasse veroorsaak en honderde mense in vloede doodmaak.
Die vroegste verduideliking vir moessonontwikkeling het in 1686 van die Engelse sterrekundige en wiskundige Edmond Halley gekom . Halley is die man wat eers die idee begryp het dat differensiële verhitting van grond en oseaan hierdie reuse-seebriesirkulasies veroorsaak het. Soos met alle wetenskaplike teorieë, is hierdie idees uitgebrei.
Monsoon seisoene kan eintlik misluk, en bring baie droogte en hongersnood na baie dele van die wêreld. Van 1876-1879 het Indië so 'n moesson-mislukking ervaar. Om hierdie droogtes te bestudeer, is die Indiese Meteorologiese Diens (IMS) geskep. Later het Gilbert Walker, 'n Britse wiskundige, begin om die effekte van moessonne in Indië te ondersoek, wat patrone soek vir klimaatdata. Hy het daarvan oortuig dat daar 'n seisoenale en rigtingse rede vir moessonveranderinge was.
https://af.eferrit.com/alles-oor-monsoons/
*

Sikloon IDAI – Mosambiek/Zimbabwe


Mosambiek, Zimbabwe en Idai sikloon


Cyclone Kenneth

Tropical storm Eloise