The South African Weather Service has announced on 24 January 2021,  a Red level 10 Warning for eastern parts of Limpopo and Mpumalanga due to persistent heavy rain. This comes as Tropical storm wreaked havoc on some parts of the country.    According to SAWS, more heavy rain is expected to hit Limpopo and Mpumalanga on Sunday night into Monday.   There is also another cold front on its way to meet this Eloise eye to eye.






*

24 January 2021

Heavy rain and wind is forecast for parts of Mpumalanga, KwaZulu-Natal and Limpopo. And while it's not expected to affect Gauteng, emergency response teams have been placed on alert


The threshold for heavy rain is 50 millimetres but we are expecting between 100 to 300 millimetres. Lives could be lost to the flooding if residents are not cautious. The usual rainfall was expected for Durban. Areas which have experienced heavy rainfall would be overly saturated and prone to flooding from normal rainfall in the week.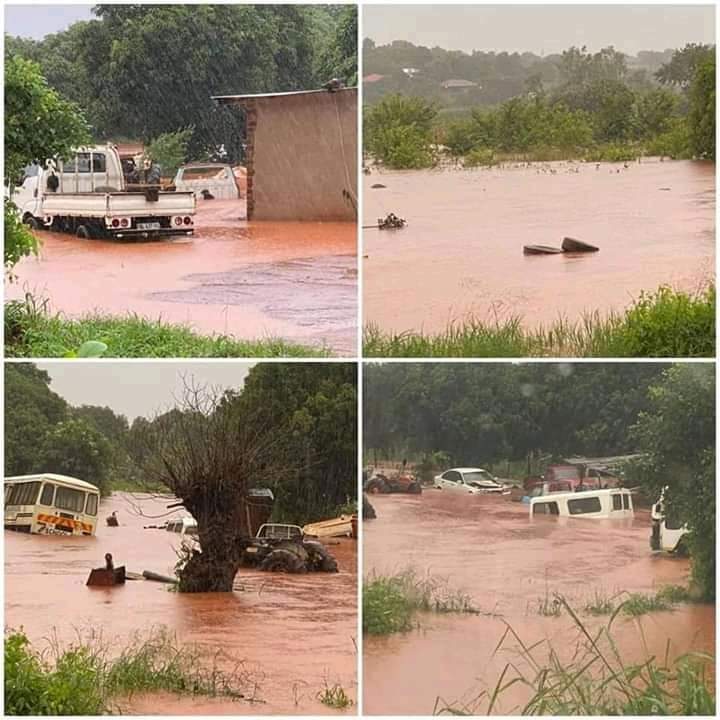 *

https://www.iol.co.za/news/south-africa/limpopo/tropical-storm-eloise-wreaks-havoc-in-limpopo-and-mpumalanga-8c55df69-502b-471f-b0cb-7839933ab8ca

*

For more insight into tropical storm Eloise, expected to batter some parts of SA, eNCA speaks to Dr Gideon Groenewald, Hydrologist Specialist from Gift of the Givers

https://www.youtube.com/watch?v=fvI-qun__HI


*

Heavy rains in those areas, be careful and be safe.

VENDA

(De Moss)

Tshakhuma and Nzhelele

https://twitter.com/migavhini/status/1353281497424343040


*

23 January 2021

Tropical Cyclone Eloise Flash Update No.6, As of 23 January 2021
HIGHLIGHTS
Tropical Cyclone Eloise made landfall near Beira City in Sofala Province, Mozambique in the early hours of 23 January.
After landfall, Eloise downgraded to a Moderate Tropical Storm bringing heavy rains and strong winds in Sofala Province.
The most immediate concern is the potential for significant flooding, including in the days ahead.
Eloise is expected to continue to move inland, bringing heavy rains to southern Zimbabwe, northern South Africa and far eastern Botswana.
SITUATION OVERVIEW
Tropical Cyclone Eloise made landfall in central Mozambique on 23 January at around 2 a.m., near the coastal city of Beira, with winds of 140 km/h and gusts up to 160 km/h, according to Mozambique's National Institute of Meteorology (INAM). Beira received 250 mm of rain in 24 hours, according to INAM, while other areas that were flooded ahead of Eloise's landfall—including Buzi and Nhamatanda—also received additional heavy rains. After landfall, Eloise downgraded to a moderate tropical storm with a maximum wind speed of 83 km/hr. The weather system continues to move in a westerly direction, bringing high amounts of rainfall in its wake, according to the South Africa Weather Services (SAWS).
Luisa Meque, President of Mozambique's National Institute for Disaster Risk Management and Reduction (INGD), has noted that it is too early to quantify the extent and scale of the destruction, but that the damage in Beira appears to be mild. Electricity was down in parts of the city and communications networks were damaged. However, teams were out assessing pylons and transmission lines on 23 January with a view to beginning repairs as soon as possible. The Munhava barrio and Praia Nova are both areas of concern in Beira, with provincial authorities reporting damages and flooding in both locations. Prior to making landfall, Eloise brought heavy rains and strong winds to Zambezia Province, reportedly uprooting trees and damaging some buildings, including in the provincial capital, Quelimane.
The predominant concern remains the risk of severe flooding. Many rivers in Mozambique's central and southern regions, which Tropical Storm Eloise will impact, are already above alert levels. According to the National Directorate of Water Resources Management (DNGRH), the Buzi basin alert level is increasing, with the risk of more floods, and the water levels in the Save River basin are rising, posing a flood risk to the villages of Nova Mambone, in Govuro, Inhambane Province, and Machanga, in Sofala Province. Alerts continue to indicate the potential for significant flooding in the Limpopo River basin from next week.
After crossing Mozambique, the Eloise weather system is expected to bring heavy rains over the weekend to southern Zimbabwe, Eswatini, northern South Africa and far eastern Botswana, according to Meteo France.
In Zimbabwe, Manicaland and Mashonaland East Provinces have experienced light rains since 22 January, which are predicted to intensify and spread throughout Matabeleland South, southern areas of Midlands, Masvingo and Manicaland provinces from 23 to 24 January, according to the Department of Civil Protection (DCP). In Manicaland Province, Chipinge and Chimanimani Districts, which were hardest-hit by Cyclone Idai in 2019, have received heavy rainfall. In Chipinge district, the Chisengu meteorological station has recorded 140 mm of rain, while in Chimanimani district, rain and wind have been reported since 22 January. In Masvingo Province, there are reports that some areas of Chiredzi, Bikita, Chivi and Masvingo districts received significant rain from the evening of 22 January to the morning of 23 January. At the same time, multiple dams are either at, or exceeding, capacity. The Tokwe Mukosi dam in Mazvingo Province is 97.25 per cent full and is expected to spill in the next couple of days, while Manyuchi Dam—located in Mwenezi District of the same province—has already started spilling. Ward 24 of Masvingo district is the most affected by the flooding of the Tokwe Mukosi Dam.
In South Africa, the South African Weather Service (SAWS) has issued an alert for disruptive rain over northern Limpopo from the evening of 23 January, spreading to additional areas of Limpopo, Mpumalanga and KwaZulu-Natal from 24 to 25 January. Limpopo municipalities on orange alert for 23 January are Ba-Phalaborwa, Greater Giyani, Makhado, Maruleng, Musina, New Collins Chabane and Thulamela.

https://reliefweb.int/report/mozambique/southern-africa-tropical-cyclone-eloise-flash-update-no6-23-january-2021


*




https://weatherblog.co.za/tropical-cyclone-eloise/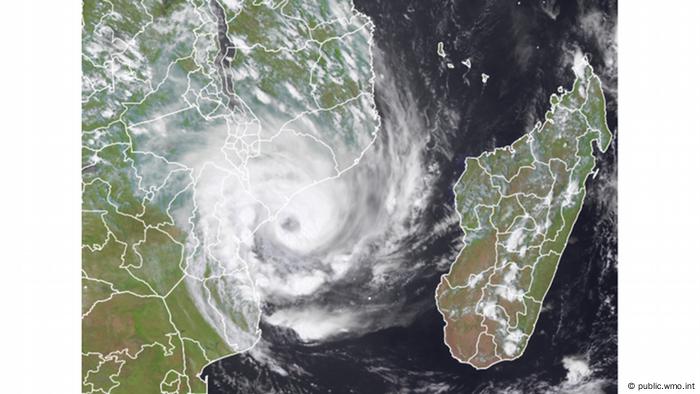 22 January 2021

Mozambique: Tropical Storm Eloise – Information Bulletin no. 1
This bulletin is being issued for information only and reflects the current situation and details available at this time. The Mozambique Red Cross Society (CVM), with the support of the International Federation of Red Cross and Red Crescent Societies (IFRC) and its members, are taking preparedness actions and following the course of events and will determine the need for international assistance in the next hours.
The situation
Tropical Storm Eloise is expected to turn into a Cyclone with expected winds between 140km/h and 160km/h. The storm will make landfall in the Sofala Province, Central Mozambique, about 20km north of the City of Beira in the first hours of Saturday, 23 January. However, heavy rains will start to affect the coastal areas of the Zambezia and Sofala provinces from this evening, 22 of January. The cyclone will cross through Central Mozambique with considerable strength and potential for widespread floods.
It is expected to decrease in intensity as it crosses southern Zimbabwe and South Africa.
Over 1 million people are living in "red areas" along the projected route of the cyclone. Population in the Sofala Province, particularly the districts of Beira, Buzi and Nhamatanda suffered severely from cyclone Idai in 2019 and their houses, agriculture fields and coping capacity has not been restored. In addition, consecutive floods throughout the past year, namely in the last days of December 2020 (tropical storm Chalane) have raised river levels and dams are at a tipping point.
It is reported that there are already 4,000 households affected by floods in Buzi, 266 households in Nhamatanda and 326 households in Beira. The provinces of Inhambane, Manica, Niassa, Sofala, Tete and Zambezia have already received between 200mm and 300mm of rains since 9 January and are predicted to receive heavy rains in the days ahead. The Inhanombe and Mutamba basins in southern Mozambique are both at alert levels—in addition to the Buzi and Pungue basins in central Mozambique.
From previous events of this kind, Tropical Storm Eloise is expected to damage houses and other infrastructure, by pulling out roofs and destroying structures of the most vulnerable dwellings, living people unprotected. Power outages are likely, which could affect communications and basic services. Floods may leave people stranded in some localities in need of rescue and will cause displacement of populations to accommodation centres and informal sites which will lead to the need for supply of water, hygiene items and food. Floods will likely destroy crops that have been planted from October to January (regular planting season), and add food insecurity and economic strain to families for the months ahead. Health outbreaks cannot be ruled out as frequent spikes of Cholera and Malaria are common in these areas. Finally, with increased cases of COVID-19 in recent weeks, overcrowded sites may intensify rates of transmission.
Projections of Affected Population
Best Case Scenario – 100,000 people affected: The cyclone will decrease in intensity immediately after landfall, but heavy rainfall will persist for over 24 hours. The amount of rain will be sufficient to flood low areas of Beira and Buzi. Further flooding may arrive some days later as accumulated water flows down the Pungue and Buzi Rivers from Zimbabwe.
Likely Scenario – 400,000 people affected: The cyclone will intensify in landfall and persist in land for 24 hours, well into areas of Sofala and South of Manica Provinces. Torrential rains will immediately flood low areas of Beira, Buzi, Nhamatanda, Chibabava and Sussundenga. Accumulation of water in Zimbabwe will flow downstream, enlarging the flooded areas for several days.


https://reliefweb.int/report/mozambique/mozambique-tropical-storm-eloise-information-bulletin-no-1

*

Mozambique

Tropical Storm Eloise has developed into a Tropical Cyclone. It's made landfall in the Mozambican city of Beira. South Africa, Eswatini and Malawi have issued warnings of heavy downpours and strong winds.

https://www.youtube.com/watch?v=v-lQRBPxuPM


*

Cyclone Eloise made landfall in the African state of Mozambique but it has caused mild damage and has been downgraded to a tropical storm.

https://www.youtube.com/watch?v=6Tr15GdXGp4

*

PREVIOUS – IDAI

Power of Idai cyclone – Beira


Mozambique-Zimbabwe – Idai – rescue


Sikloon IDAI – Mosambiek/Zimbabwe