Natuurlik sal dit ons almal raak – en wie het nie simpatie met die mense wat alreeds dood is of steeds nie gevind is nie.    Simpatie aan wie reeds familielede verloor het – duidelik het Idai  groot verwoesting gesaai.
So far 200 people have been confirmed dead in the southern African country, but the death toll could be much higher.   Those who survived the disaster have had little reprieve to mourn the loss of their loved ones or salvage the little that is remaining of their belongings. They are in desperate need of food, shelter and clothing, as the BBC's Pumza Fihlani reports from Beira.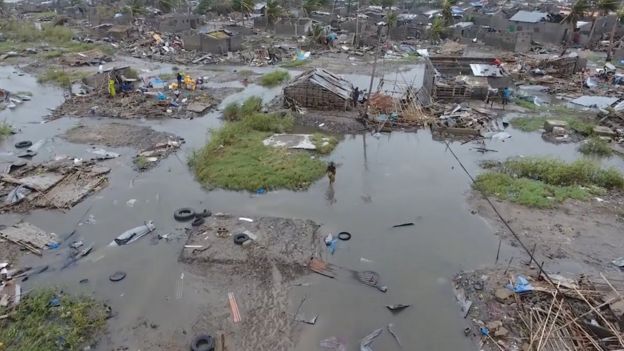 ***
Eskom
Eskom – Cahora Bassa pylon damage after Mozambique cyclone Idai
**
Beira, la deuxième ville du Mozambique, et ses environs ont été "endommagés ou détruits à 90% par le cyclone Idai", selon la Fédération internationale de la Croix-Rouge et du Croissant-Rouge (FICR), alors que le bilan des intempéries s'est alourdi à 138 morts au Mozambique et au Zimbabwe.
**
Au Mozambique, "la mobilisation s'organise" après le passage du cyclone Idai
**
A cyclone that ripped across Mozambique and Zimbabwe has killed at least 162 people with scores more missing and brought flash floods and ferocious winds, washing away roads and houses.
**
Cyclone Idai: Update From Chimanimani
**
17 March 2019
MDC Secretary for local Government, Hon, Sesel Zvidzai gives an update on cyclone Idai
**
Cyclone Idai has swept through Southern Africa, potentially killing hundreds of people and leaving widespread flooding in Mozambique.
People in cyclone-hit areas of Mozambique are clinging desperately to rooftops in areas virtually submerged by flood water, awaiting aid and rescue, the charity Save the Children has said.
Aid workers are also racing against time to save thousands of children from becoming trapped in Buzi, a district in the country's central Sofala province that could become submerged in the next 24 hours, according to an aerial survey, the international charity said.
The survey showed that more than 50 kilometers of land in Buzi town has been submerged after a river burst its banks in the aftermath of Cyclone Idai that has devastated three countries in southern Africa.