The Africa Center for Strategic Studies reported in January 2021 that there was a 43-percent spike in militant Islamist group violence in Africa in 2020. The 4,958 reported events linked to these groups represents a record level of violence, continuing an upward pattern seen since 2016.    Reported fatalities linked to African militant Islamist groups rose by a third in 2020 over the previous year, to an estimated 13,059 deaths.   Militant Islamist violence remains largely concentrated in five theaters, each comprising distinct actors and challenges: Somalia, the Sahel, the Lake Chad Basin, Mozambique, and Egypt. All but Egypt experienced sharp increases in violence in 2020.   Most of them are mineral related.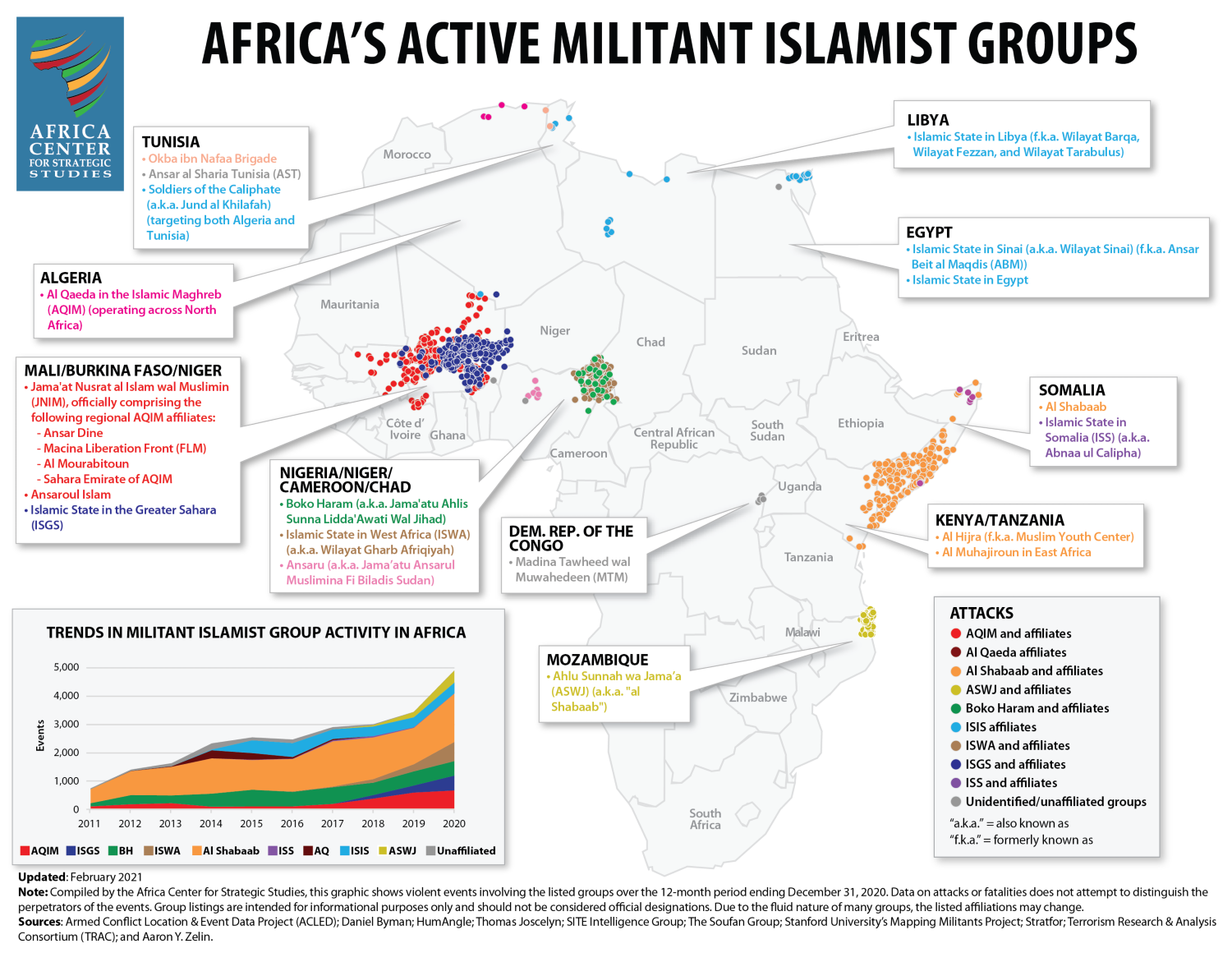 *

The number of reported violent incidents linked to militant Islamist groups in Cabo Delgado province in northern Mozambique rose 129 percent in 2020 to 437, surpassing activity in the Egypt theater. Northern Mozambique is distinguished by the fact that over two-thirds of those events targeted civilians.     The factors driving the violence in Mozambique are complex and remain murky. Ahlu Sunnah wa Jama'a (ASWJ), or "al Shabaab" as they refer to themselves (though no relation to the group in Somalia), is linked to much of this violence. ASWJ has been endorsed by the Islamic State (ISIS), though it appears to be largely tapping into multiple layers of local grievance in this region.

https://africacenter.org/spotlight/spike-militant-islamist-violence-africa-shifting-security-landscape/

*
Photos of killings in Mozambique
https://twitter.com/jeffmas1/status/1379004012322824194

Mozambique
https://www.youtube.com/watch?v=GKUbAS9udmk&t=5s



*
For over a decade, American military and counterterrorism officials have warned that Africa was poised to become the next frontier for international terrorist organizations like Al Qaeda and more recently the Islamic State. Both organizations have forged alliances with local jihadist groups in recent years and established new strongholds in West, North and Central Africa from which they can carry out large-scale attacks, according to experts and officials in the United States and Europe.

*
More recently, American officials have warned that even in its weakened condition, the Islamic State remains a cohesive organization in its former strongholds in Iraq and Syria, with perhaps 10,000 fighters who have gone underground.
For decades there, impoverished locals watched as elites in the capital plundered the resource-rich region of Cabo Delgado, along the Indian Ocean, which has served as a hub for illegal timber as well as drug and ivory smuggling.
Then in 2009, one of the world's largest known ruby deposits was discovered in the province, and two years later, oil companies uncovered a natural gas deposit worth tens of billions of dollars. Speculators flocked to the area, locals were forced off their land and some small-scale miners were beaten and killed.
By the time the nascent insurgency launched its first attacks in 2017, targeting police stations and local government leaders, it had widespread appeal among petty traders at the ports and disenchanted youths, local researchers say.
The violent crackdown from the Mozambican military, which was implicated in serious abuses against civilians, may have also helped the insurgency gain more traction with locals.
"People in Cabo Delgado have come to realize this group is not a solution, it's destroying the local economy and it's become very, very violent with the population," said João Feijó, a researcher at the Observatory of Rural Areas, a Mozambican research institute. "Nowadays the group is pretty isolated."
https://www.nytimes.com/2021/04/07/world/africa/ISIS-Africa-Mozambique.html

*


Twelve people, possibly foreigners, were found beheaded after an Islamic State-claimed attack on the northern Mozambique town of Palma, near natural gas projects worth $60bn (R870bn), a local police commander told state TV station TVM. 
The police commander Pedro da Silva told journalists visiting the town that he could not be sure of the nationalities of the 12 people, but he believed they were foreigners because they were white.
https://www.timeslive.co.za/news/africa/2021-04-08-12-people-possibly-foreigners-beheaded-in-palma-mozambique-police/

*

The government in Mozambique has called for international support to deal with an Islamic State insurgency.  Southern Africa leaders will gather in the Mozambican capital of Maputo over the next few days to try to hammer out plans to counter the growing threat of terrorism across the region. The country's President, Filipe Nyusi, says his government is working with their international partners to try to assess their needs after dozens of people are believed to have died when Islamists attacked a hotel complex in the town of Palma two weeks ago.  Sky News' special correspondent Alex Crawford reports from Palma in the north of Mozambique. 
https://youtu.be/mMyN97RsZMw

*

It's been two weeks since the city of Palma in the Cabo Delgado province in Mozambique was attacked by heavily armed rebel forces. The attacks continued until April 2, leaving hundreds and thousands dead, displaced and injured. Witnesses have described bodies in the streets of Palma, burning buildings and thousands trying to escape the town via ocean or forest, some making it to Pemba and some not.
https://www.youtube.com/watch?v=fHjGkc8Yojc

*

Sky's special correspondent Alex Crawford goes to the Mozambican town of Palma to see the devastation left by extremists. Warning: This report contains disturbing images
https://www.youtube.com/watch?v=Oc5FGfICrLo

*

Islamist terrorists have attacked the town of Palma in the northern Mozambique province of Cabo Delgado, killing dozens of people. David Ansara of the CRA speaks to Willem Els of the Institute of Security Studies about the potential for the conflict to escalate to other parts of Southern Africa.

https://www.youtube.com/watch?v=mS_uGUv8SXo
*

The South African National Defence Force is working around the clock to rescue South Africans trapped in Mozambique. Hundreds of people were taken hostage a week ago after militants stormed a compound in Palma in the country's north. Dozens of people were killed in the attack and many are still missing.
https://www.youtube.com/watch?v=ici4Np5TIIc

*

*

Waarom is daar direkte terroristiese dade en moorde in Mosambiek en veral die noordelike provinsie waar daar baie gas is.    Dis veral werkers, buitelandse werkers wat ook geteiken is.   Sal enige groot moondheid of lande met 'n groot en goeie weermag, dit toelaat wat nou aangaan in Mosambiek – veral om diegene te stop wat hul gasontwikkelings te probeer kelder?   

Dit gaan verder oor positiewe inkomste aan die land se ekonomie, opheffing en werkloosheid.   Duidelik is diegene agter die aanvalsmagte (ISIS) daarteen gekant dat lande wat goeie gasontginnings kan doen, dit enduit voer om 'n beter bestaan aan sy inwoners te bied.     

Enige land sal hul burgers beskerm – selfs noodsaaklike werkers uit ander lande, maar duidelik is Mosambiek nie heeltemal opgewasse teen sulke invalle en aanvalle wat al etlike jare aan die gang is op veral arm plaaslike burgers.  Mosambiek is 'n arm land, nes die res van sommige Afrika lande.   Selfs besighede of maatskappye, hoeveel werkers is maar net nog 'n nommer, wat nie beskerm word nie?

Dit kom voor dat diegene wat die aanvalle loods, spesifieke bakens teiken, soos die dorpies wat by die gasaanleg geleë is.   

Die nagevolge is beslis 'n waarskuwing en ook om nog meer vrees by die plaaslike bevolking in te boesem en om te sorg dat mense die areas eerder om veiligheidsredes ontruim waar dalk nog moontlik gas is.    Die massagraf van buitelandse werkers wat onthoof is, getuig daarvan.  Het hul regtig verdien om so brutaal vermoor te word?

Die groot vraag is, wie beheer ISIS?   

Of daar ook soortgelyke aanvalle op Suid-Afrika sal wees, is 'n ope vraag wat nie regtig beantwoord kan word op stadium nie.   Elders in Afrika is daar heelwat sulke tipe aanvalle.   Die vraag is – is ISIS nie reeds in Suid-Afrika nie?   Ons het nog nie gas of olie nie, maar dit kan verander. 

Aan die ander kant, kom dit voor dat ISIS se aanvalle grootliks rondom gas en olie ontginnings in ander lande gebou word.  Sou daar wel probleme in die toekoms opduik, is die kans baie groot dat sekeres dadelik sak en pak land uit sal gaan – nes gewone misdaad, is ons op onsself aangewese.    Beveilig self is die antwoord.   Ons het nie 'n baie sterk weermag nie en ons grense is totaal oop vir almal om deur te loop en hul nessies hier te kom plavei.   

Met die wapenskandaal en staatskaping (deep state), het baie geld eenvoudig verdwyn saam met die ander skandale wat na 1994 plaasgevind het.  Ons het 'n goeie weermag in 1994 gehad met heelwat militêre toerusting en wapens, maar nie meer vandag nie.

*

Mozambique : Islamists at port : Mocimboa da Praia

Attack in Cabo Delgado Mozambique (Isis)

Mozambique attacks