When Howard Carter first arrived in Egypt in 1891, most of the ancient Egyptian tombs had been discovered, though the little-known King Tutankhamen, who had died when he was 18, was still unaccounted for. After World War I, Carter began an intensive search for "King Tut's Tomb," finally finding steps to the burial room hidden in the debris near the entrance of the nearby tomb of King Ramses VI in the Valley of the Kings. On November 26, 1922, Carter and fellow archaeologist Lord Carnarvon entered the interior chambers of the tomb, finding them miraculously intact.






*

https://www.history.com/this-day-in-history/entrance-to-king-tuts-tomb-discovered

King Tutankhamun (or Tutankhamen) ruled Egypt as pharaoh for 10 years until his death at age 19, around 1324 B.C. Although his rule was notable for reversing the tumultuous religious reforms of his father, Pharaoh Akhenaten, Tutankhamun's legacy was largely negated by his successors. He was barely known to the modern world until 1922, when British archaeologist Howard Carter chiseled through a doorway and entered the boy pharaoh's tomb, which had remained sealed for more than 3,200 years. The tomb's vast hoard of artifacts and treasure, intended to accompany the king into the afterlife, revealed an incredible amount about royal life in ancient Egypt, and quickly made King Tut the world's most famous pharaoh.
After he died, King Tut was mummified according to Egyptian religious tradition, which held that royal bodies should be preserved and provisioned for the afterlife. Embalmers removed his organs and wrapped him in resin-soaked bandages, a 24-pound solid gold portrait mask was placed over his head and shoulders and he was laid in a series of nested containers—three golden coffins, a granite sarcophagus and four gilded wooden shrines, the largest of which barely fit into the tomb's burial chamber.

https://www.express.co.uk/news/world/1328713/egypt-tutankhamun-tomb-scan-anomaly-queen-nefertiti-valley-kings-pharaoh-found-spt


*

New technology reveals why Tutankhamun's tomb remained hidden in the Valley of the Kings, Tut's treasures take a once-in-a-lifetime journey and archaeologists open a 4,000-year-old tomb.

An immersive, action-packed and discovery-led series following International teams of Egyptologists as they unearth the world's richest seam of ancient archaeology – Egypt's Valley of the Kings. For a full season of excavations and with unprecedented access to the teams on the front line of archaeology, we follow these modern-day explorers as they battle searing heat and inhospitable terrain to make the discoveries of a lifetime. Using innovative technology and age-old intuition in their quest to uncover the secrets of these ancient sites, can the team's discoveries re-write ancient history?

https://www.youtube.com/watch?v=-obKX-mqjXQ

*


2017 – At least 55 pieces of fabric decorated with gold that were found in the tomb of the pharaoh, better known as King Tut, will be exhibited in public for the first time since its discovery in 1922, said German conservator Christian Eckmann. 





https://www.cbsnews.com/news/king-tut-tomb-display-egypt/

*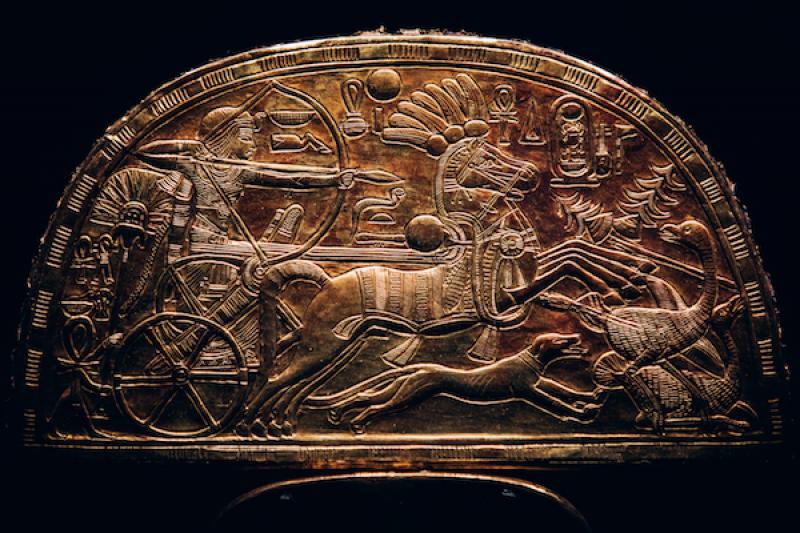 *

https://theartsdesk.com/visual-arts/tutankhamun-treasures-golden-pharaoh-saatchi-gallery-review-worth-its-weight

*