Onder kommunistiese beheer … 

The Order of Luthuli is awarded to 'South Africans' who have served the interests of South Africa by making a meaningful contribution in any of the following areas: the struggle for democracy, human rights, nation-building, justice, peace and conflict resolution.    The Order of Luthuli in gold is awarded for exceptional contribution in a relevant field.    The Order of Luthuli in silver is awarded for excellent contribution, while the Order of Luthuli in bronze is awarded for outstanding contribution.


*
Ons as belastingbetalers betaal vir hierdie toekennings na 1994.   Selfs diegene wat nie saamstem met die regering en hul kommunistiese magte, is bydraers tot hierdie toekennings.   Daar is 'n paar kinkels en tekens, nie te moeilik om te onderskei nie, wat ingeweef is vanaf 1879 in die spesifieke toekenning.    Daar is ook ander tipe "toekennings" wat toegeken word.
http://www.nationalarchives.gov.za/node/92
http://www.dac.gov.za/national-orders
*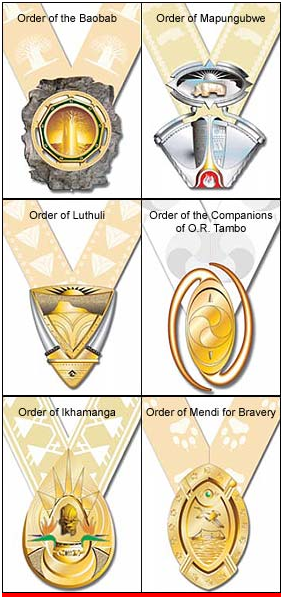 *
ORDER OF LUTHULI
Chief Albert Luthuli was a legendary liberation struggle leader and first African recipient of the Nobel Peace Prize in 1960. Although he grew up in tribal surroundings, Chief Luthuli believed in and fought for full political, economic and social opportunities for the oppressed people of South Africa. Because of his conviction and desire to see all people participate and enjoy the fruits of a prosperous South Africa, he sacrificed all prospects of personal gain and comforts and dedicated his life to the cause and service of his compatriots. He served as president of the African National Congress from 1952 until his death in 1967.
The central motif of the design of this Order is the triangular flintstone, which represents a basic survival tool used by our ancestors to skin animals, construct shelters and cut strips of skin to make clothes.
It symbolises Chief Luthuli's vision for all people to be empowered to participate fully in society.    Within the domain of the flintstone, the rising sun at its top edge represents the dawn of a new era on Africa.
Immediately below is Isandlwana Hill, depicted in its pristine outline to represent peace and tranquillity after the Battle of Isandlwana in 1879.
Below Isandlwana Hill is an abstract representation of the South African National Flag, representing sovereignty, freedom and democracy.
The nadir of the flintstone is composed of the partial image of a decorative African pot embellished with beads, symbolising the beauty of Africa. Two horns of an African bull flank the central image and signify the empowerment and prosperity of African people. The leopard skin-patterned rings at the base of both horns represent the trademark headgear of Chief Luthuli.
There are three elements to an award of the Order of Luthuli:
a neck badge (a gold, silver or bronze medallion on a neck band);
a miniature (a miniature gold, silver or bronze medallion for wearing as a brooch or on the breast pocket);
and a lapel rosette (also in gold, silver or bronze).
https://www.gov.za/about-government/national-orders/order-luthuli
http://www.dac.gov.za/content/order-luthuli
>

Recipients
http://www.thepresidency.gov.za/national-orders/order-luthuli-0#:~:text=The%20Order%20of%20Luthuli%20is,justice%2C%20peace%20and%20conflict%20resolution.


*

MORE INFORMATION … background
Isandlwana – British and Zulu conflicts and colonialism
The Battle of Isandlwana on 22 January 1879 was the first major encounter in the Anglo-Zulu War between the British Empire and the Zulu Kingdom.
Isandlwana – Anglo-Zulu war (140 years)

*
Shepstone Policy – Roots of Apartheid started in 1850, separate areas called Reserves or British Crown land.
Shepstone – Natal, roots of segregation

*

Voor 1960 het die Zoeloe reservate reeds 100% bestaan en was in unie dokumente vervat. Reeds vanaf 1854 was dit reeds as aparte gebiede vir etniese kulture 'geskei" van mekaar – met eie leiers.

The Mfecane had a great influence on the history of South Africa. Large parts of the country in Natal, the Transvaal and Free State were largely depopulated because people fled in droves to safer areas such as the Transkei, the edge of the Kalahari, the Soutpansberg and the present day Lesotho. In consequence, these areas could not cope with the sudden influx and became overpopulated.
Zulu people – Ingonyama Trustland

*

Nothing has been changed regarding separate areas, or "apartheid" – Apartheid was not dismantled. Previously, during 1961-1994, blacks elected their own traditional Homeland leaders during official elections. Border industries were created and thousands worked in those industries. All of the Homelands have their own flag and national song, and some self-governments have own police and army situated in their areas. Most of them supported the idea of independence.

Today, there are more than 8840 traditional leaders and there are thousands of separate areas, called CPA or Trustlands, only for those that claimed the land (communal rights). We as tax payers must pay their salaries and benefits.

During the Kodesa negotiations there were agreements to sign "peace on the table" – Ingonyama Trust and Ingonyama trust legislation. After 1994 other legislation, like those for the Khoi khoi and San as well as the separate CPA legislation, where certain people have the opportunity to claim land and rule there own "chiefdoms" or whatever the case maybe.

Zulu kingdom – Ingonyama Trust

*

Onder Britse kolonialisme was die gebiede geannekseer, oorlog gemaak, afgeneem en verander na aparte gebiede Reservate of Kroongebiede. Wyle Verwoerd was nog nie eers gebore nie. Dus hoe kon hy "apartheid" (segregasie) ingestel het as hy nog nie eers daar was nie. Die Shepstone beleid van 1854, getuig van aparte gebiede wat deur Britte beheer was. Die gebiede is in die 1930's vergroot en in 1961 het Verwoerd die gebiede geërf en Tuislande genoem.
Refer to the Shepstone policy of 1854, the roots to segregation and also other legislations under British control. The British empire created Reserves and Crown lands, not us or Dr Verwoerd. But also, if you investigate and trace the areas today, it is still te same, just under new names and legislations.

It is also in line with international legislation, that all people have a right to rule themselves, we also. The British took our independence and freedom away with the Anglo Boer Wars. Liberals and classical liberal whites, communists and British rule blamed the whites for this so-called apartheid systems.

Trustgebiede – Tuislande – Reservate – Crown land


*

Hoe het die res van Afrika gelyk, voor en na 1900 grotendeels onder Britse beheer en kolonialisme. Onmoontlik dat Verwoerd regering of selfs ons blankes van 1961-1994, aparte gebiede kon geskep het as ons nie deel was daarvan nie. Khoi san en Swartes, leiers sowel as hul ondersteuners, die liberale en klassieke blankes, nes die Britse regering (empire) is lief om steeds die blaam te plaas op ons wat die oorsaak was van die sogenaamde apartheid.

Dr Verewoerd and whites did not create the so-called segregation areas, the British Government did and was still in control of all the areas (colonies) with the blacks/khoisan leaders. Before 1900 there were thousands of separate Homelands in Africa.

Tuislande "so-called apartheid" – Homelands