Vicious circles are like octopus tentacles, cause problems or difficult situations that result in new problems that then re-emerge the original problem(s) or situation(s) – sometimes it ending up in corruption and briberies.   It repeats daily and is like a time bomb and deadly to any country's economy.   Those revolutionary forces, which were (or still is) once part of the ANC, are creating situations in which the solution of one problem gives rise to another.  
Clicks is today B-BBEE: 
*
A solution of this, or other problems arising from it, brings back the first, often with greater involvement and more corruption at the end – Marikana – VBS bank – songs of "kill the boer" and more. Even more looting, tortures, murders, rapes are aimed at destroying the middle man and especially the poor, the white people, genocides.   Ended up in the "so-called economic takeover by communists". Protest actions supposedly peace-loving, but degenerate not only into looting, but violent burning and destruction of businesses.
*
Founded by visionary retailer Jack Goldin, the first Clicks store opens its doors on 6 August, 1968 in St George's Street in Cape Town.    The shop was originally conceived as a drugstore but owing to restrictive legislation in South Africa at the time Jack's pharmacy dream was only realised 35 years later.  The Clicks Group is a retail-led healthcare group which has been listed on the JSE Limited since 1996. 
>
Bose sirkels is soos seekatarm tentakels,  probleme of moeilike situasies wat tot gevolg het dat dit nuwe probleme skep wat dan die oorspronklike probleem of situasie weer laat ontstaan – beland in korrupsie en omkoopgeld.   Dis soos 'n vuur wat aangesteek word op een plek, doodgemaak word maar dan brand die vuur klaar op 'n ander plek of dorp.   Dit herhaal daagliks, is tydbomme en dodelik op enige land se ekonomie.   
Die rewolusionêre magte, wat eens deel (was) van die ANC, is besig om situasies te skep waarin die 'oplossing' (manipulasie) van een probleem aanleiding gee tot 'n ander, maar die oplossing hiervan, of ander probleme wat daaruit voortspruit, bring die eerste terug, dikwels met groter betrokkenheid en meer korrupsie aan die einde – Marikana – VBS bank – "kill the boer" en nog baie meer.  Nog meer plundertogte, moorde, verkragtings is gemik om die middelman en veral die armes te vernietig.   Blanke minderheidsvolk loop erg deur sedert die ontstaan van ANC — en veral na 1994 — dit is niks anders dan genocide.  Die "sogenaamde ekonomiese oorname deur kommuniste".   Protesaksies kwansuis vredeliewend, maar ontaard nie net in plundertogte nie, maar geweldadige afbrand en vernietiging.  Op 'n afstand word alles soms langtand dopgehou sonder inmenging van regeringskant af.
*
Die eerste Clicks het in 1968 in St George Straat, Kaapstad vorm aangeneem as 'n apteek.  Vandag is daar oor die honderde winkels en apteke landwyd.
Terloops, voor 1994 was daar nie veel aandele aan enige "Boere-Afrikaner"   volkslede of werkers geskenk of uitbetaal nie .  Sou daar belangstelling gewees het om aandele te bekom, is die aandele te koop aangebied.     Na 1994 het alles drasties verander met swart bemagtiging.   
Ramaphosa is die voorsitter van swart bemagtigingskommissie al sedert 1994.  Daar word daagliks verwys deur die owerhede en politici, hoe blankes kolonialisme gedryf het, wat 'n spul leuens is.   
Die Groot Trek het juis ontstaan om weg te beweeg van die Britse kroon wat alle grond en minerale ingepalm het tot 1910 en die gebied as die "Unie van Suid-Afrika bedryf".   'n Groot deel van ons volk was hierby betrokke en Engeland het verwoed probeer om ons uit te wis met die ABO en konsentrasiekampe. 
'n Britse CPA is in 1911 gestig om dit verder uit te bou of te manipuleer.  Daar was reeds aparte gebiede (Reservate en Kroongebiede) vanaf 1840, waarna die Shepstone beleid in 1854 geimplementeer is.  Dus, was apartheidswetgewing reeds al in plek maar deur die Britte ingevoer na Afrika en al die "Commonwealth lande".   Shepstone beleid sowel Trustgebiede/CPAs (grondeise) bevat slegs kommunale regte.
*
PROTEST OF EFF
What was the really meaning of different type of hair of people in South Africa – it was not referred to the any specific race hairstyles.   It was referred to the type of hair that are different from each other.
'n Persoon wat op die gebied van hare spesialiseer, verduidelik dat dit nie oor die ras van enige persoon gaan nie, maar oor die kwaliteit van hare van elkeen in SA.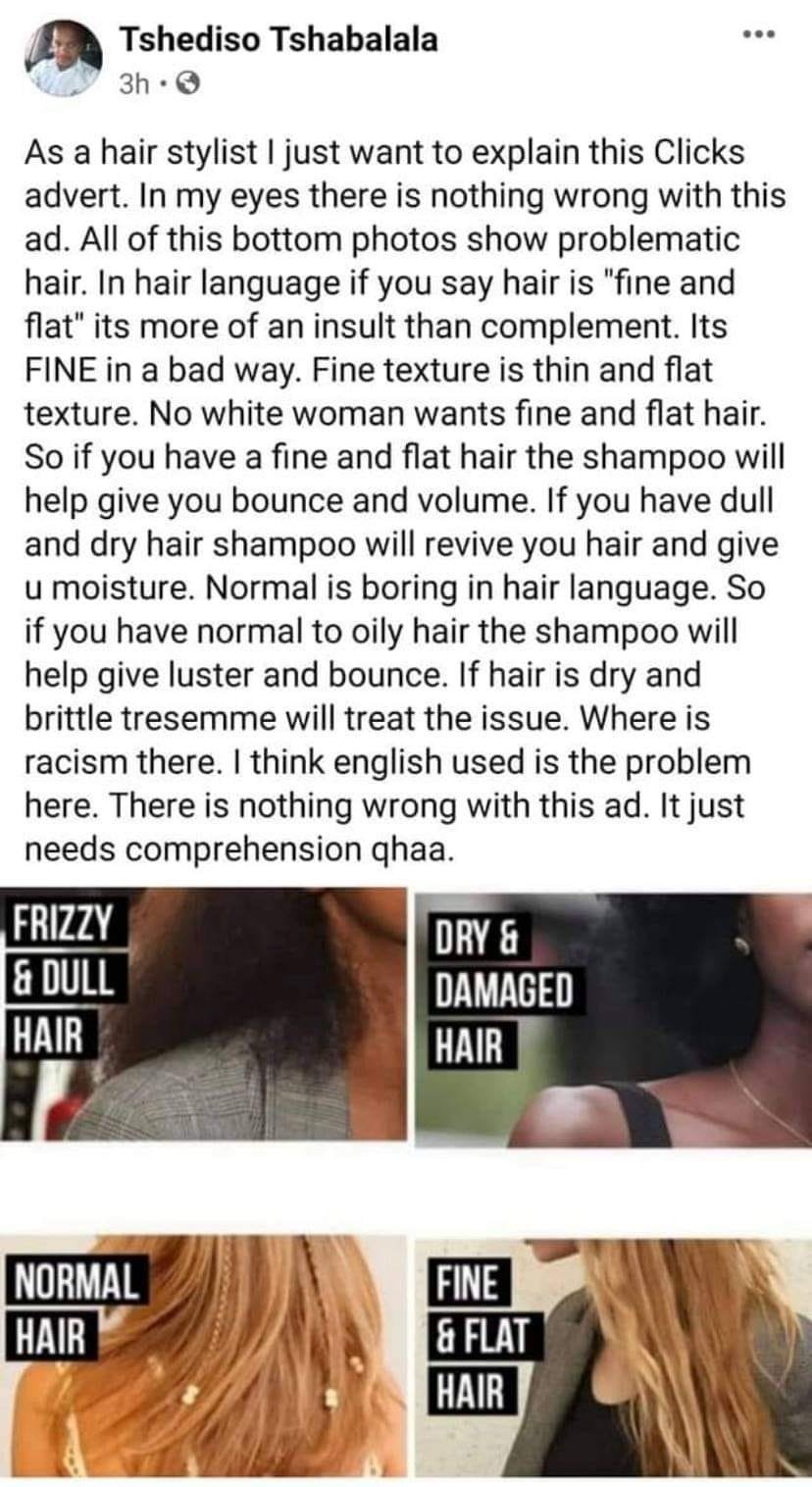 >
What is
Tresemme background
https://www.tresemme.com/za/home.html
Tresemme since 1948 – Edna L. Emmé
https://www.tresemme.com/za/about-us/brand-story.html
*
Clicks is a black economic empowerment business B-BBEE group and most of them do not have a lot of white people on the pay role.   Refer to the staff, the B-BBEE certificate and shares paid out to the workers.
Speak about racism, hate and discrimination.   It is the Government with EFF, DA and other political parties that are 100% racists and discriminate against the white minority group of people in South Africa in more than 100 B-BBEE legislations.
*
Red Revolution
What about the chaos and destruction by the EFF and their supporters?  Who must pay for this – SASRIA perhaps?   An insurance company by the Government, how conveniently.   Everybody that pay an amount to SASRIA will loose at the end.  Who will pay the damages?
>
7 September 2020 – The Economic Freedom Fighter's protests against retail giants Clicks has escalated into violence as a Clicks store in The Lemon Tree Shopping Centre in Alberton was set alight.   Thabong mall in Sebokeng has also reported an EFF presence, and EyeWitness News reports that Mpumalanga police have confirmed that there was an attempt by a group of people to petrol bomb a Clicks store in Emalahleni in the early hours of the morning.
https://newsinfive.co.za/article.php?article=2621
*
Finance minister Tito Mboweni has also taken exception to the Clicks shutdown led by the EFF.    He said the "shutdown" by the EFF, could not afford damages to property and businesses.
https://www.timeslive.co.za/politics/2020-09-09-anarchy-is-not-the-motive-force-of-transformation-tito-mboweni-on-clicks-attacks/
*
*
*
History of Clicks
https://www.clicksgroup.co.za/corporate-overview/co-history.html
Empowering employees – B-BBEE – Refer to the certificate.
>
MORE INFORMATION 
Clicks invested R7.3 million (2018: R4.6 million) in bursaries for 135 students completing the Bachelor of Pharmacy degree at registered South African universities. 93% of bursary recipients were black and 61% female. The group also provided opportunities to 118 students to complete internship programmes.
One of the highlights of 2019 was the enrolment of 9 200 qualifying employees in customer service, clerical and supervisory roles on the Discovery Primary Care Advanced healthcare plan. The employee's membership is funded by a 100% company contribution, and employees were given the option to include their spouse and child dependants at
their own cost through a monthly payroll deduction.
In February 2019, R1.5 billion was paid out to 7 798 beneficiaries, bringing the total value paid to beneficiaries to R2.8 billion (R355 000 on average per beneficiary) over the 2018 and
2019 payouts. Beneficiaries also received dividends totalling R39 million over the course of the programme.
B-BBEE – Affirmative action
In addition to the wealth that was created and shared with the programme's beneficiaries, the ESOP generated R100 million which was donated to the New Clicks Foundation.   The Foundation has invested the funds received and plans to grant 100 bursaries annually to talented, previously disadvantaged South Africans to gain a university degree.  The first 100 students have been selected and commenced their Pharmacy degrees in February 2019. We are confident that these young South Africans will become leaders who will take the industry in South Africa forward and will contribute to delivering quality healthcare to all South Africans.
Click to access 4-Clicks-SR-2019-Empowering-our-Employees.pdf
*
On 24 October 2019  it was stated that an average more than 7,000 of its employees received payouts of R355,000 each over the past two years.

Clicks employees have received an average of R355,000 each from a share scheme.
The scheme was set up in 2011 to attract scarce pharmacists and black managers, but was open to all employees – of all races.
Clicks shares were worth around R40 when the scheme kicked off. Before the final tranche vested it had nearly quintupled.

 
And that is not counting the much smaller pot of dividends they shared during the course of the seven-year scheme.   Clicks created the employee share ownership scheme (ESOP) in 2011 as part empowerment vehicle and part an effort to attract and hold on to scarce employees, specifically pharmacists and black managers.
https://www.businessinsider.co.za/clicks-esop-payout-for-employee-empowerment-scheme-2019-10
*
*
*
R2.8 BILLION VALUE CREATED FOR CLICKS GROUP EMPLOYEES THROUGH EMPLOYEE SHARE OWNERSHIP PROGRAMME – B-BBEE
R100 million donated to New Clicks Foundation to fund pharmacy bursaries
Cape Town – Over 7 800 of Clicks Group employees will share in a R1.5 billion payment that has been created through the Group's employee share ownership scheme (ESOP). This is in addition to the R1.3 billion already paid out under the scheme to beneficiaries in 2018.
Vikesh Ramsunder, CEO of Clicks Group, says that this is the final payment of the remaining 50% of shares in the scheme. "Participants have also received dividends totalling R39 million over the course of the scheme, which is testimony to the consistent growth of the share price, the loyal support from our customers and the hard work and dedication of everyone across the business."
The Clicks share price has appreciated by over 360% since the scheme's commencement in 2011.   In June 2018 Clicks joined the JSE's top 40, and in November was recognised by the Sunday Times Top 100 Companies Awards as one of the top three performing shares on the JSE over the past 5 years.
The scheme has empowered over 5 800 current and 2 000 former employees to become shareholders in Clicks Group, with the majority of these beneficiaries owning shares for the very first time, he says.   And 86% of the beneficiaries of the scheme are black employees and 65% female.
The employee share scheme was introduced in support of the Group's transformation agenda, with the objectives to drive employee affiliation and retention of critical talent and to enable employees to share in the growth and success of the business.
Ramsunder explains that 10% of the Group's issued shares at the time were placed in the Employee Share Ownership Trust to be allocated to all full-time permanent employees. "Senior black employees, longer serving employees and pharmacists received a higher share allocation."
In February 2018, R1.3 billion was paid to 7 839 beneficiaries, representing the gain on the first 50% of the shares allocated under the ESOP. The Group's CFO and Trustee on the ESOP Board, Michael Fleming, reported that,
"The remaining 50% of the shares allocated to beneficiaries were sold by means of an accelerated bookbuild on 6 February 2019 which was well supported by both international and local investors. The value of the 2018 and 2019 payouts will bring the average payout per beneficiary of the scheme to R355,000."
By delivering on its objectives to attract and retain scarce and specialist skills and to accelerate the Group's transformation agenda, the ESOP has contributed to the growth of the Group, creating employment opportunities at a time when the market has been shedding jobs, and enabled employees to share in the wealth generated in the Company.
At the commencement of the scheme, Clicks had 350 stores and 250 pharmacies. Eight years later, the Clicks chain has grown to over 675 stores and 525 pharmacies with plans to extend the footprint to over 900 stores.
Clicks employees have been extremely appreciative of the opportunity to participate in the ESOP, says Group Human Resources Director, Bertina Engelbrecht. "We are inspired by the messages and letters from beneficiaries expressing their appreciation to the Company and our shareholders for changing their lives. Many have invested their ESOP payouts in order to provide for their children's or their grandchildren's education".
Engelbrecht says that the share ownership scheme was introduced to attract and retain scarce and critical skills, as well as enable employees to participate in the financial success of the company. "Extending equity ownership to employees has also enabled the Group to accelerate transformation and build on the progress that we have made across all the other areas of BBBEE. The Clicks Group has been consistently rated as a top empowered retailer and a top gender empowered company," she says.
The employee share scheme is only one of the ways that the Group invests in its employees and demonstrates its commitment to social development. Engelbrecht says that in the past year Clicks invested R125 million in learning and skills development. This included on-the-job training, skills programmes, learnership programmes, short courses and academic qualifications. "As the largest employer of pharmacy staff in the private sector in South Africa with over 2,000 pharmacy and clinic professionals, the Group continues to play a leading role in providing opportunities and developing scarce healthcare skills through learnership and graduate development programmes."
"Since 2012 the Group has funded bursaries for 474 pharmacy students and provided internships for 337 pharmacy graduates. The Group's in-house Pharmacy Healthcare Academy trains over 350 pharmacy assistants each year," she says.
This bursary programme has been accelerated with a R100 million donation to the New Clicks Foundation to support students in further education. The Foundation has already awarded 100 bursaries to Pharmacy students in 2019.
"We believe that these young South Africans will become leaders who will take the industry in South Africa forward and will contribute to delivering quality healthcare to all South Africans," concludes Engelbrecht.
Ends
Issued by Tier 1 Investor Relations on behalf of Clicks Group
For further information kindly contact
Graeme Lillie
Tier 1 Investor Relations
021 702 3102 / 082 468 1507
https://www.clicksgroup.co.za/media-centre/press-releases/2019-02-07.html
>
https://clickfoundation.co.za/home-2/#https://clickfoundation.co.za/#!/about
Click 123 is an initiative of The Click Foundation, a non-profit organisation that focuses on closing the gaps in education through technology.   During this Covid-19 crisis, the communities in which The Click Foundation operates are extremely vulnerable to food and health insecurity. We are therefore adapting our expertise to help tackle these complex factors impacting a child's ability to learn and flourish.
Clickfoundation-new
*
*
*
Click to access BBBEE-Annual-Compliance-Report_22.11.2019.pdf
B-BBEE
https://www.clicksgroup.co.za/IRDownloads/elc9118_clicks_group_bee_certificate_final.pdf