Welcome to Business Partners Limited (BUSINESS/PARTNERS). We're one of the leading business loan and equity providers for viable small to medium businesses in the world. We provide loan finance ranging from R500 000 to R50 million to all business owners who have a viable formal business and require finance for expansion, working capital, equipment, takeovers, property, franchises or management buy-outs.  
We operate from South Africa, Kenya, Malawi, Namibia, Rwanda, Uganda and Zambia.  

*
WHERE ARE ALL THE CORRUPTION MONEY AT THIS POINT IN TIME?
Waar is al die korrupsie geld heen – ons kon seker al ons hospitale tot 5 ster hotelle opgegradeer het.   Maar nee, is te lekker om om die vleispotte te sit en geld maak.
31 March 2020
While we've provided business loans worth over R19, 5 billion to date, we understand that success sometimes requires more than money alone. Beyond financial support, we offer a range of solutions catering to all your business needs. Providing everything from technical assistance and mentorship to property finance and business premises to lease. 
https://www.businesspartners.co.za/en-za/about/about-the-company
*
100% anc
Motsepe Family & Associates Join Rupert And Oppenheimer Families In Donating R1 billion To Deal With COVID-19 Pandemic
These companies and organisations are:
 Motsepe Foundation
 Sanlam
 African Rainbow Capital (ARC)
 African Rainbow Minerals (ARM)  and others
The Founder and Chairman of the Motsepe Foundation, Dr Patrice Motsepe said: "Several hundred million rands will immediately be made available with the primary objective of saving lives and slowing and restraining the spread of the Coronavirus. We are purchasing sanitisers, disinfectants, Personal Protective Equipment (PPE) and are in discussions with Government, health workers and other stakeholders to assist with acquiring other equipment and making resources available which are essential for dealing with the Coronavirus pandemic.
We've been advised that access to water for regularly washing hands is crucial for slowing and limiting the spread of the Coronavirus. We are therefore providing water to poor rural and urban communities by purchasing water tanks (jojos), drilling and equipping for borehole water and also building sanitary facilities.
The current lockdown has an impact on the goods, equipment and services that can be purchased immediately and the goods and services which can be provided when the lockdown has been terminated. Our short to medium term interventions include building additional classrooms, computer centers and laboratories in all the 9 provinces of South Africa to assist with the excessively high number of students per classroom in some schools; particularly in the context of the current Coronavirus pandemic and the social distancing requirements.
We will be working in partnership with:
 traditional leaders, kings, queens and their communities that we have been working with for the past 20 years;
 the 34 Religious and Faith-Based organisations that participate in the annual Motsepe Foundation National Day of Prayer;
 National, Provincial and Local Government authorities;
 Trade Union and other Worker Representative organisations;
 NGOs and other local community representative organisations;
 sport organisations and entities;
 local, provincial and national business and professional organisations;
 black and white farmers and their representative organisations; and
 other organisations or structures that can assist or partner with us in dealing with the current Coronavirus pandemic.
https://www.forbesafrica.com/billionaires/2020/03/30/motsepe-family-associates-join-rupert-and-oppenheimer-families-in-donating-r1-billion-to-deal-with-covid-19-pandemic/

*
Who is not believing this government of South Africa?
*
"Keeping it in the family…Johann Rupert is founder and co-owner of Business Partners Limited." The entity's roots go back to 1979 when the late Dr Anton Rupert, encouraged by his son Johann, proposed the idea for a joint venture between the public/private sectors to Help SMEs.     Most of those companies or small businesses are already B-BBEE – Black empowerment.
Who are the beneficiaries in any case – depends on the interest as well …
Is this a private bank of Africa from different African countries?
Even the small little white owners even white farmers, gave work to mostly blacks and do not need a B-BBEE to tell them who must work and who not.  Most of the whites are not greedy in any case.   From now on, I doubt that it will the case any more.   LOOK AFTER YOUR OWN PEOPLE that need work because of B-BBEE.     Government and Ramaphosa implemented this.   Ramaphosa do have his own commission of B-BBEE.
How many organisations and overseas governments supported the ANC, signed contracts and MOU, and B-BBEE is included in this racism against the white minority people of South Africa.  Most countries overseas,  discriminate against the white minority of South Africa – if you supported the ANC you are a racist.
So the R1 billion committed to help SMMEs during the Coronavirus outbreak are loans which must be repaid by SMMEs. So President @ CyrilRamaphosa

used prime time television to give free advertisement to a greedy capitalist establishment that seek to indebt our people during crisis?
https://twitter.com/FloydShivambu/status/1244922928250212353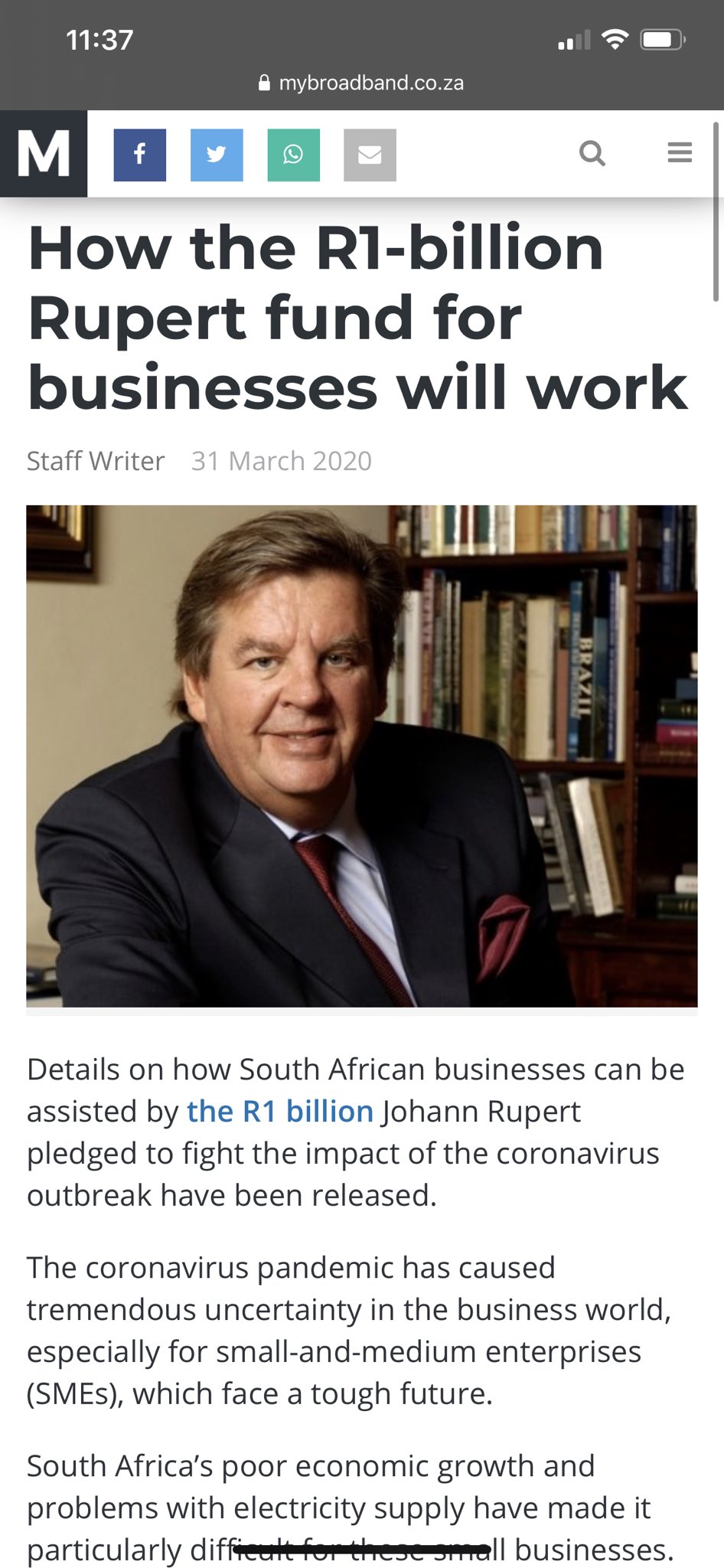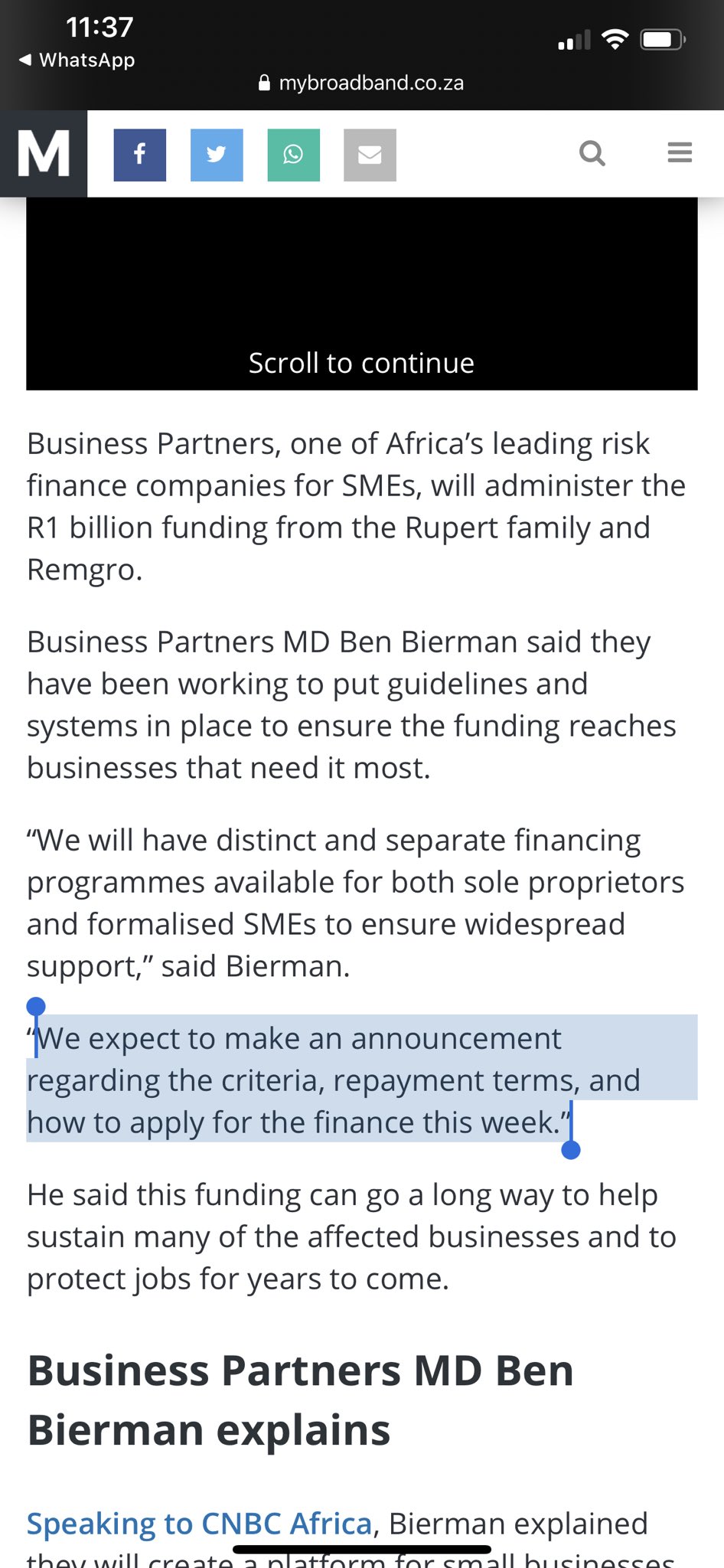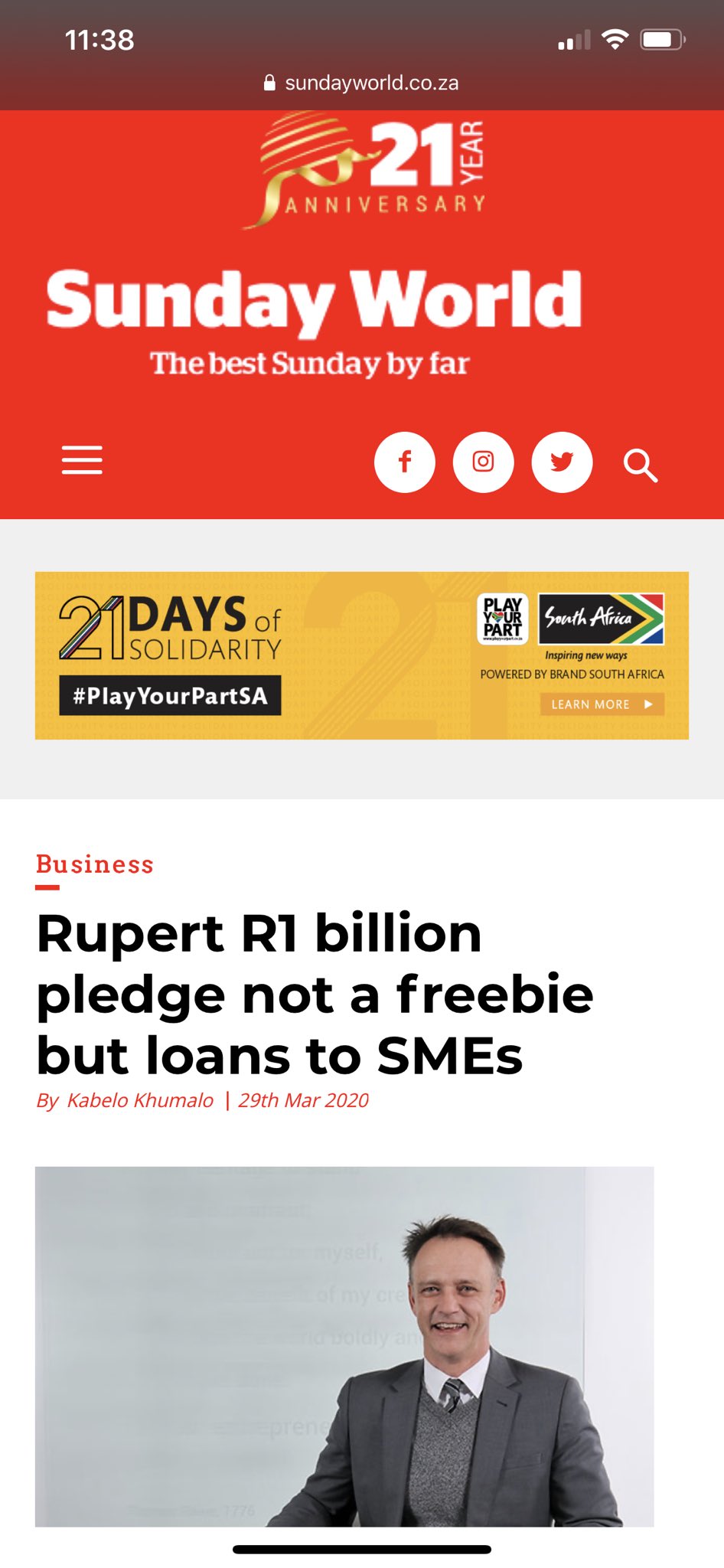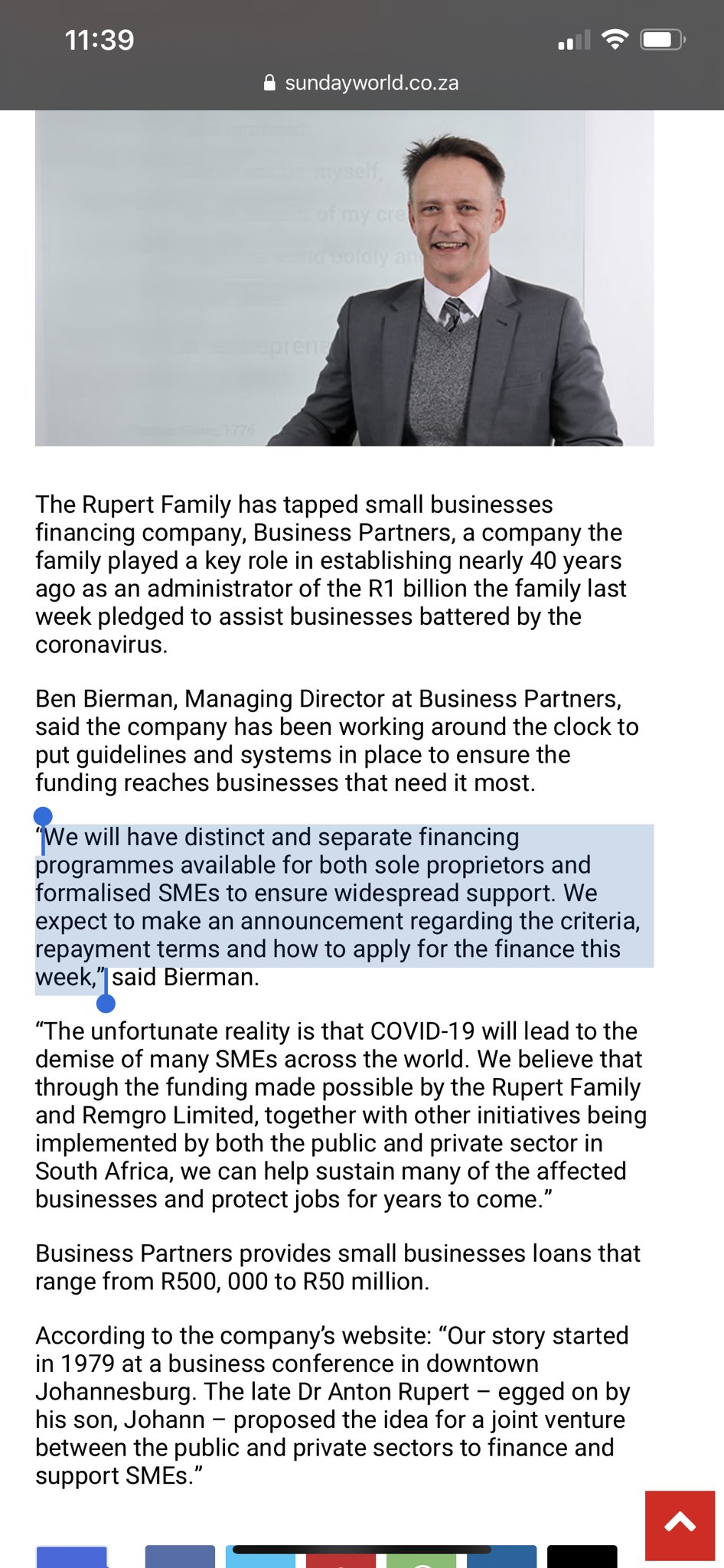 *
What about SHOPS AND MARKETS in South Africa.
*
Wie glo aan "lockdown" of afstande hou – nie die mense nie.   Sassa and to buy some food, etc.
Hundreds of Sassa beneficiaries quequed for hours to get their grands in the midst of the coronavirus pandemic, not distancing or protecting themselves in the crowd.
https://www.dispatchlive.co.za/news/2020-03-31-covid-19-live-updates-day-5-activists-call-for-ban-on-alcohol-and-cigarette-sales-to-be-reversed/
*
Standing shoulder to shoulder in their thousands, the elderly in Nelson Mandela Bay spent hours queuing for their Sassa grants on Monday — with very little social distancing taking place in some areas.   Tired, scared and angry, many old people said they were afraid to be out among so many people but had little choice because they had no groceries at home.
https://www.heraldlive.co.za/news/2020-03-31-elderly-sassa-recipients-queue-shoulder-to-shoulder-for-hours/
*
*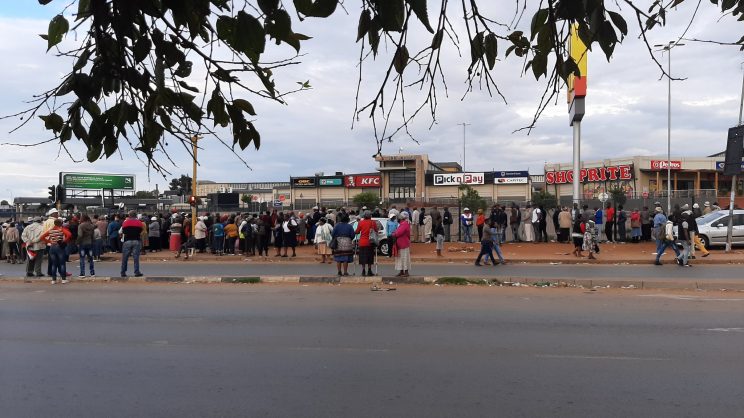 https://citizen.co.za/news/south-africa/society/2262567/watch-crowd-storms-sassa-paypoint-in-kzn-with-not-a-social-distance-in-sight/
A nine-second clip, reportedly CCTV footage from Mega Philani Mall in Umazi, Durban south, depicts the chaos currently reigning across some Sassa waypoints.
And the message was Elderly and disabled citizens but looking at the video it says otherwise and something is wrong with our society and it is soo concerning makes me sad because of the consequences we will suffer
*
Suburban Control Centre
31/03/2020-13h33 – Day 5 of the National Lock Down. Rustenburg CBD…