Vandalism and theft across Gauteng schools have cost the provincial Education Department over R120 million since the start of the year 2019 (does not included previous years).   The staggering figure was released by MEC Panyanza Lesufi's office during August 2019 which said 262 criminal cases were registered since January.  The Gauteng Education Department has been trying to introduce state of the art facilities and learning material to schools across the province.    Most of the losses were incurred on the East Rand where thieves targeted more than 50 schools.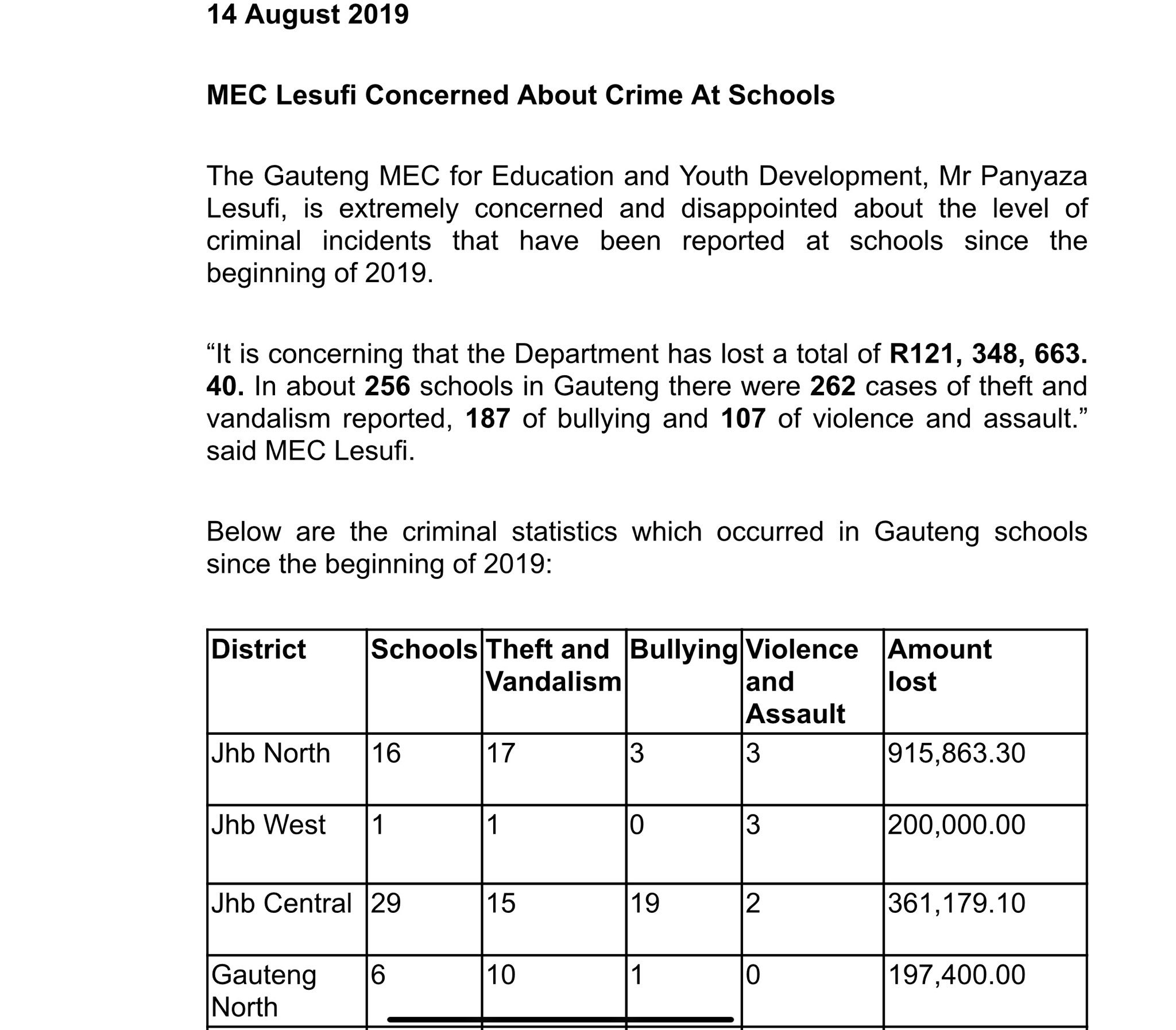 *
Rewolusie en vandalisme, die alledaagse gesig dat heelwat nie meer notisie daarvan neem en alles rondom dit beplan.   Dit is waaroor die ANC en EFF gepraat het en nie gestop gaan word nie, dis al sedert 1994 aan die gang, daarom ook al die aanvalle en moorde teenoor blankes.
Basies dieselfde standaarde as wat in Zimbabwe aangegaan het.     Hulle is so gebore en so gelos.  Hoeveel is regtig trots wat hulself bereik het sonder swart bemagtiging en regstelaksies.  Hoeveel elite leiers trek voordeel uit al hierdie swart bemagtiging en regstelaksie wetgewings en besighede wat hul na 1994 miljoeners/biljoeners gemaak het terwyl die armes net nog armer word.   Die slagoffers van swart bemagtiging en regstelaksie wetgewing is nie die swartes of bruines nie, maar die minderheid blanke volk wat met misdaad en armoede uitgewis word.   Heelwat is 'n ekonomiese ontmagtigingsoorlog.
*
FROM SCHOOL – DEAD
Killing of a school girl, stabbed, raped and burnt to death.
*
What is the citizen's human rights – criminals do have more rights than those in the country.    Who in government protect the criminals?
*
Drugs are part of this protest actions – Druglords do not want interference.
@Lesufi @Steve_Mabona Unfortunately for us citizens, Drug lords have made our schools their marketplace and law abi… twitter.com/i/web/status/1…—
ThaboR (@RammoleT) January 27, 2020
>
STOP BRINGING THEM FROM OUTSIDE – BORDERS MUST BE CLOSED DOWN, BUILD A WALL AND ILLEGALS MUST BE OUT
IN TERMS OF THE CONSTITUTION, THE JUDGES ARE APPOINTED BY THE ANC PRESIDENT
*
Burning down of Trains and busses – they all wanted a services, but instead burn it to ashes.
*
A moment of horror for students today after rioters tried breaking open a classroom to disrupt the learners at the President High School.
*
28 January

THE Gauteng Department of Education visited President High School on January 25 to establish facts regarding the disturbing viral video depicting learners in a violent confrontation.   On the video, one learner is seen beating the other until he falls, hitting his head on the ground.  Gauteng Education MEC Panyaza Lesufi met with the principal, André Ferreira, who indicated it was an isolated incident following an altercation between the learners.

The preliminary report indicates the altercation started when the perpetrator threw a ball towards a Grade Eight learner, which was seen by the victim, who then confronted the perpetrator regarding the incident.

Lesufi cautioned against jumping to conclusions prior to the disciplinary hearing, as it would provide more details about what transpired. He also expressed concern about learners fighting, surrounded by a crowd and no one trying to intervene to stop the incident, as this sends out a very bad message.

The learners caught fighting on video have been suspended and will appear before a disciplinary process on January 31.

The disciplinary process will provide more details regarding what transpired, as the learners will have an opportunity to express their side of the story.

Lesufi welcomed the decision of the school to deploy additional educators for monitoring during break time.

"This is one of our top performing schools, with 98 per cent matric pass rate. Hence we were concerned when news of such an incident surfaced. We welcome the decision of the school to increase the number of educators who will monitor the learners during break time, from four educators to 10.

"The department will not tolerate any form of racism or bullying in our schools. We have a reponsibility to protect every learner," said Lesufi.

https://southerncourier.co.za/155692/lesufi-has-his-say-about-highschools-disturbing-video/

*
*

President High School was under siege today after protestors tried to force students from learning. The protestors demonstrated their anger over placements at President High School. The school took 300 more children this year.

Parents gathered in the school hall where Dennis Makwakwa, District Chairman, addressed them.    The parents, who are unhappy because their children have not yet been placed in schools, also protested at the school and disrupted classes.

https://newslitesa.com/news/watch-moment-of-horror-as-rioters-try-to-force-open-school-classroom/?fbclid=IwAR1p3zykrZf4wEixEzzQbhXDeqMy2f_Y1qahPdbF2WCCos3dyOvCaIxh12U
*
Protesting at roads
*
OPEN BORDERS and ILLEGAL immigrants
*
Most people living in Diepsloot are immigrants
*
School in flames
*