In this explosive book, investigative journalist Pieter-Louis Myburgh ventures deeper than ever before into Magashule's murky dealings, from his time as a struggle activist in the 1980s to his powerful rule as premier of the Free State province for nearly a decade, and his rise to one of the ANC's most influential positions. Sifting through heaps of records, documents and exclusive source interviews, Myburgh explores Magashule's relationship with the notorious Gupta family and other tender moguls; investigates government projects costing billions that enriched his friends and family but failed the poor; reveals how he was about to be arrested by the Scorpions before their disbandment in the late 2000s; and exposes the methods used to keep him in power in the Free State and to secure him the post of ANC secretary-general.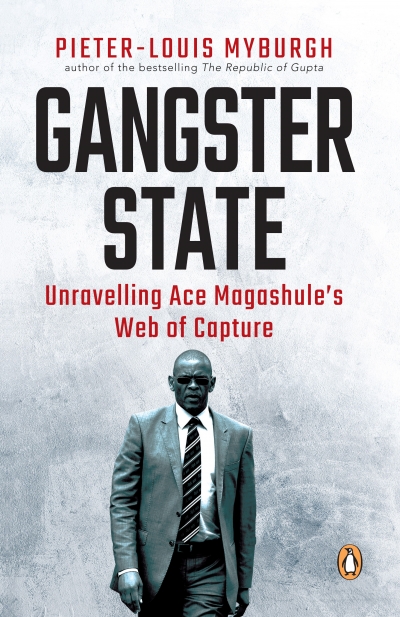 ***
Ons is in elk geval al so bankrot gesteel – maar steeds is daar magsposisies aan die werk en hierdie Magashule, Zuma en Guptas is nie die enigste nie. Hier is heelwat legkaarte al vanaf wyle Dr Verwoerd se dood, en elke keer word blankes die skuld gegee vir alles wat verkeerd gaan – veral in die liberale media.
***
In spite of Cyril Ramaphosa's "new dawn", there are powerful forces in the ruling party that risk losing everything if corruption and state capture finally do come to an end. At the centre of the old guard's fightback efforts is Ace Magashule, a man viewed by some as South Africa's most dangerous politician.
Most tellingly, Myburgh pieces together a pack of leaked emails and documents to reveal shocking new details on a massive Free State government contract and Magashule's dealings with a businessman who was gunned down in Sandton in 2017. These files seem to lay bare the methods of a man who usually operated without leaving a trace.
Gangster State is an unflinching examination of the ANC's top leadership in the post-Jacob Zuma era, one that should lead readers to a disconcerting conclusion: When it comes to the forces of capture, South Africa is still far from safe.
https://www.penguinrandomhouse.co.za/book/gangster-state-unravelling-ace-magashule%E2%80%99s-web-capture/9781776093748
***
Author and Investigative Journalist, Pieter- Louis Myburgh, defends allegations made in his new book , Gangster State: Unravelling Ace Magashule, against ANC Secretary-General Ace Magashule.
***
ANC Secretary General Ace Magashule is dismissing claims that he was the central figure in alleged corruption involving the Gupta family
***
In an explosive new book investigative journalist Pieter-Louis Myburgh alleges that ANC Secretary General Ace Magashule bent, broke or bulldozed over clearly defined laws meant to ensure proper governance in the Free State during his time as Premier. But these revelations have not gone down well with Magashule who has called it fake news, while the ANC has labelled the book a carefully planned Stratcom operation. Carte Blanche recaps the case of state capture in the Free State government.
***
Investigative journalist, Pieter-Louis Myburgh, has written another explosive book, this time focusing on ANC Secretary-General Ace Magashule's role in state capture. The former Free State Premier is painted as a central figure in the looting of the province's coffers.
***
2018
ANC NEC member Bheki Cele, has come out scathing, at the party's 106 years celebrations in Kwazulu-Natal today. Cele didn't mince his words, when reacting to comments made by the partys Secretary General Ace Magashule in KZN.
***
2017
Former Free State Agriculture MEC Mosebenzi Zwane says he will happily defend himself in court. This after the EFF in the province laid criminal charges against him and Premier Ace Magashule. It relates to their involvement in the alleged laundering of millions of rand earmarked for the multi-million rand dairy project in the Vrede area.
***
South Africa – Magashule's "coup" attempt
David Mahlobo, Ace Magashule en Jacob Zuma