PLEASE NOTE MEDIA – IS NOT A HOME INVASION – IT IS A TRIPPLE KILLING THAT TOOK PLACE IN RICHARDS BAY, KZN, SOUTH AFRICA   – Sad to all of us.
Condolences to the wife and children, families and friends.
The father and son were fatally shot by the three terrorist wearing black clothes and balaclavas.   They gained forceful entry into their flat in Arboretum. A fight ensued between the suspects and the family.    The mother was wounded in the leg whilst another son and a little girl escaped unharmed.    A retired neighbour was also allegedly killed when he responded to the family's cries for help.   
***
It is believed that the attackers gained entry by cutting the razor coil fencing and jumping over the wall.   Again – it was a forced entry.    After they killed the 2 of the family members and the neighbour, they fled with jewellery and cellphones.    They did not come for a cellphone.
Not sure about this – but it was said in the media that police spokesperson, Colonel Thembeka Mbele said police were still waiting for information.
https://www.iol.co.za/thepost/father-son-neighbour-killed-in-richards-bay-home-invasion-26590033
***
Drie persone is in die middernagtelike oggendure (00:45) van 18 Junie 2019 vermoor in Richardsbaai deur drie terroriste wat hul vermom het met gesigskerms om hul identiteit te verbloem, sodat hul nie erken moet word nie.    Daar word heelwat kommer uitgespreek dat moorde wat so gepleeg word, as inbrake behandel word, wat nie die geval is nie.   Om enigiemand op so 'n wyse in wonings of selfs besighede, te kom doodskiet en dan 'n paar juwele en selfoon te neem, is nie gewone inbraak nie.     Simpatie aan die naasbestaandes en familie asook vriende.  Sterkte aan die vrou en baie jong kinders,  wat ook nou trippel pyn en hartseer moet verwerk van geliefdes wat nie meer met hulle is nie.
Waarom word moordenaars se dade so versag in die media?
As 'n blanke die "k" woord uitspreek word hulle summier as rassiste aangespreek en verhoor, en later gevonnis, terwyl ander maar rustig hul "kill the boer, kill the farmer" sing en met 'n president wat hom uitspreek dat blankes in sy paddapot sit, sluit hy aan by sy voorgangers.  Waar is die liberales (veral blankes) se grondwet nou, wat almal veronderstel is om te beskerm.
Moordenaars gaan nie in om te steel nie, hulle gaan nie vir 'n koppie tee nie.  Hulle gaan om dood te skiet.
Wanneer word statistieke bygehou van misdadigers en hul onderskeie vonnisse – dan sal presies bepaal kan word, wie vermoor wie in hierdie land.   Daar is soveel swart op swart moorde, en baie word nooit iets van gelees nie.  Inteendeel, sommige klein beriggies verskyn in plaaslike media en nooit word daar opvolgwerk gedoen waar hierdie misdadigers is of wat van hulle geword het nie, is hulle gevang want daarvan word min in media rapporteer.
***
A 42-year-old father and his 17-year-old son were brutally gunned down while fighting off a group of armed suspects who forced their way into their Richards Bay flat in northern KwaZulu-Natal on Tuesday.
A 61-year-old neighbour was killed by a bullet in the chest when he responded to the cries for help.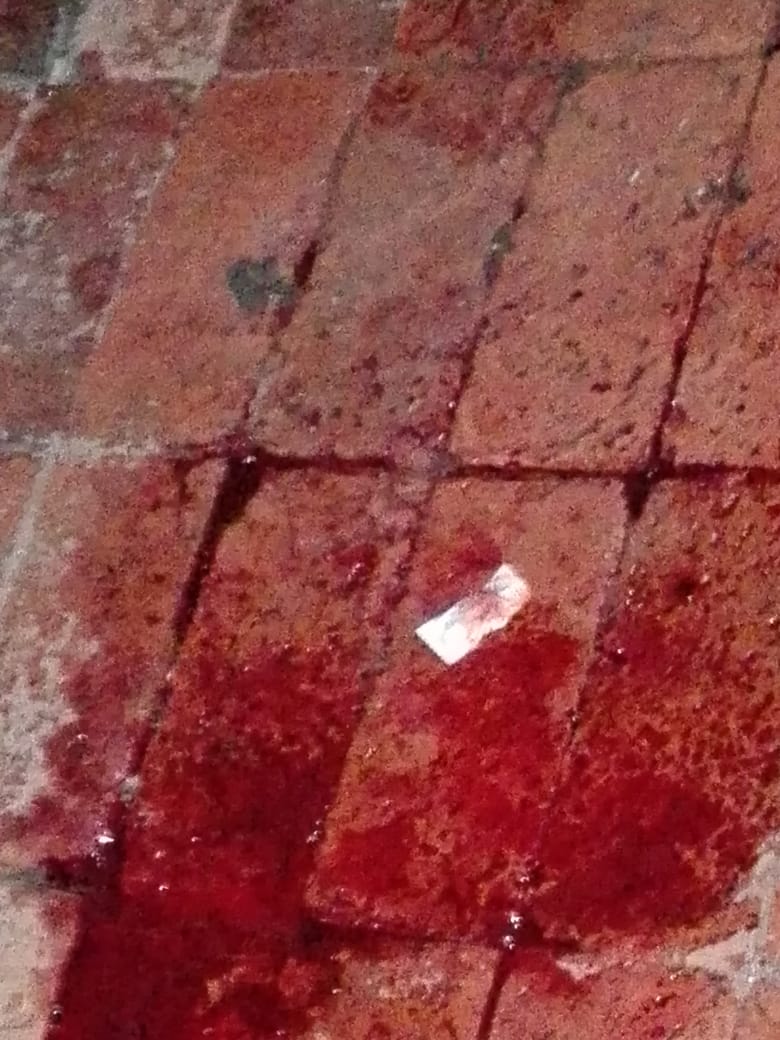 #RichardsBay police are investigating a triple murder after a father (42), his son (17) and their retired neighbour (61) were fatally gunned down during a home invasion in the early hours of this morning. The mother was also wounded after being shot in the leg @TimesLIVE