Wie en wat is die lede van parlement wat "verkies" is en wat is hul verantwoordelikhede vanuit die parlement teenoor die publiek.  Wat is die samestelling van parlement en ook die reëls wat nagekom moet word rakende hul optredes teenoor en in publieke belang.  Hoe demokraties is SA regtig, want daar is soveel kommissies, regters en ander organisasies aangestel deur die ANC president self, omdat hul in meerderheid is wat korrupsie ondersoek, maar niks gaan ooit verder nie?       Wat is die publieke belange as publieke fondse misbruik word en nie aangespreek word nie.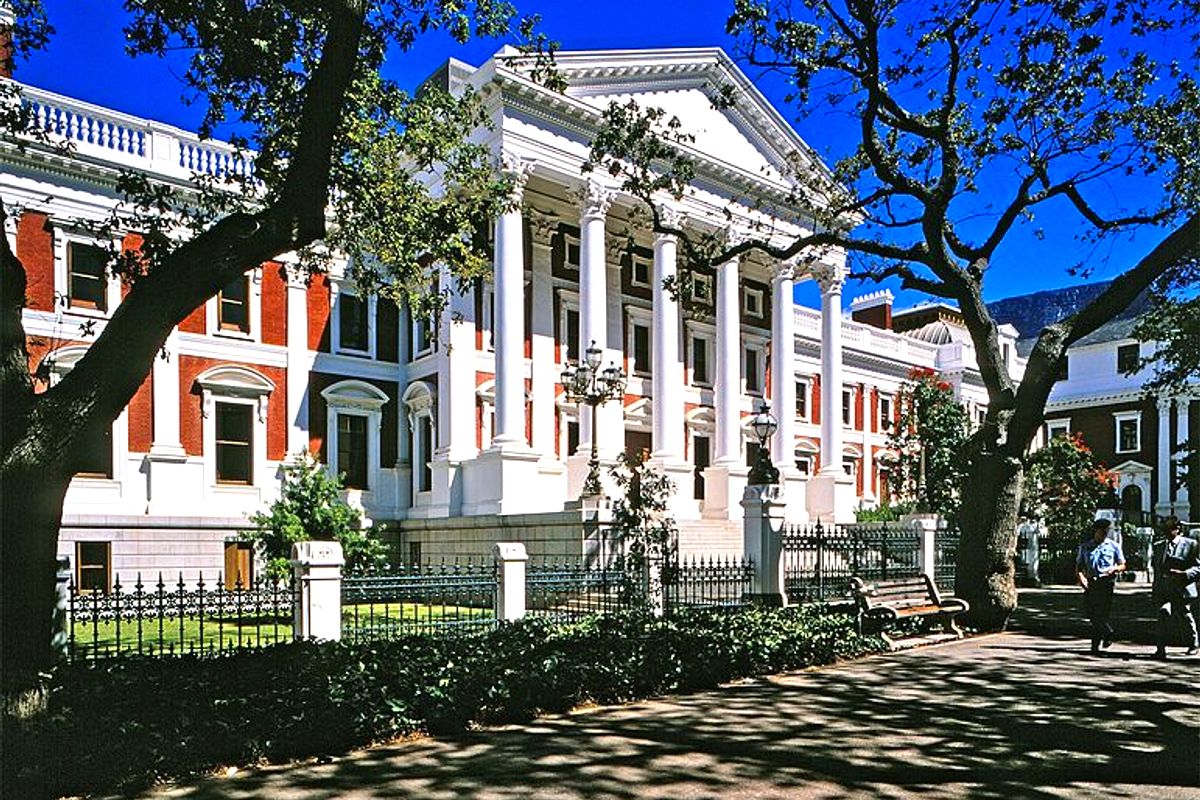 *

Hoe onafhanklik is Regters of Kommissies as hulle deur die ANC president aangestel word?   Daar is 'n hele hoofstuk in die grondwet wie die Regters en Kommissies aanstel.

Die  ANC kan nie regter speel in hul eie sake nie, nie as daar publieke geld verdwyn of wanbestuur word nie, dan is daar amptelike prosedures wat gevolg moet word soos enige ander besigheid ook hul prosedures het.   Wie hou dus toesig oor die ANC – EFF – DA as hulle in meerderheid saam besluite maak?   Soms sit die DA lede tjoepstil en ander "verklaar" hul teenkanting" wat ook nie reg is nie.   

Die ANC doen wat hulle wil en die EFF en DA sluit hul in stilte daarby aan, wat elkeen op hul gemaklike stoeltjies sit.   

Wat het van al die skandale en korrupsie geword, wie nie vervolg is nie, diegene kom eenvoudig daarmee weg, dis publieke geld.   Die feit dat alles onder matte ingevee word, is nie in belang van die publiek of sogenaamde demokrasie nie.   Kommissies speel af op nasionale TV's, maar verder as dit kom dit ook nie.

Eenvoudig, daar is honderde duisende blankes wat nie in die hele regering belangstel nie, juis omrede al die korrupsie en swart bemagtiging wat teen ons ingestel is, sonder boe of ba van enige ander politieke teenkanting.  Dis 'n feit dat net elites bevoordeel word met swart bemagtiging.   Dus, wat is so demokraties daaromtrent om te diskrimineer teen al die blankes in die land.   

Lede van die parlement is veronderstel om die hele land se belange op die hart te dra en namens almal te praat, nie namens net die ANC nie en nog minder namens elites.   

Die ANC maak asof korrupsie nie bestaan nie en verkondig dit van hul podiums af dat blankes die skuld moet kry wat hulle-self verkeerd doen. 

Hoe kan 'n president namens enige konserwatiewe blanke praat en ons die skuld gee vir hul foute en verkondig ons het grond gesteel of ons is paddas in sy warm pot?   Terwyl die EFF en Zuma liede soos "Kill the Boers" sing en ook dit is nie net verregaande nie, maar dreigemente teenoor elke blanke teen wie daar gediskrimineer word of vermoor word.


*

PARLIAMENT – PARLEMENT

*
Parliament, Wednesday, 23 May 2017 – The Standing Committee on Public Accounts (Scopa) is worried about the sentences given to individuals who have robbed the state of billions of rands through corruption. Scopa has noticed that individuals who have committed crimes of corruption get suspended sentences of three years or very low amounts of fines. Scopa believes that these individuals who rob the country of a lot of money and who are the cause of the rot that is increasingly plaguing the country, should receive very harsh sentences to show that this country is serious about curbing corruption.
Scopa has always maintained that lack of consequences to those doing wrongdoing with public money, particularly fraud and corruption, should face the wrath of the law. That is why Scopa has committed itself to have regular engagements with the Anti-Corruption Task Team (ACTT) to speak to these issues and find a way to tackle the increasing scourge of corruption. Scopa has committed itself to meet with the ACTT on a quarterly basis to receive feedback and to monitor their (ACTT's) work. 
https://www.parliament.gov.za/press-releases/scopa-concerned-about-light-sentences-given-corrupt-individuals

>

Corruption, tribalism, political and religious intolerance are among the problems that keep Africa in the wilderness of underdevelopment and backwardness in spite of its richness in human resources, Members of Parliament (MPs) said during a debate on African Union's Agenda 2063 in a joint sitting of the two Houses of Parliament today.
Stressing the potential of Africa to become a best place for its inhabitants, MPs quoted former president of South Africa, the late Mr Nelson Mandela who, according to them, said: "Africa suffers not from natural disasters but from human disasters, that is, man-made crises." MPs said poverty, joblessness, diseases and corruption, to mention a few of the problems that face the African continent, don't happen naturally but because of poor political leadership. "Leadership is vital on this continent if we are to realise the dream of Agenda 2063."
The leader of the official opposition, Mr Mmusi Maimane, said the vision of African Union 2063 is explained to be "an Africa at peace with itself, secure, corruption-free, with democratic and properly governed states run by an efficient and effective public service." He said: "If we want to help Africa succeed, we need to start right here at home. We have the ability to set the example for this continent."
https://www.parliament.gov.za/news/agenda-2063-turn-africa-around



*

MEMBERS OF PARLIAMENT – LEDE VAN PARLEMENT
WAT STAAN OP DIE PARLEMENT SE WEBTUISTE?
WHAT IS PUBLISHED UNDER PARLIAMENT WEBSITE?
In democratic countries such as South Africa, the legislature or Parliament plays a very important role. The members of Parliament are elected to represent the people of the country. They also act as the voice of the people. Parliament, therefore, is accountable to the people of South Africa.
Every five years the people of South Africa get an opportunity to cast their votes for a new Parliament. Each new Parliament is numbered. For example, in the elections of 1994 people voted for the First Parliament. The Second Parliament came into existence after the general elections in 1999 and the Third Parliament in 2004.
Parliament consists of two Houses called the National Assembly and National Council of Provinces. Each House has its own distinct role and functions, as set out in the Constitution. However, there are many instances when the two Houses act together to conduct what is called "joint business".
In the national sphere of government, the legislative power of the Republic is vested in Parliament. In other words, Parliament is responsible for making and passing laws. The National Assembly also chooses the President and is a national forum where issues are debated publicly. The Assembly also has to scrutinise and oversee the actions of the executive. The National Council of Provinces, on the other hand, must ensure that provincial interests are taken into account in the national sphere of government. It does that by taking part in the law-making process and by being the forum where issues affecting the provinces are debated publicly.
Members of Parliament have freedom of speech, subject only to the rules of the Houses, when they participate in committees or debates. They have that right to ensure that they, as elected public representatives, can bring important matters to the attention of the Houses and the public. To protect this right, members enjoy certain privileges and protection in terms of an Act of Parliament called the Powers, Privileges and Immunities of Parliament and Provincial Legislatures Act, 2004.
Furthermore, the importance of the public in the work of Parliament is emphasised by the fact that the Constitution instructs Parliament to facilitate public participation in the law-making process and to take reasonable measures for public access to its committee meetings and House sittings.
Another important power given to Parliament by the Constitution is the authority to makes its own rules and orders and to direct its own internal proceedings. Each House therefore has a set of rules and orders according to which it operates, while Parliament also has Joint Rules that directs joint business.

https://www.parliament.gov.za/what-parliament-does



"Parliament" means the Parliament of the Republic of South Africa;
"Public Interest" means an outcome which affects any right of the public, public finances or the public good;

https://www.parliament.gov.za/code-conduct


4.1 Members must:
4.1.1 abide by the principles, rules and obligations of this Code;
4.1.2 by virtue of the oath or affirmation of allegiance taken by all elected Members, uphold the law;
4.1.3 act on all occasions in accordance with the public trust placed in them;
4.1.4 discharge their obligations, in terms of the Constitution, to Parliament and the public at large, by placing the public interest above their own interests;
4.1.5 maintain public confidence and trust in the integrity of Parliament and thereby engender the respect and confidence that society needs to have in Parliament as a representative institution; and
4.1.6 in the performance of their duties and responsibilities, be committed to the eradication of all forms of discrimination.

https://www.parliament.gov.za/code-conduct
5.1 A Member must:
5.1.1 resolve any financial or business conflict of interest in which he or she is involved in his or her capacity as a public representative, in favour of the public interest; and
5.1.2 always declare such interest, and where appropriate, the Member should recuse himself or herself from any forum considering or deciding on the matter.
5.2 A Member must –
5.2.1 not accept any reward, benefit or gift from any person or body:
(i) that creates a direct conflict of financial or business interest for such Member or any immediate family of that Member or any business partner of that Member; or the immediate family of that Member;
(ii) that is intended or is an attempt to corruptly influence that Member in the exercise of his or her duties or responsibilities as a public representative;
5.2.2 not use his or her influence as a public representative in his or her dealings with an organ of State in such a manner as to improperly advantage the direct personal or private financial or business interests of such Member or any immediate family of that Member or any business partner of that Member or the immediate family of that Member;
5.2.3 not engage in any personal or private financial or business activity, which leads to his or her using information or knowledge acquired in his or her dealings with an organ of State as a public representative which is not available in the public domain, in such a manner as to improperly advantage the direct personal or private financial or business interests of such Member or any immediate family of that Member or any business partner of that Member or the immediate family of that Member;
5.2.4 declare any direct personal or private financial or business interest that that Member or any immediate family of that Member or any business partner of that Member or the immediate family of that Member may have in
a matter to be considered or decided on before any parliamentary committee or other parliamentary forum of which that Member is a Member or in which that Member is participating; or
5.2.5 withdraw from the proceedings of that committee or forum when that matter is considered or decided on, unless that committee or forum decides that the Member's interest is trivial or not relevant; and
5.2.6 if he or she makes representations as a Member to a Cabinet Member or any other organ of State with regard to a matter in which that Member or the immediate family of that Member or any business partner of that Member or the immediate family of that Member has a direct personal or private financial or business interest, that Member must declare that interest to that Cabinet Member or organ of State; or
5.2.7 not lobby for any remuneration or receive any reward, benefit or gift for that Member or for the immediate family of that Member or the business partner of that Member or immediate family of that Member, for making such representation as a Member on behalf of any person or body;

<>
6.1 a Member may not receive any benefit including but not limited to a tender, or a contract with an organ of state;
6.2 a Member's immediate family may not receive any benefit including but not limited to a tender, or a contract with an organ of state arising out of the relationship with the member or any influence arising out of that relationship;
6.3 a Member's business partner may not receive any benefit including but not limited to a tender or any contract with an organ of state arising out of the association with the member or any influence arising from that relationship.

read more
https://www.parliament.gov.za/code-conduct