The Guptas as well as their colleagues and associations were blacklisted over the widespread corruption, not only in South Africa.     That means, the sanctions immediately freeze any assets the blacklisted individuals have under US jurisdiction and forbid Americans and/ or US businesses — particularly international banks with any US operations — from transactions with those involved.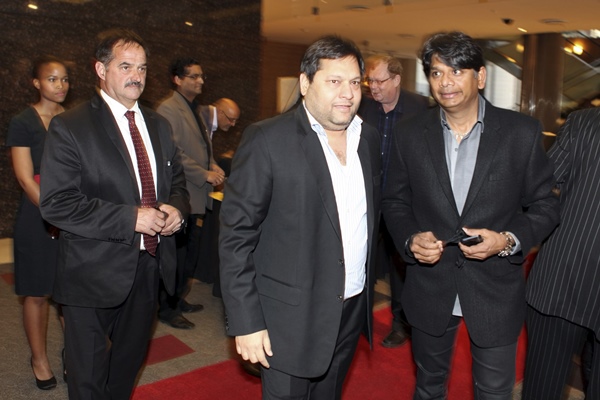 *
The investigation has also cast a shadow over Ramaphosa, who has denied business dealings with the brothers.   
Ramaphosa with others, used the Gupta's jet during 2015.   Was al hierdie staatsamptenare, ministers en geselskap dan geblinddoek na die vliegveld toe?
*
It will be interesting to know, if the USA and officials did not implement this drastic step, corruption will still go on as is today.      Important to note, that many commissions have since 1994 been created  "to hear" (mostly on TV channels) about all their corruptions, etc, who, where and what positions they were.
How much of the corruption money has been recovered since 1994?   
Did they appoint commissions just as a "smokescreen" or to find the money back?   Commissions are not working for free, all this expenditures must be paid by those involved, not by the tax payers.  If they did not steal, there will be no expenditures since 1994.
Another example, what happened to the arms deals scandal, the locomotive tenders, text books, e-toll system, etc since 1994?
The observation is they are continuously shifting the "problem" from one to another person or country to "erase their footprints all over" continents?   They should repay all the corruption moneys with interest and  to SARS for extra incomes.     This is also an international  crime (s).
*
Dit sal interessant wees om weet, sou die VSA nie hierdie drastiese stap uitgevoer het nie, sou daar ooit verder gegaan gewees het met die plundering van die staatskas.   
 Aangesien hierdie en ander "verwante" korrupsie al 'n baie lang pad loop, soms saam met mekaar, het vele kommissies met die jare ontstaan, asook die aanstelings wat deur die ANC gedoen is, het niks noemenswaardig daaruit voortgespruit nie.   
Min vervolgings, indien enige, het plaasgevind en nog minder korrupsiegeld is teruggevind.     
Kommerwekkend is die feit dit wil voorkom asof hierdie kommissies dalk eerder as "rookskerms" gebruik is,  in die hoop die diefstal word vergeet en onder die mat geplaas?   
Indien dit behoortlik vasgevat was, sou die Guptas en vele ander, nooit vasskopplek gekry het nie.   Geen een van hierdie kommissies wat vir maande duur is gratis nie. 
Iets soos die "wapenskandaal" wat oor kontinente strek,  se korrupsie het eenvoudig "verdwyn" – waar is al daardie sake en diefstal van staatskas heen?   
Van hierdie diepgewortelde "diefstal"probleme is eenvoudig verskuif na ander plekke of lande, wat vervaag soos wat die wapenskandaal verdwyn het.   
Waar is al die invordering van korrupsiegeld wat sedert 1994 geroof is – dit behoort met rentes aan die Staatskas sowel as SARS (vir ekstra inkomtes verkry) terugbetaal te word, deur spesifiek hierdie amptenare betrokke wat gehelp het om alles weg te dra sowel die meesters.   
Dit is myns insiens ook 'n internasionale misdaad, veral as die korrupsiegeld landuit is.   
*
*
Q  Corruption undermines sustainable development. The abuse or misuse of public power for private benefit can take many forms – bribery, extortion, influence peddling, nepotism, fraud or embezzlement.
https://publicadministration.un.org/en/combatingcorruption
*

Q   ANC governs country and responsible for all actions, even crime, murders, corruption, they do have a president, ministers in several places, minister of finance. etc. but who is part of the "guptas" in a "socalled democracy and rainbownation, never exists"

https://www.unodc.org/unodc/en/treaties/CAC/index.html

*
Q  Various types of corruption are ongoing for years and with more than one "fals front – org or person" that were in place to make it happened and linked to each other.      Justice Minister Ronald Lamola said South African law enforcement agencies have issued mutual legal assistance requests to eight countries around the world, including the US, regarding the Gupta brothers and others who are wanted in the country.   He explained that this action showed that no borders would stop the government from punishing those who profit through corruption.     

https://www.enca.com/news/lamola-sa-using-all-avenues-get-guptas-account

–

WHAT ABOUT ALL THE OFFICIAL INVOLVED IN THIS MATTER?   SARS?  MINISTER OF FINANCES AND ALL OTHER ASSOCIATES?

The US has blacklisted the controversial Gupta brothers and their associate Salim Essa for corruption which cost the country billions of rand. Now, the South African government says its working with other countries to recover money stolen through the state capture project.

–

Blacklisting the Guptas, Essa and others by the US government was the first step in the government's fight against perpetrators of corruption and requested to eight other countries around the world for similar action to be taken.   The minister's spokesperson Chrispin Phiri said: "It is of critical importance that our young democracy confronts corruption and its effects. The interests of justice must not be shackled by borders."

https://www.enca.com/news/lamola-sa-using-all-avenues-get-guptas-account

*

The US Treasury announced sanctions on the Gupta family and associate Salim Essa, calling them a "significant corruption network" that dispersed bribes and misappropriated millions in state funds.
https://www.enca.com/news/lamola-sa-using-all-avenues-get-guptas-account

*

US secretary of the treasury for terrorism and financial intelligence Sigal Mandelkar says the fact that they have not sanctioned any South African government officials connected to the Guptas does not mean they never will.

https://ewn.co.za/2019/10/12/us-may-impose-more-sanctions-on-individuals-accused-of-corruption
*
The United States has imposed sanctions on the Gupta family and their networks due to corruption and bribery in South Africa. The Gupta family was also involved in a tax probe in India that was later dropped.
*
*
*
NOT SO LONG AGO

It was so strange that Ramaphosa and a South African delegation flew to Japan on a Gupta jet in 2015 when he was a Deputy President (August 2015).    Eyewitness news reported that the department of defence hired the Bombardier Aerospace, registered to Westdawn Investments, and owned by the Gupta family and President Jacob Zuma's son,   Duduzane.    The jet was reportedly hired through a government-managed contract with service provider ExecuJet.

"This then means that the family of President Zuma  benefitted directly from shoddy business dealings between the State and those who do not even blink an eye before financing the ever exorbitant lavish lifestyle of the President and his large family," the EFF said in a statement.

https://www.polity.org.za/article/eff-da-want-answers-on-ramaphosa-flight-aboard-gupta-plane-2015-08-27