With all due respect, no sincere citizen's observation in South Africa, that the different election systems after 1994 can be seen as fair elections when looking at all the "donations" or "bribes" – especially those that were broadcast during the Zondo commission and even has been discussed in parliament between the different political leaders. Now the "money laundering" stops there at Zondo commission, are the people above the law then?
*
There is no connection to any court or even prosecutions. Besides the "k" word and another was placed on leave.  Do MPs and parliament just make laws for citizens that do not apply to themselves?   It has actually been observable for a long time since 1994, which is why there has been a large percentage of abstentions over the past 25 years.
Not only is the state been captured, but also elections, especially when it is noted how much money laundering has been involved in recent times.
If anybody go back in depth to the 1994 donations, more worms may emerge from the can. How many other Bosasa's were there after 1994?   That will be interesting to know who paid whom in 25 years.
The tricky questions and blame games about Eskom, all the SOEs that are so-called bankrupt, the arms scandal, text books, e-toll scandal, Nkandla and many others are also popping up somewhere.   It is so easy for any MP – simply flipping to the next page just to take even more out of the taxpayers.
*
Is nie net die staat wat gekaap is nie, maar ook verkiesings veral as daar opgelet word hoeveel geldwassery die afgelope ruk betrokke was.
Met alle respek, kan geen opregte burger se waarneming in Suid-Afrika die drievlak verkiesingstelsel na 1994 as regverdige verkiesings gesien word as daar na al die "donasies" of "omkopery" gekyk word, veral wat tydens die Zondo kommissie gebeeldsend is en selfs in parlement bespreek is tussen die verskillende politieke leiers betrokke nie.  Nou daar stop die geldwassery –  is die mense dan bo die wet verhewe?   Of maak die MP en parlement net wette vir die burgers wat nie vir hulself geld nie?  Daa r is geen konneksie aan enige hof of  selfs vervolgings nie.  Behalwe die "k" woord en 'n ander is op verlof geplaas.  Dis eintlik lankal waarneembaar, daarom is daar 'n groot persentasie wegblystemme die afgelope 25 jaar.
Wanneer daar in diepte teruggegaan word na 1994 se skenkings, gaan daar dalk nog meer wurms uit die blik klim.  Hoeveel ander Bosasa's was daar na 1994?
Regverdige verkiesings – dis wat na elke verkiesing uitgereik word.      In my binnekant sou ek my kop in skaamte laat sak het as dit ek was wat so "geleerd" is en so 'n verklaring uitreik dat dit "regverdig" was.   Die verlore stembriewe langs paaie word nie eers genoem nie.   Was daar ooit regtig verkiesings wat plaasgevind het en was die "stembriefdrukkery" nie maar net 'n vals front nie – dat dit dalk Rx gekos het, maar Rxyz betaal was.
Die lastige vrae oor Eskom, al die SOE's wat kwansuis bankrot is, die wapen skandaal, teks boeke, e-tol skandaal, nkandla en vele ander peul ook êrens uit die blikke.  Daar word eenvoudig net na 'n volgende bladsy omgeblaai om net nog meer te vat uit die belastingbetalers uit.
Hierdie kastige leiers is veronderstel om van die land 'n superland te maak, die ekonomie te versterk, werkverskaffing te voorsien, huise te voorsien, maar instede daarvan gaan dit oor hul eie magsbeheptheid, egos en selfbeeld, oor wie die meeste "donasies" ontvang vir 'n verkiesing.   Weg is daardie regverdige verklaring van 'n regter.   Met al hierdie korrupsie wat plaasvind, kon ons al soveel superstede soos Singapore gehad het, maar ongelukkig verkies die mense privaat bankrekenings wat volgeprop moet word.
'n Bose kringloop vir al hierdie maatskappye of organisasies wat geld rondgooi of dit 'n gelukspakkie is om net nog 'n tender te ontvang van die magte in beheer.
Wie glo nog aan so iets terwyl die hooftafels van politici dreun onder korrupsie en staatsgeld wat eenvoudig in die afgrond in verdwyn saam die ekonomie?   Die regering, en by name al hierdie betrokkenes, wat verantwoordelik gehou moet word vir die ekonomie wat so ver gedaal het, dat dit onmoontlik is om uit daardie diep afgrond te kom.     Dis nie net wurms wat uit die Bosasa blikke peul nie, maar botsings en verdwynings ook.
*
Daar is al baie oor Bosasa geskryf, video opnames gemaak.   Volgens 'n skrywe van die DA is daar sowat R3 miljoen en dalk meer aan die ANC geskenk as donasie wat onderneem word om verklaar te word deur Ramaphosa.    In die skrywe vanaf die ANC onder hand van Zweli Mkhize, word Bosasa bedank vir hul ruim bydraes en hul finansiële steun wat aan die ANC gebied is.
Natuurlik soos te wagte is het Ramaphosa die DA daarop gewys dat hy die ANC moet uitvra daaroor en nie vir hom nie.  Ongelukkig was die ANC nie die enigste wat geld uit die Bosasa blik ontvang het nie.
Daar word oor en weer geld geskenk of geleen aan sekere politieke partye, maar spesifiek vir die hoofmeisie en seun partye in die land.
Vir jare word gedink (voorgehou as front) dat partye self (in eerlikheid) agteroorbuig om stemme te werf maar met 'n ander man se geld.
Wat van al die kleiner partye in die land, indien hulle dieselfde hoeveelheid skenkings ontvang het, sou die twee-vyf hoofpartye beslis nie so gevaar het soos die afgelope 25 jaar nie.   Hulle sou nêrens gewees het nie omrede daar meer teenkanting sou gewees het vir hierdie kommunistiese stelsel.
*
BRIBES, CORRUPTION AND MONEY LAUNDERING –
1.   Where is SARS in this whole episode since 1994?
2.   What is the whole purpose and goal of this so-called commissions, appointed by the presidents of the ANC, but using tax money and the media.
3.   What will (or can) any commission do about the corruption, because it is only a commission and not a court.
4.    All those people involved must face the courts and must be prosecuted.    If it was a normal citizen that steals or bribe so much, the jail is your home for a long time.
5.   I get the idea this commissions is only a "front" – do we have to listen to those commissions how the people involved steal and nothing happened to them?

https://www.2oceansvibe.com/2019/01/18/have-you-seen-the-jaw-dropping-bribe-video-from-the-bosasa-episode-of-the-zondo-commission/
*
One person was put on special leave ….. what about the corruption and money laundering… ?
*
Former chief operations officer for Bosasa Angelo Agrizzi took the stand for the second time at the state capture inquiry on Thursday January 17 2019, where he detailed how bribe money was moved, stored and paid out by Bosasa.
*
DA letter 22 August 2019

The letter expresses 'sincere appreciation and gratitude for the R3 million and continued financial support and contributions rendered to the ANC.   And this is not the only money.    The President requested time to consider and reflect upon the letter and its contents, and to report back to Parliament in due course, but the reply came soon that the DA must ask the DA.

Whether as ANC Deputy President at the time, he was aware of the donation; and
Whether he will instruct the ANC to pay back every cent of money received from Bosasa over the past 15 years.

The DA stated a fact that Bosasa is a company that has been bribing ANC politicians for the last two decades can not be ignored and referred to a 2009 SIU report found an improper and corrupt relationship between government officials and Bosasa.   It appears that the ANC may be in the possession of the proceeds of unlawful activities which is an offense in terms of section 6 of the Prevention of Organised Crime (POCA) Act 121 of 1998.

Bosasa contracts with the ANC government total over R12 billion. This is corruption 101 and follows the standard ANC triangle of corruption: the ANC-in-government gives lucrative tenders to connected cronies who bribe officials, which in return funds the ANC to have the power, and to repeat it all.

In addition, President Ramaphosa received a R500 000 "donation" from Bosasa towards his CR17 campaign. Subsequent to that, his son Andile has secured lucrative deals with Bosasa to the value of at least R2 million.

The people of South Africa must know that this system of corruption has become part of the very fabric of the ANC – regardless of who leads the organisation. It's time to break this system of corruption once and for all.

*

On 12 February 2019 the DA spokesperson Solly Malatsi stated that in the wake of former ANC treasurer-general Zweli Mkhize conceding that the ANC had accepted payments from Bosasa "while they were fully aware of the corruption surrounding the company", they should not be allowed to get away with it.

Now known as African Global Operations, the company has been subjected to a landslide of corruption allegations and poor publicity, to the point that it has needed to file for liquidation. Its banks, among its other problems, no longer want anything to do with them.

The probability of their state contracts being renewed is also slim to zero. The Mail & Guardian has estimated that the company raked in tenders worth at least R12 billion over 15 years.    "Reports indicated that an estimated R40 million in public money has allegedly been spent by Bosasa in the form of donations, sponsored ANC events, funded rallies in the run-up to the 2014 elections and even the controversial R500,000 paid to Cyril Ramaphosa's presidential campaign. This figure excludes the billions which have been siphoned by the ANC government over the years.

https://www.georgeherald.com/News/Article/Politics/pay-back-the-bosasa-money-da-challenges-anc-201902210900
**************
President Cyril Ramaphosa faced a barrage of questions from the DA on the relationship between his son and the controversial company Bosasa.
https://www.youtube.com/watch?v=FXRlYPoODdU
*
With all the back-and-forth about Public Protector Busisiwe Mkhwebane's investigation into Cyril Ramaphosa's donation from Bosasa, EWN's Clement Manyathela clears the confusion.
*
on Twitter:
"I must remind you that being in possession of money from criminal proceeds is in and of itself a crime!"
BREAKING: @MmusiMaimane reveals a March 2014 letter from current Minister of Health, Zweli Mkhize, thanking #Bosasa… twitter.com/i/web/status/1…—
Democratic Alliance (@Our_DA) August 22, 2019
*
on Twitter
Atleast Watson didn't run away with SA' Trillions. Stop acting brand new here
*
On Twitter – Maimane
"The party had paid back all the money it had received from the Guptas and would not, under any circumstances, accept donations from the controversial family or their associates."
*
In the National Assembly, President Cyril Ramaphosa barely answered the Democratic Alliance (DA) leader, Mmusi Maimane's question about the R3 million Bosasa donation made to the African National Congress in 2014.   Ramaphosa asked him to contact ANC about the money that was donated.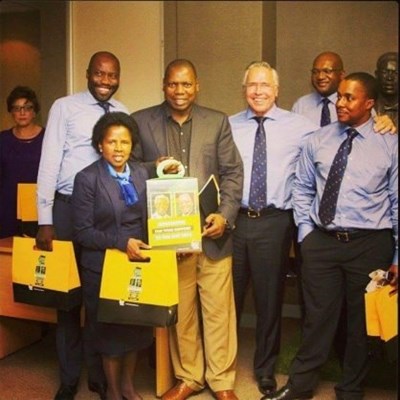 *
Business Live stated on 1 February 2019, that the former Cope MP, Dennis Bloem has alleged that a lucrative R250m/year catering contract awarded to controversial facilities company Bosasa may have been a "money-laundering scheme".   He explained that nothing was disturbed and a "false front".

Bloem chaired parliament's portfolio committee on correctional services between 2004 and 2009' as a member of the ANC.

He said Bosasa did little or nothing within the prisons after the department of correctional services (DCS) awarded it the contract in 2004.     Bosasa said they are "going to take over the kitchens". The inmates were still doing the cooking; it was business as usual. There was no labour from Bosasa.   Bloem visited physically the prisons in the country to confirm this.     He also stated that they have their own farms for meat, vegetables, chicken, all over the country for food for the inmates.       Bosasa will give certificates to the inmates at the end of the year' saying it was for training.      It was estimated that Bosasa received about R1 billion through various contracts with the department.    Only seven prisons were identified as a start but only the big prisons were target for this contract.

https://www.businesslive.co.za/bd/national/2019-02-01-r250m-bosasa-contract-was-money-for-doing-nothing-says-dennis-bloem/
*
Agrizzi Bosasa bribe money vault video at #StateCaptureInquiry – 16 Jan 2019.    Former Bosasa COO Angelo Agrizzi cellphone footage evidence at the state capture inquiry showing "bribe money" being moved into CEO Gavin Watson's vault.
*
R8-12 million to ANC – Standing by his testimony, former Bosasa COO Angelo Agrizzi says Bosasa donated millions of rands to the governing party. In his testimony yesterday he said the ANC received more than eight to ten million rands from the facility management company. Agrizzi also told the Zondo commission that Bosasa made security upgrades at the home of ANC national chairperson Gwede Mantashe amounting to at least six hundred thousand rand. He was the ANC Secretary General at the time. Yesterday, the party applied to cross-examine Agrizzi after he implicated the governing party. 
*
R1.8 million  involved – Former Bosasa COO, Angelo Agrizzi bared all in what sounded like a scene from a Mafia movie. Agrizzi told the commission of various ways used by Bosasa to launder money and to dodge tax. He has also implicated the ANC's North West region.
*
R500 000 to Ramaphosa as president – African Global Operations' executive director, Papa Leshabane speaks on the donation made to president Cyril Ramaphosa.   
https://www.youtube.com/watch?v=Jgzacf4NFxY
*
ZONDO COMMISSION
https://www.judiciary.org.za/index.php/2-state-capture/uncategorised/129-commission-personnel
Dr Khotso De Wee, secretary of the Zondo commission of inquiry into state capture, has been named by former Bosasa executive Angelo Agrizzi as one of the former government officials who were paid bribes.

**
Die verantwoordelike minister vir geldwassery is die Minister van Finansies en tog is daar ander ministers wat tenders laat toeken het, waar is hulle al vervolg? Hy en die res, is deel van die ANC se kabinet.
Money laundering in South Africa – legislation and regulations