Drie regters van die Noord-Gautengse hooggeregshof het Dinsdag 10 Maart 2020, beslis dat Busisiwe Mkhwebane, openbare beskermer, geen jurisdiksie gehad het om die CR17-veldtog te ondersoek nie en haar bevindings oor skenkings aan ANC-president Cyril Ramaphosa in 2017 is onwettig en tersyde gestel.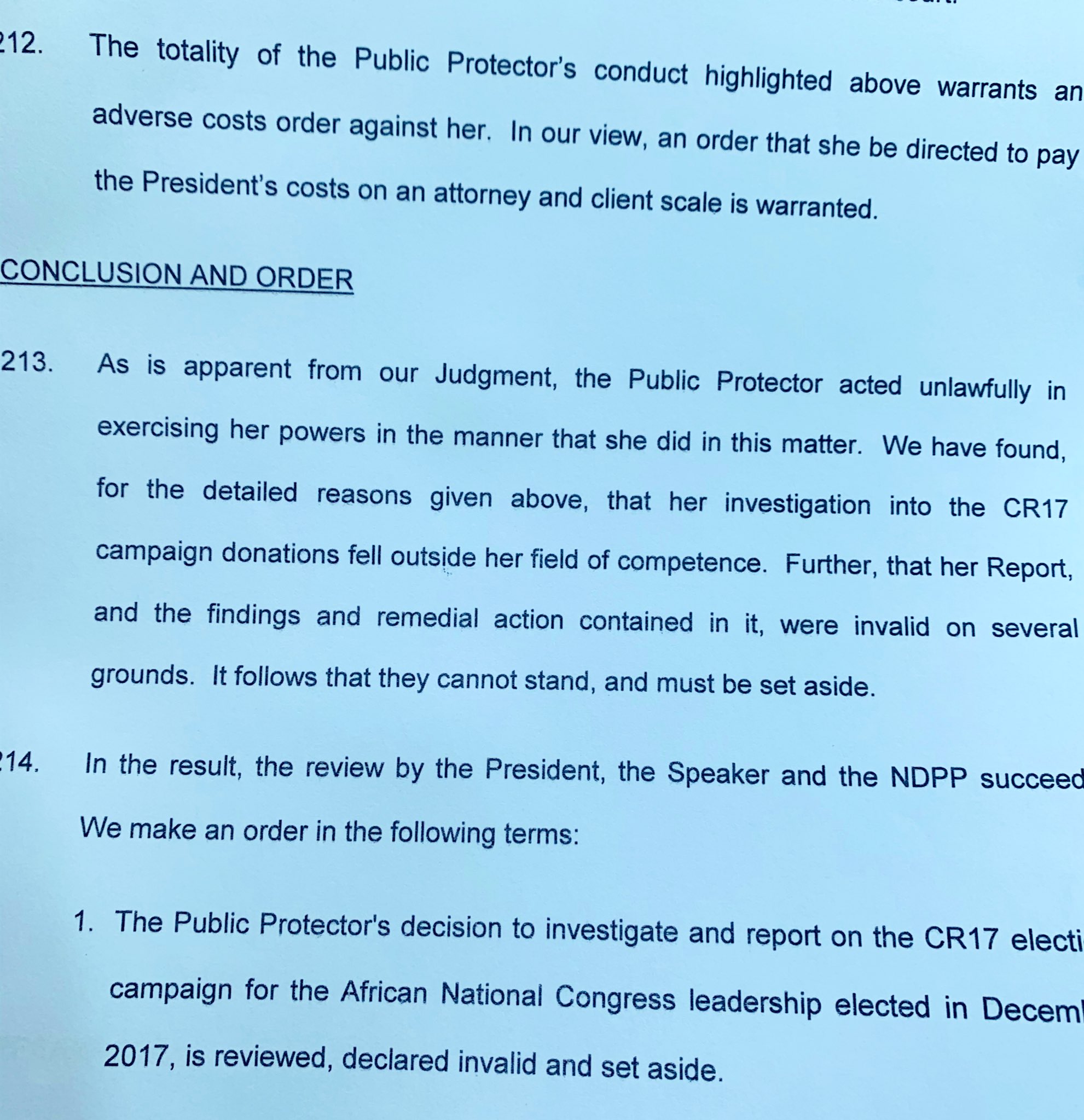 *
The North Gauteng High Court has ruled that Public Protector Busisiwe Mkhwebane had no jurisdiction to investigate the CR17 campaign and her findings on donations made to President Cyril Ramaphosa's 2017 ANC presidential campaign are unlawful and set aside.  The court's three judges made the ruling on Mkhwebane's controversial report on Tuesday. This was another blow on the public protector's handling of politically sensitive investigations.
Ramaphosa had asked the court for a judicial review of Public Protector Busisiwe Mkhwebane's report into a R500 000 donation by former Bosasa CEO Gavin Watson to his 2017 CR17 presidential campaign.  Mkhwebane had found that Ramaphosa misled Parliament when he told Parliament that he was unaware of an R500 000 donation from Bosasa towards his campaign.     Judge Elias Matojane said there was no evidence provided by Mkhwebane to show that CR17 campaign warranted an investigation as it was not linked to state resources.
Motojane said the office of the public protector has powers, but these were limited and could not warrant her extending those powers to investigate cases outside her mandate.   The court also found that Mkhwebane's report failed to prove how Ramaphosa had deliberately misled Parliament.    The judges were scathing in their analysis of how she interpreted the law to justify why she believed Ramaphosa had misled Parliament.
Motojane said Mkhwebane's argument on Ramaphosa lying was "fatally flawed due to a fundamental error of law" and irrationality.     This aspect of the report was set-aside.   The court also found that Ramaphosa had no legal obligation to disclose the donations received by his CR17 campaign, as Mkhwebane had ordered.      Mkhwebane had found prima facie evidence of money laundering in connection to the more than R400 million donated towards Ramaphosa's 2017 campaign.    The court ruled that Mkhwebane had failed to prove that the donations received by the CR17 campaign were the proceeds of crime.    It said Mkhwebane had no foundation in law to substantiate her suspicion of money laundering and that she had relied on wrong law to cushion her reasoning on the matter.
"There can be no offence of money laundering without the proceeds of crime. There was no evidence before the Public Protector that any of the proceeds received were from the proceeds of crime.    "In dealing with this issue Public Protector failed to analyse the evidence before her and failed to show a basic understanding of the law before making serious allegations against a head of state," Motojane said.   "Her findings (on money laundering) were not only irrational but also reckless."
https://www.iol.co.za/news/politics/mkhwebane-had-no-jurisdiction-to-investigate-cr17-campaign-donations-court-rules-44502173
The Economic Freedom Fighters supported Mkhwebane's defence in court, submitting that Ramaphosa breached the highest ethical standard and lied to parliament.
*
Ramaphosa het die hof genader vir 'n geregtelike hersiening van die openbare beskermer, Busisiwe Mkhwebane, se verslag oor 'n skenking van R500 000 deur die voormalige uitvoerende hoof van Bosasa, Gavin Watson, aan sy presidentsveldtog in 2017 in 2017.
Mkhwebane het bevind dat Ramaphosa die parlement mislei het oor die R500 000-skenking wat Bosasa aan sy veldtog gemaak het.    Regter Elias Matojane het gesê daar is geen bewyse gelewer deur Mkhwebane om aan te toon dat die CR17-veldtog 'n ondersoek regverdig nie, omdat dit nie aan staatshulpbronne gekoppel is nie.
*
Video
The High court in Pretoria hands down judgment in the case brought by President Cyril Ramaphosa, for a judicial review of public protector Busisiwe Mkhwebane's report into the funding of his 2017 ANC presidential election campaign.
*
Matojane het gesê die kantoor van die openbare beskermer het magte, maar dit is beperk en kan nie regverdig dat sy die magte uitbrei om sake buite haar mandaat te ondersoek nie.    Die hof het ook bevind dat Mkhwebane se verslag nie bewys het hoe Ramaphosa die parlement opsetlik mislei het nie.
Motojane het gesê Mkhwebane se betoog oor die leuen van Ramaphosa is "dodelik gebrekkig weens 'n fundamentele regsfout" en irrasioneel. Hierdie aspek van die verslag is ter syde gestel.
Die hof het verder bevind dat Ramaphosa geen wettige verpligting gehad het om die skenkings wat deur sy CR17-veldtog ontvang is, bekend te maak soos Mkhwebane beveel het nie. Mkhwebane het skynbaar bewyse gevind van geldwassery in verband met die meer as R400 miljoen wat aan Ramaphosa se 2017-veldtog geskenk is.
Mkhwebane het verder versuim om bewyse te lewer dat die skenkings wat deur die CR17-veldtog ontvang is, die opbrengs van misdaad was. Daar word gesê dat Mkhwebane geen grondslag in die wet het om haar vermoede van geldwassery te staaf nie en dat sy op verkeerde wetgewing staatgemaak het om haar redenasie in die saak te onderdruk.
Daar kan geen oortreding van geldwassery wees sonder die opbrengs van misdaad nie. Daar was geen getuienis voor die Openbare Beskermer dat enige van die opbrengste ontvang is uit die opbrengs van misdaad nie.    In die hantering van hierdie kwessie het die Openbare Beskermer nie die getuienis voorheen ontleed nie en het versuim om 'n basiese begrip van die wet te toon voordat ernstige aantygings teen 'n staatshoof gemaak is.    Daar is bevind dat haar bevindings oor geldwassery was roekeloos en irrasioneel.
*
*

 Journalist Oliver Meth is a media strategist and journalist, which has confirmed via social media (twitter) his receipt of payments from the CR17 campaign which resulted in President Cyril Ramaphosa's ascent to the ANC presidency.     Various other names were mentioned.
CR17 donations to Ramaphosa – Oliver Meth
*
With all due respect, no sincere citizen's observation in South Africa, that the different election systems after 1994 can be seen as fair elections when looking at all the "donations" or "bribes" – especially those that were broadcast during the Zondo commission and even has been discussed in parliament between the different political leaders.
Bosasa "donations" (fake) – money laundering – ANC – DA – elections
*
Mkhwebane said Ramaphosa misled Parliament over a R500, 000 Bosasa donation.   The president insists Mkhwebane's probe was flawed and outside her jurisdiction.  Expectation of  Mkhwebane's report was to deal with a single donation to Ramaphosa's campaign for election as ANC president at the party's 2017 Nasrec elective congress.  When Mkhwebane released her report, she revealed that she investigated the whole CR17 campaign, stretching back to almost a year before Watson's donation.

Ramaphosa – CR17 – PP Mkhwebane .. in court 2020