At the end of the Anglo Boer Wars, Lord Milner sponsored a settlement scheme in that part of the Orange Free State which stretched roughly from Thaba Nchu to Wepener. This area was known as 'The Conquered Territory' because it was the scene of the wars between the Free State Burghers and the Basuto people. The settlers were mainly ex-servicemen and they were given a piece of land, two artillery horses, a wagon and a plough and were expected to fend for themselves.
*
Lord Milner suggested to the young Duke of Westminster that he should start a similar scheme on a smaller scale and bring out settlers for it from his estates in the United Kingdom. The Duke bought nearly ten thousand morgen of fine grassland stretching eastward from the present Agricultural Farm near Twee-spruit to some four miles beyond Westminster Station.
This cost about eight pounds a morgen. On the north side of this area he established his home and built the Big House, outbuildings, stables and a house for an agent. The rest of the land was divided into farms of about four hundred morgen and a house and a stable were built on each.
Water was found for each farm, a windmill erected and, when this was accomplished, the Westminster estate was settled with both local men and men from England. Except for Ormonde, which was named after a famous horse belonging to the Duke, the farms were named after various Westminster estates in Britain.
The names are Belgrave, Eaton, Grosvenor, Madersfield, Broxton, Aldford, Newlands, Malpas, Beauchamp, Lumley, Eccleston, Halkyn, Shaftsbury, Wyndham, Crichton, Chesam and Ormonde.
A schoolhouse was built on the top of a rising near Westminster station.
2015 02 14: An article in Die Burger states that the buildings and gardens are being well managed by Helen and Rupert Fitzmaurice.   Helen's grandfather Charles Thatch­er was the manager of the estate. His son, ­Michael (Mike) Thatcher, took over and now it is in the charge of Helen en Rupert.
Some personal recollections sent to us by Lauretta Bloemhoff.
"I grew up on the farm Halkyn which belonged to the then owner, Captain George Webster. My father managed the farm for him. My parents were Jakobus and Joyce van Staden : Dad was fondly called 'Van' by the mostly English speaking community of Westminster.
The farm of our home friends, Jack and Ruth Armour, Ormonde, was adjacent to Halkyn and we often used to travel by horse and cart to visit each other. I do remember as a little and young girl how we were invited every year, when Lady Mary Grosvenor came to South Africa to stay at her estate, to attend her very special High Tea event : for all of us this was the event of the year – what wonderful times with all guests dressed up smartly and everything presented so grand and tasteful in true English style. Lady Mary was so humble and did not look down on anyone – wonderful times, wish I could turn the clock back."
https://www.artefacts.co.za/main/Buildings/bldg_images.php?bldgid=523#22709
*
Rainwater head or hopper is a square or semi-circular shaped structure of metal used as a catchment from gutters, parapets or balconies. The water is then discharged into a down-pipe.
Detail of rainwater hopper between gables with date – 1904
Photographer: Roger Fisher – 2013 08 30
https://www.artefacts.co.za/main/Buildings/bldgframes.php?bldgid=523
https://www.artefacts.co.za/main/Buildings/bldgframes.php?bldgid=524
*
*
Anglikaanse kerk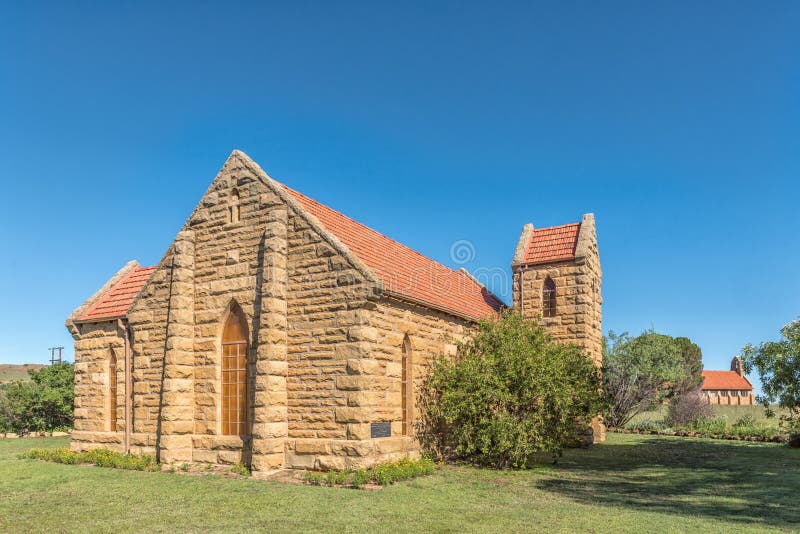 *
1997
THE Lesotho National Assembly today began debating the return of "conquered territory" (effectively the whole Free State) from South Africa.
Foreign Minister Kelibone Maope told the assembly his government intends to hire a specialist to advise Lesotho on the issue of borders between Lesotho and SA. Maope added the government intends asking MPs for ideas on the matter before pesenting Lesotho's case to South Africa.
The "conquered territory" covers the entire Free State province as far as the Vaal River. During the 19th century this land was part of the Basotho kingdom of King Moshoeshoe and was farmed successfully by Basotho commercial farmers.
Cape boers, who resented the success of the Basotho competitors, took up arms against the Basotho, driving them into the mountains across the Caledon River (present-day Lesotho) and seizing their lands, which have been at issue ever since.
During today;s debate, Lesotho government chief whip Matseliso Moshabesha said the land should be returned to Lesotho.
https://mg.co.za/article/1997-05-02-lesotho-parliament-debates-return-of-conquered-territory