It was reported in January 2019 that most of Lesotho borders have been kept busy with a large number of migrants and students entering South Africa. They have used mainly Peka, Caledonspoort, Maputsoe, Van Rooy and Maseru Port of Entries.    "We wish taxi operators will be patient with us for instance I'm going to Bloemfontein for the first time they need to help me I don't know the place," says one motorist.
Maletsunyane falls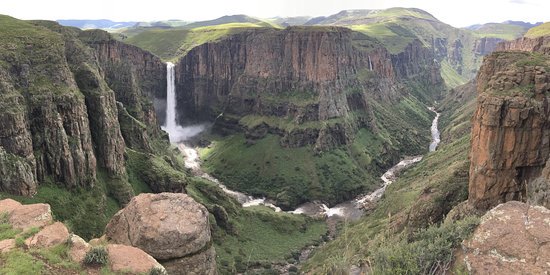 "The queues are fine officials are helping us. The line is moving fast. We want to have a safe journey the queue is long but quick," adds another motorist.

Police remain on high alert.

"We have reinforced our members with new recruits in our border to maintain law and order. Our operators are continuing even after festive season, says Free State SAPS spokesperson, Colonel Thandi Mbambo.

Meanwhile, border authorities say the process at border posts is going smoothly despite the large numbers of travelers.

*
Lesotho – 2000
Uncommon Ground (2000): The majestic stone caves on the mountainous border of Lesotho are a magnet for spiritual pilgrims, drawn by the call of the ancestors. But these sites are on white owned farmland.
*
January 2019 – Thousands of Lesotho nationals, have started crossing Lesotho border posts into South Africa. They are returning from end of the year holidays.
*
April 2019 – Lesotho border
*
Africa's biggest secret !!! / Lesotho // Vlog 023
*
2017 Lesotho
*
2018  Rural Lesotho
*
An overview of the Katse Dam in Lesotho, highlighting some of the staggering engineering statistics relating to the construction of the dam wall itself as well as peripheral infrastructure like roads, bridges, tunnels and the relocation of local subsistence farmers . This video was produced courtesy of http://www.MountainPassesSouthAfrica.co.za Foreign visitors to Lesotho should watch the video link provided here relating to police tourist entrapment and extortion before making bookings to visit the Mountain Kingdom.
*

*
The Department of Home Affairs has encouraged Lesotho Special Permit (LSP) holders to apply for a new permit as the LSP expires in December. 
Lesotho exemption permit Dec 2019 – borders and roads