A decade on, more than 110 countries recognize Kosovo's independence — but Serbia, the country from which it was carved, and many of the 120,000 members of Kosovo's Serb minority refuse to do so.   And though it may be a political territory recognized by most of the world's powers, Kosovo isn't a UN member. (Though the UN ruled that its declaration of independence was legal.) A state only has sovereign recognition when it gains this membership, a sign of its acceptance into the international community. Russia, a veto-wielding member of the UN Security Council, still refuses to recognize it, backing the Serbian government; while Spain — worried over Catalonia — hasn't either.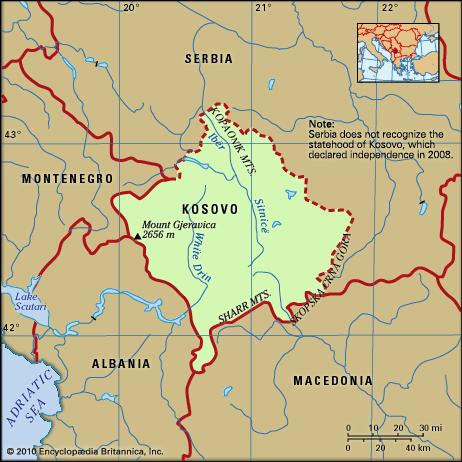 ***
Statehood
Territory – Population – Effective Government
***
Kosovo and Self Determination
***
Right of Self-determination
***
Even today, those who recognize its sovereignty do so with a word of caution. In his comments on Kosovo's declaration of independence, President Barack Obama said:
"Kosovo's independence is a unique situation resulting from the irreparable rupture Slobodan Milosevic's actions caused; it is in no way a precedent for anyone else in the region or around the world."
Kosovo is indeed unique. NATO military intervention, followed by continued international involvement in the form of different organizations has helped the nation to become a secular, pluralistic society. It is a majority Muslim, pro-Western constitutional republic — something extraordinary given that just 20 years ago, Serbian President Milosevic was trying to rid Kosovo of its Albanian population, carrying out a campaign of ethnic cleansing and the organized and systematic rape of women.
But Kosovo remains, in many ways, a divided country. The world was reminded of this on January 16, when Oliver Ivanovic, a prominent Kosovo Serb politician, was shot six times in a drive-by shooting outside his party headquarters in Mitrovica, a city in the country's north where ethnic Serbs dominate. Ivanovic's assassination came on the same day that Belgrade and Pristina started EU-mediated talks on normalizing ties. That process began in 2011 but has been at a standstill for months.
While many predicted the killing — which was widely condemned by the EU, Serbia and Kosovo — would lead to a surge in ethnic tensions, the result was far more surprising. For the first time since Kosovo declared independence 10 years earlier, Serbia and Kosovo's prosecutions decided to officially cooperate — working on the investigation into the murder, which many believe was a result of Ivanovic's crack down on criminal networks within the ethnic Serbican community. Kosovo police have now arrested two police officers from Mitrovica, on suspicion that they manipulated evidence. Analysts say this cooperation is a sign of hope.
Internal tensions resurged again in in December, after lawmakers in Kosovo attempted to scrap a new special court in The Hague trying ethnic Albanian ex-guerrillas suspected of committing war crimes during the 1998 – 1999 conflict. The EU-backed court will soon start issuing indictments but war veterans of the Kosovo Liberation Army (KLA) called the court "biased" and demanded MPs abolish the law. The US ambassador to Kosovo, Greg Delawie, said questioning the court would be "a terrible example of self-interest prevailing over the common good and Kosovo's interest as a state."
***
THE CRIME OF SILENCE AND ARMENIAN GENOCIDE
The Zoryan Institute is celebrating 35 years of scholarship relating to issues of genocide, human rights and diaspora-homeland relations.
***
December 9, 2017, marks the third International Day of Commemoration and Dignity of Victims of the Crime of Genocide and Prevention of this Crime, per a resolution adopted by the United Nations in 2015. This resolution, sponsored by the Government of Armenia in 2015, gives a voice to victims of genocide, raises awareness of genocides globally, and emphasizes the importance of striving for the prevention genocide and mass atrocities. This year marks the 69th anniversary of the United Nations Genocide Convention that was passed on December 9th in 1948, and this day serves to commemorate victims of genocide and be a source of motivation to create a world in which genocide no longer exists. To understand why December 9th is a day of commemoration for the world and especially for Armenians, please watch the video above.
The United Nations was harshly criticized for its handling of the situation in Rwanda. Questions are now being raised over whether the UN has changed enough to prevent similar atrocities from happening again. CCTV's Nick Harper reports.