The one article  was in 2017 – The man who damn-near single-handedly managed to get Great Britain out of the EU,  Nigel Farage is still a crisp,  clear voice for truth in a den of thieves and sell-outs.  But Soros has 5 kids – the most politically active is his son Alexander.  We will be plagued with the Soros evil meddling in world politics for decades.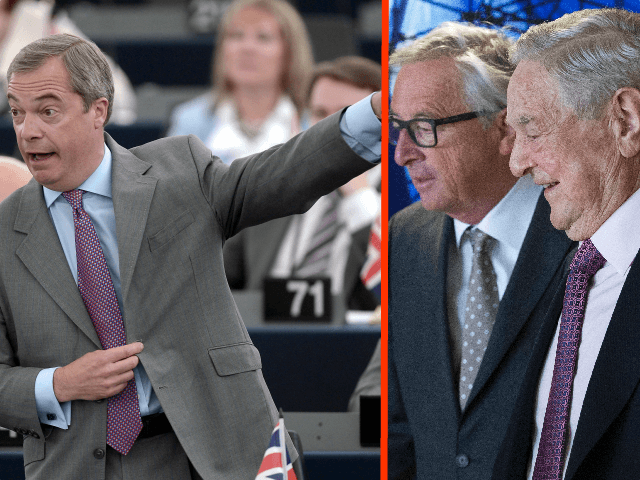 Die een berig is einde 2017 geplaas oor George Soros en sy "Open Society Foundation" in die EU.  Ons het in SA dieselfde probleem al sedert 1979 – van vroeg af speel Soros en sy Open Society 'n groot rol (of is dit nou sy geldmag en posisie) om ons ekonomie totaal en al te verwoes – inteendeel dis reeds verwoes en hy en sy organisasie gebruik 'n hele paar om dit te bespoedig.
1979 – 1993
DA en ANC, sowel ander leiers is hoog betrokke by George Soros se "Open Society foundation SA.   Zille haarself was self saam hom sedert 1993.   Slabbert het Kodesa en die sogenaamde grondwet wat ons regte skend, ook "vervolmaak" met Soros geld.  Moenie vies word vir feite nie – lees die parlement en die nuus.   Ramaphosa is Soros se adviseur.   Cato Instituut is nog een van vele liberale "think tanks" wat deur Soros befonds word en dis waar Afriforum gaan rapporteer en vergaderings hou as hulle so gereeld in Amerika gaan kuier.
Soros gebruik alle hulpmiddele en van ons eie mense om sy doelwit te bereik om mag te bekom.   Dis ook wat in die EU lande gebeur.
***
2019
The New European's mailbag has been full of letters about Nigel Farage's remarks on the campaign trail. The most worrying of all were about George Soros.
Nigel Farage's attacks on George Soros and the latter's support for the EU and liberal democracy conceal his ignorance as well as something much more sinister.
Soros' initial role was to encourage countries in central Europe to move away from the authoritarianism that Soviet communism had brought. It is interesting to note that Hungary's Viktor Orban fully supported Soros' ideas until personal ambition and the corruption of power led him to revive authoritarian rule.
In 1993 Soros established the Open Society Foundations movement. Recipients of OSF funding include black American organisations fighting racist discrimination (fuelling Farage's pal Trump's hostility towards Soros) and human rights groups in Africa and Palestine amongst many other causes.
But it is his role in Europe in promoting liberal democratic ideals that gets up Nigel's nose. Earlier, in 1991, more than a decade before Hungary's accession to the EU, Soros founded the Central European University in Budapest, part of his plan to expand opportunities for higher education and research in post-communist central and eastern Europe. Subsequently, Soros has never hidden his support for the European Union as a bastion of democracy in a continent that had witnessed the impact of 20th century Nazi and Soviet totalitarianism.
Farage's shameful/shameless scapegoating of George Soros – seen by many as playing to anti-Semitic tropes – is further proof that he and Steve Bannon will stoop to any depths to destabilise the status quo in Europe.
Nigel Farage claims to be a "working" man and suggests that other MEPs – former farmers, doctors, nurses, teachers, builders, scientists etc – have "never done a day's work" in their lives.
His own working life was that of a commodity and currency speculator/broker. An activity severely restricted by the arrival of the euro. I recall a quotation from Andrew Carnegie: "Speculation is a parasite feeding upon the values and efforts of others and creating nothing."
https://www.theneweuropean.co.uk/top-stories/the-truth-behind-nigel-farage-s-sinister-attacks-on-george-soros-1-6063132
***
George Soros, the man who 'broke the Bank of England', interferes in elections and referendums all over the world. Open Society is the biggest campaign group we have ever seen.
*
"Thank you. Well as Mr Moscovici said at the start of this, the leak of all these papers, the lists of people with offshore holdings has come about because of the Society of Investigative Journalists.
But what's not been said this morning and I think is relevant is that the funding of these investigations came from one George Soros."
Intervention – Phillip Lamberts Green MEP shouts out "So What!".
Farage – "Now I say this at a time, I'm going to come back to 'so what' and it may have some personal interest for you as well, I say this at a time when the use of money and the influence it may have had on the Brexit result or the Trump election has reached a level of virtual hysteria.
Just last week the Electoral Commission in the UK launched an investigation to find out whether the Leave campaign took offshore money or Russian money. This came about as a result of questions asked in the House of Commons by one Ben Bradshaw somebody linked to an organisation called Open Society.
I just wonder, when we're talking about offshore money, when we're talking about political subversion, when we're talking about collusion, I wonder whether we're looking in the wrong place. And I say that because George Soros recently gave Open Society, his organisation, which of course campaigns for free movement of peoples and supports supra-national organisations like the European Union, he recently gave it 18 billion dollars. And his influence here and in Brussels is truly extraordinary. Open Society boast that they had 42 meetings last year with the European Commission, they have even published a book of reliable friends in the European Parliament and there are 226 names on that list including yours sir, I thought you'd find this interesting. We even had last week Mr Verhofstadt lobbying on behalf of Mr Soros at the Conference of Presidents in a battle that is going on with Viktor Orban the Prime Minister of Hungary.
If we are going to have a debate and we are going to talk about full political and financial transparency well let's do it, so I shall be writing today to all 226 of you asking some pretty fair questions.
Have you ever received funds, directly or indirectly, from Open Society?
How many of their events have they attended?
Could you please give us a list of the meetings of all their representatives including George Soros yourself?
And I think this Parliament should now set up a special committee to look into all of this and I say that because I fear we could be looking at the biggest level of international collusion in history.
George Soros, the billionaire hedge fund manager and a major Democratic donor, has given $18 billion to his Open Society Foundations.
*
European Parliament, Strasbourg, 14 November 2017
Nigel Farage exposes George Soros: The biggest international political collusion in history
***
UKIP MEP Nigel Farage speaking today in a 'Paradise Papers' debate in the European Parliament, Strasbourg, demanded that MEPs disclose their political and financial interactions with George Soros' Open Society Foundation which Soros funds to the tune of 18 billion dollars.
http://www.efddgroup.eu/newsroom/how-many-meps-are-colluding-and-in-the-pocket-of-george-soros
International Consortium of Investigative Journalists who oversaw publishing of Paradise Papers funded by Soros' Open Society Foundation
***
This mapping provides the Open Society European Policy Institute and the Open Society network intelligence on Members of the 8th European Parliament likely to support Open Society values during the 2014–2019 legislature.
It spans 11 committees and 26 delegations, as well as the European Parliament's highest decisionmaking bodies: 226 MEPs who are proven or likely Open Society allies.
The presence of an MEP in this mapping indicates that they are likely to support Open Society's work. They should be approached with an open mind: although they will most likely want to work on areas they're already interested in, they could also welcome hearing about new issues.
Beyond discussing individual topics, Open Society should seek to build lasting and trustworthy relationships with these European lawmakers.
Section B. European Parliament bodies lists the official bodies of the European Parliament, their fields of competence, and the potential Open Society allies taking part in their work. They also include the names of political advisers* helping MEPs in committees, although these may change during the legislature, and they may not be Open Society allies themselves.
Section C. Members lists 226 Members' individual profiles. They provide information on Members' parliamentary affiliations (country, political group, nature of their mandate, and the committees and delegations they belong to); their background (professional history, parliamentary interests, and other relevant intelligence); and their contact details.
Finally, section D. Indexes provides three additional ways to find relevant Members: by issue of interest, by political group, and alphabetically.
Click to access soroskooptbrussel.pdf
***