Who are the judges at Coligny?
Witness in Coligny trial reportedly lied about 'bakkie-push race murder'….
What about this witness that did not tell the truth under oath?   and were the x- mayor with Moshoeu?   "Now he can't remember"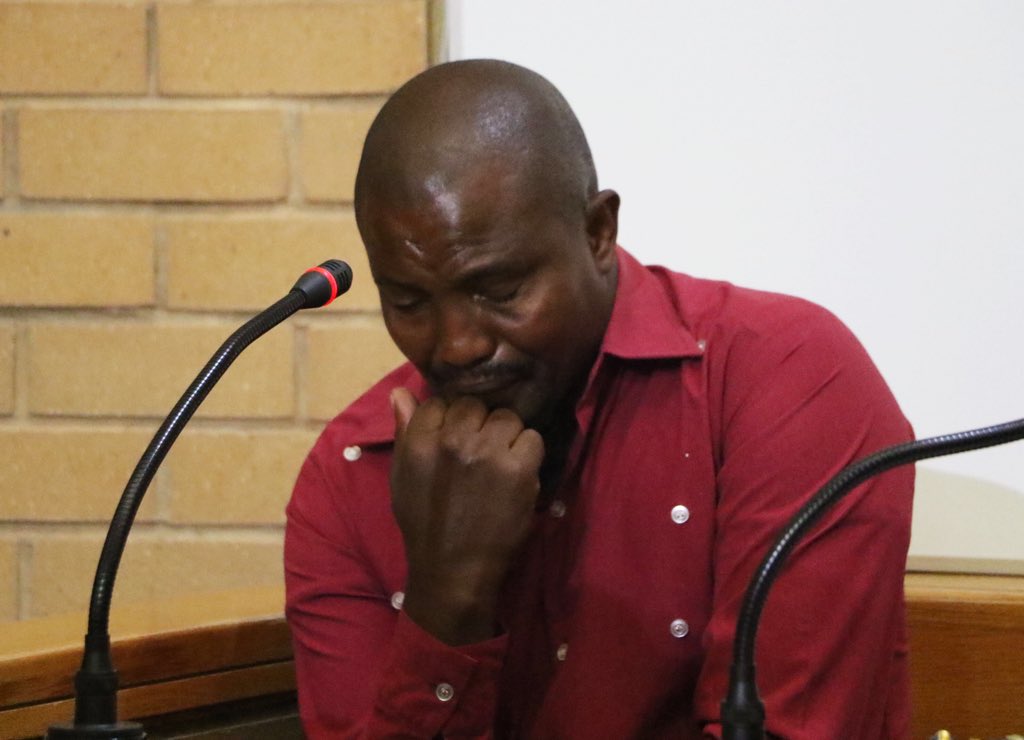 One of the witnesses in the case, Bonakele Pakisi, complicated proceedings by changing his story about what happened. He claims that due to trauma, his memory wasn't too clear regarding the events of that day. His court testimony differed from that given to the police and kept changing during his court statement as well. Briefly.co.za has been told that this may have been the turning point in the case. Read more:
https://briefly.co.za/12981-the-coligny-murder-trial-continues-justice-sought-matlhomola-moshoeu.html#12981
***
Witness in Coligny trial reportedly lied about 'bakkie-push race murder'
An explosive report in Afrikaans weekly Rapport on Sunday suggested the only eyewitness in the Coligny murder trial has had a change of heart.   The paper said it had heard a recording in which Bonakele Pakisi said he wasn't telling the truth when he claimed in testimony that farm workers Pieter Doorewaard, 27, and Phillip Schutte, 34, murdered 16-year-old Matlhomola Moshoeu in April 2017.
The pair were found guilty last year in a case that was dubbed the Coligny sunflower murder. The matter was postponed for sentencing until January 28 to allow the defence and the state to prepare for mitigation and aggravation of sentencing arguments.   Community members, including Economic Freedom Fighters members in red party regalia, had regularly packed the public gallery during the trial.   Doorewaard and Schutte were ruled to have assaulted Mosweu and thrown him out of a moving bakkie on April 20 2017 at Rietvlei farm near Coligny after accusing him of stealing sunflower heads from their employer Pieter Karsten's sunflower plantation.
Judge Ronnie Hendricks also found them guilty of kidnapping, intimidation, theft and pointing of a firearm.   They claimed, however, that Mosweu had jumped from the vehicle and was not pushed. They claimed they intended taking Mosweu to the police station, but he died after jumping off their moving bakkie.   The state alleged the murder was premeditated. The death set off a mass violent protest in Coligny that left six houses and three trucks torched and several shops looted and damaged.
Rapport revealed that a preacher from Mahikeng, Paul Morule, told the paper that Pakisi had admitted to him he had lied and could no longer stay silent about it.
***
https://citizen.co.za/news/south-africa/crime/2067283/witness-in-coligny-trial-reportedly-lied-about-bakkie-push-race-murder/
***
12 June 2018
by: Nthusang Lefafa    date: 12 june 2018
The defence team in the murder trial of 16-year-old, Matlhomola Moshoeu, told the court that the main witness keeps changing his version of what he saw on the day of the alleged murder and this means that his account cannot be admissible as evidence.
Two men are on trial at the North West High Court in Mahikeng for the teenager's murder in April last year.
Farm employees, Pieter Doorewaard and Phillip Schutte, are accused of killing Moshoeu after he was allegedly found stealing sunflower pits on their employer's Rietvlei Farm.
Bonakele Pakisi, the only man who saw what happened on the day Moshoeu met his untimely death, is currently on the witness stand as the trial enters its second week after being postponed for nearly two months.
Defence lawyer, Hennie Du Plessis, said his client had never left Coligny on the day of the murder and added that – in fact – Doorewaard had never met Pakisi in his life.
"Cellphone records clearly indicate that my client had never left Coligny on the day the alleged murder occurred. In fact, my client has never crossed paths with Pakisi as alluded to by the witness. The fact that the witness keeps changing the versions of his testimony from the statement he gave to police is a clear indication that he cannot be trusted," said du Plessis.
Pakisi denied the claim by the defence that he has never crossed paths with the accused. He told the court that the events, which transpired on the day of the murder, had left him traumatised and he keeps having regular flashbacks of the incident. As a result, he is even taking medication for depression, a condition he did not suffer from before the encounter with the accused.
The main witness in the murder trial also told the court that he was not happy with the manner in which the initial investigations had been handled by a Warrant Officer Sponkane of Coligny Police Station because he failed to give him feedback on the case and instead told him that the evidence had "disappeared".
On Friday, court had to be adjourned because the key witness was not feeling well. "I am feeling feverish and it is cold inside the court room. The medication which I am taking for depression is also finished," Pakisi told the court.
The Coligny "sunflower" murder trial is in its second week, after a postponement of more than a month. Pakisi, the key witness, is still under cross-examination.
Last week, Pakisi broke down as he told the court about the alleged assault he suffered at the hands of Doorewaard and Schutte.
The two accused are currently out on R5000 bail each. The trial continues.
http://www.semphetenews.co.za/readmore.php?edit=1512
https://bri/efly.co.za/12981-the-coligny-murder-trial-continues-justice-sought-matlhomola-moshoeu.html#12981
*****
Is the Ex-mayor a judge or what kind of witness is he – because he claims the murder of teen Matlhomola Moshoeu was racially motivated.   Then he hopes the judgement is not going to be influenced by race. Let's be fair, crime is crime no matter who committed it. Racism and tribalism is one thing but we seem to glorify the other when we 'chill with our tribesmen'. It's all about love and it begins with you.
***
***
30 January 2019
Pieter Doorewaard and Phillip Schutte, the two farm workers convicted of murdering a Coligny teenager, never expressed remorse to his family, the North West High Court heard on Wednesday morning.
"Neither of them ever approached me, in fact they are saying they did not kill my child. I don't know what the truth is," said Agnes Moshoeu, the mother of murdered  teenager Matlhomola Moshoeu.
Her testimony was in response to questioning by state prosecutor advocate Rapula Molefe, who asked if the two men had ever reached out to her family to express their remorse.
Moshoeu was testifying in aggravation of sentence in the trial of Doorewaard and Schutte, who were convicted in October 2018 of murdering Matlhomola. They were also found guilty of his kidnapping, intimidation, theft and pointing a firearm, after a lengthy trial.
The incident happened on April 20 2017. The 16-year-old Matlhomola was believed to have been thrown out of a moving bakkie.
***
During cross-examination by Cecile Zwiegelaar, acting for Doorewaard, the mother was questioned about her date of birth and that of her deceased son.
When asked how old she was, Moshoeu could not tell, despite her telling the court earlier that she was born on August 10 1974.   She could also not confirm her boy's date of birth.   Moshoeu, who completed grade 2, told the court that her husband was the one who knew all the dates.
She said Matlhomola would always inform her about his whereabouts, but on the day of the incident she did not know where her son was.   He would often visit a nearby farm to see his friends. She assumed that he had gone there.
https://www.timeslive.co.za/news/south-africa/2019-01-30-coligny-farm-workers-never-said-sorry-deeply-hurt-mother-testifies/
***
Farm killings – plaas moorde – moorde
Coligny in South Africa / Suid-Afrika
Lies under oath / leuens onder eed