Who stole this mank empty?    Find out –  there are more background and corruption about the bank.   Same happened with the Gupta sages.   In this case it was mostly old peoples  and pensioners money.   The youngsters do not like to work for their own money, it is easier to grab and steal pensioners money that work hard in the past for salaries, without any protest actions.    They kill for a cell phone.
*
Same happened in the government of South Africa today – all the state organisations (Eskom) been "emptied".
At the end, the people that worked hard and bought their own properties, have to share it with the "reds" and bolshevist communists.   If you live on your own property in peace, then the communists want it for them to take everything and to "share" is only to grab it for themselves.
Even if you are a poor black or pensioner, they will still take it from you.  The communists will start with "whites" (or now) , because they (their bosses – Soros and kie) hate whites and end up with the black middle class , the working class that pay tax.
Look at the old communist countries.  Romania.   Ukraine..
They are all financed by communist George Soros to create the revolution to kill each other to take the land for themselves.
***
Die VBS Mutual bank is nogal heelwat in die nuus en vir baie jare ook, waar die bank letterlik en figuurlik gestroop word.  Hoeveel kliënte daar hul geld belê het is nie seker nie, want daar is ookal uitbetalings gedoen en dan weet niemand van die uitbetalings waar inligting spoorloos verdwyn… Wie al die pensioenarisse is, weet geen mens nie, maar glo wag hul dae om gehelp te word en slaap sommer by die bank.  Daar is baie strooptogte hier uitgevoer.
As dit ou mense se geld is wat gesteel is, moet die skuldiges aan die pen ry en dit met rentes terugbetaal.  "Geldwassery"
Dis egter 'n ander saak of die ANC en hul regspanne in hul noppies is hieroor wat al hierdie mense se lewens verwoes het.  Die VBS Mutual bank is ook nie die enigste bank in Suid-Afrika waar grootskaalse bedrog aan die gang is nie.  Daar is ander banke regdeur die land waar heelwat mense se rekeninge oornag sommer leeggesteel is.  Van hierdie hofsake duur en sloer al 2-4 jaar en selfs meer.  Banke hou vol dis nie hulle nalatigheid nie, maar werklik, hoe verdwyn R500000 of R2 miljoen sommer uit jou rekening uit, sonder binne-inligting?
HOE OM DIE BANK LEEG TE STEEL –
CORRUPTION
Corruption – South Africa VBS Mutal Bank
*
Quote – VBS Mutual Bank chairperson Tshifhiwa Matodzi and CEO Andile Ramavhunga. Matodzi has been fingered to be at the centre of the grand scale looting at the bank.  Former Vele Investments CEO Maanda Manyatshe, who is implicated in the damning VBS report, claims R3m paid to him by the bank was related to his travel expenses.  Manyatshe was paid R11.2m according to the report which laid bare how the bank was looted of more than R1.8bn in just over three years by 53 persons of interest.   Manyatshe said he was never an "official employee of the VBS".   He said he was a director of the majority shareholder of bank after the company, Vele Investments, had bought a stake in his company.   "I was appointed a director of Vele Investments in September last year after Vele had paid R8m advance of R128m to buy a stake in my company but the transaction was not completed," Manyatshe said.   He added: "The R3m was for my travelling expenses as I was flying between Cape Town and Johannesburg."

Another implicated person in the report, ANC deputy chairperson in Limpopo and Vhembe district municipality mayor, Florence Radzilani, flatly denied allegations levelled against her.   Radzilani, under whose tenure the municipality invested R300m in the embattled bank, was placed at the centre of WhatsApp messages between a "politically connected fixer" Kabelo Matsepe and VBS chairman Tshifiwa Matodzi.
Unquote
**
~~
RAMAPHOSA – Berigte lui dat Ramaphosa daarvan geweet het en dat hy ingelig was, maar hy en sy kantoor ontken alle berigte.
President Cyril Ramaphosa knew about the looting at VBS Mutual Bank but did not act' according to a report – "I know that the shareholder met with Ramaphosa' who was not president at the time. The shareholder briefed him about the outrageous corruption at VBS'" the source was quoted as having told the newspaper.   The shareholder reportedly started blowing the whistle in 2016.    Presidency spokesperson Khusela Diko told City Press they had no records of such a meeting.
A forensic report released on Wednesday' titled "The Great Bank Heist"' detailed how the bank heist allegedly occurred. The bulk of the funds stolen were allegedly for the benefit of individuals and entities related to VBS executives' including its largest purported shareholder' Vele Investments.    Advocate Terry Motau and Werksmans Attorneys compiled the report' which was commissioned by the South African Reserve Bank (Sarb).  The report details how the R1.8-billion looting spree led to the collapse of the bank and the loss of almost R2-billion deposited by some of Limpopo's poorest municipalities.
ZUMA
Zuma is also under investigatioin
An investigation is underway into who was servicing the R70,000 monthly payments on former president Jacob Zuma's loan with VBS Mutual Bank for 18 months.   The Sunday Times has established that Zuma only started making payments on the loan in March, when the troubled bank went into curatorship. As part of their wide-ranging investigation into the spectacular collapse of the Venda-based bank, the Hawks will also look into the loan the bank granted Zuma to settle the portion of his Nkandla homestead upgrades that were deemed to be security features.   "The payment profile changed in March (2018) to reflect Zuma as the person depositing the money. What we are unable to see is who was making payments before then," said a source close to the investigation into the collapse of the mutual bank.   There is also suspicion that the former executives of VBS could have created fictitious deposit entries against Zuma's loan account to make it seem as if it was being serviced monthly.    A special team —  comprising Hawks investigators and senior prosecutors from the National Prosecuting Authority —  has been tasked with looking into who serviced Zuma's loan since September 2016, when it was granted.
~
Advocate Terry Motau in his final report said that an amount of R1.8 billion was gratuitously received from VBS by some 53 persons over the period 1 March 2015 to 17 June 2018.   North West municipalities to appear before Scopa over VBS Bank scandal
Motions of no-confidence tabled against mayors over VBS scandal
DA tables motions of no-confidence agaisnt mayors over VBS

Breaking: VBS can't be saved – report
The forensic has recommended that steps be taken to recoup monies lost at the bank from the following people:

1. Vele and its associates + R936 million

2 Tshifhiwa Matodzi = R325 million.

3 Free State Development Corporation = R104 million.

4 Kabelo Matsepe = R35 million.

5 Sipho Malaba R34 million.

6 Phophi Mukhodobwane R30 million.

.7 Paul Makhavu = R30 million

8 Robert Madzonga = R30 million.

9 Andile Ramavhunga = R28 million.

10 Solly Maposa = R24 million

11 Ralliom Razwinane = R24 million.

2 Firmanox = R17.4 million

13 The Venda king, Toni Mphephu = R17.7 million.

14 Ndivhuwo Khangale = R16.8 million.

15 Sechaba Serote = R16.6 million.

16 Ernest Nesane = R16.6 million

17 Brian Shivambu = R16 million

18 Foxburgh = R15 million.

19 Paul Magula = R14.8 million.

20 Charl Cilliers = R12.6 million

21 Tiisang Private Capital = R12 million.

22 Maanda Manyatshe = R11 million.

.23 Sasa Nemabubuni = R9 million.

24 Sabicorp = R8 million.

25 Avashoni Ramikosi = R5.9 million.

26 Takalani Mmbi = R4 million.

.27 Phillip Tshililo = R2 million.

~

A forensic investigation into the mass looting of VBS Mutual Bank has been completed, with investigators effectively finding that there is no way for the bank to be saved.  The report was published by the South African Reserve Bank on Wednesday, where it was found that close to R2 billion had been looted from the bank by over 50 individuals.

Advocate Terry Motau, who led the investigation, said that about R1.89 billion was "gratuitously" taken from VBS by 53 people between 1 March 2015 to 17 June 2018.   The individuals include many of the top executives at the bank and other related parties.

"It was not possible, in the course of the interviews, to obtain a clear picture of the precise amount that has been looted from VBS by its captors," the Motau said.  "Indeed, that is something that the curator will need to ascertain accurately when he completes a full restatement of VBS' financial position. Nor was I able to ascertain, with precision, the amounts that every participant in the looting received. To a great extent, I have been limited by what the various interviewees confessed to."

VBS was placed under curatorship on 11 March 2018 against a backdrop of a serious liquidity crisis at the mutual bank. The initial findings of the curator revealed significant financial losses in VBS, which prompted the decision to institute a forensic investigation.  It was alleged that VBS executives, and those of Vele Investments had made a host of dodgy transactions to inflate the bank's books. This included accusations of creating fake deposits, which executives then withdrew to fund other business opportunities and lavish lifestyles.

The primary objectives of the forensic investigation were to establish whether:

Any of VBS's business was conducted with the intent to defraud depositors and/or any other creditors of the mutual bank, or for any other fraudulent purpose;
VBS's business conduct involved any questionable and/or reckless business practices and/or material non-disclosure, with or without the intent to defraud depositors and/or any other creditors; and
There had been any irregular conduct by VBS's shareholders, directors, executive management, staff, stakeholders and/or related parties;

The report found there to be widespread corruption at the bank, with no real prospect of saving it.

"It is corrupt and rotten to the core. Indeed, there is hardly a person in its employ in any position of authority who is not, in some way or other, complicit," the investigators said.

While the final report effectively names all the parties that received the looted monies from VBS, the SARB stressed that it was not indication of guilt or innocence, but rather should be used by the relevant authorities in further investigations.

However, it was recommended that criminal proceedings be initiated against those implicated.

"The investigation has revealed a wide range of criminality in the conduct of the affairs of VBS. That is also so in regard to Vele. Indeed, it emerges very clearly that VBS and Vele have been operated as a single criminal enterprise, with Matodzi firmly at the helm," the investigators said.

Many of those implicated in the report are chartered accountants and attorneys, the investigators said, adding they they should face further action from their respective governing bodies on top of criminal proceedings.
The full report can be read below:
VBS Mutual Bank Report
/
VBS Mutual Bank is a bona fide BBBEE organisation. We are a level 1 contributor and our recognition level in terms of BBBEE is 135%. Our BBBEE certificate reflects the full details.
BOARD OF TRUSTES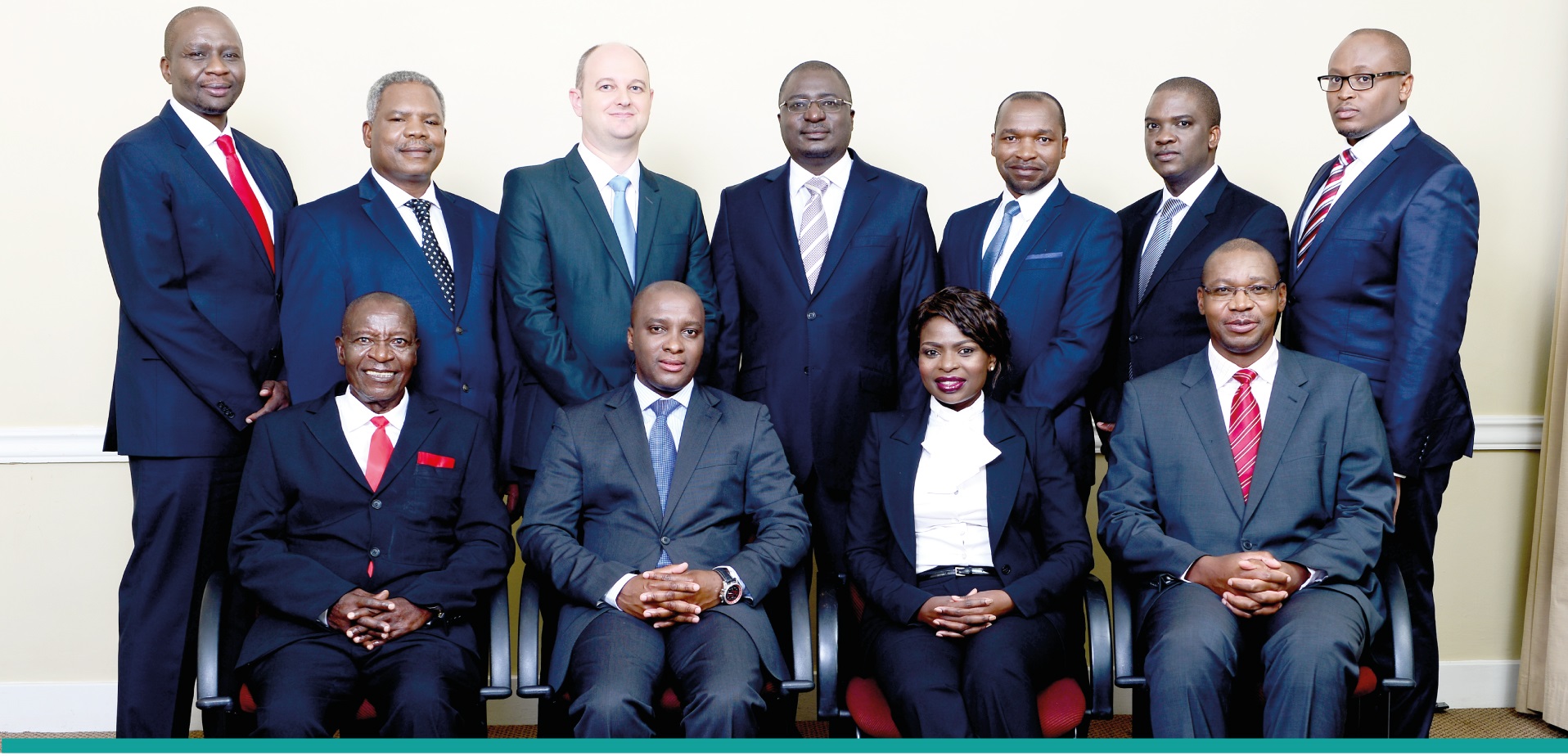 2nd Row (from left to right) – Mr M Mavuso, Mr L.N. Mudau, Mr P.N. Truter (CFO/Company Secretary),
Mr T. Matodzi (Chairperson), Mr N.V. Nevhuhulwi, Mr M. Manwadu, Mr A.M.A. Ramavhunga (CEO)

1st Row (from left to right) – Mr M. W. Muvhulawa, Mr E. Nesane, Ms B. L. Mapongwana (Dep. Chairperson), Mr P. A. Ramikosi
*
MORE INFORMATION
VBS Mutual Bank
Regret over Fraudulent Claims against VBS Mutual Bank in the Virgin Islands

VBS Mutual Bank notes with concern an article in an online publication http://www.stthomassource.com headlined "Banking Board Warns Virgin Islanders Against VBS Mutual Bank." The article claims that consumers in the Virgin Islands have been receiving telephone requests for monetary deposits from individuals who identify themselves as officers of VBS Mutual Bank or its alleged affiliates, US Virgin Islands Money PLC and Virgin Money Offshore Group PLC.

VBS Mutual Bank hereby states it on record that it has never deployed any of its staff members to source monetary deposits from consumers in the Virgin Islands and it has no affiliation, no knowledge of existence and has never conducted any business with the US Virgin Islands Money PLC and Virgin Money Offshore Group PLC entities.

VBS Mutual Bank further clarifies that it does not do any business in the Virgin Islands and it has no US Presence in any form whatsoever which clearly indicates that some individuals may be fraudulently claiming to represent VBS Mutual Bank when they are not.

We regret all the fraudulent claims against VBS Mutual Bank as stated in the article and the bank will continue to implement stringent security measures to ensure that all its clients are protected against fraud by individuals falsely masquerading as VBS Mutual Bank's representatives.

We reassure all our stakeholders that the bank remains committed to being a good corporate citizen and we will cooperate with any investigation by any authority into the criminal conduct of the individuals who are falsely masquerading as VBS Mutual Bank's representatives

We will also write a letter to the Virgin Islands' Banking Board to distance VBS Mutual Bank from both the individuals who falsely masquerade as VBS Mutual Bank's representatives and the alleged affiliates.

===

As VBS Explodes in SA Did You Know?

Julius Malema owns 47% of Dyaumbe Investments which is owned by Tony Mphephu.

Dyaumbe Investments owns a certain percentage of Vele Investments which owns over 50% of VBS.

Vele Investment got the biggest chunk
of the loot amounting to almost a billion rands.
There is no record of Zuma ever paying back the Nkandla money and Juju has never been vocal about it because he knew the deeper strategy, PIC and Municipalities.

The trail leads to gross corruption at
SOEs particularly Prasa and Transnet, that's why the EFF have on an anti-Indian campaign, but they were in fact targeting Treasury and Public Enterprise's clean-up of the SOEs.

Which explains why Gordhan is the new enemy of the EFF and then there is the SARS issue where Malema and Mazzioti are implicated and Momoniat was a stumbling block. Nene put VBS under curatorship.

The EFF has been taking credit for apparently forcing Zuma to pay back the money. It was just a PR strategy to hide the plan to rescue Zuma by Government through the PIC and Municipalities.

Malema, Ndlozi and Shivambu are still campaigning that the SARB must save VBS
a Black Bank.
~ The EFF followers >>> are merely fighting Malema, Ndlozi and Floyd's personal economic battles.

The Three Black Muskuteers are using
the "race-card" and "anti-white" and
"hatred of whites by black people".
~ NMB was given back to the ANC with the help of the EFF #SAME_WHATSUP_GROUP 

Each attack by the EFF on anyone
is usually because that one is a threat to their chances to get to more stolen loot!
~ After Nene, Gordhan is the now the  biggest threat of the EFF and
~ Premier League of the ANC.