Lees gerus die inligting en kyk na die video's beskikbaar.  Daar kan baie hierby geleer word veral vir ons beveiliging, ons takke en omgewing, plaas en buurtwagtes.   As ons soos 'n eenheid saamstaan en ons self binne wetgewing beveilig, het ons reeds baie bereik.  Ons moenie toelaat dat hulle ons mense so uitvermoor nie.  Ja, dis erg as dit veral 'n geliefde is, wat baie naby aan jou is.  Net een vonk is nodig om 'n geveg te wen.     Lees meer daaroor en kry inspirasie vir jou eie veiligheid –
WIE en wat was die "wit dood" ?  'n Boer en Skerpskutter uit Finland….
Kry inspirasie uit hierdie man en wat hy gedoen het vir sy volk. Ons het meer sulke mense nodig.   Fokus aseeblief weg van sosiale media aangesien dit 24/7 beman word deur kommuniste. Ons volk is en mag dalk platgeslaan wees met al ons menseregte wat geskend is, maar ons hande is nie rond nie. Fokus op jou eie veiligheid en ook die van jou familie en vriende wat dieselfde voel soos jy.
This man is a big inspiration to all of us, same position more or less, but be careful for social media and do not harm yourself in the process.
WHO WAS HE REALLY?
~~
SIMO HAYHA – DIE "WIT DOOD"
Front Nasionaal SA
Een van die mees frustrerende dinge wat ons gedurig moet aanhoor is : "Ons is te min en ons het niemand wat lei nie."
Dis natuurlik nonsens. 'n Minderheid wat saamwerk en elkeen sy deel doen vermag oneindig meer as 'n massa met 'n opstoker vooraan wat rondmaal soos skape. Dit leer 'n mens as jy die verhaal van Simo Hayha, die "Wit Dood" en die omstandighede waarbinne 'n doodgewone mens 'n minderheidsgroep tot skitterende oorwinning aangespoor het, opnuut lees.
Vir baie eeue was Finland onder die bewind van Rusland. Met die val van die Russiese Ryk in 1917 en die aanbreek van Kommunisme, het die Finne die kans gegryp en selfbeskikking opgeëis. Dit was vir Sowjet Rusland 'n bitter pil n in 1939 val hulle Finland sonder waarskuwing binne.
Sien u die merkwaardige ooreenkomste met onsself – 'n Vryheidsliewende klein volkie wat onder die enorme oormag van Kommunisme aangeval word? Die oorlog sou minder as 'n jaar duur, van 30 November 1939 tot 13 Maart 1940 en staan vandag bekend as die Winteroorlog. Op daardie Novemberdag val Sowjet Rusland Finland binne met 450 000 soldate. Finland het nie eens 100 000 weerbare manne gehad nie. Maar hulle ruk op en baklei terug met 'n passie en 'n brandende patriotisme.
In die Finse weermag is 'n jong korporaal met die naam van Simo Hayha. Hy was 'n hoenderboer met 'n voorliefde vir jag. Die geduld wat hy op sy jagtogte aangeleer het, tesame met 'n fyn oog en 'n begrip vir sy vuurwapen maak van hom 'n briljante skerpskutter.
'n Paar dae voor Kersfees kom die Finne te staan, onder aanvoering van generaal Uiluo Tuompo, teen 'n leer van 160 000 Rooi Russe by die Slag van die Kollaarivier. Die temperatuur is minus 33 grade, die grond kliphard verys en teen die middag is daar 'n situasie waar net 32 Finne die heuwel langs die rivier verdedig teen 4000 Russe! Simo Hayha met sy spierwit oorpak in die sneeu en sy Russiese Mosin-Nagant M28/30 geweer omsirkel die Russe en bekruip hulle van agter waarvandaan hy hulle een na die ander uithaal. Op hierdie een dag skiet hy 25 offisiere dood.
Onder die Russe staan hy bekend as "Die Wit Dood" en hulle is vir hom so bang as die duiwel vir 'n pikbalie! Net die woord "Wit Dood" laat 'n Russiese soldaat ineen krimp.
Hayha sou so 'n inspirasie word vir die Finse vegters en die mense by die huis, hy wat nie 'n vername leier of selfs 'n offisier is nie, maar net 'n man wat doen wat hy die beste doen, dat die veggees onder die Finne vroeg in Februarie weer opvlam.
Op 2 Maart 1940 slaag 'n Sowjet skerpskutter daarin om Simo met 'n holpuntpatroon in die gesig te tref, maar Simo skiet hom eers dood voordat hy self inmekaar sak. Dis die einde van die oorlog vir hom, maar hy herstel merkwaardig goed. Die oorlog is in elk geval verby. 11 dae later gee die Russe oor en trek terug. Finland het sy Vryheid terug gewen.
Daar word vandag algemeen bereken dat Simo Hayha 542 Rooi soldate in 100 dae doodgeskiet het met 'n gewone jaggeweer. Nog 200 word bygetel waar hy 'n Suomi submasjiengeweer in veldslae gebruik het.
Hayha sterf in 2002 in die ouderdom van 96 op sy hoenderplasie by Rautajarvii.
Een gewone man, 'n klein volkie teen 'n enorme oormag. En elkeen wat sy plig doen.
Front Nasionaal – Wie is Simo?
Ons kan dit weer doen, ons het dit al in die verlede gedoen.
Video
Between 1939 and 1940, Armed with a Finnish version of the M/91, Simo killed approx. 5 enemies a day in the time of 100 days and he has 505 confirmed kills. Early in his life it was reported he was able to hit a target at 500 feet 16 times in less than a minute. Thought I would give it a try.
Hoe het Simo en makkers dit reggekry?
READ THE STORY ON THE PAGE AS WELL – SCROLL DOWN
A PERFECT MAN – MISSION IMPOSSIBLE
SNIPERS with LOVE
A   F A R M E R   AND  S N I P E R
Simo Häyhä was born on December 17, 1905 in Karelia, then eastern Finland, where he grew up enjoying hobbies including hunting and snow-skiing. When the Soviets invaded his country in 1939, he joined the Army and rapidly acquired a reputation as a legendary sniper, chalking a total of 505 confirmed kills during the largely forgotten Winter War. He is pictured after being awarded with a new rifle during the conflict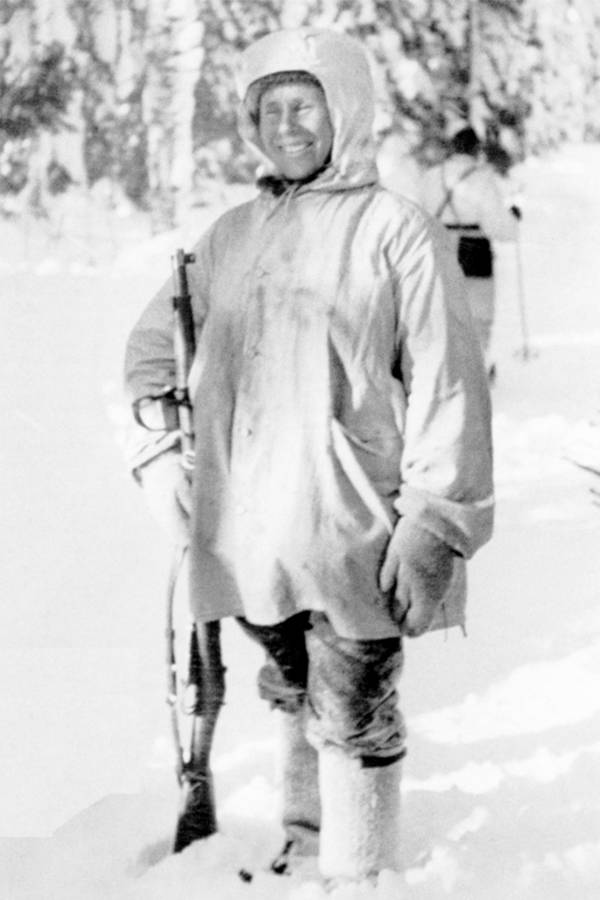 At the dawn of World War II in 1939, Josef Stalin sent over half a million men across Russia's western border to invade Finland. For three months, the two countries fought in the Winter War, and in an unexpected underdog victory, Finland emerged victorious; no doubt due, in part, to a tiny farmer-turned-sniper named Simo Hayha.
Upon invading, Stalin, armed with roughly 750,000 soldiers, believed that Finland would be an easy win as their numbers were laughable in comparison. Finland's army was only 300,000 strong, with just a handful of tanks and just over 100 aircraft. The Russians had nearly double everything, with almost 6,000 tanks, and over 3,000 aircraft. There was simply no way they would lose.
However, the Finnish had something that the Russians didn't:
Simo Hayha.
Standing just five feet tall, the mild-mannered Hayha was far from intimidating and actually quite easy to overlook, which is perhaps what made him so suited for sniping. As all citizens did, he had served in the Finnish army for a year before returning to his quiet life of farming and hunting small game. He was noted in his small community for his ability to shoot, though before the war he'd had no reason to show it off.
However, that changed once Stalin's troops invaded. As a former military man, Hayha was called into action. Before reporting for duty, he pulled his old gun out of storage. It was an antique, Russian-made rifle, a bare-bones model with no telescopic lens.
Along with his fellow Finnish military men, Hayha was given heavy, all-white camouflage, a necessity in the snow that blanketed the landscape several feet deep. Wrapped in the heavy white coverings, the soldiers could blend into snowbanks without a problem.
Armed with his trusty rifle and his white suit, Hayha went to work. Preferring to work alone, he supplied himself with a day's worth of food, several clips of ammunition, and sneak quietly through the woods. Once he found a spot with good visibility, he would lie in wait for the Russians to stumble through his path.
Over the course of the Winter War, which lasted roughly 100 days, Hayha killed between 500 to 542 Russian soldiers, all with his antiquated rifle. While his comrades were using state-of-the-art telescopic lenses to zoom in on their targets, Hayha was fighting with an iron sight, which he felt gave him a more precise target. He also noted that several of his targets had been given away by the glint of light on their sniper lenses, and he was not going to go down that way.
He'd also developed an almost foolproof way of not being sighted.
On top of his white camouflage, he would build up snow drifts around his position to obscure him further. The snow banks also served as padding for his rifle and stopped the puff of snow from being stirred up by the force of the gunshots. As he lay on the ground in wait, he would hold snow in his mouth to stop his steamy breaths from betraying his position.
Before long, Hayha had gained a reputation amongst the Russians as the "White Death," the tiny sniper who lay in wait and could hardly be seen in the snow. When the Finnish High Command heard about Hayha's skill, they awarded him with a gift: a brand new, custom built, sniper rifle.
Unfortunately, 11 days before the Winter War ended, Simo Hayha was finally struck. A Soviet soldier caught sight of him and shot him in the jaw, landing him in a coma for 11 days. He awoke as the peace treaties were being drawn up with half of his face missing.
However, the injury hardly slowed Simo Hayha down. Though the recovery period for being hit in the jaw with explosive ammunition did take several years, Hayha made a full recovery and lived to the ripe old age of 96.
LISTEN AND VIEW
READ: / QUOTE
Skerpskutters – Snipers DODELIK en GEVAARLIK
With at least 505 confirmed kills during the Winter War of 1939 and 1940 between Finland and the Soviet Union, Simo Häyhä has been labelled the deadliest sniper in history.    Here, Tapio Saarelainen shares the story of the Finnish sniper and how he achieved his nickname 'White Death'
QUOTE:
According to an American study, an average of 7,000 rifle-caliber shots were required to achieve one combat kill during the First World War. During the Vietnam War this number had increased to more than 25,000. So, for Simo Häyhä's more than 505 kills, more than 13,550,000 bullets would have been needed in Vietnam. He remains the deadliest sniper who ever lived.
Simo Häyhä was born on December 17 1905 to Juho and Katriina (née Vilkko) Häyhä in the hamlet of Kiiskinen in Rautjärvi municipality. This area was in the old Finnish region of Karelia, which is now Russian territory. He was a farmer by profession and enjoyed several different hobbies, including snow-skiing, hunting and shooting.
Häyhä fought for Finland against the Soviet Union in what history refers to as the 'Winter War', the conflict that occurred in the winter of 1939–40. The Winter War broke out when he was 33 years old and on 17 December 1939, he celebrated his 34th birthday on the Kollaa battlefield. He served a total of 98 days with 6th Battalion, Infantry Regiment 34. The war lasted only 105 days, but Simo Häyhä did not see its end – he was wounded and hospitalised during the last week of the conflict.
During his 98-day reign of terror, Häyhä was unseen and unheard, yet was all the while targeting Russian soldiers with deadly accuracy, once even killing 25 men in one day. With snipers presenting such a high-value targets on the battlefield, Simo's reputation as a marksman soon reached the Russian front lines; they referred to him as "The White Death".
On one occasion, after Häyhä had once again killed an enemy sniper with a single shot, the Russians in turn tried to kill him by shooting indirect fire, a mortar bombardment, at the vicinity of his firing position. Incredibly, Häyhä was not wounded or killed, making it out without a scratch. On another occasion, an artillery shell landed near his firing position and tore apart the back of his greatcoat;   Häyhä survived this with only a minor scratch to his back.
Yet for a soldier who spent so much time on the front line, Häyhä reported that he was never scared. He treated his job like he treated hunting and was always thinking of new ways to remain hidden and fool the enemy. He developed clever techniques, such as pouring water into the snow in front of him so that the muzzle blast would not expose his location by disturbing the light snow. He also became a master of using sounds, smoke and artillery fire to cover his movements when changing positions. With maps very scarce during the war, Häyhä relied on his memory to find the best hiding positions.
Preparation and tactics
Häyhä's skill was compounded by his extensive preparations for shooting. During the night, he would often visit his 'favourite' firing positions, making whatever preparations and improvements he felt necessary. His behaviour might be described as obsessive because of his dedication to the job at hand: he would clean his weapon much more often than most soldiers; and perform both maintenance operations before and after a completing a mission. Especially in the -20°C temperatures of the Finnish winter, proper gun maintenance was essential to avoid it jamming.
His gun was an M/28-30, one that he had owned before the war, without even a telescopic sight. This rifle was the standard issued one for Finnish infantry in the late 1930s and Häyhä preferred the reliability of the model and the consistency of its shot. It was a basic weapon, but one that he had mastered through years of experience. His weapon was 'zeroed' [the sights adjusted] for 150 metres, the most common combat distance of the time, which enabled him to rapidly adjust to the proper setting as needed.
One strange myth that surrounds snipers is that they would climb trees to shoot the enemy. Häyhä would laugh when asked about this. Not only would it make it far more difficult to keep a steady aim at the enemy, but if he was ever discovered he would have no escape route. Instead, Häyhä used overhanging branches for cover, which provided better protection and allowed him to keep a steady aim.
Häyhä's skills had been developed from his youth which was spent very close to nature, going on regular hunting trips in the forests. He had often hunted timid birds in clearings and pine forests, birds which reacted to even the slightest sound, reflection or sudden movement. As a hunter, when everything depends on the situation, target and terrain, Häyhä would have needed sharp vision and the ability to spot and recognise targets.
There are no foolproof methods in hunting, as each situation and condition is unique. Häyhä knew that when a hunter shoots at his target, he must be able to observe the impact, as any game will try to escape if the first shot is not lethal, unless the game is injured beyond movement. Any animal will try to defend itself until dead or unable to move; this grim reality also applies to humans on the battlefield. Häyhä's hunting experiences taught him was how to read and use the terrain and he was the ultimate master in exploiting the terrain of the battlefield to his advantage.
In addition to these skills, Häyhä's father had taught him a very important hunter's skill: the ability to estimate distances. This was not a skill he was born with – he had a lot of practice, first by estimating the distance to a target and then pacing out by steps. In most cases his estimate was almost perfect: when checking out his estimates, a typical variation from the actual distance was one or two steps either way at distances of approximately 150 meters. As a young man, he also learned to estimate the effects of wind and rain on shooting and conditions in forest.
Battlefield experiences
With Simo's unique character and a lifetime of preparation, he was a nightmare for the Soviet troops in the winter forests of Finland, until he was wounded on 6 March 1940, in the forests of Ulismaa in the Kollaa region. He was hit by an explosive bullet during a Russian attack; he lapsed into a coma from which he would not awake until one week later, by which time the armistice had already been signed. Following his injury, Häyhä suffered from lasting facial scarring and near-constant pain for many years.
After the war had ended, Häyhä returned to his farm. His war exploits were legendary in Finland and he became something of a celebrity, but he preferred his own company. Kalevi Ikonen, a friend of Häyhä, said:
"Simo spoke more with animals in the forest than with other people."
Considering, however, that he underwent a total of 26 surgical operations on his jaw, and his speech was never fully restored, it is not difficult to understand why he may not have wanted to interact with others more than was necessary. Until he moved into the Kymi Institute for Disabled Veterans in 2001, he lived alone. He died in 2002 aged of 96.
Perfect !!
Simo Häyhä was the most successful sniper who ever lived because he understood everything going on around him. He was a skilled trekker and hunter who knew exactly how to stay hidden. His gun was one he had used for years and he knew exactly how it would react in its environment, and his personality was ideally suited to sniping, with his willingness to be alone and ability to avoid the emotions which many would attach to such a job. Considering his small stature, he was born to hunt and sniping lent itself to him well. During my many interviews with him in the twilight of his life, he was always keen to remind me of his most valuable insight. "War is not a pleasant experience," he said, "but who else would protect this land unless we are willing to do it ourselves."
Tapio Saarelainen is the author of The White Sniper, which is available now. Saarelainen is a career officer in the Finnish Army. He has spent two decades training snipers for the Finnish Army and contributed to the Finnish Army's manual for snipers. In his youth he competed in rifle shooting. The author has spent much time investigating Simo Häyhä's life and accomplishments and interviewed Simo dozens of times between 1997 and 2002.

UNQUOTE
SKERPSKUTTERS WORD NIE NET GEBORE NIE