Interessant en dalk ook agterdogtig , wie sal weet.  Wie bestel so iets by die Russe?   Ramaphosa het met sy Russiese vriend en kollega geskakel en bestelling geplaas.      Niemand hou spesifiek die lughawens of selfs hawens dop as daar beperkte roetes gevlieg  word of skepe in hawens anker nie.  Hoe weet ons as burgers hoe die "variante of virusse hier beland" in die eerste plek?      Buitendien,  wat wil die Russe hier kom maak, veral nou in die tyd waar daar reeds beperkings op SA geplaas word deur al wat leef en beef in die buiteland?    Rusland sover ook bekend is een van hulle.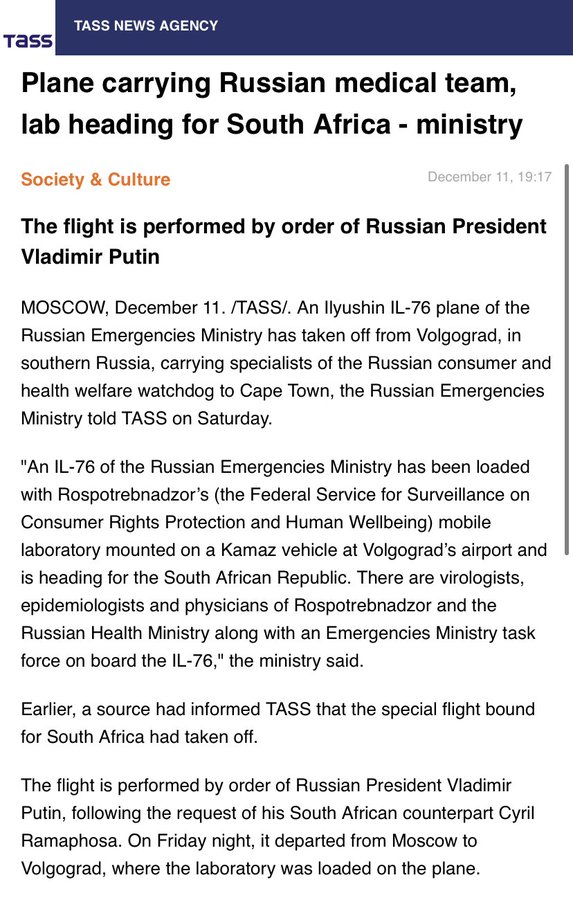 *
Is this unusual – time will tell. Russia has reportedly sent a team of virologists, epidemiologists, and physicians and a mobile lab to South Africa on board an Il-76.   
9 December 2021
The parties continued their discussion of the two countries' interaction in the context of the newly identified Omicron strain of the coronavirus. They agreed on having a group of Russian virologists, epidemiologists, researchers, and doctors, as well as a sanitary-epidemiological laboratory and other medical equipment sent to South Africa in the very short term.
Vladimir Putin had a telephone conversation with President of the Republic of South Africa Cyril Ramaphosa.
http://en.kremlin.ru/events/president/news/67332/print
*
Russia's leader made the pledge during a telephone call with his counterpart from South Africa Cyril Ramaphosa, who thanked Russia for its cooperation, the Kremlin said in a statement. 
"An agreement was reached to send a group of Russian virologists, epidemiologists, researchers and doctors, as well as a sanitary-epidemiological laboratory and other medical equipment to South Africa in the very near future," it read. 
The detection of the first Omicron cases two weeks ago coincided with surges in infection numbers across the world, and the variant added fuel to concerns about a global COVID resurgence.
Russia at the beginning of the pandemic was accused of playing politics with virus aid and critics said its shipments of military doctors and medical equipment to Italy and Serbia was meant to curry favour in Europe.
Moscow last year sent a shipment of ventilators to the United States under the administration of Donald Trump but the equipment was found to be faulty was never put to use.
https://ewn.co.za/2021/12/09/russia-to-send-virus-specialists-to-south-africa-to-establish-covid-19-lab
*
That means Ramaphosa did not have a lot of trust in his own people or are there other plans to play the game further.   
AND who will pay for this expensive aircraft and whatever on that plane?   Those people that make use of air or ship travelling, are all vaccinated peoples.
*
Российские специалисты отправились в ЮАР – Россия 24 ​https://www.youtube.com/watch?v=Mf7LRzyLDXc
*
On November 26, the World Health Organization (WHO) designated the B.1.1.529 variant identified in South Africa as a "Variant of Concern" and assigned it the Greek letter Omicron. In its statement, the WHO noted that "this variant has a large number of mutations, some of which are concerning."
The epicenter of the spread of the Omicron strain is southern Africa. The highest number of those infected with it has been detected specifically in South Africa. The new strain has already been recorded in 57 countries. At the same time, not a single fatality has been documented among those infected with Omicron.