Alejandro Murat, governor of Oaxaca , under the motto of "More of Oaxaca in the world and more of the world in Oaxaca", was in charge of leading the economic and cultural promotion event in New York, United States , with the installation of two monumental alebrijes.  The Oaxacan president was in charge of presenting the works of the Oaxacan artisans Jacobo and María Ángeles (google their names), placed in the emblematic Rockefeller Center of this city, a building considered to be the "heart of New York".
*
With this activity began the activities of the "Month of Oaxaca in the United States", a space for economic and cultural promotion carried out in coordination with the Mexican ambassador to the United States, Esteban Moctezuma Barragán, with the aim of "accelerating the reactivation of the entity "by attracting investment and tourism.
This was expressed by the governor, who was accompanied by his wife, the honorary president of DIF Oaxaca, Ivette Morán ; Rockefeller Center CEO EB Kelly; the consul general of Mexico in New York, Jorge Islas López, and dozens of New Yorkers who gathered to marvel at Oaxacan creations.
*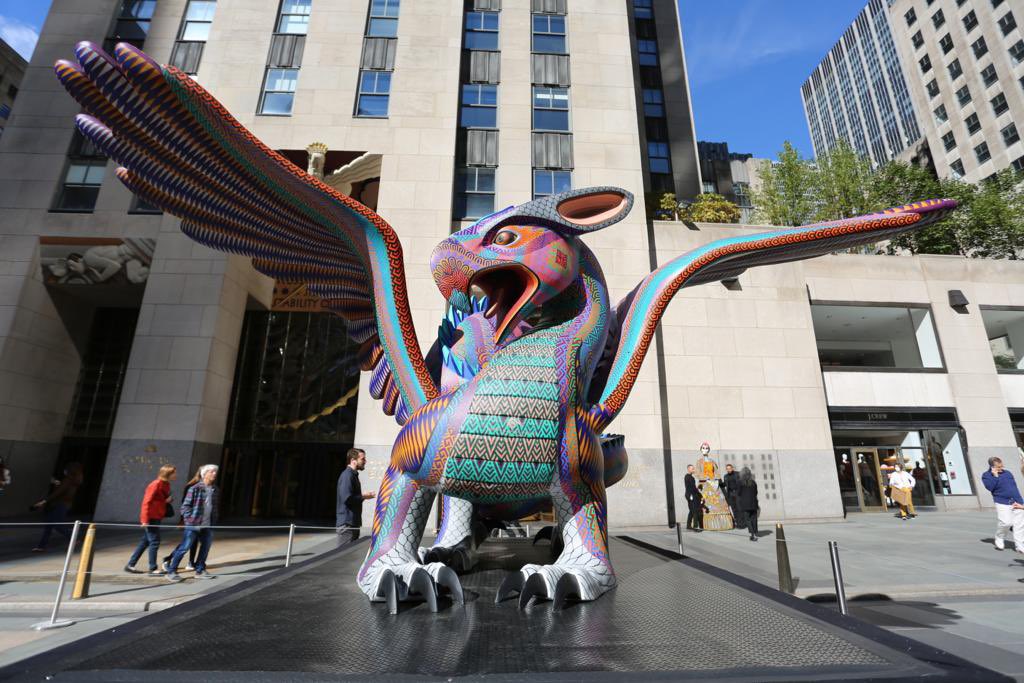 *
The general director of Rockefeller Center, EB Kelly,  thanked the Government of Oaxaca and the Consulate General of Mexico in the United States for making possible the presence of the "Monumental Guardians" at Rockefeller Center, thereby consolidating the role of this emblematic space as a headquarters for the cultures of the world.
https://aquisureste.com/queremos-mas-oaxaca-en-el-mundo-alejandro-murat//"