Moderate pro-independence leader Pere Aragonés was elected Catalonia's new regional president by the parliament of the northeastern Spanish region.    Aragonés, 38, promised the pro-independence movement that he would demand the region be allowed to hold an independence referendum, which the Spanish government is fiercely opposed to.   Katalonië se nuwe leier is aangewys.   Sukses word u toegewens vir 'n nuwe onafhanklike land.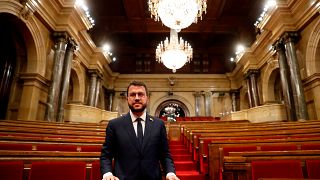 *
"On one hand, overcoming COVID and getting the country out of the crisis and on the other advancing towards a Catalan Republic," he said.
Former Catalonia president, Carles Puigdemont, in self-exile in Belgium after he declared the region's independence following a referendum deemed illegal by Madrid in 2017, congratulated Aragonés.
Roughly 50 per cent of Catalans want to carve out an independent state, while the other half want to remain a part of Spain.


New Leader wants more support for independence and referred to 2014 of Scottlands referendum  …     People do have an international right to rule themselves independently.   Very young leader.   Good luck and wish him well, him, his party and supporters for a new independent Catalonia.

https://www.thenational.scot/news/19321698.pere-aragones-sworn-youngest-ever-catalan-president/
The 38-year-old lawyer called for "immediately" restarting independence talks with Madrid, which have been suspended due to the pandemic. At the same time, he signaled a more moderate course than his predecessors.
"I want us to be like Scotland. And I would like it if the Spanish state behaved like Britain did in 2014," Aragones said.
The London-approved independence vote ended with Scotland choosing to stay in the United Kingdom, although calls for another referendum have since grown louder, primarily because of Brexit.
However, the new Catalan president said he would not reassert the independence claim until there was more support among the voters. The wealthy region of over 7.5 million people remains almost equally split on the issue in opinion polls. The ERC placed second behind a pro-union Socialist party in the February election, but separatist groups combined still managed to secure an overall majority.
https://www.dw.com/en/catalonia-moderate-separatist-pere-aragones-named-new-leader/a-57625397


Pere Aragonès becomes Catalonia's youngest president in modern times and the first member of ERC to head executive since the 1930s. 
More than three months on from polling day, Catalonia's new government is taking shape. What can we expect from the incoming administration? Press play below to listen or subscribe on Apple Podcasts, Google Podcasts or Spotify.