It's alleged that Mantashe admitted to paying journalists a total of R70 000 in order to make the expose disappear. Further allegations claim that Mantashe was caught in a 'political love triangle' with Finance Minister Tito Mboweni. It's been reported that both ministers were having an affair with Lerato Habiba Makgatho, who later bragged about the attention she was receiving.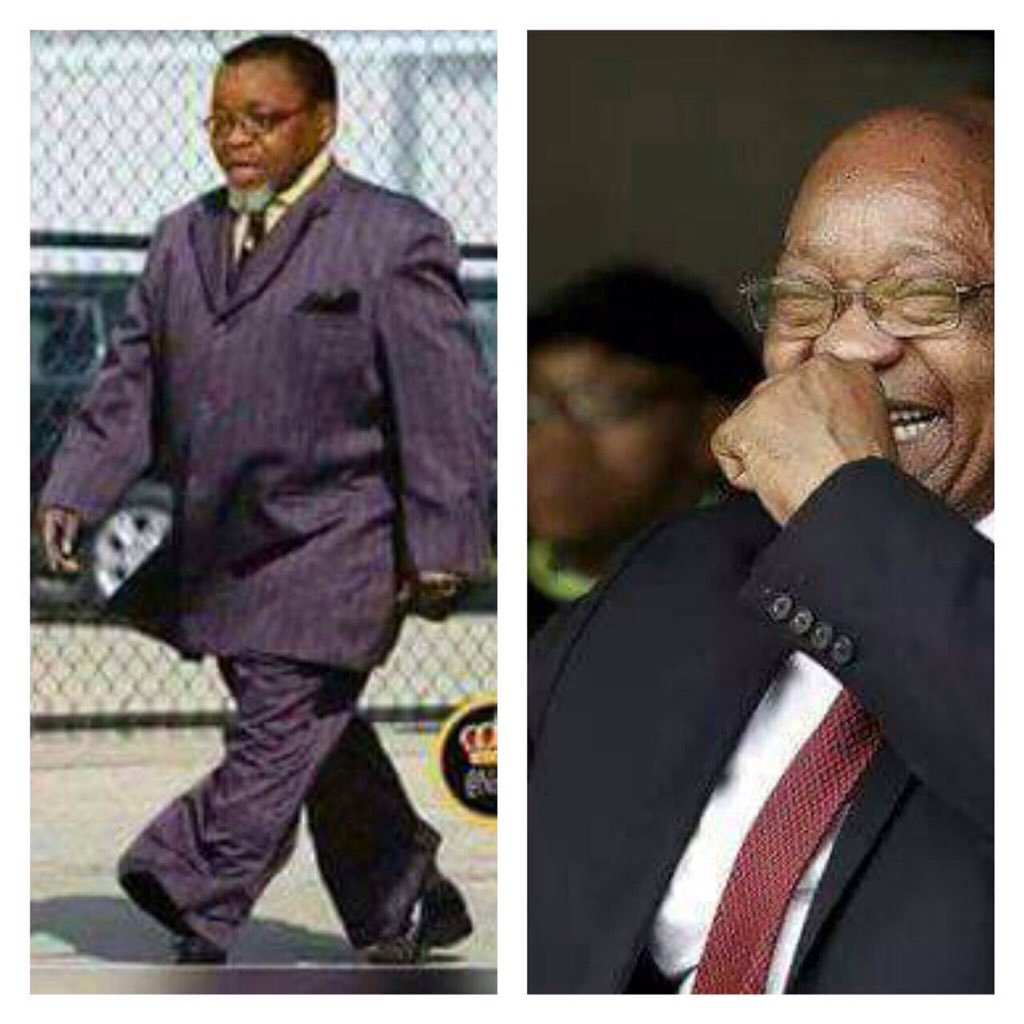 Daar is al soveel skandale en sowaar hier kom die ANC in en ondersteun hom in alles.   Sulke tipe mense regeer, beheer die land, beheer skole, beheer wetgewing , beheer swart bemagtiging, regstellende aksie… Ons sit op die kantlyn en word al hierdie dinge in ons kele afgewurg.  Moet nooit vergeet ons het 'n internasionale reg tot ons eie onafhanklike land.
*
A front-page tabloid exposé features sordid details of the alleged sexual activities of the two ministers, the Finance Minister Tito Mboweni and Mineral Resources Minister Gwede Mantashe were splashed all over the front page of the Sunday World.   The newspaper published details of what was described as a "love-triangle" between the two ministers and "slay queen" Lerato Habiba Makgatho.

The article is accompanied by screenshots of what appear to be Makgatho's conversations with the ministers.
These include intimate sexual details of Makgatho's experience with Mantashe, who she describes as a "tiger in bed", compared to Mboweni, who is allegedly more conservative, and "wanted us to switch off the lights and cover ourselves".      In one of the WhatsApp messages, the man identified as Mantashe complains that his relationship with Makgatho "already cost me more than 70K". He worried that this will soon increase to "100K" after he was asked for more money.

Makgatho, who is 26-years-old and described as a "student and aspiring actress", said that Mantashe was a "better blesser" than Mboweni, with the former giving her amounts of R10,000 and R15,000 at a time, while the latter would "only give me 3K once in a long time".      It was mentioned and important to note that neither minister has been accused of any illegal activity, although this could be more of a scandal for Mantashe, who is married, than for Mboweni, who is not.

https://zwnews.com/affair-sa-ministers-mantashe-mboweni-bedroom-action-with-slay-queen-lerato-habiba-makgatho-leaked/
*
Who Is Lerato Habiba Makgatho The Slay Queen Between ANC Ministers
*
Minister of mineral resources and energy Gwede Mantashe denied bribing Sunday World journalists to destroy a story about his sex life.   In a story published by the newspaper at the weekend, Mantashe was quoted as saying he paid the journalists R70,000.    The journalists apparently had to withhold a story about a love triangle involving him, finance minister Tito Mboweni and Lerato Habiba Makgatho.

"The statement attributed to him seems to have created an impression of him being involved in the act of bribery. Mr Mantashe is clear that none of the sort occurred. Further, attested to by the newspaper, there was no verification of these allegations before the publication of the story.

https://www.timeslive.co.za/politics/2019-10-29-gwede-mantashe-denies-bribing-journalists-to-destroy-story/

*

QUOTE

The self-described 'slay queen' also claimed that Mantashe was a far better 'blesser' than Mboweni; with the latter only giving her 'R3k once in a long time'.   The South African National Editors Forum (Sanef) condemned the act of 'unethical journalism', noting that the Press Code of Ethics and Conduct forbade journalists from accepting 'hush money' payments to halt a story. Furthermore, Sanef's Sbu Ngalwa said:
"Law enforcement agencies should be going to him to get a statement to get to the bottom of this, so that they can begin an investigation."
DA calls on the Parliamentary Ethics Committee to step in

The Democratic Alliance (DA) has also called for harsh action to be taken against Mantashe, if the claims of bribery are found to be true. In this regard, the official opposition party has officially called upon the Parliamentary Ethics Committee to launch an investigation into the allegations.

While the ensuing social media storm cries out for intervention from the highest levels of government- namely, President Cyril Ramaphosa – Gwede Mantashe remains defiant in his denial. According to the statement published by Lekorotsoana:
"The statement attributed to him seems to have created an impression of him being involved in the act of bribery. Mr Mantashe is clear that none of the sort occurred.

Further, attested to by the newspaper, there was no verification of these allegations prior to the publication of the story.

Mr Mantashe, both in his personal capacity and that of being the executive authority, believes in upholding the integrity of the media; and media freedom."
*
29 October 2019
Mantashe Scandal | Political parties call for swift action
As bribery allegations hang over Minerals Resources Minister Gwede Mantashe, political parties have called for swift action. The EFF wants Mantashe to step down as both Minister and as an MP. This after the Sunday World newspaper alleged that Mantashe had confessed to bribing two of its journalists to kill a sex scandal story involving him and a 26-year old woman. The 64-year old Mantashe denies the allegations.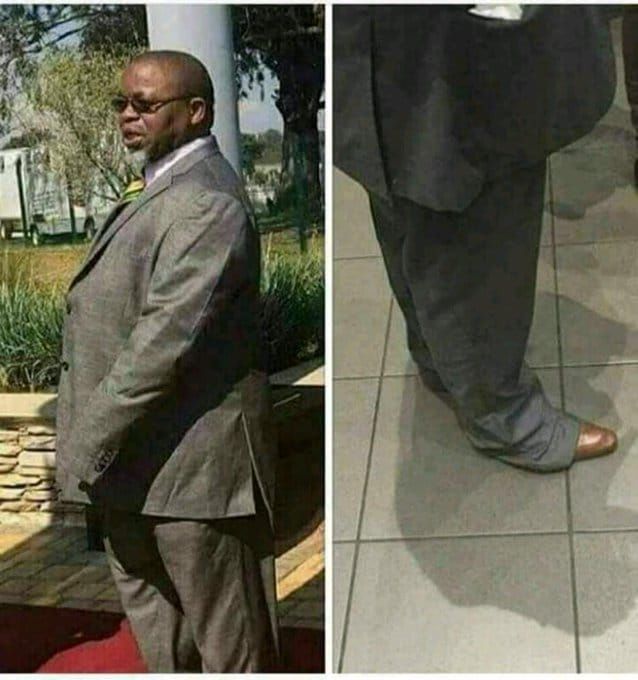 *
ANC's response to Mantashe bribery allegations: Pule Mabe
Mineral Resources and Energy Minister Gwede Mantashe has refused to answer questions about allegations that he bribed two journalists to squash a story about his alleged extramarital relationship. Instead, his ministry issued a statement, saying the allegations weren't verified before the story was published. On The Full View last night, the Sunday World editor said Mantashe had told him he'd paid two reporters for their silence about an alleged affair with a 26-year-old woman. The ANC has welcomed Mantashe's denial, and says bribing journalists is inconsistent with party values.
*
En van alles word 'n grap gemaak, selfs in parlement – speel "musical chairs"
Don't for one second think you can have a sex scandal break in the papers, and get away with it scot-free. The EFF have used their claws on Gwede Mantashe.   Really and what is the next step?  With Parliament in session for the first time since his scandalous love affair with a 26-year-old student went public, he was stitched-up good and proper by EFF MP Nazier Paulsen, who used a "pet name" against the minister.

During a tell-all interview with Sunday World, the love interest claimed that Mantashe was "a tiger" in bed. The Energy Minister has since made things worse, according to some sources: He's been accused of bribing journalists to abandon the story and keep it out of the press.   His alleged R70 000 offer didn't turn any heads, and rather than his sexual exploits, Gwede Mantashe is facing a much tougher time over his supposedly unethical behaviour. That doesn't mean the EFF and their Parliamentary comrades still can't have a bit of fun, though.

"Minister Tiger": Roars of laughter over EFF's Mantashe banter

"Minister Gwede 'The Tiger' Manatshe is said to have bribed journalists not to write a story. He denies this. The alleged misconduct of the minister undermines our country's democratic values. If ministers and leaders can admit to misconduct without consequences, this will normalise unethical behaviour."

"A man who is willing to bribe journalists can be bribed himself, he cannot be trusted with public office. I move that 'Minister Tiger' must do the right thing and hand in his resignation from government, then he must take himself to the nearest police station immediately."

Nazier Paulsen

*

EFF Nazir Paulsen vs Gwede "The Tiger" Mantashe

https://www.youtube.com/watch?v=9YZ3li4-_P0

*

AGAIN THE  "THE APARTHEID PROPAGANDA"

This one is trying so hard to bring the VBS into the conversation, a total irrelevant point to what is at hand… very low of SABC

The EFF wants Gwede Mantashe to step down in the light of allegations that he had bribed journalists. Earlier, the ANC's Pule Mabe said they were 'heartened' by Minister Mantashe's statement that he hadn't bribed the journalists, and said to do so would be criminal and unethical.

*

According to Lerato Habiba Makgatho (26), "Gwede Mantashe is a tiger  in bed". But can Tito Mboweni handle the pot in bed.

https://twitter.com/GaddafiALincon/status/1188337375736422400