Various horros "houses" and properties involved in this Epstein and his pedophile nest.  And how many other little girls were abused and by whom?
Very little is known about Epstein's Paris apartment. It is reportedly somewhere on Avenue Foch in the city's tony 16th arrondissement. Epstein was traveling back on his jet from Paris when he was arrested at Teterboro Airport earlier this month.
Avenue Foch is a street in Paris, France, named after World War I Marshal Ferdinand Foch in 1929.   (family of Ghislaine Maxwell).    It is one of the most prestigious streets in Paris, and one of the most expensive addresses in the world, home to many grand palaces, including ones belonging to the Onassis and Rothschild families.  Ferdinand Foch was a French general and military theorist who served as the Supreme Allied Commander during the First World War.
Lord Maxwell
Robert Maxwell, 5th Lord Maxwell (1493 – 9 July 1546) was a member of the Council of Regency (1536) of the Kingdom of Scotland, Regent of the Isle of Arran and like his father before him patriarch of the House of Maxwell/Clan Maxwell. A distinguished Scottish nobleman, politician, soldier and in 1513 Lord High Admiral, Lord Maxwell was a member of James V of Scotland's royal council and served as Lord Provost of Edinburgh in 1524, 1527 and 1535. He was also an Extraordinary Lord of Session in 1533. In 1537, he was one of the ambassadors sent to the French Court to negotiate the marriage of James to Mary of Guise, whom he espoused as proxy for the King.
https://en.wikipedia.org/wiki/Robert_Maxwell,_5th_Lord_Maxwell
The British Foreign Office suspected that Maxwell was a secret agent of a foreign government, possibly a double agent or a triple agent, and "a thoroughly bad character and almost certainly financed by Russia." He had known links to the British Secret Intelligence Service (MI6), to the KGB, and to the Israeli intelligence service Mossad.
AVENUE FOCH, PARIS
***
Epstein purchased the 7,500-acre property in Stanley, New Mexico, from the family of the state's former governor Bruce King, expanded it to 10,000 acres, and named it Zorro Ranch. In addition to the 26,700 square-foot house, there is an airplane hangar and landing strip. In April, a woman named Maria Farmer filed an affidavit as part of ongoing defamation litigation between one of Epstein's alleged victims, Virginia Roberts Giuffre, and Epstein's one-time lawyer Alan Dershowitz, claiming Epstein had flown her sister, then 15, to his New Mexico ranch and touched her inappropriately on a massage table with his alleged madam, Ghislaine Maxwell. Giuffre also said that she was abused at the ranch by Epstein. Last week, the Santa Fe New Mexican reported that State Attorney General Hector Balderas had opened an investigation into whether Epstein had committed sex crimes at the ranch.
Jeffrey Epstein's New Mexico ranch
***
The story below was originally published on July 10, 2019.
The French neoclassical townhouse at 9 East 71st Street is on one of the most fashionable blocks on the Upper East Side. Bookended to the west by the Frick Collection on Fifth Avenue and the 1810 St. James' Church just across Madison Avenue in the east, is not usually the kind of place that FBI agents use a crowbar to access.
But the home is having a moment of infamy, as the $77-million house of horrors where financier Jeffrey Epstein lived and allegedly sexually abused underage girls; lurid photos of girls were discovered in a safe during the FBI raid.
Today, the houses's fifteen-feet-high oak doors, shaded by Callery pear trees on the north side of the street, bear gouges from that crow bar. It is the only visual evidence of the raid that took place this past Saturday, at the same time that Epstein was being arrested at Teterboro, the private jet airport in New Jersey that serves New York City's ruling class.
In addition to being an alleged crime scene, questions swirl about the circumstances under which Epstein came to own the house. Its previous owner was his mentor, Leslie H. Wexner, chairman of L Brands, which owns retailers including Victoria's Secret.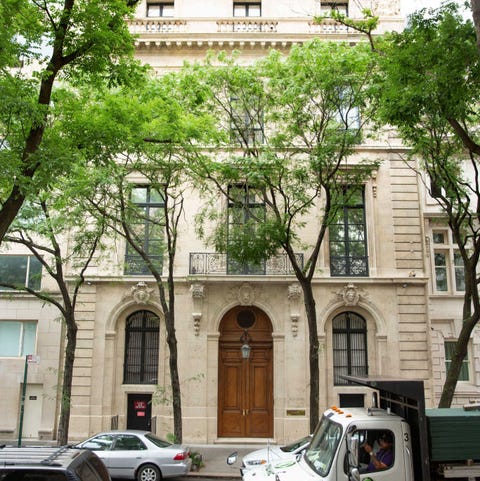 For reasons that have never been explained, Wexner appears to have made a gift of the house to Epstein, transferring title for the cost of $0 around 1996. The New York Times reports the property was formally transferred in 2011 from a trust controlled by Wexner and Epstein to a Virgin Islands-based entity controlled by Epstein; Wexner, meanwhile, told the Times through a spokeswoman that he "severed ties" with Epstein a decade ago.
Number 9 had many incarnations along its path to infamy. Fifty feet wide and seven stories tall, the house was designed by Horace Trumbauer, a fashionable residential architect, for Herbert N. Straus, an heir to the Macy's department store fortune, whose father had perished on the Titanic 18 years earlier.
Construction on the Straus mansion began in 1930, but three years later, Straus was dead himself, felled by a heart attack at 51. He never moved into the 40-room mansion behind the handsome limestone façade. With the death of his client and the onset of the Depression, Trumbauer's masterpiece was boarded up at 90 percent complete, and sat unfinished until 1944.
In 1962, it became the Birch Wathen School, which moved out in 1989 when Wexner purchased the property for $13.2 million, then a record for townhouse sales in Manhattan. (The property's value has fluctuated over the years.) It stood just across the street from the neo-Renaissance home of the fashionable Miller sisters (daughters of Robert W. Miller, the duty free mogul), which later became the New York residence of Marie-Chantal and her husband, Crown Prince Pavlos of Greece. (It turned out to be quite the ghoulish block: at the time, Bill Cosby lived across the street at number 18.)   Wexner renovated the 21,000 square-foot interior and filled it with expensive artworks by the likes of Picasso. One of its baronial drawing rooms even made the December 1995 cover of Architectural Digest magazine.
Epstein's taste, however, was somewhat different. Guests describe chairs upholstered in leopard print, a twice life-sized sculpture of a naked African warrior, and a framed picture of a woman holding an opium pipe and caressing a lion skin. In addition to photographs of pals like Woody Allen, Bill Clinton, and Crown Prince Mohammed bin Salman of Saudi Arabia, the Times reported a "life-size female doll hanging from a chandelier."
Records show that the title for this Beaux Arts mansion was transferred to Epstein from his sometime mentor and client Les Wexner in 1996 for $0. The exact reasoning behind this generous gift is a mystery but various reports throughout the years have painted a picture of what the home was like on the inside. Among the weird details of this 40-room house: a massive mural of a prison yard, a massage table with sex toys and lubricant, a life-size female doll hanging from a chandelier, a sculpture of a naked African warrior, a room covered in leather, and a stuffed black poodle perched on a grand piano, along with the nude photographs that the FBI apparently turned up in a safe.
https://www.townandcountrymag.com/society/money-and-power/a28397298/jeffrey-epstein-homes-real-estate-properties/
Epstein paid $2.5 million for this Palm Beach house back in 1990. According to the Daily Beast, the search of this property that led to Epstein's 2008 indictment on prostitution charges offered details into yet another creepy crib: framed nude photos, massage tables, a wide variety of toys, bathroom soap shaped like genitalia, a fully equipped dentist's chair in one bathroom, and a photo of Epstein with a pope hanging next to one of him with a young girl (interestingly, a publicist told Epstein a meeting with Pope Francis was one way to rehabilitate his image).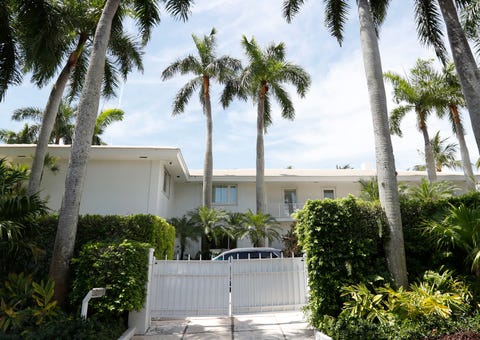 https://www.townandcountrymag.com/society/money-and-power/a28397298/jeffrey-epstein-homes-real-estate-properties/
*
https://www.townandcountrymag.com/society/a28340797/jeffrey-epstein-townhouse-upper-east-side/
***
Amid growing calls from top Democrats for Alexander Acosta's resignation over his role in a controversial plea deal for convicted financier Jeffrey Epstein, President Donald Trump on Tuesday offered a partial defense of his secretary of labor, saying he feels "very badly" for him and that he's been an "excellent" member of his Cabinet.
But even as he suggested the decision to let Epstein off a decade ago with a reduced punishment was not Acosta's alone when he negotiated the plea deal as U.S. Attorney in Florida, the president qualified that, saying his administration will look into Acosta's role in the deal "very closely."
"The rest of it we'll have to look, we'll have to look at very carefully, but you're talking about a long time ago. And it was a decision made, I think, not by him, but by a lot of people, so we're going to look at it very carefully," Trump said.
The president also acknowledged that he once knew Epstein, whom he called a "terrific guy" in 2002, but said they had a "falling out" without elaborating.
"Well, I knew him, like everybody in Palm Beach knew him. He was a fixture in Palm Beach. I had a falling out with him a long time ago, I don't think I've spoken to him in 15 years, I wasn't a fan," Trump said. "I was not a fan of his, that I can tell you."
"Why are you talking about Alex Acosta and not Jeffrey Epstein?" White House Counselor Kellyanne Conway said during an on-camera gaggle with reporters earlier Tuesday, when asked repeatedly about whether the president has confidence in his Labor secretary. "Jeffrey Epstein is the one raping young girls."
About noon, Acosta tweeted both a defense of his role while supporting the New York case against Epstein as "an important opportunity to more fully bring him to justice."
Secretary Acosta

✔@SecretaryAcosta

With the evidence available more than a decade ago, federal prosecutors insisted that Epstein go to jail, register as a sex offender and put the world on notice that he was a sexual predator.
Conway said she spoke to the president Tuesday morning and that he told her he doesn't believe he's been in touch with Epstein in more than a decade but that he finds the charges against him "unconscionable."   "The president told me this morning he doesn't think he's talked to him or seen him in 10 or 15 years and like everyone else, sees these charges, or the description of these charges, as unconscionable, and obviously criminal, disgusting," Conway said.
more …
https://abcnews.go.com/Politics/conway-deflects-trumps-confidence-acosta-top-democrats-call/story?id=64214191
*
9 July 2019
The financier pled not guilty as federal agents revealed they found thousands of female nude or partially nude photographs in his New York City mansion.
*
​I KNEW EPSTEIN! "He tried to sleep with my fiancée the night before the wedding!!"