Die inwoners van Wyk 25 in Springfield (town) is baie ongelukkig oor hulle versoeke vir hulp op dowe oroe val.   Hul mening is hoe durf 'n raadslid hom so te buite gaan omdat mense in nood verkeer en die Raadslid moet onmiddellik as Raadslid die trekpas kry.   Themba Mkhize, is 'n ANC wyksraadslid (wyk 25)  en sal verseker nog op baie van die inwoners van Springfield in geheue wees terwyl daar in sommige dele van Durban geen water is nie.  Terwyl hy gevra word vir hulp, word die spesifieke inwoner gevloek.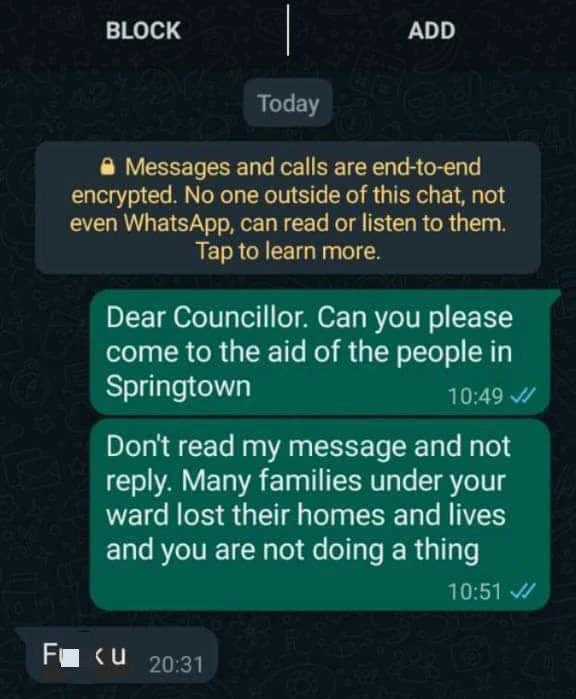 *
Volgens die inligting was hy ook beledig omdat hy niks gedoen het, terwyl hy in sekere berrigte verduidelik waarmee hy besig was.   Verseker sal selfone ook nie altyd naby 'n wifi of internet wees as daar buite gewerk word in noodtoestande nie en nog minder was daar dalk nodige beskikbare tyd of sein op selfone omdat daar nie elektrisiteit is in sekere dele van die stad nie.
Die Raadslid het in berigte verduidelik hoekom hy so opgetree het en dat dit nie sy gedrag verskoon nie en daarom het hy ook in die publiek om verskoning gevra.
Speaking to the Daily News Mkhize said: "For me to say f**k u, it wasn't my intention and I apologise for it. But I still believe the person was basically swearing at me too by saying I am sitting down and doing nothing.
"There are a lot of swear words they used on me. I've saved them and I just laugh because that's what I was told to do."     He said he had visited a lot of places, including places where people had died.
"The councillor has been notified about this post going viral and has been given until the end of business day tomorrow (April 19, 2022) to release a public apology and to actually do the job that he was elected to do. If there's a failure to do so, we will submit a formal complaint to the eThekwini speaker and take the matter forward."
This is how people reacted to the screenshot:
Janitha Moodliar said: "An apology means nothing… he must be dismissed from his job immediately."
https://www.iol.co.za/dailynews/news/kwazulu-natal/heres-what-pushed-the-ethekwini-ward-councillor-to-say-fk-u-to-a-resident-df3307c5-ff59-44b9-95c4-9b3688de7f5a
*
Mkhize was a councillor in ward 25 and he did not behave like someone who should provide service to residents. Instead, he swore at a resident who asked for assistance chitchat was up. The resident took a screenshot of the exchange of words and posted it on social media platforms. The resident in question asked the counsellor to come and help people in Springfield at 10:49 in the morning. In a short space of time, the resident told Mkhize not to read her messages and not respond. She further said many families under his ward lost their homes and lives and nothing is being done.
It took nine hours for the councillor to respond with only two words. But later apologized and said the message was sent in anger as he took the resident's frustration as an accusation. The councillor said the exchange happened at a time when he was out in the field. Mkhize said many people had died and some were missing and he did not have time to open his what's up. When he reaches home after a wearisome day he finds a message telling him that he is not doing anything amid the havoc which the floods caused.
Mkhize said ever since that day the resident and his friends harassed him and have sworn at him. He said that the same people called him at 10 pm to deliver water to them immediately, and Mkhize said these residents are fighting another war which he cannot stand.
Raeesa Joosab who shared the screenshot on Facebook told the media that, the community was angry by a rude response from a public representative especially considering the circumstances. The resident said they understand well that the event was a natural disaster and these councillors are elected into the positions to help the community in such an hour of need. They question whom should they ask, and the counsellor could have responded decently and advised the resident that they were working on the situation and not to swear. Mkhize promised to offer a public apology since he respects his position.
https://opera.news/za/en/society/6be8ca14c8b0e77fa67d0e174d80d615