*
The missionary school where so many Black intellectuals of the 19th and early 20th century—from Tiyo Soga to Thabo Mbeki to Steve Biko — were to be educated.   Lovedale was established in 1824 by John Bennie and John Ross of the Glasgow Missionary Society (GMS). It was named after the society's secretary at the time, Dr John Love.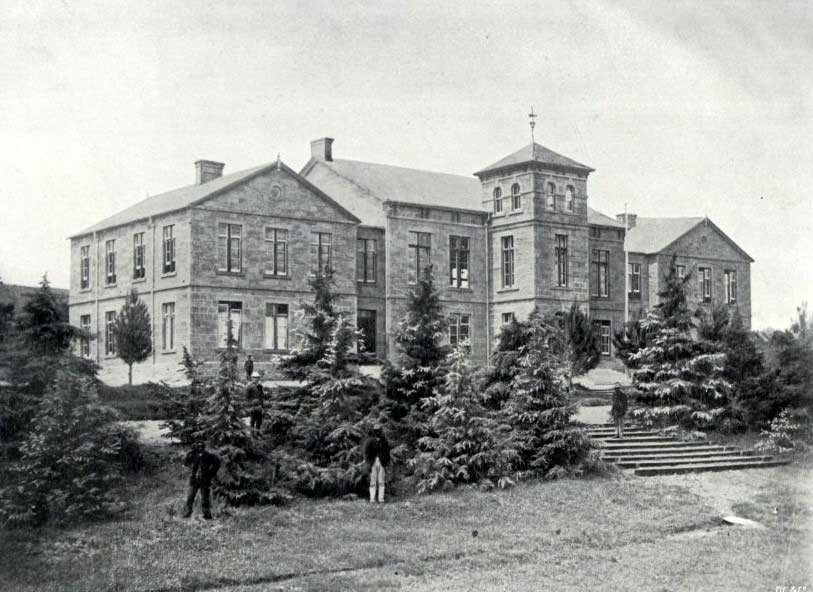 *
Daar was sonder twyfel heelwat skole voor 1961 vir swart en khoisan volke in Suid-Afrika asook in reservate en kroongebiede.  Selfs voor 1910 was daar skole wat verskillende opleidingstegnieke en onderrig oorgedra het.   Daar was gefokus op multi-kultuur en nie soseer op die etnisiteit van volke deur die Britse regering wat kolonies geannekseer en beheer het.
Die blanke minderheidsvolk, Boere uit die Boere republieke of ander kolonies het nie hierdie onderwysstelsel eers geken of geïmplementeer nie.   Hulle het dit ook nie uitgevoer nie.
Destyds, met die Anglo-Boere oorloë, het die koloniale ryk ook ons voorgeslagte probeer verEngels met hul beleid.   Dit is dus nie 'n geheim dat die koloniale regeerders toe al beplan het om al die gebiede dan te annekseer sodat hul beheer en kontrole kon uitoefen.   En dis presies wat nou aan die gang is, om alles wat ons tot 'n volk verbind, totaal en al te vernietig.   Dit is genocide of volksmoord.  Hulle dwing hul eie kultuur, tradisies, taal en identiteit op ander volke af, wat hul eie volkskap moet vernietig.
*
Lovedale was a semi-multiracial school then — nine White boys, six Coloured and a multiple number of Black students, in 1841. They all shared classrooms and the dining hall, and mingled together in sport; but slept apart along racial lines. Classes were taught in Xhosa and English (there were no Afrikaans teachers). Christianity and classics (Latin and Greek) were the main subjects; followed by geography and mathematics.
*
In all its forms, mission education was virtually the only form of education available to black South Africans during the colonial era. The first mission schools, Lovedale and Healdtown amongst these, were founded in the mid-1800s, shy of a century before the government started building its own schools for black students. Just as conspicuous, in the 1930s far more black students (15 000 to 18 000) were going through mission education than were at newly-built government schools.
A less publicly known fact is that a number of South African mission schools served as fountains of learning for many Southern African pro-independence leaders. Botswana's first and second president Sir Seretse Khama and Dr Quett Masire, Ntsu Mokhehle (Lesotho), Robert Mugabe (Zimbabwe), Julius Nyerere (Tanzania) and Dr Eduardo Mondlane (Mozambique) were all students of various mission schools at primary and high school levels in South Africa.
The Reverend Seth Mokitimi, housemaster and chaplain at Healdtown Institute (he later became the first black president of the Methodist Church of Southern Africa) observed in 1948: "Practically all the outstanding African personalities who have become leaders of their people owe the best in their lives to missionary influence and education."
*
In 2008 the then president Thabo Mbeki, together with the Anglican Archbishop of Cape Town Njongonkulu Ndungane, put into motion a plan that would see to the restoration of South Africa's mission school heritage. The Historic Schools Restoration Project (HSRP) aims to revitalize the rich heritage of South Africa's historic mission schools and to transform them into sustainable and aspirational African institutions of educational and cultural excellence.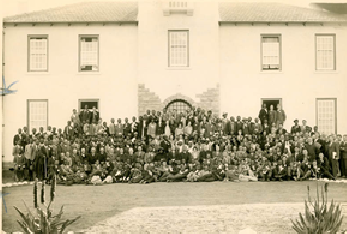 African customs and social order were intact for a long time owing to the power of the chiefs.  Acceptance developed with the breakdown of intact traditional societies and the realization that education was the road to mobility, to the achievement of aspirations in the new society that they were entering."
https://www.theheritageportal.co.za/article/contested-pivotal-legacy-missionary-education-south-africa
*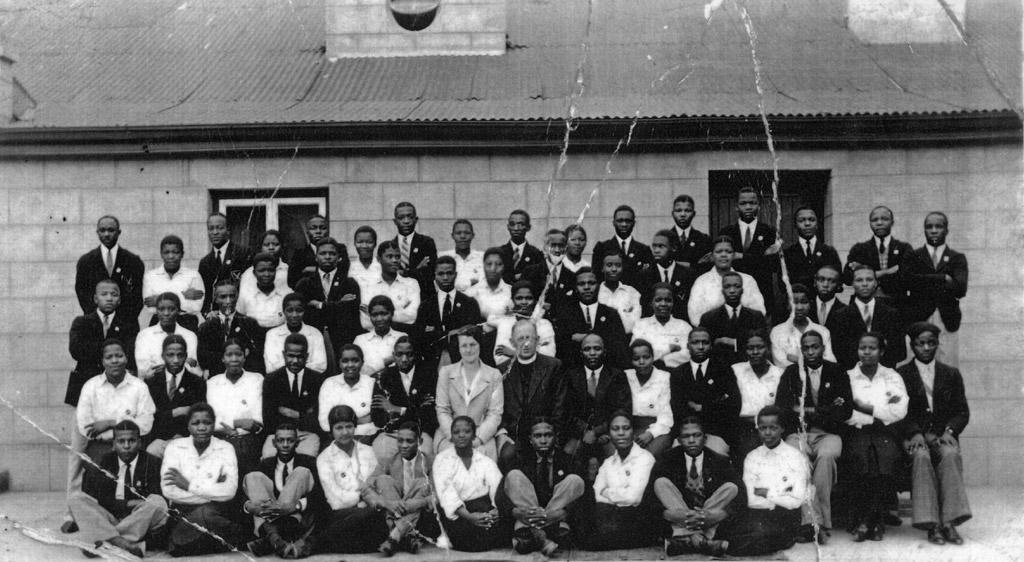 Swiss mission in South Africa
https://calisphere.org/item/66b698c49b30ad7c64e239bfbaa79f5f/
*
Missionaries introduced mission schools in South Africa for a multiplicity of reasons such as converting blacks to Christianity, change of morality and standards of behaviour.  A number of sources indicate that there were different activities taking place in the various mission schools in South Africa.  Mission schools perpetuated Christianity and English.
The aims of the mission schools were to facilitate co-operation between boys and girls as school children in preparation of their roles as adult citizens. They taught learners "the finer parts of life so they could stand upright as adults".
The following is a description of some identified activities at mission schools:
Post-standard-six boys were trained in carpentry and girls in housecraft and needlework as early as 1912 at St Paul's Mission School in Taung (Ramagaga 1988:13). Ramagaga (1988:14) further asserts that, in 1916, the St Theresa Holy Cross Mission School which was founded at Bantule Township, Pretoria, was established to train coloured and native children in industrial and domestic work.
The Holy Cross Sisters established Little Flower mission school at Lady Selbourne, Pretoria in 1927 (Ramagaga 1988:16). The secondary section of that school provided domestic science, home nursing, child care as well as general education for the female learners (Ramagaga 1988:16). Boys were in turn taught gardening, handicraft and woodwork (1988:16).
At Little Flower Mission School, Lady Selbourne, the nuns also opened a creche "… to care for the small pre-school children whose mothers were working to augment their husband's wages" (Ramagaga 1988:16). In 1938 a secondary school section of Little Flower Mission School was established Ramagaga (1988:16). It had an industrial section with four classrooms set aside as workshops.
A cottage of the mission was turned into a clinic. Many poor people attended the clinic. The latter also catered for some maternity cases in Lady Selbourne (1988:17).
The St Gerard's mission school which was established at the Garsfontein mission, Pretoria in 1927 offered Afrikaans, English, SeSotho, IsiZulu and practical work programs such as cooking,  sewing, weaving, gardening and elementary cobbling. Mielie (maize) farming was also one of the activities which took place at St Gerad's mission school.  Learners were encouraged to participate in the
harvesting process. A savings bank was also introduced to help empower learners to be in a position to save money.
At St Michaels primary school in Alexandra Township, one teacher emphasised discipline, hard work, neatness and punctuality. Children were expected to be in his classroom at seven o'clock whereas
school started at eight o'clock.  He often said "if I can find you somewhere along life with holes at the
back of your pants and elbows of your jacket torn I will say you are sitting and leaning on elbows and you are not working". That teacher emphasised hard work and it became a pleasure.
A number of former learners of mission schools were identified and requested to participate by providing information on their experiences in those schools. They are all retired in that they are over sixty years of age. They were learners at different institutions of a learning such as Diocesan, an Anglican missionary school, Grass Dieu, in the Pietersburg (Polokwane) area in the former northern Transvaal (currently Limpopo province), Bethel, a Lutheran church mission school in Bodenstein (currently North-West province), Healdtown's Methodist mission school in the Eastern Cape, St Michaels Anglican primary school, Alexandra and Holy Cross Catholic missionary school, Alexandra, Johannesburg. All the respondents said they were professionals. They included former and current actors in movies and drama, retired vehicle drivers, educators or teachers including school inspectors, nursing sisters, police officers and ministers of religion (priests).
https://uir.unisa.ac.za/bitstream/handle/10500/4394/Lebeloane.pdf?sequence=1
There was conflict between cultures, groups and the morality of the mission schools , but these missionary schools have still the foundation for South Africa 's formal education . The blacks during apartheid still here foundation that mission schools established building.  Mission schools across South Africa originated from different churches and among Different parts of the country went to work .
Education and training in South Africa in the nineteenth century by voreë sendingsgenootskappe started . It is noticed that there was a shortage of teaching in Christian norms and values among the blacks , coloreds and slaves, and therefore the mission schools hoofsaklik directed to these groups to educate people .
Different mission schools established and the primary goal was to these people to the Christian faith brought to repentance and to teach the children to read and write .
*
The South African War (1899–1902; also called the Boer War) suspended educational development entirely and confirmed the resolve of each white South African group to protect its own cultural prerogatives. When the Union of South Africa was created in 1910, it was a bilingual state, and thus both English-speaking and Afrikaans-speaking schools were established for white Europeans. Furthermore, a political tightness and separateness increased among the Afrikaners after the war and strengthened their tendency to exclude nonwhites from the cultural and political life of the dominant society. The trend toward separate schools for linguistic and racial groups became a rigid practice in most of South Africa after union.
Church mission schools attempted to replace the preliterate tribal education of native Africans in the South African colonies. Established from 1789, they were dedicated to converting the indigenous  peoples to Christianity and generally inculcating an attitude of service and subservience to whites.
These schools spread from 1823 to 1842, and colonial governments made occasional grants to them from 1854. Some mission schools included a mixture of races but, by and large, segregation was established by custom. Although some exemplary schools followed rather liberal social and curricular policies, most schools held to narrowly religious content in their curricula. The mission schools were virtually brought into the state system through government subsidies and through provincial supervision, inspection, and control of teaching, curriculum, and examination standards.
By the time the union was formed, the new provinces had each established school systems, structured mainly for European children but including provisions for other groups. Specific arrangements varied, but basically the systems were headed by a department of education under a director and controlled through an inspectorate. Three of the provinces had school boards that localized the department administration. Compulsory-attendance regulations were being effected for European children, while separate school developments were under way for other groups. The language of instruction had been established provincially, with both Afrikaans and English in use.
In 1922, when the Phelps-Stokes Commission on education in Africa offered its report, South Africa's example in the development of liberal and adaptable educational provisions for Africans, particularly in Natal and Cape Province, was held up for emulation. The passing of the tribal system was noted and efforts toward interracial cooperation complimented. It was obvious, however, that little of value to Africans was being done in the European-model schools and that noteworthy educational efforts were associated with special institutions, such as Lovedale School and University College of Fort Hare in the Cape.
Concern over African education in the 1940s led to the creation of the Eiselen Commission, whose report in 1951 accorded with the separatist racial views of the government that came to power in 1948 and laid the groundwork for subsequent apartheid ("apartness") legislation in education. That legislation included the Bantu Education Act of 1953. The National Education Policy Act of 1967 and a subsequent Amendment Act in 1982, along with the Constitution Act of 1983, also reflected apartheid policy. The provinces incorporated national policy into their own legislation and administration.